Great quality
By
Shopper

(Plainfield, IL) - August 1, 2013
I've used personalizationmall.com many times but I was still nervous to order engraved glassware online. So I placed an order at my local engraving retailer. I was not very happy with the quality of the glasses but I needed them for a gift quickly. When I went to pick them up, the engraving was horrible. Half of the letter was missing! So I called personalizationmall and asked if they could get them to me in time. Not only did they arrive in 3 days but they are gorgeous! The quality of the glasses is 5 stars! The engraving is flawless and looks perfect. I want to buy a set for myself! Thank you personalizationmall!!!!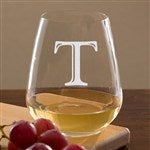 Great Housewarming Gift!
By
Shopper

(Miami, FL) - July 21, 2013
I gave it to a girl friend and her husband as a housewarming gift and they absolutely loved it! The engraving is gorgeous and gave it that personal touch I was looking for without breaking the bank! I highly recommend this product!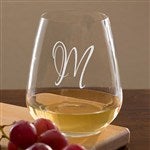 excellent!!
By
Tracey B.

(Karnes City, TX) - July 14, 2013 (
See all reviews by this customer
)
I ordered these as a Christmas gift for my wine-drinking boyfriend. I was very pleased with the way they turned out. They are heavy,and the lettering I chose made it just the right touch of elegance. And I appreciated the way it was shipped... none were broken! Thank you for a good product!! :)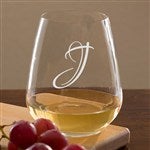 Wedding Gift
By
Kristy M.

(Rockwall, TX) - June 15, 2013 (
See all reviews by this customer
)
Ordered this item for a wedding gift and they are absolutely gorgeous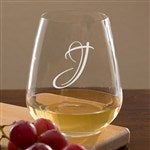 Beautiful Wine Glasses
By
Shopper

(Stafford, VA) - June 11, 2013
I ordered these glasses for a bridal shower I was attending and they were absolutely beautiful. The quality of the product was impressive.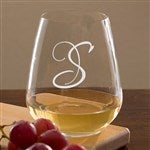 monogram stemless wine glasses
By
Shopper

(Burr Ridge, IL) - April 20, 2013
Excellent quality and very versatile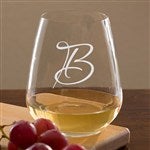 Better than I expected
By
Shopper

(Westminster, CO) - February 19, 2013
Quality was very nice. Ordered these for a gift and was suprised how nice they were. Made in Italy, each glass was etched with a signature on the bottom. These are not the same glasses you can get at your local Costco! I may get some for myself!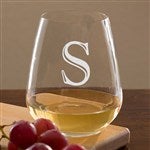 Good Quality
By
Amanda S.

(Bozeman, MT) - January 20, 2013 (
See all reviews by this customer
)
I ordered these as a gift for my husband. When I received them I took them out to inspect and they were great. I was very pleased with the personalization/monogramming. More importantly I was very pleased with the quality of the glasses. They are heavy without being too heavy. Overall, I feel like the quality is very good.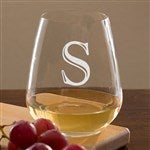 Better than expected
By
Karen J.

(West Des Moines, IA) - January 4, 2013 (
See all reviews by this customer
)
The wine glasses we received were of a higher quality than I had expected! And the personalization turned out great. Love them!!!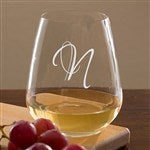 Very Pleased
By
Shopper

(Mass City , MI) - December 28, 2012
My coworkers and I bought this as a gift for our boss who absolutely loved it! We were all very impressed with the overall quality of the product and they look very expensive! Will definitely think of purchasing similar items in the future. A very good gift idea for the wine lover!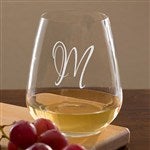 exactly what I asked for
By
Shopper

(Henrico, VA) - December 27, 2012
clean, simple lines make this glass feel elegant. We got the Block script "U" for our last name and it looked nice etched into the glass, though a little smaller than I thought, but that was definitely not a deal breaker because they're great glasses!

Absolutely gorgeous.
By
Gail K C.

(Carlsbad, NM) - December 18, 2012 (
See all reviews by this customer
)
These definitely lived up to my expectations. They were absolutely gorgeous!!!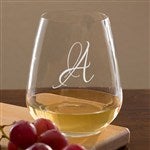 nice
By
sharon R.

(marcy, NY) - December 12, 2012 (
See all reviews by this customer
)
Very nice glasses..I am Happy with all 3 orders I have got...one order came in with a broken glass and it was replaced very fast with no problem...I will order again from this site...Thank You!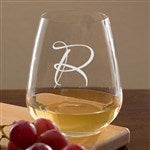 Very Elegant
By
Shopper

(Pasadena, TX) - December 12, 2012
Got these wine glasses in less than a week. They are beautiful. Very elegant and well worth the money. My boss will love it along witht he nice bottle of wine I got.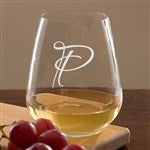 great gift!
By
Shopper

(Nashville, TN) - July 3, 2012
Beautiful,quickly done,easy & fantastic gift idea!!!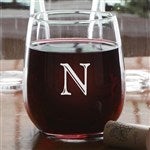 Great quality
By
Shopper

(New York, NY) - December 10, 2012
The glasses look exactly like they do in the picture. They're great!

Beautiful product just concerned about lasting
By
Shopper

(Commerce, GA) - December 13, 2012
I received this package and one was broken. The glasses were only wrapped in paper, but in the box. The box was bubbled wrapped. I called and they ask me to take a picture of the broken glass and email it to them. They sent out a new order that day. That was nice and I didn't have to worry about returning the first box. The second box came wrapped in bubble warp and then each glass was also so I think they need to always use the bubble wrap around each glass because they are not thick glasses!!

Beautiful
By
Aline R.

(Columbia, SC) - September 3, 2013 (
See all reviews by this customer
)
I just wish personalizationmall.com would sell a box with 8 and with 12 glasses. They are awesome, a perfect present for a wine lover!!!!!!!

Not so good
By
Angel C.

(Boca Raton, FL) - January 26, 2010 (
See all reviews by this customer
)
I have been buying amazing gifts from this web site for about 3 years and this is the first time I have been disappointed with a product. The desctiption stated the glasses were durable and the first one I looked at had a crack in it. The glass is much thinner than I expected.

Disappointed
By
Deborah T.

(Freehold, NJ) - January 18, 2010 (
See all reviews by this customer
)
I was disappointed in the overrall quality of this item, only because of the weight of each glass. They are very thin, and much more fragile than expected. They do look very nice monogrammed. The ordering process and delivery was excellent, however !

Groomsmen Gift
By
Cortnee L.

(Briarcliff Manor, NY) - April 20, 2010 (
See all reviews by this customer
)
This is a great gift for wine lovers. The only issue I had was the packaging it came in. It was packaged in a brown box with dividers and not in a classic Riedel box. I had to re-package this gift before I could give it out.

Great Large Glasses
By
Shopper

(Irvine, CA) - April 14, 2014
Gorgeous large glasses with beautiful clean engraving! Definitely will order again!

Wonderful gift
By
Shopper

(Altoona, PA) - December 14, 2012
I ordered these for a Christmas gift and am very pleased with them. Other reviews commented that they were very thin - well, they are "wine" glasses and they are supposed to be thin. They look great and the delivery time was unbelievable - three days after I ordered them. I know the receiver's will love them.

Great glasses
By
Sally D.

(Franklin, TN) - December 19, 2012 (
See all reviews by this customer
)
I was very pleased with the set of personalized wine glasses. They were great quality and the etching was beautiful. Very happy with my purchase.

Beautiful!
By
Shopper

(Jonesville, VA) - July 29, 2013
I wasn't sure about ordering nice wine glasses online, but I'm so glad I did! They were so much nicer that I thought they would be. Good quality....classy!

very nice set
By
Jo Ellen O.

(Libertyville, IL) - December 15, 2009 (
See all reviews by this customer
)
Glasses are very stylish and engraving looks very nice. A great gift item.

Riedel Wine Stemless Wine Glass
These are top quality wine glasses for the wine connoisseur. It is the only brand of wine glass I serve wine from. So if your looking for a sturdy wine glass then these may not be what your looking for. If your looking for top quality wine glass to drink wine from than this is the best glass. The engraving makes them even more awesome.

Riedel stemless glasses
By
Patricia A.

(Ardmore, PA) - December 21, 2010 (
See all reviews by this customer
)
Loved the glasses.....simple yet elegant!