Great product!
By
Shopper

(Wheaton, MD) - March 3, 2012
I ordered this for Valentine's Day. We love it! It's cute, the bowl is a great size and it's made of quality materials!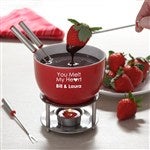 a great Valentine's Day
By
Shopper

(savannah, GA) - February 17, 2012
This was 1 of the first times I ordered on line and got exactly what I wanted. What you see is what you get! This personalized gift made a greatValentine's Day for me and my sal

Love it
By
Shopper

(Clearfield, UT) - February 16, 2012
Perfect for dessert!

Awesome gift
By
Shopper

(MENLO PARK, CA) - February 16, 2012
This is definitely a good purchase. My boyfriend loved it. The ceramic bowl is well made and melting chocolate doesn't take long with this system. I would definitely recommend this to anyone who wants to get this for some one who loves chocolate covered fruit.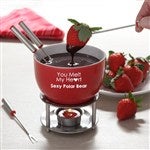 Nicer than I thought
By
Shopper

(Murphy, TX) - February 10, 2012
First the item is bigger than it seems in the pics.
Second the personalization in etched into the side of the bowl. Which means that you can use it, and wash it without fear of it coming off.

It comes in a nice gift case.

So Cute!
By
Lenore M.

(Livonia, MI) - January 16, 2012 (
See all reviews by this customer
)
This little set is so cute, and I can't wait to give it to my fiance for his birthday. We love fondue but can't afford to always eat out for it, so this will be our solution for the chocolate.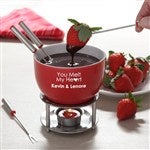 Happy Anniversary!!
By
Shopper

(Stewartstown, PA) - October 25, 2011
After searching for a 15th anniversary gift for my husband that would fit the symbol of "ruby", I found this ruby-red fondue pot, the perfect size for two! I presented it to him filled with chocolate fondue, warm and ready to dip, and he loved it!

Aga
By
Shopper

(River Grove, IL) - October 23, 2011
Awesome!

Perfect
By
Shopper

(Rockford, IL) - March 30, 2011
Intend to surprise my husband to be on our honeymoon with this, so we haven't used it yet but it seems just perfect. The quality looks very nice and the size of the bowl is small enough to keep the liquid inside warm long enough but still big enough to dip bigger things. Looking forward to using this. The personalization makes a nice touch too and it came nicely packaged so it would make for a nice gift for another couple getting married, etc.

Great Product, excellent quality
By
Shopper

(Brewster, NY) - February 26, 2011
I ordered this as a Valentine's day present for my boyfriend. It was larger than a tea cup, and about the size of one of those soup cups (almost bowl size). The engraving was etched in the ceramic very evenly and nicely done. The stand is solid with the cup sitting securely balanced with no chance of tipping over. It came with one red tea light, and 4 skewers. When the tea light is full it melts the chocolate morsels wonderfully. When it gets halfway down it takes a little bit of stirring, and I would recommend buying some extra tea lights. We used pretzel sticks, strawberries, and marshmallows. The chocolate we used was the morsels used to bake cookies. It was a great experience, it arrived fast, attractive display packaging, and works wonderfully. Great product, professionally done, and very fast turn around time. I would definitely buy other products too, after seeing how well this was done from Personalized Mall. This is great for men and women.

Perfect
By
Shopper

(passaic, NJ) - February 19, 2011
It was just what I expected and as described :) and prices are resonable found same items on orther website twice as much !!!I will order again from this site .

Great Valentine Gift
By
Carmen B.

(Belden, MS) - February 18, 2011 (
See all reviews by this customer
)
Bought this for my boyfriend as a valentine gift because he always buys me chocolate covered strawberries. I bought it so we could create memories by making our own. I gave it to him while we were in the car and he held it the entire time he was driving. He would not let go of it. I guess that means he really liked it.

Great Set!
By
Lee G.

(Edinburg, TX) - February 16, 2011 (
See all reviews by this customer
)
My wife and I enjoyed this after a romantic dinner and it was perfect for the two of us!

Amazing Product!
By
Justina L.

(Zeeland, MI) - February 16, 2011 (
See all reviews by this customer
)
This product is incredibly special! When my boyfriend opened it, he nearly cried! He thought it was the sweetest thing! And very romantic on Valentine's Day evening!

Very pleased!
By
Whitney A.

(Kankakee, IL) - February 14, 2011 (
See all reviews by this customer
)
I love it! It is very simple and easy to use. After reading some of the comments on here prior to using it, I melted the chocolate on the stove and then transfered it to the fondue pot. It did a great job keeping the chocolate warm! This will be a great thing to have in the years to come!

Great Valentine Gift
By
Shopper

(Washington, DC) - February 14, 2011
I bought this for my boyfriend (a chocolate lover) for Valentine's Day. It is a super-cute little fondue pot, perfect for the chocolate fondue we made. The engraving looks amazing. I am sure we will use this many more times in the future.

Adorable and Useful
By
Angelica B.

(Pittsburgh, PA) - February 2, 2011 (
See all reviews by this customer
)
My boyfriend and I decided to go to the Melting Pot for dinner on Valentine's day, so when I found this mini Chocolate Fondue set I thought it was perfect! How special would it be to recreate our experience at home?!! It arrived quickly, is wrapped nicely and my favorite part is that it has our names on it...the personalization was free and it was nice to give it an extra nice touch.

This is an absolutely perfect gift for him and I can't wait to give it to him !

cutest pot ever!!
By
Vasty M.

(Santa Clara, CA) - July 7, 2010 (
See all reviews by this customer
)
The pot is a bit more on the small size but it worked really well. I used it for the 4th of July weekend and everyone thought it was very cute, I definitely recommend this cute fondue pot as a gift or just for you to have! :o)

Perfect
By
Tasha B.

(Cowpens, SC) - February 22, 2010 (
See all reviews by this customer
)
This fondue set was perfect for the occasion! He loved it as well! Totally impressed and quick personalization and delivery! Wonderful!

Valentine gift
By
Shweta J.

(Jersey City, NJ) - February 16, 2010 (
See all reviews by this customer
)
I got this for my husband for Valentine's day and he loved it. Its a perfect gift for someone you love. This is the first time I ordered from this site and am highly satisfied with it. I hope to see more creative and exclusive stuff here. :)

Great Item
By
angineh E.

(burbank, CA) - February 15, 2010 (
See all reviews by this customer
)
I got this for Valentine's Day for my BF because he LOVES fondue, the product is nicely done, great packaging. I have ordered items from this site before and every time I'm very satisfied.

The Perfect Gift
By
Crystal W.

(Kansas City , MO) - February 11, 2010 (
See all reviews by this customer
)
THIS IS THE PERFECT GIFT FOR ANYONE WHO WANTS TO SHOW THE ONE THEY LOVE HOW MUCH THEY MEAN TO THEM IT CAME ON TIME I KNEW EXACTLY WHEN IT WAS COMING IT WAS JUST THE PERFECT GIFT ESP ON VALENTINE DAY

Really Nice
By
Thenkutty M.

(Pearland, TX) - February 11, 2010 (
See all reviews by this customer
)
Its simple but a very nice gift...my gf loves it!

wedding gift
By
joyce M.

(charlestown, IN) - February 1, 2010 (
See all reviews by this customer
)
I RECEIVED THE PERSONALIZED FONDUE SET THAT I ORDERED FOR A WEDDING GIFT. I WAS EXTEREMELY PLEASED WITH THE QUALITY. I KNOW THE MARRIED COUPLE WILL ENJOY IT.