GAVE THIS AS AN ANNIVERSARY GIFT.
By
Shopper

(ALMENA , WI) - July 21, 2012
THE QUALITY WAS VERY NICE, AND SERVICE WAS FAST. I ORDERED THE GIFT BOX TO PUT IT IN, AND IT WAS THE PERFECT LITTLE GIFT.

So pretty
By
Shopper

(Hutto, TX) - June 20, 2012
I ordered this last December for my parents' 50th wedding anniversary. It was perfect ... just beautiful!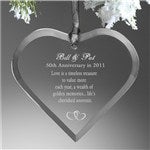 50th Wedding Anniversary Gift.
By
Donna R.

(Bloomington, IN) - June 9, 2012 (
See all reviews by this customer
)
The collectible heart (engraved ) was the very gift I needed for an elderly man & wife. Beautifully engraved, the cut of the heart was simply perfect. I know they will love it. Thank you.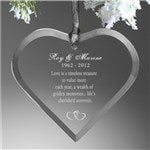 Impressed
By
Shopper

(Antioch, TN) - May 11, 2012
Product looked better than I thought. Came REALLY fast in the mail. I would order from them again.

Very nice.
By
Rebecca M.

(Chicopee, MA) - May 9, 2012 (
See all reviews by this customer
)
This is a very nice item and all that I expected. Kinda wish it was a little thicker or bigger though.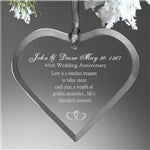 ornament
By
Shopper

(Elk Grove, CA) - May 7, 2012
I was very pleased with this ornament which was bought as a 25th anniversary gift for some friends. The item was larger than I expected but of a good quality and the engraving was neat and well done.

The perfect anniversary gift!
By
Marcia A.

(Standish, ME) - April 29, 2012 (
See all reviews by this customer
)
This ornament was lovely, I personalized it with my own special words for son and daughter in laws first anniversary. They loved it and it will be a keepsake for them forever. Thanks for the quick service and great quality. I purchased items for their wedding last year and they were great that is why I purchased their first anniversary gift from you. The minute I have a wedding, etc. to get a gift for, I will run right to the computer and purchase from you.
HIGHLY RECOMMENDED. Thank you for your prompt delivery also.

anniversary gift
By
Johnni W.

(Hoover, AL) - April 6, 2012 (
See all reviews by this customer
)
beautiful piece, fast shipping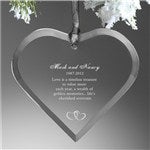 Product features
By
Shopper

(Rumford, ME) - January 23, 2012
I never actually got to see the product. I had it shipped directly to our friends. It was a 20th Anniversary gift for some close friends of ours that are out of state. They called me the minute they recieved it and they where just amazed at the beauty and the sentiment.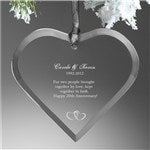 Exquisite Ornament
By
Shopper

(Pinckney, MI) - January 21, 2012
I was so delighted to find this beautiful heart ornament to engrave for my sister's 40th wedding anniversary. She was thrilled with the product!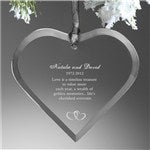 Anniversary
By
Nehal H.

(St.louis, MO) - January 17, 2012 (
See all reviews by this customer
)
My parents LOVED the gift I bought them. I was scared that the glass will be cheap but it turned out to be the best gift they ever got (: highly recommend.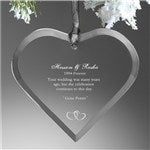 WOW gifts for the price
By
Sandra B.

(Duncansville, PA) - January 14, 2012 (
See all reviews by this customer
)
Lovely, low price gift. Workmanship and quality of product fast exceeds the cost. Fast service.

20th Anniversary heart
By
Shopper

(Cape Coral, FL) - December 30, 2011
My husband loved it. It was great that I got to personalize it.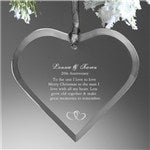 Great for any important date!
By
Joanna S.

(Chula Vista, CA) - December 28, 2011 (
See all reviews by this customer
)
I used this to commemorate the day my Fiance proposed. He popped the question at Disneyland. So I made up a couple sentences to remember the day. It turned out really lovely.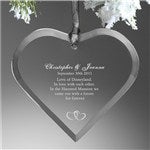 32 years of christmas together
By
John C.

(Hanover, MA) - December 26, 2011 (
See all reviews by this customer
)
this is a great gift to show how much you care for each other after years of marriage and the celebration of Christmas. I also bought the stand which is beautiful.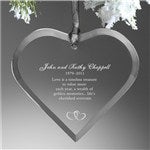 customized 35th Anniversary ornament
By
Shopper

(Greenville, TX) - December 23, 2011
My sister & brother-inlaw loved the ornament! I made a few mistakes when I placed the order, but your customer service staff helped me "safe the day" by correcting my mistakes. I could not find a 35th anniversary ornament and another company had no one available to assist me in customizing one of their ornaments. So, I am extremely pleased with the ornament and your customer service staff!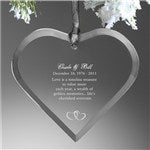 Christmas ornament
By
Shopper

(Lower Burrell, PA) - December 20, 2011
The ornament is absolutely gorgeous. It turned out better than I thought it would. Shipping took time but was in the estimated range. Packaging was sufficient and secure. I would order from this company again in the future and would tell my friends about it.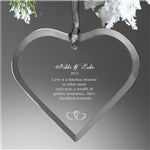 25th Anniversary Gift
By
Shopper

(Northbrook, IL) - December 15, 2011
This is so beautiful! The heart looks exactly like the picture. The glass is high quality and the engraving is perfect. I looked at other shoppers' wording, and customized it for my daughter and son-in-law. I highly recommend this heart for anyone who wants to give a memorable gift. I looked as SO MANY gifts online for this very special 25th anniversary gift, and nothing looked as perfect as this.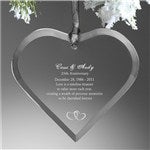 Christmas Memorial Ornament
By
Shopper

(Yorkville, IL) - December 15, 2011
I have ordered from Personalization several times and have never been disappointed. They do a beautiful job and it's in your hands in no time at all.
I wasn't able to find just the right Memorial Christmas ornament for a deer friend who had lost his mother this year,so I called their costumer service department and she helped be get just the right thing.
He was so emotional when he opened the package his eyes filled with tears.
I know it was the right gift, thank you .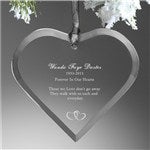 Very Pleased!
By
Tara B.

(Robertsdale, AL) - December 14, 2011 (
See all reviews by this customer
)
I loved the product. The personalization was perfect. I had great customer service and would definitely get it all over again! It hangs front and center on our tree. I LOVE IT!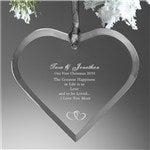 My own poem looked beautiful
By
Susan M.

(Bozeman, MT) - December 13, 2011 (
See all reviews by this customer
)
I loved the fact that I could do my own poem. It looked so perfect on the ornament. I got my ornament for a great price and in a timely manner. I have already recommended this website to my friends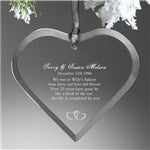 For the couple that has everything!
By
Lynn S.

(Canada) - December 12, 2011 (
See all reviews by this customer
)
I ordered this ornament for my parents, who were celebrating their 50th wedding anniversary. It's hard to find a gift for a couple that already has everything, and didn't want to get them the "usual" dust collecting nic-nac! I saw this ornament on Personalization Mall.com - and presented my parents with a personalized ornament commemorating their 50 years together! They were thrilled when they saw the ornament! A gift that will continue to bring a smile year after year!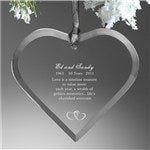 Very nice quality; Liked personalization options
By
CYNTHIA P.

(Canada) - November 29, 2011 (
See all reviews by this customer
)
Ornament is of good quality. Velvet bag is lovely and functional as well. I especially liked that I had the option to add my own verse. This allowed me to really personalize it for my daughter's Godparents' 25th Anniversary. There's no other website I know of where one can find a Godparents' Silver Anniversary gift, so it was wonderful to be able to create a very specific one-of-a-kind keepsake.

Super Cute!
By
Shopper

(Lovettsville, VA) - November 27, 2011
I bought this as an anniversary gift for my husband since our wedding anniversary is just before Christmas. Very cute and it is in the same style as the traditional "first Christmas together" ornament from the year we were married. It was a perfect complimentary piece for our ornament collection.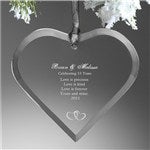 Excellent Product
By
Joy B.

(Dallas, TX) - November 21, 2011 (
See all reviews by this customer
)
I ordered this ornament for our 40th wedding anniversary and couldn't be more pleased. I had my own message inscribed and it was done perfectly and in a timely manner. I would have expected to pay much more for the quality and workmanship.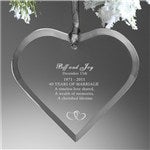 Beautiful
By
Shopper

(Toms River, NJ) - November 20, 2011
The ornament was a great price and turned out beautiful.

30th Anniversary Heart
By
Lisa K.

(South Range, WI) - October 26, 2011 (
See all reviews by this customer
)
We received our lovely 30th Anniversary personalized heart in a very timely fashion. It came in a nice felt bag just as promised. It's made of crystal clear glass and is about 1/8th inch thick. I am very pleased with it.

I would definitely recommend it as a gift or as a reminder to yourself of a special time.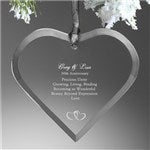 Very sweet looking ornament.
By
Lisa H.

(Cherry Hill, NJ) - October 20, 2011 (
See all reviews by this customer
)
This was a 50th anniversary gift for my parents from my children. The engraving is great and very easy to read. I used part of one of the pre-written verses and added my kids names. It came out exacctly like the picture and I was very pleased with it. My parents will cherish it for a long time.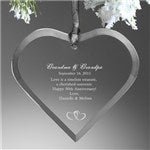 Fantastic
By
Shopper

(Northford, CT) - October 12, 2011
Great quality. Worth the money anytime.

Amazingly beautiful
By
Shopper

(Brillion, WI) - September 19, 2011
When I received this ornament, I was very happy with the quality and it's beauty. It was a wedding present, and I hope it brings the happy couple fond memories of their special day.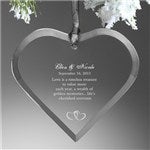 Features I like
By
Shopper

(Shelby Twp., MI) - September 9, 2011
Loved the engraved ornament. It was exceptionally well done. Aso, loved how it was wrapped in the gift box.

GREAT PRODUCT, GREAT MERCHANT
By
EDWARD L.

(VIOLA, TN) - August 29, 2011 (
See all reviews by this customer
)
THE PRODUCT IS GREAT AND THE MERCHANT IS GREAT ALSO!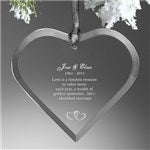 charming
By
Shopper

(Madrid, NY) - August 27, 2011
I like to give a extra gift. This made a nice touch.

Was not disappointed.
By
Shopper

(London, OH) - August 12, 2011
It came in a very timely manner and looked exactly as pictured. Very nice!

Beautiful ornament!
By
Melinda M.

(Winston Salem, NC) - July 31, 2011 (
See all reviews by this customer
)
I got this for a very dear and special couple! They loved it! I would highly recommend! This is my second purchase and I have been extremely satisfied!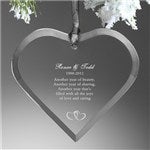 H
By Shopper (Lucerne, CA) - July 18, 2011
SDAS

Forever Memory..
By
Della R.

(Toronto, OH) - July 11, 2011 (
See all reviews by this customer
)
What is more fun the Christmas? Looking at your ornaments and remembering the story behind each one. I bought this item for a 50th Anniversary gift for my aunt and uncle. Stop and read the verse. It talks about "golden memories" What could be more perfect for a 50th to look back and remember that year in their lives. I also bought 8 ornaments from the Christmas in July sale - whoa, what a savings. They have already arrived and are nicer than they appeared on the screen. Hurry order yours today before the sale ends. Great savings - great products!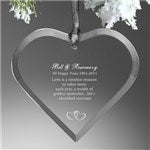 Love it!
By
Shopper

(New York, NY) - June 21, 2011
Stupid me . . . ordered with the wrong date, and I had to reorder. Personaliztation gave me a 30% discount the second time. Was going to throw away wrong date ornament, but decided that it would be nice for brother and his wife to have two hanging from their tree! Customer service is fantastic and I will surely order from here again!

Beautiful
By
Shopper

(New York, NY) - May 29, 2011
I ordered this for my brother's and sister-in-law's upcoming 40th anniversary. I wanted a small and useful token, not something that they would never use. The expression is exactly as I had requested. Though the print is a little small, I think it's excellent quality and will look great on the Christmas tree with a light behind it. I am very pleased with Personalization Mall and will order from here again. My cousins are going to order the anniversary photo album. Thank you for a very fine product, which arrived in perfect condition in a timely fashion.

30th anniversary memory ornament
By
Cindy H.

(Galion, OH) - May 10, 2011 (
See all reviews by this customer
)
it was personalized what we said at our wedding. perfect!!!