mrs.
By
Shopper

(Danville, KY) - August 19, 2012
The crystal heart ornament was lovely and I would order again, only with a slight change. I was a little disapointed in size of the engraving,it was smaller than I expected.Since this was a gift for a 50th Anniversary, I had the couple's name and wedding date, along with a sweet verse engraved.The print actually appeared larger to me on the example online. Hence if I were to order again, I personally would choose to put only the couple's name, their wedding date, along with their anniversary date. With less wording,the engraving would be larger.

Memorial hearts
By
Darlene N.

(Albuquerque, NM) - February 27, 2012 (
See all reviews by this customer
)
I order personalized engraved hearts for my family and friends upon the loss of a loved one. Out of the dozen or so I have order, they have always been of the hightest quality. I only recently received one that the engraving seems a little blurred. It could be that the font style was just to fancy for the level of clarity I am used to seeing. It is disappointing, but all in all I have always been impressed by the products at Personalization Mall. I will still continue this tradition using their service.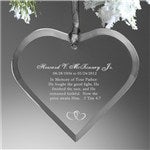 tribute
By
Shopper

(COLUMBUS, NJ) - January 2, 2012
I had recently taken over a charity drive that a friend from work would handle- but had recently passed away. I was able to create a dedication to her & give to her husband marking all the work she had done for the charity.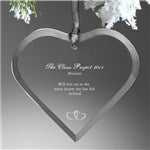 Lovely Keepsake
By
Shopper

(Newport, NY) - January 1, 2012
The recipients of this personalized ornament were very pleased. They looked elegant on the tree and were a very nice memento of special events, e.g., marriage, anniversary, etc.

Anniversary Christmas Ornament
By
Rosario C.

(Cutler Bay, FL) - December 28, 2011 (
See all reviews by this customer
)
The ornament was engraved beautifully and arrived within plenty of time for Christmas. My only complaint was that I didn't realize how difficult it is to read with the white letters on the clear background. You have to tilt it just so, in order to read it. My sister and brother-in-law loved it, though.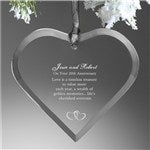 Great gifts come in small packages
By
Shopper

(Avon, IN) - December 23, 2011
Little smaller than I anticipated; however quality is high. It will make a very elegant gift for my boyfriend. Not a bad price to customize a gift and make it more personal.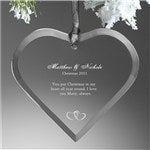 Will Shop Again
By
Jennifer M.

(Albuquerque, NM) - December 23, 2011 (
See all reviews by this customer
)
Quick delivery. Nice product.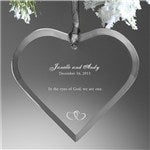 Pleased
By
Mary H.

(Wimauma, FL) - December 21, 2011 (
See all reviews by this customer
)
This ornament was very nice. The couple receiving were quite impressed.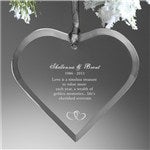 Nice keepsake
By
Shopper

(Carlisle, PA) - December 17, 2011
Very nice keepsake for anniversary.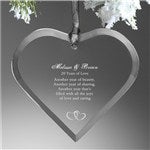 very pretty, but...
By
Michelle C.

(Blakeslee, PA) - October 19, 2011 (
See all reviews by this customer
)
Received item quickly however there was a small chip on the side, not enough time to reorder, so I will be giving as gift anyway

Anniversary Wishes Engraved Ornament
By
Shopper

(Grosse Pointe Woods, MI) - July 24, 2011
This was very nice - appropriate for a not too much, not too little gift to take to an anniversary party. One thing I'd like to see changed: the size of the font should be adjustable so the name of the couple could be bigger as well as the year of the anniversary (example Happy 40th). Overall, it is a good product, fairly priced which served the purpose.

Very lovely anniversary remembrance
By
Shopper

(New York, NY) - May 24, 2011
print a tad small, but they got the verse perfect and it's a nice token and will look pretty in front of a Christmas tree light. S&H a tad high, but worth it.

Was a nice touch!
By
Shopper

(Minneapolis, MN) - April 19, 2011
Was a very nice little piece that came in a velvet like pouch, and a a good price.
It went over very well. Only thing was that I had it say our anniversary date and the years 2007 - 2011 (like the sample/photo) and the comment I got was...this makes it seem like it's over/ended this year, are you trying to tell me something! Wasn't a big deal, he knew that is not what I meant, but kind of reads that way. Maybe leave the end date open or blank!

Engraved Heart Ornament
By
Lorraine B.

(Lindenhurst, NY) - March 4, 2011 (
See all reviews by this customer
)
Very nice except I would have liked more Script Writing not just on 1-line. Also, the engraving should be more visible (maybe white inside the lettering?)

Afforable
By
Cornelia S.

(Brooklyn, NY) - December 30, 2010 (
See all reviews by this customer
)
You can not only buy this for an Anniversary. Buy it for Valentines Day, Wedding Shower. You can Personalized to a Grandmother, Sister, Aunt. or Dear Friend. And won't break the bank.
Well made too.

Classic ornament
By
Scott L.

(Lowell, MA) - December 27, 2010 (
See all reviews by this customer
)
Came just as pictured and promised. My parents loved it ;)

Satisfied customer
By
gerard F.

(Massapequa, NY) - November 17, 2010 (
See all reviews by this customer
)
Happy I found this website and when I received my Item I was completely satisfied with what I purchased.

my 25th anniversary ornament
By
Barbara F.

(Pleasantville, PA) - November 11, 2010 (
See all reviews by this customer
)
This was a replacement as the first one was printed off-center.
This is much better and I am happy to display it.
Thank you.

Just about perfect.
By
Thomas M.

(Novato, CA) - September 17, 2010 (
See all reviews by this customer
)
The engraving looks good. I thought it would be a little thicker but it's a good buy.

Nice gift for the money!
By
Becky B.

(Rochester, MN) - August 30, 2010 (
See all reviews by this customer
)
Item is delicate and pretty--thought it might be a little heavier glass when I ordered it...nevertheless, I know the recipient will enjoy it--thanks!

50th anniversary
By
Esther-Ann A.

(New York, NY) - May 18, 2010 (
See all reviews by this customer
)
quite a lovely keep sake.. a bit small but lovely

anniversary
By
PAUL D.

(BRUNSWICK, OH) - February 1, 2010 (
See all reviews by this customer
)
my wife loved it she shed a tear

anniversary ornament
By
Cathleen D.

(Garden City, NY) - December 15, 2009 (
See all reviews by this customer
)
Very pretty. Ribbon a little cheapy looking. Sticker residue needed to be removed with rubbing alcohol.

Not impressed
By
Shopper

(Burlington, MA) - December 6, 2012
The engraving looks blurry and even after contacting them, they said a replacement would look the same!

Anniversary Ornament
By
Frances T.

(Bronx, NY) - December 13, 2009 (
See all reviews by this customer
)
Engraving smaller than I thought it would be, have to hold it up to light to clearly read it.

Heart Shaped Ornament
By
Stephanie S.

(Newport, MN) - November 8, 2013 (
See all reviews by this customer
)
Ornament came with my inscription on it, very clear to read. However the ornament is very thin, cheap looking and not quite what I was expecting. I was happy with the saying and legibility but overall disappointed in the product.

Not as advertised but ok
By
Shopper

(Anoka, MN) - December 18, 2011
It is not engraved, it is printed in sparkly backwards ink on the back side so it appears normally from the front. It doesn't look very expensive -which its not- because its just printed, not nicely engraved as it says. The letters almost blur together a bit. The piece of glass is very thin if you tried to actually engrave it itd probably break. Shipping was on time however. I give it two stars for being an okay gift because I wish it had been engraved as written.

Couple's Ornament
By
Shopper

(Acushnet, MA) - December 15, 2011
This ornament could be very nice and elegant if the message printed were darker. It seems like the writing could peel off and is very light. The writing is not sharp, however the ornament itself is a nice heartshaped glass with a shiney elegant silver ribbon.

DISAPPOINTMENT
By
Connie C.

(Highland, WI) - December 13, 2009 (
See all reviews by this customer
)
I realize I goofed when ordering this item but I would think just good customer service would have had you do something about it. I received this ornament, which is nice and it had the correct dates. I had wanted the second choice for the saying. I inadvertently clicked on the third where you make your own without knowing it so when I received theornament it says, after the name and dates- to choose your own words, etc. I could not give that as a gift to the couple celebrating 25 years. It is worthless.
I called and all the excuses were made about it being my error and when I asked to order another one it would have been over $14.00 when I didn't pay that for the original item. You can rest assured I will not order again.