Beautiful keepsake box
By
Shopper

(Middle Island, NY) - November 2, 2012
We were very happy with our order it was engraved beautifully and shipped to us very quickly.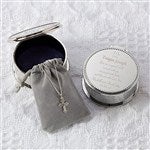 Nice gift, impressed by how fast it arrived
By
Shopper

(Troy, NY) - September 25, 2012
The box is smaller than I pictured, but still appropriate as a gift for a baby. I placed the order on a Thursday and with regular shipping I think I had it by the following Monday. That was AMAZINGLY fast. I will definitely purchase again if and when I need personalized items for that reason alone!

present for my
By
jennifer P.

(saugus, MA) - September 15, 2012 (
See all reviews by this customer
)
This was a gift for my godchild. It is a very pretty keepsake box.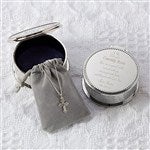 Beautiful Box
By
Shopper

(Santa Cruz, CA) - August 28, 2012
I ordered this for me nephew and was so pleased when I got it. It is so nice, well made and the personalized ingraving looked so nice. It was a wonderful gift, my brother loved it.

Exactly as described
By
Shopper

(Avondale, PA) - August 20, 2012
I bought this for my god daughter for her baptism. She is a tall, thinner baby at 4 months, so the cross fit nicely around her neck. The keepsake box is exactly as described. I was not disappointed at all with this purchase.

Great keepsake and great deliver service!!
By
Shopper

(pittsburgh, PA) - August 19, 2012
I have been ordering from here for over 6 months.. This website is the BEST personalized products and on top of that great delivery! I hope soon they get coozie holders with rhinestones .. They do have some but only for bachelorette parties.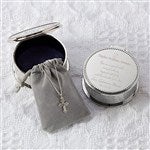 Couldn't had asked for Better
By
Laurie B.

(Breaux Bridge, LA) - August 18, 2012 (
See all reviews by this customer
)
Absolutely Perfect!!!

Super gift
By
Shopper

(Roswell, GA) - August 18, 2012
This is the second product I have purchased. Both have been fantastic. This is a gift for my baby Granddaughter. It is well made, and the engraving is beautiful. I'm anxious to give it to her on her Baptism Day.

Lovely Gift
By
Shopper

(Washington, DC) - August 3, 2012
I bought this for my niece for her baptism, and it's great. The box is lovely, and is a perfect token for a baptism.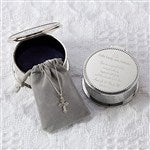 So pleased
By
juanita J.

(pine mountain, GA) - August 2, 2012 (
See all reviews by this customer
)
I ordered this for my new granddaughter, the necklace is beautiful and I love the liitlebox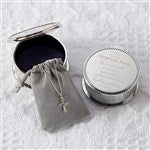 Baby's first baptism gift
By
Shopper

(Beltsville, MD) - July 29, 2012
I just recently bought this keepsake for my Goddaughters baptism and I'm very pleased with the results. I would recommend this to anyone!

adorable
By
Shopper

(Redding, CA) - July 28, 2012
Loved it! I will be getting one for each of my grandchildren

Beautiful gift
By
Shopper

(Roslindale, MA) - July 21, 2012
Great quality.

Recommended
By
Shopper

(Wendell, MN) - June 10, 2012
I was very pleased with this and shipping was very quick!!

Baby's First Cross & Engraved Keepsake Box
By
Shopper

(North Vernon, IN) - May 14, 2012
This ended up being nicer than I expected. Very pretty and small. Great for a new baby. I love it!

lovely keepsake
By
Shopper

(Harleysville, PA) - May 8, 2012
I adore the cross and love the box it came with. Perfect for my son's baptism.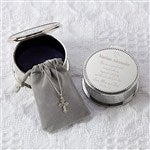 Cross with Box
By
Patricia H.

(Richmond, TX) - May 8, 2012 (
See all reviews by this customer
)
I ordered 2 of these for our little granddaughters. Although I haven't seen them since they were sent directly to them, our daughter says they are beautiful, both the box and cross. They were shipped the next day after ordering. I have always had great luck with your company, both in service and quality of products.

Baptism gift
By
Shopper

(Charles City, IA) - May 7, 2012
I purchased this keepsake box for my grandson for his baptism as a keepsake in remembrance of his special day. It is an awesome gift and one that his parents will keep as a special reminder of the day. I forgot until I received and looked inside that a cross necklace was included. Personalization Mall is my favorite place to shop for keepsake items and personal gifts.

Excellent!
By
Ashley H.

(Nunda, NY) - April 29, 2012 (
See all reviews by this customer
)
The box/tin was a little smaller than expected, but it was beautiful! It was spelled correctly and looks like very high quality. Inside was a little keepsake baggie with the cross- how ADORABLE! My niece looks SO cute with it on, definitely worth the money for a baptism gift. I am very satisfied!

GREAT GIFT
By
Michael J.

(Alexander, NC) - April 24, 2012 (
See all reviews by this customer
)
This item is definitely in line with Personlization Malls high quality. It's a lovely keepsake, and makes one happy to be able to give something like this.

Stunning.... The perfect gift !
By
Shopper

(Boca Raton, FL) - April 3, 2012
I am so pleased with this keepsake box. Beautiful and delivered as promised. I love shopping here!

Christening
By
Shopper

(New Gretna, NJ) - March 28, 2012
This baby's first cross and engraved keepsake box was just absolutely beautiful. I couldn't have wished for anything more. It it the perfect gift for our first granddaughters Christening. It arrived so fast in the mail. I would highly recommend this gift site to all of my friends and family. Thank you so much!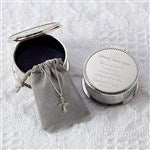 Baby's First Cross & Engraved Keepsake Box
By
Shopper

(POCONO LAKE, PA) - February 3, 2014
ALTHOUGH IT IS VERY PRETTY, THE BOX WAS MUCH SMALLER THAN I EXPECTED IT TO BE. BUT IT WILL DO.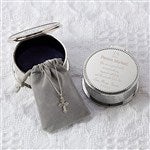 Brought tears to my BFF eyes
By
Shopper

(Brooklyn, NY) - February 1, 2014
I purchased this for my god daughter whom is my best friends daughter and when she opened it she literally cried . It's such a beautiful amazing gift and looks so pretty in the box. The only reason I didn't give it 5 stars is that the cross that it comes with isn't the best looking cross. I would maybe have even considered buying another cross and putting it in there.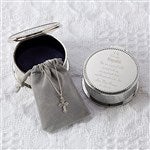 Very nice keepsake gift
By
Sara C.

(Canada) - November 12, 2013 (
See all reviews by this customer
)
This was smaller than I had thought it was, but perhaps my fault for not reading the dimensions. Regardless, it is still a very nice keepsake gift. Good quality and the fast shipping on this was unreal. Can't believe have fast they can do this stuff.

great idea
By
Shopper

(Hayward, CA) - August 20, 2013
I love the engraved keepsake box and the verse written on it!! quality was good. the cross that came with it however was just ok. it was too flimsy for me. would be nice if it was more solid. so I bought a baby's first rosary bracelet also from personalization.com and that was great. She could keep her first rosary in the keepsake box!

Nice gift for a baptism
By
Shopper

(Columbia, MD) - August 12, 2013
I got this for my goddaughter and am pretty happy with it. The box is small- about 2 in diameter. The engraving came out nice except for 2 characters: The diagonal of the "z" in baptized is barely visible and same with the diagonal on the "5" as part of the date. It must be something to do with the font, because it is there, just really hard to see. Other than that, I think it's a great gift for a little girl and am very excited to give it to her.

Beautiful keepsake
By
Pam M.

(Aston, PA) - June 22, 2013 (
See all reviews by this customer
)
Nice quality silver box and necklace was a perfect size for an infant. The engraving is small to read. But looks very nice

Engraved box was beautiful, looked great
By
Shopper

(hatfield, PA) - June 4, 2013
This item was for my niece's baptism. It looked great and worth every penny. However, the packaging box interior was missing some of the velvet lining. That was the only thing negative. I would buy this product again

Very nice gift!
By
Jennifer S.

(Napoleon, OH) - April 8, 2013 (
See all reviews by this customer
)
I am very pleased with this product. The cross necklace is nice, and the pouch it comes it is of a nice quality. The keepsake box turned out very nice. I love the personalization options on this. The only complaint I have is that there are very tiny scratches on the top of the lid. It wasn't bad enough to even worry about returning though. Otherwise, very nice product.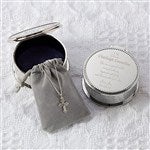 Knotted chain
By
Shopper

(oak forest, IL) - February 24, 2013
When the item shipped the chain of the necklace was knotted.. frustrating

Beautiful keepsake
By
Patricia P.

(Brooklyn, NY) - November 13, 2012 (
See all reviews by this customer
)
I bought for my granddaughter and niece for their christenings, it made a great gift. The engraving was perfect and they will be able to keep it forever.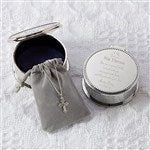 Pretty
By
Shopper

(Springfield, MA) - November 6, 2012
The item turned out exactly as it was in the preview. Writing is small though, so may be difficult to read for some.

Ver y nice Job...
By
Shopper

(Ridgewood, NY) - October 27, 2012
I really love this gift. We purchased it for our godson. The only thing that concerns me is the chain is sorta thin. I love the card option and enjoyed the sweet little box we personalized. Fast shipping. Thanks for solving our baptism present issue personalization mall!!!!

Nice item - decent quality
By
Shopper

(ALLEN, TX) - October 22, 2012
The engraving and keepsake box are very nice. The cross seems decent quality fr the cost. But the necklace/cross were tangled when i received them so it took some effort to get them untangled. Would buy from this vendor again.

Christening gift!
By
Marie B.

(Jacksonville, NC) - October 14, 2012 (
See all reviews by this customer
)
i purchased this for my first grandson's christening. the keepsake box in and of itself is very very nice.. with professional quality engraving.. i give it a 4 because of the cross was surprisingly 'flimsy'. Given the beautiful quality polished keepsake box i was somewhat disappointed with the cross as it is thin and appears very in expensive given the classy box it comes in.

Baby's keepsake box
By
Debra M.

(Canfield, OH) - September 18, 2012 (
See all reviews by this customer
)
Oh it was just beautifully done. Son and daughter-in-law loved it.

Love my purchase!!!
By
angela B.

(bellingham, MA) - September 9, 2012 (
See all reviews by this customer
)
I love the keepsake box!!! It came out sooo nice!!! It was very affordable and it was shipped very quickly!! The only problem I had was that the cross necklace was tangled. And had a knot in the chain! But other than that I will def buy from here again!!!!! Thank you

I liked it but....
By
Shopper

(Roselle, IL) - August 21, 2012
I really liked this item, however the box should be a little bigger so the engraving could be larger.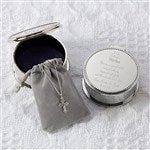 nice gift
By
Shopper

(stoughton , MA) - March 26, 2012
i bought this for my granddaughters christening it is lovely, the cross is very tiny, but the box i nice