Perfect Sentiment
By
Rachel O.

(Santa Fe, NM) - March 20, 2012 (
See all reviews by this customer
)
I gave this to my very Irish husband as a St. Patty's Day gift and he loves it! Great value for how nice it turned out! Perfect amount of name options, is delicate but seems sturdy, like that it came with a suction cup AND hanging ribbon, and it quite sentimental with very few words. One of the many beloved items ordered on this site!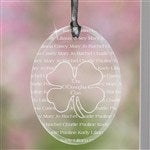 I Love My Irish Suncatcher
By
Stephanie T.

(Willow Grove, PA) - March 16, 2012 (
See all reviews by this customer
)
I really love the Irish sun catcher. It is the perfect house warming gift for a friend something thats lasts forever,And to top it off its personalized. You cant beat that.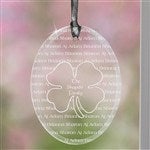 Beautiful gift idea
By
Shopper

(Atlanta, GA) - January 8, 2012
A gift to my newly engaged best friend. She really enjoyed this gift, and I hope it decorates her Christmas tree for many years to come!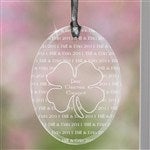 A special Christmas ornament
By
Shopper

(West Milford, NJ) - January 3, 2012
I love this as it will remind us each Christmas that FAMILY is the best gift of all.

Beautiful
By
Kristin L.

(Seekonk, MA) - December 30, 2011 (
See all reviews by this customer
)
This ornament is beautiful. We had it engraved as a tribute to my grandmother. It is hanging in a special place on the tree.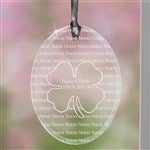 Lovely Irish Gift
By
Lisa M.

(Lodi, WI) - December 18, 2011 (
See all reviews by this customer
)
I had been looking for a Baby's First Christmas ornament for my new nephew. I wanted something that celebrated his Irish heritage (and was also personalized) and happened across the website for PersonalizationMall.com. I noticed this sun catcher and came to the conclusion, due to it's size it could very easily be used as a Christmas ornament. The ornament turned out lovely! It was delivered quickly and came just in time for the holidays! I am so excited to give this wonderful Irish gift!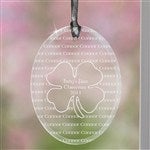 Very good quality - beautiful gift
By
Shopper

(Mendota Heights, MN) - December 15, 2011
The suncatcher was better than I had hoped for - it was a well received gift. Would definitely order more.

Gift
By
Shopper

(Enterprise, AL) - December 8, 2011
I ordered this item for my sister and her new husband as a Christmas ornament. Instead of placing names in the back round, I replaced it with the place, city, and date of their marriage. It came out beautifully.

A special gift
By
Shopper

(Tioga, PA) - September 23, 2011
This is beautiful. I am very impressed with the quality and can't wait to see the smiles when my son's family gets this and read their names. A wonderful gift idea.

Sister Gifts
By
Bernadette B.

(Woodbine, NJ) - December 3, 2010 (
See all reviews by this customer
)
I bought these for my 7 sisters and Mom. I was thrilled to be able to fit ALL of our names on this. Many times we are too many names for personalized items. They are beautiful! I can't wait to give them for Christmas. I love that they came with a hanger and wish the rest of the items I bought from this dealer came with one as well.

Beautiful!
By
Luanne W.

(West Hempstead, NY) - March 15, 2010 (
See all reviews by this customer
)
I ordered two. One for myself and one for my sister's birthday. They's so pretty & delicate...the engraving is perfect. The brass stand which holds it is really nice too...I'm showing mine off in my curio cabinet. I love it!

Ideal small gift for an Irish friend
By
Tonya T.

(Barnhart, MO) - March 15, 2010 (
See all reviews by this customer
)
I purchased this as a gift for a very Irish friend of mine's birthday... and it's adorable. Perfect size for a window and the etching is very well done.

Shamrock Suncatcher
By
Johanna W.

(Dunedin, FL) - March 8, 2010 (
See all reviews by this customer
)
I was looking for something for an Irish friend who has everything. I was not disappointed with this suncatcher. It is unique and has the personal touch! She is going to love it! Thank you!

Suncatcher
By
Loretta F.

(Staten Island, NY) - March 8, 2010 (
See all reviews by this customer
)
This is a very clever Irish keepsake. However, you don't have to be Irish to like getting one. Everyone could use a four leaf clover. The background with individual names is very different.

Beautiful sun catcher or ornament
By
Patricia S.

(Joliet, IL) - March 5, 2010 (
See all reviews by this customer
)
I got this and the stand for my daughter-in-law. She will not only display it with other Irish items during the year, but says she will use it as an ornament on their tree next Christmas. This is a great idea for every Irish household.

glass ornament
By
Shabana C.

(Hewitt, TX) - March 3, 2010 (
See all reviews by this customer
)
I loved this item. It looks beautiful and very reasonable pricing. It was a gift and the recipient liked it very much.

So Unique
By
Barbara T.

(Palm Harbor , FL) - March 3, 2010 (
See all reviews by this customer
)
Perfect Gift! Customized information came out so adorable! Perfect price!! So unique!

Eileen
By
Eileen P.

(Mankato, MN) - March 1, 2010 (
See all reviews by this customer
)
I was thoroughly thrilled with these suncatchers!! I was very proud to send them to my family for St. Patricks Day!! Thankyou! Also shipping was very fast. It's always nice when one doesn't have to wait too long.

Irish Family Suncatcher
By
Shopper

(Nutley, NJ) - June 18, 2013
The item is great and brought a tear to my 81 year old father's eye. Only thing that could be improved would be the size of the family name. It's small and seems lost and not that visible but if up close.

Suncatcher
By
Shopper

(Oroville, CA) - April 2, 2013
Very nice suncatcher. It has all the detail that I hoped to recieve.Very pleased with the product!

Great Gift
By
Shopper

(Plaistow, NH) - August 11, 2012
I got this for my boyfriends mother, it was a great way to incorporate everyone in the family into one item and show off their heritage. It looks beautiful, and can double as an ornament during the holidays, but also be left out all year. I was very happy with this!

simple elegance
By
Shopper

(BRICK, NJ) - July 10, 2012
I am getting remarried July 18th. I was trying to get my children a gift that made them know nothing will change for them and that we are a family. They already feel like my soon to be husband is like a dad. So I thought creating this ornament and putting Family Forever and the date of marriage would be a great gift to give the kids and my husband. Although we don't have the same last name our names will run together forever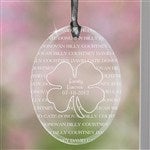 Great gift
By
Sherry H.

(Boynton Beach, FL) - April 25, 2011 (
See all reviews by this customer
)
I bought this as a gift for my firend she was very happy, and said she would cherish it for the rest of her life. I only issue is that I thought it would be a little thicker.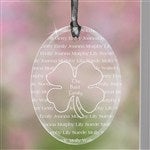 Great gift
By
Shopper

(Plain City, OH) - April 8, 2011
Great gift but just a little smaller than I would have liked!

Nice, but I wish the lettering was larger
By
Shopper

(Rochester Hills, MI) - December 26, 2012
The suncatcher was reasonably priced and a cute idea, but the names were very small and hard to read. I would love if you could add up to 12 names and make the lettering much larger.

Ok.
By
Andrea N.

(San Mateo, CA) - December 6, 2012 (
See all reviews by this customer
)
I like the sun catcher but to small and it's hard to read it.

Mrs
By
Patricia A. B.

(Antlers, OK) - December 10, 2011 (
See all reviews by this customer
)
This ornament would be better if the glass was lightly colored or the design and print were in green. We can't see it in the window where we display it. We cannot read the print nor see the design. Disappointing.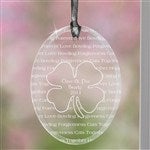 Disappointed
By
Shopper

(Campton, NH) - April 3, 2013
sorry but this Suncatcher was disappointing, much toooooooo small. I didn't think it would be large but ugg just not good. tiny!!