Great Gift
By
Shopper

(East Orange, NJ) - May 22, 2012
I gave this to my mom for Mother's Day
She absolutely loved it!!
It was just the right size :-)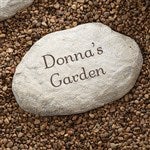 Memorial Stone
By
Cathie D.

(Kenosha, WI) - May 14, 2012 (
See all reviews by this customer
)
Our personalized memorial stone for our beloved pet turned out beautiful. I loved that we had choices for the font, and it arrived just a few days after ordering. It could have beed etched a bit deeper into the stone; but I've been reassured it will weather well. Nice product.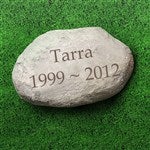 Pros & Cons to The Garden Stone
By
Shopper

(Sugar Land, TX) - April 22, 2012
Pros- Small, very lightweight, price is excellent, writing is beautiful, color and look of the stone is very authentic and pretty.
Cons- It is not a real stone/rock nor is it complete. Looking at the pics on the website I could not see the backside of the stone and I thought that it was a completely, enclosed oval stone. It is actually a half of a hollow mold with the inscription on the top. I was very disappointed to see that the stone was not completely whole actually taking on the appearance of a genuine stone/rock.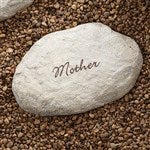 Great!
By
Shopper

(Freeland, MI) - April 19, 2012
My two dogs have passed away now, and I ordered this to put at their "gravesite". My parents LOVED it and it looks great!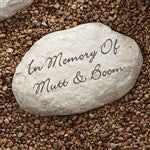 Great service
By
Kathryn D.

(Albany, GA) - April 14, 2012 (
See all reviews by this customer
)
I ordered extra stones to add to my family stones.. I received great customer service and prompt delivery... Thank you... Please keep them in stock, my family is still growing.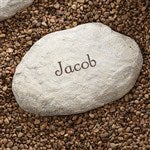 Perfect!!
By
kim S.

(lake ariel, PA) - April 14, 2012 (
See all reviews by this customer
)
I orederd 2 of these, each with my children's name on it. They look perfect in my landscaping! I might even order another for the dog!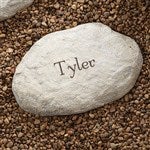 Meaningful Stones
By
Lisa K.

(Chehalis, WA) - March 14, 2012 (
See all reviews by this customer
)
I never actually saw this item. I had it shipped directly to my aunt who had to put her dog to sleep. I thought it would be a nice token to remember him while working in her garden. She called and absolutely loved it, so I'm happy!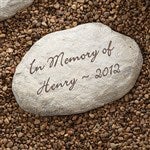 Memorial stones
By
Shopper

(Nazareth, PA) - March 9, 2012
I purchased these for each of our dogs that passed away as a memorial stone in our garden. They are beautiful and look great but some of them have faded over the years.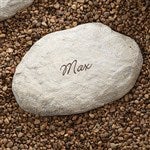 Just what I wanted !
By
Shopper

(Downingtown, PA) - February 28, 2012
I was very pleased with the quality and shipment of this item (very fast service). According to some reviews the item color was "green" which caused me some hesitation...Mine is NOT green...in fact it looks exactly as in picture (just a different inscription). I am very happy with my purchase and I am sure the person I will be giving this to will be just as happy (and very surprised)!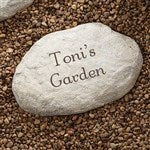 Loved this
By
Sarah T.

(O Fallon, MO) - January 27, 2012 (
See all reviews by this customer
)
I am a frequent PM shopper! I love anything personalized and I love the quick turnaround! I bought one of these stones for a friend in the one year anniv of her moms passing, she loved it!!!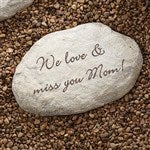 What is more than PERFECT
By
Janet H.

(Tampa, FL) - January 19, 2012 (
See all reviews by this customer
)
It is exactly what I wanted in every way!!
I needed a marker for the yard and it arrived quickly and just what I had in mind.
I won't have to worry about it because I am sure my raccoons and possums won't mess with it.
Thank you - I wish there were 10 stars!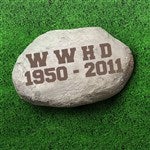 GREAT QUALITY as usual!!!
By
Jeff P.

(Austin, TX) - January 11, 2012 (
See all reviews by this customer
)
Once again, PM did NOT let us down! The QUALITY PM achieves EVERY TIME is BEAUTIFUL!!!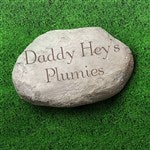 Wonderful product
By
Shopper

(Saugus, MA) - January 3, 2012
Came out perfectly, shipped quickly and efficiently. Made my mom cry. Great product.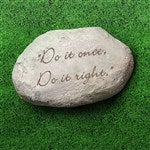 Memorial Stone
By
Shopper

(Round Lake Beach, IL) - January 1, 2012
My friend LOVED this gift to always remember her beloved dog.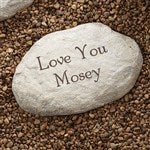 Special Garden
By
Amber J.

(Australia) - May 22, 2011 (
See all reviews by this customer
)
Adds something different to the garden, people always do a double take, when they realise it is our names.

Smaller than expected but happy
By
Shopper

(Canada) - September 27, 2012
I still am very happy with my order, I just wasn't expecting them to be quite so small. I also didn't know that the stones would be hollow and it would have been nice to know that before hand as my mother-in-law (who I bought them for) is the kind of person who will actually use them as stepping stones and likely won't take the necessary precautions to prevent them from breaking. Other than that, I am very happy

More than pleased!
By
Shopper

(Valrico, FL) - April 13, 2013
I ordered two of the small stones for my mom's garden, in memory of both family dogs. They arrived quickly and looked even better than I anticipated. They are perfect.

Stones
By
Fran R.

(Sherrills Ford, NC) - September 16, 2014 (
See all reviews by this customer
)
These are too cute. I did the names of my grandchildren which now sit under a stone my son bought me years ago with my name on it saying (My Name) XX Garden. I hope to add more stones in the future!!

Not a whole stone :(
By
Kyle C.

(huntington beach, CA) - December 20, 2010 (
See all reviews by this customer
)
Was expecting a stone for my mother's garden...was disappointed to find out it's only half of a stone! They should make sure and put that somewhere in the description!

stones
By
Amy F.

(Schuylerville, NY) - May 11, 2010 (
See all reviews by this customer
)
Not all of the personalization wa centered on the stone - if the stones were not for mother's day I would have returned them. I was disappointed with the quality.

Not exactly how I pictured
By
Tara Y.

(silver spring, MD) - August 16, 2011 (
See all reviews by this customer
)
Generally, this product is okay, but I was expecting a full round stone. Instead, it's hollowed out along the bottom. Slightly disappointed, but will still make an excellent gift. I also would advise you to order the smaller stone. The large is much bigger than I anticipated.

never again will i buy these
By
kelly K.

(colo, IA) - May 17, 2010 (
See all reviews by this customer
)
I purchased these for my Mother and my Mother in Law for their gardens, when they arrived they looked horrible and they are tiny! I will NOT recommend to anyone to buy this product!

Cheap..
By
Miquel S.

(Kearns, UT) - August 30, 2010 (
See all reviews by this customer
)
I was expecting this to look like the picture, I was actually disapointed after opening it up. Its very small and looks like cheap plastic.

Not worth it
By
Shopper

(Naples , FL) - April 9, 2012
Not even close to the real thing......looks very fake.

Garden Stones Housewarming Gift
By
Shopper

(Hamel, MN) - December 14, 2012
Our close friends just moved into a newly built house and thought the large stone with their family name and year would be a perfect memory! We also ordered three small stones for the individual first names. We were very pleased with the product. The style of printing was exactly what we wanted. The small stones names came out darker and clearer than the large stone. We were a little disappointed with first "T" on "The Bixby Home". It was smeared onto the rock...we are hoping that when it sits out in the elements it will not continue to smear, or any of the other letters, or lighten up any more.

Review...
By
Shopper

(Westminster, CA) - April 18, 2011
Product was met my expectations and the shipping was fast. Not much to complain in that area.

However, in case you didn't know, the back of this stone is hallow. It's not a real stone. This can be perceived as a good thing or a bad thing. In my case, it's a good thing because I can hide my backup keys under them :)

In terms of the quality, it didn't look like the preview picture so I was a bit disappointed. Barely though, the only thing that was inaccurate was the fact that the entire thing shifted to the left by about .5" compared to the preview pic.

Great product nonetheless, feels exactly like stone, print is readable, and it did its job.

Would buy again.

Great gift idea
By
Bonnie P.

(Alexandria, VA) - May 10, 2011 (
See all reviews by this customer
)
My sister and I got this for my grandmother. The large stone said "Maw-Maw's Garden" and was surrounded by ten small stones each with a grandchild or great-grandchild's name. She was thrilled. I would highly recommend this company and this gift.

Memorial Stones
By
Betty C.

(Chapel Hill, TN) - June 28, 2013 (
See all reviews by this customer
)
I created a memorial garden with 2 large parent stones and 4 smaller sibling stones. They look amazing with my angles looking down on them. They arrived extremely quick and the writing is very clear. The stone are much larger than they appear on the website. Of all the items I have ordered, these are the ones I am most proud off. Thank you for a wonderful product. I would highly recommend these to anyone.

Not a real stone
By
Shopper

(Kent, OH) - December 29, 2012
The size and lettering on the stone are nice. However the stone itself is hollow and has a yellowish color to it. But once you put it in the garden you really can't tell. It looks OK.

Attractive to the Eye/Offensive to the Nose
By
Shopper

(Maple Grove, MN) - June 28, 2013
These garden stones, though lovely to look at and light weight for easy handling, are made of a material that emits at very strong, offensive oder. I am hoping that in time the oder will lessen after the stones have been placed outdoors in my garden. However, the smell is so strong that I worry it may affect the growth of plants I have placed nearby in my pet memorial.

Small stone
By
Michele A.

(Medina, OH) - June 3, 2010 (
See all reviews by this customer
)
Wanted to order large stone but not not in stock. Stone writing ok but did not look exactley like pictures due to shape of stone. Still consider product a nice gift.

A total hit!
By
Shopper

(PLAINFIELD, IL) - June 17, 2012
What a hit! The stones look fantastic. The quality is great and the printing is very clear. I ordered both the large and small stones and they look wonderful in my garden. I have received many compliments on them!

nice gift
By
Shopper

(Seven Hills, OH) - June 11, 2014
I never know what to get my husband. Since he's been landscaping the backyard, I had the large garden stone personalized with the family name. It's proudly displayed among his real rock collection.

my rock
By
robert K.

(roebling, NJ) - December 27, 2011 (
See all reviews by this customer
)
i got a personalized rock for my girlfriend and she thought it was real

Excellent stepping stone!
By
Shopper

(Grand Junction, CO) - August 20, 2011
Stones are very realistic, printing on them exact, and prompt delivery of product.

Just like the picture
By
Brandi H.

(Platteville, WI) - June 20, 2012 (
See all reviews by this customer
)
My order came just a few days after placing it and it was exactly what I was expecting! We got "The Pierce Family" on the big one and first names on the small ones and they look great.. perfect addition to my small garden at our seasonal campsite! Helps make the space our own :)

LOVE THESE IN MY FLOWER GARDEN
By
Diane B.

(Palmyra, VA) - July 5, 2014 (
See all reviews by this customer
)
I love these in my garden, they look awesome!! High quality and the engraving looks great.

Beautiful memorials
By
Shopper

(Antioch, TN) - October 5, 2013
These stones are beautiful tributes for my lost loved ones.

SMILING IN THE SOUTH
By
Shopper

(Bolivia, NC) - April 29, 2012
Excellent product. Looked just like the picture. Used Script print and it looked beautiful. Friend rec'd as a gift.

Great!!
By
Ellen M.

(Duson, LA) - April 30, 2012 (
See all reviews by this customer
)
These are just perfect! So cute and very durable. They look and feel like real stone! Shipping was really fast and personalization arrived with no spelling errors. Love them, will definitely order from this website again in the future.