Wonderful memory created
By
Tim R.

(Bethlehem, PA) - December 28, 2011 (
See all reviews by this customer
)
We had this created as a Christmas present for my mother. The garden stone was engraved with a saying my brother, who has passed away, use to say to our mom. She placed it in the flower bed by her front door, it welcomes her each time she enters her front door. The stone is everything I wanted for her. Thank you for helping me to honor my brothers memory.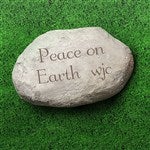 Grandma is sure to love!
By
Shopper

(DELTONA, FL) - December 17, 2011
My aunt, mom, and I all bought these stones with the grandkids and great-grand baby on the way's name. I am very happy with the size and weight of the stones, especially because people had talked about them being too light. I don't see them going anywhere unless we have a hurricane!
Each family of kids got a different font, just to mix it up a little bit. My favorite is the one pictured (I can't remember the name). It is big and bold and exactly what I wanted. My mom picked the cursive looking font...it's pretty and you can see it, but if we did it all over again, we wouldn't pick that font.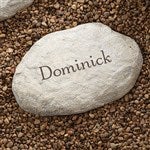 Good quality but a bit too small
By
Shopper

(Doylestown, PA) - December 15, 2011
This garden stone was great. It was shipped and arrived at my door only days after I ordered it. The engraving is beautiful and the stone will be the perfect Christmas gift. My only regret is that it is slightly smaller than I had presumed.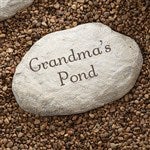 Stones Wonderful unique gift
By
ELISHIA L.

(ANTIOCH, TN) - December 12, 2011 (
See all reviews by this customer
)
Very creative gift nice product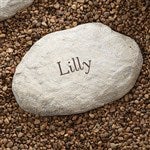 Garden Stone
By
Shopper

(Greencastle, PA) - December 11, 2011
Very Pleased...great memory stone for my friend who passed away from Cystic Fybrosis. Please donate to the CF Foundation today!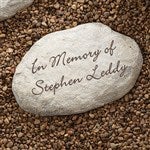 Pet headstones
By
APRIL K.

(CHEYENNE, WY) - November 29, 2011 (
See all reviews by this customer
)
This is the best gift to remember a lost pet. They are heavy enough to actually use as rock to border a garden. Even in windy areas, as we are in Wyoming. I have 7 total. I chose the letter script to fit the pets personality. Such a happy reminder.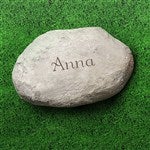 Great Present
By
Maria P.

(Holbrook, MA) - October 7, 2011 (
See all reviews by this customer
)
I bought the small garden stones for my daughter for christmas. I wasn't sure how the family name would like on a small stone but it came out beautiful. I was very happy with my purchase.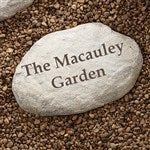 Garden Rocks
By
Kelley C.

(Spring Hill, KS) - September 11, 2011 (
See all reviews by this customer
)
This was an anniversary gift for my parents 40th wedding. They absolutely loved it. Perfect size and very nice addition to any garden or walkway!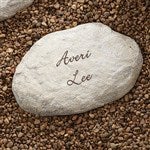 Nice, but....
By
Cindy C.

(Lower Gwynedd, PA) - July 30, 2011 (
See all reviews by this customer
)
Because I only wanted the word Welcome on the stone the font size is a little small for just the one word. If you order this request a larger size print for one word. It is also a little too high, as I would have preferred it centered. Nice quality though.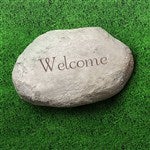 memorial gift
By
Shopper

(marlton, NJ) - July 2, 2011
I had an inscription for my friend who gardens and recently lost her dad. It was the perfect gift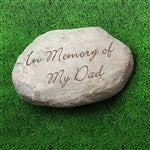 Pet Memorial
By
Shopper

(Wilkes Barre , PA) - June 4, 2011
I am thrilled with the personalized Stepping stone that I purchased. I wanted something to memorilaze our sweet dog that we had to put to sleep last year and I was able to have exactly what I wanted writtien on the stone. "Savanna Sadly Missed" is what I chose. I placed the stone out in our garden with a doggie angel and another stone that I purchased many years ago to memorilaize another pet. It looks lovely and the whole family is pleased with it. Thank you!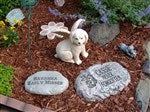 Too light weight
By
Shopper

(Statesville, NC) - May 16, 2011
These really are nice but are very light weight & we are concerned that during a wind storm they could blow away.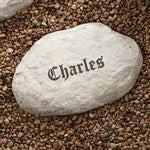 Weight
By
Shopper

(Statesville, NC) - May 16, 2011
We are disappointed that these are so light especially for outdoor use. When we have a large wind they could blow away.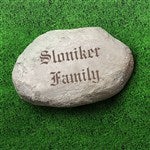 Garden Rocks
By
Shopper

(Platte City, MO) - May 12, 2011
I ordered 2 sets of garden rocks as gifts for Mother's Day. My mom and mother in-law loved the rocks because they were specialized just for them. What a creative gift idea for people who have everything!!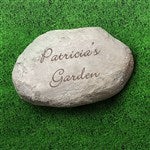 What a Hit!!
By
Shopper

(Troy, IL) - May 2, 2011
This was the best gift my parents ever received for Mother/Father's Day! I will definitely order again from this company and recommend them to all my friends!! The shipping time was awesome!! Totally love this company...very satisified with product, price & shipping!!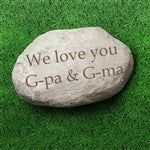 easter
By
Shopper

(Marshall, MO) - April 26, 2011
a fun gift for my son and his flower garden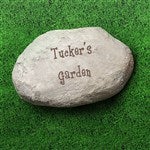 Lettering paint bad
By
Joni D.

(Cabot, PA) - April 23, 2011 (
See all reviews by this customer
)
I purchased this for a wonderful family as a thank you gift. It probably would of been really cool if only you could read the words. The paint on six of the letters look like it wasn't even painted so they blended in with the color of the rock. I didn't have time to return it and wait on another so I bought permanent Sharpies and colored all the letters with it and now it looks great. Part of the name and the entire word rock were unnoticable---not like this pic.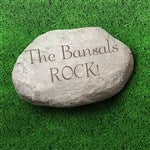 Met Expectations
By
douglas J.

(surfside beach, SC) - September 9, 2014 (
See all reviews by this customer
)
The personalized stone I ordered is perfect. The small stone is the perfect size and the graphic is perfect. It is being used as a marker for a beloved pet that passed in July and the entire family believes the simplicity of the stone makes it the perfect memorial. Well done, thank you!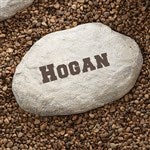 Puts a smile on my face and in my heart.
By
Shopper

(BOCA RATON, FL) - July 5, 2014
Ordered 7 of the stones with my grandchildren's names. I love the stones and they look so cute in my rock garden. Everyone comments on them. I am waiting to see if they wear well. I have only had them for 2 weeks so can't tell yet. So far I love them.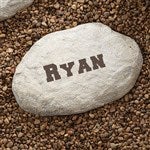 Garden Stone
By
Shopper

(Columbia, MO) - June 30, 2014
I ordered this stone for a member of my bridge club, whose sister had just died. She has a lovely little garden in her back yard. The stone was a perfect size and the lettering was tasteful and simple. I was very pleased, and she seemed to like the gift, too.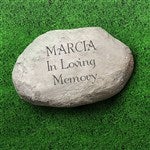 For nana
By
Amanda W.

(Stockton, CA) - May 9, 2014 (
See all reviews by this customer
)
Cute rock gift. The engraving came out great and this will be a great addition to Nana's garden. The only reason I didn't give it 5 stars is, I thought it would look or feel rock like. It's plaster in the shake of a rock. It's hollowed out in the back side. Lighter than I would have liked but still very nice.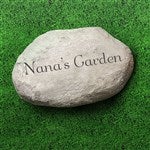 Muffin
By
Mary S.

(Sarasota, FL) - November 3, 2013 (
See all reviews by this customer
)
The redo of the Garden Stone is much nicer and clearer than the first one which deteriorated and the letters wore off after maybe 2 months. Thank you for replacing the stone and for your fast service. I appreciated that.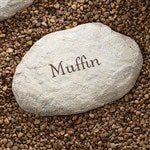 Nice
By
Shopper

(Florissant, MO) - September 3, 2013
I think my stone is nice and looks lovely in my landscaping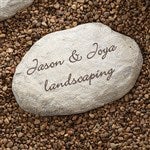 Just for fun.
By
Becky W.

(Nipomo, CA) - August 18, 2013 (
See all reviews by this customer
)
I had my grandchildren's names put on stones for my fauna garden. It looks cute, and mt grandkids think it is magic to see their names on stones. I know it makes them feel important.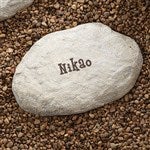 Personalization right on!
By
Shopper

(Winter, WI) - August 3, 2013
It does state that it is a "small" stone. I would like it to be a bit larger, but this is certainly adequate. The quality is very good & the choices for the type of printing is great! The actual personalization is right on!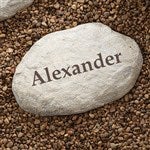 dog memorial
By
Shopper

(Ortonville, MI) - July 23, 2013
Very nice. Used these as a memorial garden for all my pets that have passed over the rainbow bridge.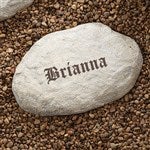 so realistic!
By
Maurine L.

(De Smet, SD) - July 8, 2013 (
See all reviews by this customer
)
I LOVE these personalized stones! The realism is amazing!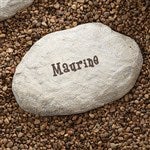 nice housewarming gift
By
LISA M.

(SCHILLER PARK, IL) - June 4, 2013 (
See all reviews by this customer
)
this is a very nice gift for someones garden....just watch the font you pick that the letters look the way they should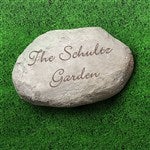 Great engraving, great product
By
Jennifer M.

(Henderson, KY) - May 21, 2013 (
See all reviews by this customer
)
These stones look great. My mom loved these as a present. I would definitely recommend.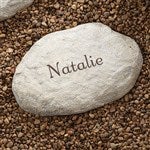 Fonts
By
Shopper

(Delran, NJ) - March 5, 2013
Really cute items but Fancy Block font "r" looks more like a "c". My fault for not looking at entire alphabet in that style. I fixed it with a dab of gray paint & it looks ok.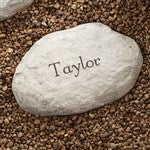 garden stones
By
christine R.

(tonawanda, NY) - March 5, 2013 (
See all reviews by this customer
)
Beautiful, I think I know what I'm getting everyone for Christmas. Very pleased.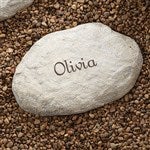 A nice and simple way to remember our pets.
By
Shopper

(Fresno, CA) - January 8, 2013
Having these personalized garden stones around our back yard really help us keep things in perspective during our daily grind. We remember loved ones who've moved on, and remind us that we'll all be together, again, someday. We feel better knowing that, especially since they brought so much love & joy into our lives everyday. Thank you.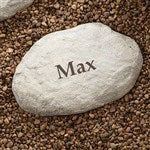 Way better than expected!
By
Andrew O.

(Minneapolis, MN) - December 28, 2012 (
See all reviews by this customer
)
Looked great, Mom loved it. The construction does not look cheap at all. It looks really nice. Surprised to see how close it looks to a real stone with nice heft to it. Thanks!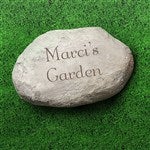 So Cute!
By
Nicole A.

(Hilton, NY) - October 22, 2012 (
See all reviews by this customer
)
I love this little rock. It is so cute and the engraving was perfect. It also arrived quickly! I didn't take into consideration the dimensions so it was just a little smaller than I expected but it is still perfect. I love it!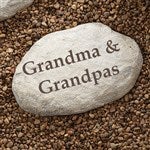 Rosary Garden
By
Maria P R.

(Stratford, CT) - August 25, 2012 (
See all reviews by this customer
)
I'm creating a Rosary Garden at my church as a place for prayer and meditation. Each stone represents a mystery. I find them stones to be of good quality and longstanding. I'm sure the garden will be well received.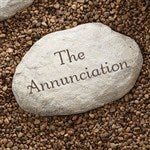 Pretty good headstone for my dead cat :/
By
Richard G.

(Hartford, AR) - August 6, 2012 (
See all reviews by this customer
)
I bought this as a headstone for my cat which suddenly died. I was a little disappointed at how hollow it is, but it'll work and the top of it looks pretty nice.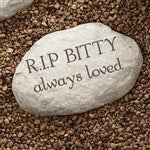 LOVED IT
By
Kimberly S.

(Davison, MI) - August 6, 2012 (
See all reviews by this customer
)
This is the second stone I've purchased recently to give as a memorial stone to a friend who just lost a loved one. You can put someone's name or a favorite saying, etc. On the back, I painted a note and our name. It's perfect for a stone in someone's garden so they will always remember your thoughtfulness. Both times I've ordered, I've been amazed at how quickly the stones arrived at my house! And stones at other sites cost sooooooooooo much more.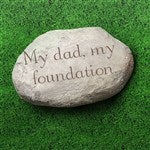 Love
By
Jennifer H.

(North Jackson, OH) - July 28, 2012 (
See all reviews by this customer
)
I love these rocks! I ordered 2. Both is memory of lost loved ones! they are perfect for under the bush/tree I planted for them!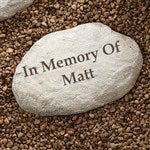 Garden Stone that looks completely fake
By
Shopper

(Cedar Rapids, IA) - June 19, 2012
I was extremely disappointed with this item. The stone looked plastic and the lettering was smeared.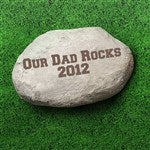 Personalized rock - very pleased.
By
Mary B.

(West Hills, CA) - June 10, 2012 (
See all reviews by this customer
)
Our beagle passed away recently and we wanted a memorial in the garden to remember her by. We had her name and years of life put on the stone and placed it in our garden by the pool. Thank you for such a wonderful product at very reasonable price.