Beautiful
By
Shopper

(Garden City, NY) - March 16, 2014
Well priced...Easy to assemble....Nice addition to a special day.

Perfect
By
Maria C.

(Lynbrook, NY) - March 29, 2013 (
See all reviews by this customer
)
These wrappers are perfect for our boys Communion! Love the foil they came with! Extremely pleased! Thank you!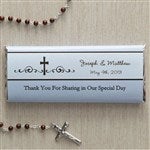 Very Pleased~~
By
Shopper

(Fair Lawn, NJ) - September 21, 2012
Very, very happy with these candy bar wrappers. I was concerned about the "foil pouch" since Hershey bars & other bars are not wrapped in foil now. I was thrilled to see the quality & ease of using the foil envelope (pouch). You just slide Hershey bar into pouch with label. This way the recipient can see brand & ingredients if necessary. The blue wrappers are perfect & will look lovely as our party favors!

So many compliments!
By
Shopper

(Chanhassen, MN) - July 14, 2012
These wrappers were perfect for our son's baptism. They are so easy to do as well. Just slip a hersheys in the tinfoil and use some super glue to wrap the paper around and it's perfect! The outside paper is very thick and high quality and we got more compliments on these at the party than anything else. I would highly recommend these.

Perfect Party Favor
By
Shopper

(Hauppauge, NY) - May 6, 2012
The wrappers are very elegant looking and are easy to set up. I used scotch tape instead of glue and that worked fine. The chocolate bars fit in the foil wrapper perfectly. The personalization was perfect.

Candy Wrappers
By
Shopper

(Wildwood Crest, NJ) - May 5, 2012
Easy to do and really cute!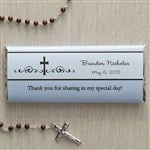 They look great!!!!!
By
Ann C.

(Lee's Summit, MO) - April 29, 2012 (
See all reviews by this customer
)
I bought the candy bar wrappers for my son's 1st Communion. They arrived really fast and they look fantastic. I will definitely recommend this product. They are beautiful:)

Perzonalized Candy Bar Wrappers.
By
Diana B.

(Pembroke Pines , FL) - March 11, 2012 (
See all reviews by this customer
)
Excellente product, beautiful favor for my event. !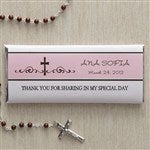 My favorite website...
By
Shopper

(Ontario, CA) - May 20, 2011
Never seems to dissapoint.. I love everything I order from here.
They were awesome, and everyone at the Christening loved them.

Thank you!

Candy Wrappers
By
Carol K.

(Brick, NJ) - April 12, 2011 (
See all reviews by this customer
)
They are an excellent quality and a beautiful addition to the Christening Day.

Terrific Product!!!!
By
Emma P.

(Elgin, IL) - April 5, 2011 (
See all reviews by this customer
)
I bought these wrappers for my daughter's First Communion.
They are of great quality - very easy to put together - it was a great project for my daughter and I.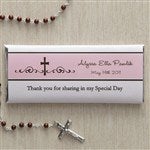 Happy
By
Brandi L.

(Northford, CT) - April 30, 2010 (
See all reviews by this customer
)
I was very happy. I don't know what I was thinking but I thought the candy bar came with the wrapper (it doesn't). I am excited to have these at my son's First Holy Communion. My 8 year old is very excited to hand his candy bars out with his name on them. The Font, color, everything was great.

Sweet Treat
By
Margaret G.

(Chula Vista, CA) - April 27, 2010 (
See all reviews by this customer
)
I bought candy wrappers to announce my pregnancy so it seemed fitting to use them for her baptism....these are so beautiful and girly( I obviously have the pink ones) I love the cursive writing it just adds to the whole look, really makes it special. Since I've done candy wrappers before I know that it will require a little time to get them all done but the effect is well worth it. LOVE THESE

Nice wrappers
By
Patrizia C.

(Canada) - April 25, 2012 (
See all reviews by this customer
)
I ordered these for my son's first communion and they worked out great! All our guests loved them!

LH
By
Shopper

(TUPPER LAKE, NY) - May 21, 2011
BEAUTIFUL!!! NICE QUALITY.

grandmother
By
Martha J.

(Smyrna, GA) - May 10, 2010 (
See all reviews by this customer
)
I surprised our son and daughter-in-law with these for their daughter's baptism celebration brunch. This is a 5 star on looks--the perfect favor--beautiful and (when over a Hershey bar) delicious! However it was a little labor intensive. It would be so much easier not to have to apply glue to each wrapper and tape for the foil liners. Can you not apply a strip of adhesive with a peel off strip? That would make it perfect! Everyone did love them, though!! It's a great idea. Thank you.

DOES NOT COME WITH THE CANDY BARS
By
Shopper

(Saint Louis, MO) - April 1, 2011
This little momentum costed me $18 more because it had to purchase the candy bars! It did not indicated clearly that no candy bars came with it but it is a great way to remember the day

False advertizing
By
David D.

(Prospect, KY) - March 18, 2014 (
See all reviews by this customer
)
When I completed the personalization form for the candy bar I was so excited and happy to have the candy bars coming. Every picture that was shown advertized a wrapper folded around what looks to be a candy bar. When I received the order I was dissapointed that I found "no" chocolate and just wrappers.
My suggestion is show the final personalization as it comes to the customer, or attempt to be more clear.