Flaws
By
Deborha S.

(Florence, SC) - April 14, 2013 (
See all reviews by this customer
)
The engraving was beautiful as usual. But there was a flaw in one of the flutes. When I called, they told me to take a picture of it and email it to them. That was impossible to do. So my future son and daughter-in-law will be getting less than perfect toasting flutes.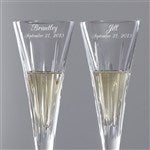 These were purchased as a Wedding Gift along with a bottle of Dom Perignon.
By
MARY E M.

(HAZLE TOWNSHIP, PA) - March 22, 2013 (
See all reviews by this customer
)
I searched a long time to get just what I wanted and when these arrived I was more than surprised as they were even more beautiful than anticipated. I will definitely return to this website in the future when I need a special gift.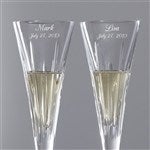 Perfect for daughters wedding.
By
Joan D.

(Wolcott, CT) - March 17, 2013 (
See all reviews by this customer
)
These are really the perfect flutes. My daughter and future son-in-law loved them. They are worth the price.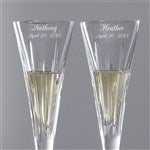 Beautiful
By
Shopper

(Simi Valley, CA) - March 16, 2013
I wanted to buy champagne flutes for my son and his fiancee, and these were prettier than any that I found in the stores - plus, they were a reasonable price, and look beautiful. I had their names engraved, and they look so expensive! Would definitely purchase them again for another happy couple.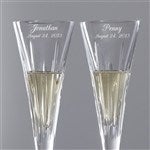 Beautiful Champagne Flutes
By
Shopper

(San Jose, CA) - March 12, 2013
These flutes are beautiful and elegant. My daughter was thrilled to receive them-just what she was looking for. Great quality for the price.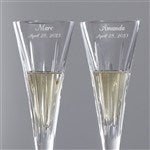 Better than what you see
By
Tammy T.

(Methuen, MA) - February 21, 2013 (
See all reviews by this customer
)
These toasting glasses are more beautiful than what you see in the picture, they are well made and not to heavy but well worth the money. My son and future daughter in law were in awe when they opened the package.
Well Well worth the money.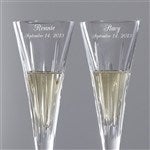 Champagne Toasting Flutes
By
Debra S.

(Savannah, GA) - February 18, 2013 (
See all reviews by this customer
)
I could not be more satisfied. The monogramming was perfect, they were shipped the day after I ordered, and delivered within a week of the order. I was very pleased with the whole process. Thanks!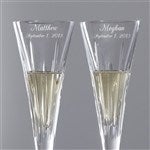 Two Family Weddings in a Year!
By
Sandra D.

(Prairieville, LA) - February 15, 2013 (
See all reviews by this customer
)
Perfect ... the only word to describe them. I ordered them as soon as the wedding dates were set but I never expected them to arrive within 7 days. Shipping was extremely fast and free. I think my nieces and their new husbands will love them! They really make the perfect gift for the couple who has everything already.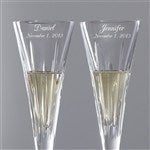 Beautiful!
By
Christine W.

(Lakeside, CA) - January 25, 2013 (
See all reviews by this customer
)
These glasses are just beautiful, the etching is very pretty and there is a nice weight to them as well. I couldn't be happier with this purchase. They are for my daughter's wedding and so I wanted something extra special - Thank you!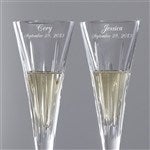 Great Gift
By
Rose Ann M.

(West Islip, NY) - October 23, 2012 (
See all reviews by this customer
)
These flutes are the perfect gift for a bride and groom on their wedding day!!! With their names engraved and their wedding date, they will be cherished for years to come!!!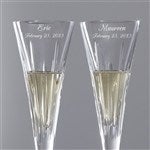 Just Perfect
By
Christine E.

(Yucaipa, CA) - September 24, 2012 (
See all reviews by this customer
)
We are getting married in December and I wanted something simple but elegant. This fit the bill perfectly!!! I love the clean look of the ingraving and the weight of the flutes. They are what I was looking for and will be used often. Thank you for all the other reviews, they really help with my choice. I would recommend this flutes to anyone looking for quality at a great price.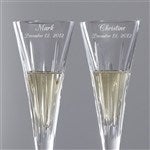 LOVE THEM!!
By
Brandie I.

(Conway, AR) - September 10, 2012 (
See all reviews by this customer
)
I bought these as a wedding for gift my boyfriend's sister, everyone loved them so much when they went on sale a few weeks back I bought another set for my brother who is getting married and I saved $25!! They are absolutely perfect! If I ever get married I'm sure I'll buy myself my own they are so nice and elegant! Perfect gift! Oh and both I bought were for destination weddings so they traveled to the island and back in the packaging with no problems! Love personalizationmall.com, my favorite site!!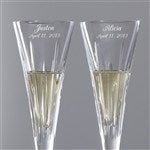 picture does not do it justice
By
allison T.

(alpharetta, GA) - August 31, 2012 (
See all reviews by this customer
)
These were beautiful even nicer then I expected. I bought them for a toast for my parents 50th wedding anniversary and they loved it.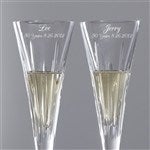 Very good
By
Trish H.

(Wyoming, MI) - August 19, 2012 (
See all reviews by this customer
)
The turn around time was excellent and the website was easy to follow. The products as well, are very nice.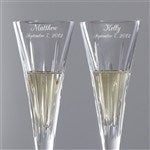 Cheers!
By
Shopper

(Grant, FL) - August 3, 2012
Fabulous! Gorgeous etching. As with everything else I've bought at Personalization Mall, the quality is terrific, the delivery on time...always a great experience.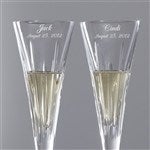 Beautiful!
By
Alyssa P.

(Keller, TX) - July 23, 2012 (
See all reviews by this customer
)
Just got these glasses for my wedding. They are just beautiful, we both love them! Very tall and of great quality, engraving is perfect as well!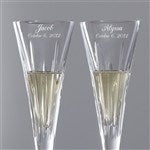 absolutely beautiful
By
paula S.

(little rock, AR) - June 17, 2012 (
See all reviews by this customer
)
I ordered these for my bonus daughters wedding and they were gorgeous and her and her new husband loved them.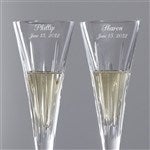 Excellent Quality
By
Shopper

(South Bend, IN) - May 25, 2012
These champagne flutes are gorgeous! I can't wait to give them to my daughter at her bridal shower! Worth every penney! Quality and design are excellent!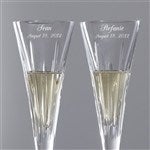 Misleading Picture
By
Diane P.

(Castleton, VT) - May 6, 2012 (
See all reviews by this customer
)
I was disappointed with these flutes. In the pictures the stem looks thicker and almost a sliver tone. The reality is that while these flutes are crystal, they are very plain. Also,my flutes had some water or print like spots on them when they arrived.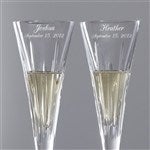 Great Purchase
By
Shopper

(chesterfield, MO) - May 1, 2012
Elegant toasting flutes, came timely in perfect shape-would definitely recommend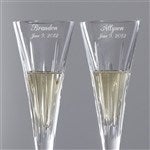 Toasting Ready
By
Marti S.

(North Hills, CA) - April 21, 2012 (
See all reviews by this customer
)
Engraving was beautiful, arrived right on time, however the flutes themselves were not quite as delicate and light as I was expecting.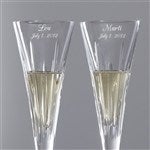 The Prefect Gift
By
Leigh L.

(Terrytown, LA) - April 15, 2012 (
See all reviews by this customer
)
I bought this set for a couple getting married. Adding this to the vast collection of wine and wine glasses I thought it would get lost in the shuffle. After the wedding they tosted with them then the flutes went on display in the front of the cake for pictures. They got many compliments. I nkow now what to get all my friends that get married.
Thank you for the wonderful selection, and the beautiful work you all did.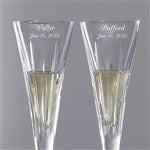 Beautiful flutes
By
Clare M.

(Goleta, CA) - April 9, 2012 (
See all reviews by this customer
)
These arrived quickly and look beautiful. Very elegant.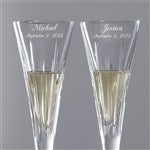 Wedding
By
Trish H.

(Wyoming, MI) - April 8, 2012 (
See all reviews by this customer
)
The crystal flute set is beautiful...........unfortunately for us,
our daughter changed the date of her wedding! Frustrating! I will probably be ordering new ones soon.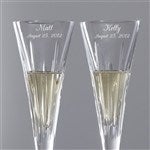 Wedding Gift
By
Shopper

(Fishers, IN) - March 28, 2012
Great selection, fast service, the newly married couple loved the glasses!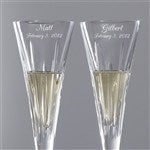 BEAUTIFUL FLUTES
By
Shopper

(north hollywood, CA) - March 17, 2012
They are beautiful . They are an engagement gift . To my sister. I WOULD RECOMMEND THIS TO EVERYONE .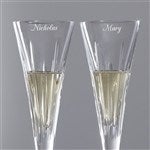 Perfect!
By
Shopper

(tyler, TX) - February 10, 2012
These are just gorgeous, came VERY securely packaged and ON TIME. The best accessory pic for our reception....and they make a great "ting" when the rim is flickered. Very pretty and very tall!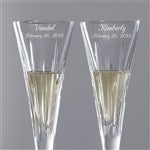 Gorgeous
By
Debra D.

(Yellow Springs, OH) - September 21, 2010 (
See all reviews by this customer
)
These are quite simply stunningly beautiful. Heavy without being overly so. Great quality. The engraving was flawless and elegant. Plus the delivery was quick, and these were well packed. I'm delighted with my purchase and with this company!

What a difference shopping around can make..
By
Anna H.

(Canton, MI) - June 17, 2013 (
See all reviews by this customer
)
I almost make the mistake of ordering flutes for my wedding at the engraving store at the mall. Once I found out engraving costs would be more than the flutes themselves, I started shopping around and found these. These turned out better than expected- they are beautiful!! Tall, sleek flutes that have some weight to them. My fiance was pleased with these. Shipping was very speedy and packaged very well. Only thing is I wish they came in a nicer box to store. We will treasure these for years to come!

Not sure.
By
Shopper

(Afton, MN) - July 22, 2013
I'm not sure if these flutes are optimal for engraving. The design of the glass leaves such a small space for engraving it looks a bit odd to me. The glitter flutes I ordered for my daughter's wedding were much more amenable to engraving. That said - the flutes are nice, the engraving well done and, as always, delivery was super fast.

Beautiful and sturdy!
By
Shopper

(Pasadena, CA) - February 9, 2011
These champagne flutes are beautiful and sturdy! I am excited to use them at our wedding. They will travel well to a destination wedding since it is not as thin as traditional champagne flutes yet they are very classy and elegant at the same time. However, I only wish we could have put our last names instead of the first names--since we are uniting as one. But overall, would buy this product for any one of my family/friends for their special day :)

Great Gift
By
John C. M.

(Gibbstown, NJ) - January 29, 2011 (
See all reviews by this customer
)
This is the second time that I have purchased this product and have been very happy with it. The people that have received them, were very happy too.

Reed & Barton Personalized Flute Set
By
Sandy B.

(Antioch, TN) - October 31, 2010 (
See all reviews by this customer
)
The couple receiving the personalized flute set for their wedding gift were very impressed with the quality, weight,engraving, and timely delivery. This was the only gift they received that was engraved with their names and wedding date to celebrate their yearly anniversarie's in the future. They have now ordered products from your website. I will continue to recommend your website for wonderful gift selection's for all occasions.

Beautiful!
By
Shopper

(Warwick, NY) - January 10, 2011
I purchased the flute set as a keepsake for my wedding day. The crystal is high-quality. The flutes and the personalization are elegantly beautiful.

Beautiful glasses, but a bit spendy
By
Jennifer B.

(Medina, MN) - April 28, 2010 (
See all reviews by this customer
)
These are beautiful glasses, but in comparison to other engraveable champagne glass options I wouldn't put it up to the level of the cost. You can tell by the weight of the glass that they are good quality, but I would have expected a fancier glass for the price. They do have simple elegance, so I think it's still a good option for a personal touch if you're willing to spend the extra money for them.

Absolutely Beautiful!
By
Shopper

(Fulton, NY) - January 8, 2011
The bride and groom and guests loved the champagne flutes. Very modern yet classy. Received rapidly - within just a few days of ordering. Glad I purchased them.

Wedding Gift
By
Jonna P.

(Alpharetta, GA) - June 8, 2010 (
See all reviews by this customer
)
I gave these Reed & Barton engraved flutes to my fiance on our wedding day. He thought they were a perfect idea. Just something to commemorate our special occasion. They are beautiful flutes and our photographer used them in some very special photos. I would recommend them as a gift for your bride or even for your groom. Great wedding gift idea.

Beautiful Crystal Flutes
By
Cheri G.

(West Columbia, TX) - December 3, 2010 (
See all reviews by this customer
)
These flutes are exquisite - I couldn't have asked for more! I got these for my daughter's wedding and they look like they should have cost so much more. I have some Waterford flutes and these are very comparable - love them!

Wedding glasses
By
Roberta B.

(Cocoa, FL) - April 29, 2010 (
See all reviews by this customer
)
They are very pretty, but I wish the engraving was larger, you have got to look very closely to read the names and date.

Great!
Received these as a bridal shower present; great quality, love how it's engraved with our names and wedding date. My only complaint is that they're VERY tall, and unfortunately don't fit in any of my cabinets.