chocolate thoughts
By
tina M.

(houston, TX) - February 17, 2014 (
See all reviews by this customer
)
This item is so nice because you can put whatever you want on it after you buy your candy bars to wrap them in.:-)

Candy Wrapper
By
Shopper

(Bristow, VA) - February 16, 2014
The wrappers arrived in great condition and they are very easy to use and the foil were perfect fit.

Great wrappers
By
Laura S.

(Dacula, GA) - February 15, 2014 (
See all reviews by this customer
)
The candy wrappers arrived very quickly. They are great quality, very thick paper. The aluminum wrapper for the chocolate bars is nice too.

Perfect gift
By
Sunny S.

(Cabot, AR) - January 25, 2014 (
See all reviews by this customer
)
I love these I haven't given them as gifts yet, but I know they will be a huge hit!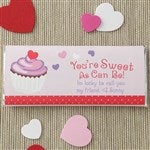 Awesome
By
Shopper

(DECATUR, TX) - February 17, 2013
This is my second year to order these for my granddaughter and they are always a hit. Very nice!

Super cute!!!
By
Shopper

(Loma Linda, CA) - February 9, 2013
Super cute! Item arrived just as describe. Looks even better in person.

Wraps that mean something
By
Shopper

(totowa, NJ) - February 3, 2013
Great idea ever

Great Gift!
By
Robert T.

(Allentown, PA) - February 15, 2012 (
See all reviews by this customer
)
The wrappers looked great. Family and Friends loved the personal touch. We've used Personalizationmall.com for multiple occasions and have always been extremely happy with our purchases.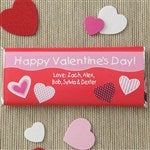 Big Hit in Kindergarten!
By
Rachel M.

(Rahway, NJ) - February 15, 2012 (
See all reviews by this customer
)
The kids/parents loved them! Great durability, and clean crisp look. I filled the bags with Smarties and small Hershey's krackels instead of a whole candy bar. It worked out well. When you seal the wrapper, use a hot glue gun. Regular Elmer's glue makes the seal lumpy. Overall, great product and I plan to order again!

cute idea
By
Shopper

(Pine, CO) - February 10, 2012
this was a bit spendy, but such a fun way of sending candy with the personalization. I would have liked to be able to write my own words to be on the wrapper, but was happy with the prewritten logos.

Very cute for class parties.
By
Shopper

(Montgomery, TX) - February 3, 2012
I used these to wrap Hershey bars for my son's class Valentine's party. It was very easy and super cute!

Great Product!
By
Shopper

(Abilene, TX) - February 3, 2012
I am in sales, I bought this product to hand out to office I call on. I was able to hand out valentine candy and promote my company by putting the company name on the wrapper. The office staff loved them.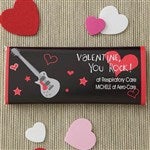 Must Have for Grandchildren!
By
Carolyn D.

(New Bern, NC) - January 21, 2012 (
See all reviews by this customer
)
I was looking for something a little different for my grandson for Valentine's Day and came across these wrappers. They were just perfect! I recommend using double-sided tape to put them together and they look just like they came off the store shelf.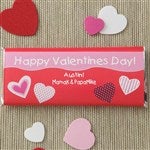 Repeat purchase!
By
Mindy C.

(Columbus, OH) - February 6, 2011 (
See all reviews by this customer
)
My son and his 1st grade classmates loved these so much last year that we are ordering again for 2nd grade! High quality and easy to assemble. So fun.

Celebrate Like a Rock Star!
By
Misty L.

(Houston, TX) - February 4, 2011 (
See all reviews by this customer
)
This product was shipped and delivered quickly. The wrappers were exactly as shown on the website and exceeded our expectations. We adhered them to our candy bars in about ten minutes using double sided tape. Overall, an attractive valentine for our 6-year-old boy to give to his classmates. Not too gushy, but great enough to impress his "crush" and cool enough to share with his best buds!

Great high quality print wrapper
By
Jessica T.

(Staten Island , NY) - February 1, 2011 (
See all reviews by this customer
)
I purchased these wrappers for my sons class. His birthday is also on VDay & i thought it would be a cute personalized favor... I love them. They are made of high quality paper, the wrapper personalaztion worked out great & they are easy to put together. I suggest a roll of scotch tape & a glue stick to make things alot easier.
Remember you are purchasing just the wrappers. They do come w/ the silver insert to cover the candy bar ends. I wrapped 20 candy bars in 30 min.. not hard at all. I found it easier to tape the ends of the candy bar wrapper down first, then put the silver insert over candy bar and wrapped the ends like You would wrap a present. (Hope this helps)... i would buy again.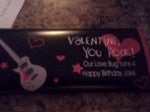 Super cute Valentines
By
Elizabeth F.

(Henderson, NV) - February 11, 2010 (
See all reviews by this customer
)
I have to say that I found this product online and was so excited and so i ordered them and they got to me very quickly and are very well made and look really great! My son is so excited about handing them out for his Valentines to his classmates! So i rate this product an A++ for sure!

Exactly as pictured but...
By
Tonya K.

(Kings park, NY) - February 10, 2010 (
See all reviews by this customer
)
It is only the wrappers. For some reason I misread that and assumed it came with chocolate inside. Anyway, I guess I should have thought about the price vs. what candy bars would cost.

Just realize you have to buy candy bars too. And have a glue stick on hand to seal the wrappers. Freeze or refrigerate the chocolate bars ahead of time to avoid getting chocolate all over your fingers.

Very cute for the money!
By
Christina L.

(La Crescenta, CA) - February 1, 2010 (
See all reviews by this customer
)
I just received my order and I was very pleased. I am giving them to all the teachers in my son's school. The black "you rock" ones are very cute and stand out. I will probably do this again next year.

Cute and inexpensive V-day gift
By
Shopper

(Lawton, OK) - February 9, 2011
Cute alternative to V-day cards/gifts. The foil included is a little small and I haven't found foil wrapped bars yet so I will probably just be putting the printed paper wrapper around the original candy bar wrapper. Cute idea and cute designs. The "Valentine You Rock" is perfect for boys to give out.

Valentine's Day Candy Bar Wrappers
By
Carol S.

(Albany, WI) - February 12, 2010 (
See all reviews by this customer
)
I ordered these for my Grandson and these are so cute. They're easy to put together and add something special to a candy bar.

Candy Bar Wrappers
By
Dawn C.

(Tullahoma, TN) - February 12, 2010 (
See all reviews by this customer
)
They are really cute, can't wait to give them out. They arrived so fast after I ordered them too! Would order them again.

Valentines
By
Jennifer C.

(Rockwall, TX) - February 11, 2010 (
See all reviews by this customer
)
The foil wrappers were a little hard to work with. The candy bar barely fit so they end up breaking and/or melting in your fingers during the process. Once you get them in the foil however, the wrappers look adorable. The finished product is great!

No Candy Bar?
By
Shopper

(Syracuse, UT) - February 8, 2011
I'll be honest, the wrapper turned out pretty cute. But I was extremely disappointed when I received my package and it did not come with the candy bars! I just paid 20 dollars for 12 pieces of paper that I could have printed myself?
Rip off! I am aware that it says 'personalized candy bar wrappers', but I didn't think that meant it wouldn't contain candy bars!

Very disappointing.


cute but time consuming!
By
Kelly C.

(Poulsbo, WA) - February 18, 2010 (
See all reviews by this customer
)
thought it would be a good project to do with the kids (age 7 and 8) but I wound up putting them together as the silver sleeve it really tight and the wrap doesn't have any give around the sleeve so not easy for the kids to put together. Very cute idea for valentines just not the "simple" project I was looking for.

wrapper only
By
Traci D.

(Lexington, KY) - January 31, 2014 (
See all reviews by this customer
)
I have bought several items from this site. Everything has always been wonderful. I was shocked when my candy bars came with no bars. So I just spent $36 on wrappers only. So my idea of my kids giving out candy bars on Valentine's day just got real expensive. I was okay with spending more on the Valentine's (normally you spend maybe $10) so $26 more I thought well they will get a full size candy bar and it's cute. When they showed up I thought the box was pretty light opened it and found another package that said it was the bars. I thought they couldn't be that small, no it was just wrappers. Now I have to buy candy too. Disappointed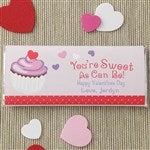 they should have candy in them
By
Krista T.

(South Bend, IN) - February 17, 2010 (
See all reviews by this customer
)
I already sent this to customer service but the whole point in using your site is that I am not in the same city as the people I am sending gifts to. I cannot order the wrappers, track down the right size chocolate to fit in them, why wouldn't you charge a little more and put chocolate bars in them or at least offer that option!?!? The same with the cute pots you can customize - how about the option of having a flower in them??? Anything that creates an extra step for me to do is not why I would use your site. It wasn't clear to me that chocolate didn't come in the wrappers, it was my own fault for not reading, but I would have never thought I would be sending EMPTY wrappers to someone... I was totally embarrassed by it. It happened another time to me with the pot.. thanks for asking.