Nice touch
By
Sasha O.

(Floral Park , NY) - February 18, 2014 (
See all reviews by this customer
)
I loved the way these came out! You have to put them together but it takes no time and they looked great.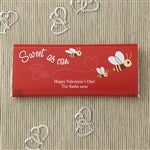 Came with an extra wrapper
By
Jessica G.

(Miami, FL) - January 27, 2014 (
See all reviews by this customer
)
This came in perfectly packaged so that the wrappers (including the inside foil) were perfectly flat. Not even a tiny wrinkle on the paper. The colors are beautiful in person. I really thought it would be cheap paper and didn't care cause it would be torn off anyway but nope the paper quality is very good.
Truly loved this product. Can't wait to wrap up my homemade chocolate bars.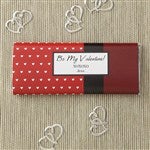 Wonderful Valentine's Day gifts
By
Shopper

(Thornwood, NY) - February 6, 2012
These personalized candy bar wrappers are great! They have made it easier to wrap the candy bar with the silver envelope style wrapper. My daughter loves giving these personalized chocolate bars to her friends on Valentine's day.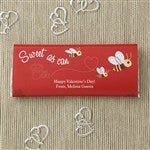 Cute
By
Shannon H.

(Greenville, SC) - February 16, 2010 (
See all reviews by this customer
)
It was cute and served its purpose.

Confused
By
Shopper

(Saint Louis, MO) - February 4, 2011
I thought these came with the chocolates, probably my fault. That would have really been a good deal! They are very cute...

I'd choose a different wrapper next time
By
Shopper

(Amherst, VA) - February 15, 2011
Arrived on time, paper quality is good...didn't expect the silver inner wrappers so that was a nice touch. I'd order again, but next time I'd chose a different design...maybe one with a white or light background. The printing on the red background was hard to read and not as crisp as I'd like. I used the regular size chocolate bar and it fit fine, although getting it glued was a bit harder than I expected.
All in all, it was successful as the folks at work thought it was a great idea.

Not worth
By
HAREESH G.

(TUSCALOOSA, AL) - January 26, 2010 (
See all reviews by this customer
)
I got this for valentine's day. These are ridiculously small to put a candy in it and pack neatly. The outer cover paper is not wide enough to glue at the other side when we close it. This is a fundamental design problem. I wish they fix it.
The name printing and everything else is fine. But of no use anyway.

cute but time consuming!
By
Kelly C.

(Poulsbo, WA) - February 18, 2010 (
See all reviews by this customer
)
thought it would be a good project to do with the kids (age 7 and 8) but I wound up putting them together as the silver sleeve it really tight and the wrap doesn't have any give around the sleeve so not easy for the kids to put together. Very cute idea for valentines just not the "simple" project I was looking for.

Suits their purpose....
By
Terri O.

(Prescott Valley, AZ) - February 4, 2010 (
See all reviews by this customer
)
These are a cute idea and seem to fit any standard size candy bar just fine. Not really worth the money, but ok for a one time purchase because they are unique.

Service
By
Jane D.

(Amsterdam, NY) - February 14, 2011 (
See all reviews by this customer
)
Service was great!! Ordering process was easy. Quality of paper was excellent.
Very pleased with the product.

GREAT!!!!
By
Shopper

(SOUTHERN PINES, NC) - February 15, 2011
I ordered these wrappers for my son's 4 yr. old preschool class and they were a hit. I received so many compliments from the parents and teachers! They were so cute. I ordered the wrappers and bought the candy bars separate. They were easy to wrap and actually a fun little project. Thank you personalization mall!!!

Absolutely Sweet!
By
Nicole S.

(North Charleston, SC) - February 13, 2012 (
See all reviews by this customer
)
I was extremely satisfied when I received my order with my personalized candy bar wrappers! My sweetheart thought it was absolutely "sweet" to have his favorite chocolate candy given to him with such beautiful wrappers that displayed our names! I look forward to purchasing many other items in the future from PersonalizationMall.com! It's obvious this company helps to create some very "sweet" memories.

Super Cute Valentines
By
Elizabeth F.

(Henderson, NV) - February 11, 2010 (
See all reviews by this customer
)
My 4 year old picked this bee theme for his Valentines and when i received them i was thrilled with the product ! They were shipped very fast and are very nice quality also- they are fun and different to do for the class handouts- I give this an A++ all around ! Hoping they come out with new different designs for next Valentines so we can do it all over again!

Great gift choice!!
By
Yolanda B.

(Lithonia, GA) - February 13, 2010 (
See all reviews by this customer
)
This item made a great gift for coworkers and friends. Easy to put on candy bar especially with the silver package!! Really makes a great gift with a personal touch!!!! Everyone loved it!!!!! Worked better with tape instead of glue though!

Personalized candy bar wrappers are an excellent value.
By
Donna M.

(Clovis, CA) - February 16, 2010 (
See all reviews by this customer
)
I ordered the personalized candy bar wrappers to add that "special and personal touch" to my valentine's gift basket and I was not disappointed by the quality and appearance of the product! I was also pleasantly surprised to discover that not only do you get the outter wrapper to customize your candy bars; but you get the silver inner wrapper as well so that all of your candy bars are uniform and attractive! Nice job on this product.