perfect gift
By
Christine S.

(Wrenshall, MN) - July 30, 2011 (
See all reviews by this customer
)
For retirement it is the perfect size gift to display. With dates and the info you choose to engraved on it, making it a very special gift!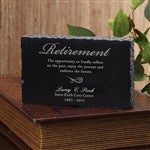 Small but cute
By
Lori D.

(Albuquerque, NM) - July 18, 2014 (
See all reviews by this customer
)
This was a fun little gift for a retirement commemoration. I was surprised when I received it in the mail at how small it was but was still a great little gift!

Great Gift
By
Michael A.

(Newport News, VA) - June 28, 2010 (
See all reviews by this customer
)
This was a Father's Day gift for my dad, and he was extremely pleased with my selection. I really was thankful for the opportunity to craft my own personal message, which really thrilled him and others who saw it. Thanks for delivering it on such short notice in time for Father's Day!

Retirement Gift
By
John N.

(Tonawanda, NY) - September 30, 2010 (
See all reviews by this customer
)
A beautiful keepsake for a long time coworker. She loved it!

Nice!
By
Justin F.

(Natrona Heights, PA) - August 24, 2010 (
See all reviews by this customer
)
My brother loved it! It was more special to him knowing that it was personalized. Thank you for the quick delivery!

Looks Great!!
By
Shopper

(Converse, TX) - December 19, 2012
Small but nice, I wish there was more space to write message but the gift was a hit at the retirement event.

Disappointed!!!
By
Shopper

(Land O Lakes, FL) - January 27, 2013
I ordered this item as a retirement present for a coworker who is retiring after 30 years of service. I was so disappointed with the product. It was much smaller than expected and very cheap looking. I am too embarrassed to give her the gift so I have to scramble to find something else. I payed extra for the gift box and was even disappointed in that. It wasn't a gift box a all but an advertisement box. Very tacky.

Nice Retirement Gift
By
Shopper

(Pleasant Plain, OH) - April 19, 2013
Site was easy to navigate. I found what I was looking for quickly. Easy to place order and enter customization. Received within a few days.

"A little disappointed"
By
Karen T.

(Baton Rouge, LA) - February 18, 2014 (
See all reviews by this customer
)
I ordered this marble keepsake as a gift for my husband's retirement. While I thought that the craftsmanship was great, I was disappointed with the size of it. My plan was to display it on a shelf beneath his work photograph. However, it's so small it would get lost on even a small shelf, and would not be very easy to read. I'd like to see you offer this item in different sizes. I would be willing to pay more for a larger piece of marble. I admit that I neglected to verify the size of it. However, It was an oversight on my part, since I was ordering it as a surprise and trying to get it done without my husband being aware of it. I hope that you will consider my suggestion, and thank you for allowing me to share my opinion.

Nice; Wish it was just a bit Larger
By
Shopper

(Iron City, TN) - July 20, 2013
This is a nice keepsake. However, it is very, very small. The workmanship is good as is the engraving. If the overall size was made larger even by just a few inches, it would make it a much more substantial, quality gift.

Retirement Engraved Marble Keepsake
By
Karen C.

(Phoenix, AZ) - November 18, 2010 (
See all reviews by this customer
)
This was a wonderful gift and keepsake for both women and men.

retirement gift
By
Brenda A.

(Indian Springs, OH) - April 28, 2013 (
See all reviews by this customer
)
He and his wife and all the party guests just loved the marble gift. He said that he would put in on his home desk. He thought it was just amazing that I had gotten him something like that and it was engraved. Beautiful gift.

Great Item
By
ERICA M.

(ASTORIA, NY) - February 2, 2013 (
See all reviews by this customer
)
I ordered this item for my co-worker that had 33 years of service at our Association. It was a great gift, not to big or heavy and the writting was beautiful.She will be able to look at it everyday on her dresser and remember all the fun times we had together.

unfortunately a BLEMISH
By
Shopper

(Biddeford, ME) - June 19, 2014
I loved the marble keepsake, unfortunately it arrived with a scratch down the entire front. It was a time sensative gift, but Personalization Mall was good to their word and a replacement arrived in time for the retirement gathering. I love the gifts and the customer service here.

Retirement
By
Shopper

(San Antonio, TX) - March 7, 2014
The retivement engraved marble keepsake was exactly like we wanted. I knew it would be small but a larger size would be better. I needed it at the last minute and I paid extra for shipping. It arrived on time and the recipient really liked it

Retirement Stone
By
Shopper

(Kent, WA) - November 6, 2012
Was a bit smaller than I suspected, but still a beautiful piece. Will be given to my boss as a retirement gift.

Perfect when you dont no what to get
By
Vincent C.

(Catlett, VA) - February 27, 2011 (
See all reviews by this customer
)
I had 5 other people's names, along with mine inscribed on this, with a retirement wish for a friend, it worked out great!

Excellent quality
By
Joanne K.

(Pataskala, OH) - December 17, 2010 (
See all reviews by this customer
)
I purchased this for a coworker that is retiring this year. I am very pleased with the quality and size of the item.

New Retiree
By
Shopper

(Owings, MD) - July 5, 2011
I was a recipient of the 'Retirement Engraved Marble Keepsake' and I just loved it! I love it so much that I bought a cute little table top easel to place it on. It sits on my bedroom dresser where I can see it everyday. One of my dearest friends just retired and I thought that she, also, would appreciate the special wording as well as the elegant style of the keepsake. So, I ordered one for her as a retirement gift. Since she just retired three days ago, I thought that I would give her a little time to respond to the gift (I had it delivered to her worksite). I'm anxiously awaiting her reaction. I know that she will love it, too! And to add a little note...the price was excellent for such a lovely piece!!

OUTSTANDING!
By
Walter T.

(Lyons, IL) - June 13, 2011 (
See all reviews by this customer
)
. . This was a gift for a retiring general surgeon . . . elegant and distinctively done . . .an excellent remembrance . . .