Great Robe
By
Shopper

(New Castle, PA) - February 22, 2012
Love it :)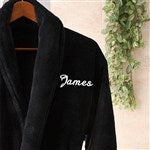 Feels sooo good!
By
Shopper

(DOUGLASVILLE, GA) - February 21, 2012
This robe was a gift for my friend for Valentines. He loves it. The personalization is a great touch and it is so soft and warm.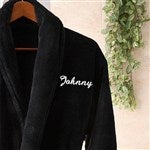 Pleased
By
Regina J.

(Virginia beach, VA) - February 21, 2012 (
See all reviews by this customer
)
He was pleased!

Valentine's Day Gift
By
Shopper

(Chicago, IL) - February 20, 2012
This was a wonderful purchase for my boyfriend's Valentine's Day gift. He absolutely loves the robe.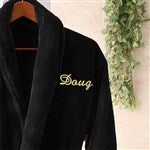 Great Job!
By
Shikira H.

(Sacramento , CA) - February 15, 2012 (
See all reviews by this customer
)
I received my husband Valentines Order on time. The items were packaged appropriately and the items were super clean. I think the materials were great and was worth the price. I will definetly be purchasing more items.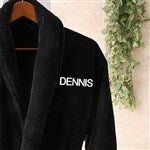 Soft cushy robe!
By
Shopper

(Claremore, OK) - February 15, 2012
I bought this for my valentine....he absolutely loved it. It's light enough he doesn't getting too hot and heavy enough to provide warmth....washes beautifully too!

Embroidered Luxury Fleec Mens Robe
By
Becky B.

(Bull Valley, IL) - February 14, 2012 (
See all reviews by this customer
)
This was absolutely Beautiful... My Husband loved the personalization and the robe itself is beyond what I expected.. This item came on time and was easy to place with personalization Mall.com and I would Highly recommend this gift to that special person in your life. Great Service, Great Quality and a wonderful Gift.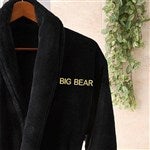 Quick shipping and excellent work
By
Shopper

(Caseyville, IL) - February 14, 2012
As guaranteed our Valentines Day gifts showed up on Valentines Day. Thank you so much for helping me make a great V-day for me and my hubby. :)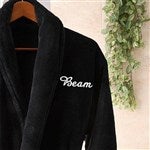 Wonderful! Great gift idea :)
By
Shopper

(Paterson, NJ) - February 6, 2012
I bought this as a gift for my boyfriend and he absolutely LOVED it. :) Great gift just to say I Love You.

Love it
By
Shopper

(Wahiawa, HI) - February 5, 2012
Love it

Excellent
By
Nordia C.

(Bronx, NY) - February 4, 2012 (
See all reviews by this customer
)
Excellent Service, Excellent Shipping, Excellent Robe, Excellent Embroidery...Excellent EVERYTHING!!!!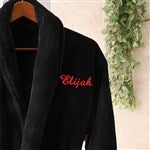 10 year wedding anniversary
By
Shopper

(mechanicsville, VA) - February 4, 2012
I wanted to get my husband a personalized robe for our anniversary and out of all the sites I went to this was the best. The price was good and the color choices were great. I wanted a black personalized robe and this was the only place I found it. Very happy and I know he will be :)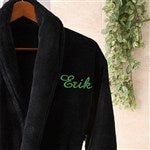 He loved it!
By
Shopper

(Brooklyn, NY) - January 31, 2012
and so do I lol (I find myself wrapped in from time to time... I need to go ahead and get my own). I bought this for my boyfriend for his birthday. He casually mentioned he could use a robe, so of course the personalization was a nice touch. The robe is super soft and comfy. It is a tad big (one size fits all), as my guy is a tall slim goody, but it works just fine! He's pleased with it.

excellet and beautiful
By Shopper (phoenix, AZ) - January 17, 2012
excellet for person especial for you....

Luxurious robe!!
By
Shopper

(Beverly Hills, CA) - December 30, 2011
I was very pleasantly surprised with the quality of this robe. It's thick, super soft and luxurious. It looks great on my husband and he absolutely loves it. I highly recommend this if you're looking for a nice personalized gift for someone. It looks like an expensive, high-end robe.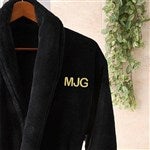 Love it!
By
Shopper

(Alexandria, VA) - December 29, 2011
Ordered this robe for my boyfriend for Christmas. He adores it for its softness and has been wearing it daily. Only wish it came in more colors, but the thread color option works just as well. Overall, a great gift!

Happy Husband
By
sandra K.

(vail, AZ) - December 29, 2011 (
See all reviews by this customer
)
This is a great site and i just love the sevice and would come back

Cuddly soft robe
By
Michelle D.

(San leandro, CA) - December 28, 2011 (
See all reviews by this customer
)
The robe is gorgeous and warm and soft and he loved it! Said it was by far the best gift he got this season!

Perfect!
By
Tina T.

(Springfield, IL) - December 27, 2011 (
See all reviews by this customer
)
This was a Christmas gift. It was wonderful and a great fit. Very warm and the momogram was very nice!

Great men's robe
By
Shopper

(Jones, OK) - December 26, 2011
I was reluctant to order a fleece robe. So glad I did. This was very soft, very little lint left in dryer after first wash. My brother is super picky, but it got his stamp of approval.
Customer service was great. Fixed a minor issue with very little aggrivation on my part. Replacement robe was sent and still recieved in time for Christmas.

I will definately shop here again when I need a personalized gift.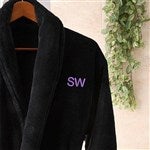 Excellent Taste
By
Shopper

(Dallas, TX) - December 25, 2011
I was very pleased with the choice I made when I received my order. And when the receiver of this gift told me that I had excellent taste, I was extremely satisfied. Thank you for your assistance in making my Christmas shopping easy.

Special gift.... for... Special One!
By
Shopper

(Holt, MI) - December 15, 2011
I was looking for a Special gift for My Special One and I found this robe! He absolutely loved it: it's very soft and very comfortable, and now nobody can make him take it off! P.S. and a Metallic Gold thread makes it look classy! Perfect choice, perfect quality, perfect service!

the warmest robe i ever felt
By
Elizabeth C.

(Payson, UT) - December 12, 2011 (
See all reviews by this customer
)
The quality is great, color is beautiful, the material is soft and war to the touch.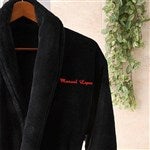 Beautiful gift
By
Carol E.

(San Jose, CA) - December 12, 2011 (
See all reviews by this customer
)
This robe is soft and luxurious, and the embroidery just perfect. I am proud to give this as a gift. It came beautifully boxed, and the shipping time was very reasonable, especially for a personalized item.

Merry Christmas
By
Shopper

(Atlanta, GA) - December 9, 2011
Got this as christmas gift for my dad. It is thick, long, and exactly what I wanted. The personalization was perfect and the package arrived quickly!

great gift idea
By
Christina F.

(Orlando, FL) - December 7, 2011 (
See all reviews by this customer
)
Ordered this for my grandfather's 80th birthday. It was an absolute hit!

Very Soft , I Love this Robe- Great Gift!!
By
Kari M.

(Scottsdale , AZ) - December 3, 2011 (
See all reviews by this customer
)
I bought this robe last Christmas for my son and it came out beautifully! This robe I ordered for my husband , so he has yet to open it. The ONLY issue I have is the T looks very weird (his name is Tony) it's a cursive T and doesnt look quite like the preview showed,it looks like the number 6 with a line over it so that is a bummer. I know he will love it regardless, but I just wish it looked like a regular T, I would absolutely buy this robe again for future gifts. If you are considering buying it, I say go for it, if the name starts with a T, just dont get cursive.

great product.
By
maleda M.

(chelsea, MA) - September 1, 2011 (
See all reviews by this customer
)
this is the 3rd purchase from personalization mall for my husband. i just received my product today. i am very happy by the product. it is not what i expected it is beyond that. buying a gift for a husband is a really tough task. tnx to ur site i now am super gift giver. u gave me idea every time i needed it and make me look like a super woman. thank you so much for excellent customer service, on time delivery and very satisfying product. this robe is just super.

50th birthday gift for boyfriend
By
Tracey L.

(Greenville, NC) - August 22, 2011 (
See all reviews by this customer
)
For someone who loves to drink coffee and lounge around early in the morning, this makes a perfect gift. The gold letters stand out nicely against this black robe. If feels so luxurious and cozy! The stitching of the script letters was sewn evenly and beautifully. I cannot wait to see my boyfriend open this gift!

He LOVES It!
By
Shopper

(Freeport, IL) - June 28, 2011
Bought for my bf-he loves the comfort, fit and style! I looked high and low for one that would surpass my expectations and within my budget-I found it on personalization.com!

Keep up the great work!

Wow, so nice
By
Kelly A.

(Pleasant Hill, CA) - June 24, 2011 (
See all reviews by this customer
)
I was looking for a robe for my husband who is fighting terminal kidney cancer (at 47 yrs old!) w/ some heavy duty treatment in ICU. It makes his skin hurt & he gets the chills so I needed something really soft & warm, yet also light weight. This robe fits the bill perfectly. Not only that, it is full-length so that's a plus and an added bonus is that his initials (he goes by them at work) make it so special. Wearing the same old drab gowns in the hospital this helps give him a little bit of his own life back when he's there :-).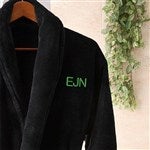 Awesome!
By
Teran S.

(Irvine, CA) - June 6, 2011 (
See all reviews by this customer
)
Amazingly soft!!!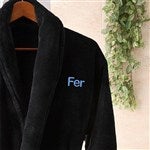 Soft
By
Solomon P.

(Staten Island , NY) - June 4, 2011 (
See all reviews by this customer
)
i really love its big warm and cozy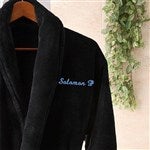 Love IT!
By
Shopper

(Hagerstown, MD) - May 30, 2011
I bought this for my fiance and bought myself the satin one. I'm a bit jealous. This one is so soft.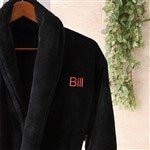 Perfect Anniversary Gift
By
Shopper

(Lawrenceville, GA) - May 27, 2011
I gave this to my husband as our two year anniversary gift. He wears it at every possible opportunity and honestly so do I. It's so soft and warm... I'm going to order one of my own. The engraving is stylish and the quality is exceptional. Very happy with this. Thanks again Personalization Mall, as always you've made me look like a star.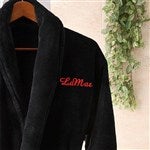 love it
By
DELANEY J.

(NEW ORLANS, LA) - May 6, 2011 (
See all reviews by this customer
)
i bought my mom and stepdad the robes and also my friend for her birthday and they loved them .im getting one for myself ...lol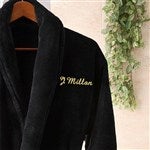 The perfect gift for the guy who has everything
By
LISA S.

(PERU, IN) - April 10, 2011 (
See all reviews by this customer
)
First of all, I must say that our anniversary sneaked up on me this year! Monday came and I realized our anniversary was on Friday! So, I looked online and found this wonderful website full of gift ideas! I found this robe, and he is always commenting on the soft robes in the hotels we stay in. SO, I had it embroidered with his name in Gold (great choice!) and placed my order, hoping that it would get here ontime. Well, unfortunately it did not make it be Friday, but by early Saturday morning, here it was at our doorstep! That's quick! And the quality is A++. Very thick and luxurious, and it seems to wear well. Overall, I believe I got a great deal for the price!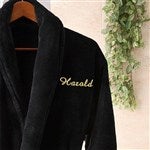 Nice job
By
Shopper

(houston, TX) - March 28, 2011
very happy with the purchase. Thank you

Nice quality
By
Shopper

(Manalapan, NJ) - March 27, 2011
This robe is really nice. It is good quality, big, and comfortable. The color looks great. My boyfriend is 6'5" and the sleeves are a little short on him, but it's really no problem. The robe itself is not short on him. He loves it, and me and my cat love to cuddle on him when he's wearing it.

Perfect
By
Robert S.

(Reno, NV) - March 21, 2011 (
See all reviews by this customer
)
I don't fill these out often, but this bathrobe is great. Soft, and fluffy and just what I was looking for. I got mine, then ordered robes for my grand kids. I am looking for the perfect monogrammed towel, but still looking.