Very nice robe - needs nicer lettering
By
Cynthia D.

(Wichita, KS) - January 22, 2013 (
See all reviews by this customer
)
The quality and feel of this robe is excellent. I love it. The embroidered name, however, is very small. It needs to be larger (taller) lettering. As it is, the lettering gets lost in the folds of the fabric.

Love it
By
Shopper

(Saint Charles, IL) - January 14, 2013
My husband loved it! But I paid for wrapping and the box top of the box didn't fit the bottom. When I asked for a refund for the bad wrapping job, the customer service rep, in a round about way, accused me of lying and refused to give me a refund. I've ordered from them before, and I have never had any kind of issue, this was a 1st. So I was pretty shocked. The actual robe is great, it sheds alot, but its great.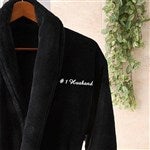 I would recoment
By
Shopper

(Mullica Hill, NJ) - January 9, 2013
After reading other reviews, I decided to go ahead and order this robe for my boyfriend. It is very soft and looks exactly like the picture. I don't think I could have found as good of a quality robe for this price. The only thing a little dissapointing was the length. He is about 6'3" and I think it should have been a tad longer on him (however, he said it was fine). I would recomend this robe. It is a perfect gift for anyone!

Personalized Robe
By
Shopper

(york, PA) - March 18, 2012
Very soft, item shipped out pretty fast, looks exactly how I expected to. The only thing with the robe being one size fits most, the sleeves were cut a bit wide so I rated this 4 stars instead of 5. He loved it overall and I would recommend ordering from here.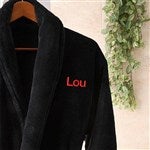 It was great...but had a little problem!!
By
Cindy J.

(Blakeslee, PA) - March 16, 2012 (
See all reviews by this customer
)
I bought this robe for my husband's birthday, and received it earlier then I expected. However, the robe was great except, one of the pockets of the robe had not been sown all around, so the pocket flapped down. Long story short, I fixed it myself because it would take to long to send it back to get fixed.

Quality
By
Shopper

(Hayward, CA) - March 11, 2012
quality was not as soft and plush as I thought it would be. Good job on the personalization a little over priced.


Mr feel good robe
By
Shopper

(Greensboro, NC) - February 17, 2012
My beau absolutely loved this robe and it's soft texture!!! I read many review before ordering this robe and I may very GOOD choice!! He loved it and plans to wear it around the house as lounge wear :)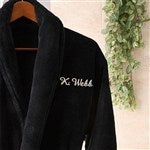 Very Comfy
By
Jammie J.

(Wentzville, MO) - February 13, 2012 (
See all reviews by this customer
)
This is a super sof and very comfortable robe.I got this for my boyfriend for Valentine's day. The embroidery adds a classy touch to this already nice robe.
Your man will love it!

Side note****
*It is pretty big and roomy. If your boyfriend/hubby is a small guy, I wouldnt really advise this particular one.*

Spa Robe
By
Shopper

(Fayetteville, NC) - February 11, 2012
Very comfortable and soft.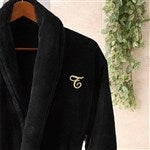 mens robe
By
Kristen B.

(Strasburg, OH) - February 6, 2012 (
See all reviews by this customer
)
I was very impressed with the quality of the robe as well as the stitching. Super fast delivery too!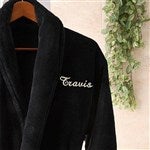 Not bad at all
By
Melissa W.

(Los Angeles, CA) - December 15, 2011 (
See all reviews by this customer
)
The robe itself is beautiful and so soft! Love it, the embroidery on the other hand is not the best. It's fraying a bit, the letters aren't connected as they should be but besides that I have no complaints. Still a great buy.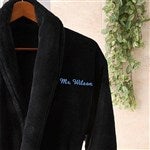 Nice!
I rated this item 5 stars bcuz of it's very nice/soft quality/material. I just luv the way it feels, BUT it fits way too big on my husband and the company doen't change it because it's 1 size fits most!!! very dissapointed there! I was looking for a nice b-day gift for my husband and i ended up giving him something that he probable won't wear! :'( So be extra careful when choosing clethes that doen't include sizes (especially when it says "1 size fits most/all", and read the dimensions/measurements.

Soft and cozy
By
Shopper

(university city, MO) - June 22, 2011
This is an excellent quality robe. It is super soft and comfy.
Just know this is one size fits all - meaning it is enormous in size. But that's what makes it so comfy. Overall, great purchase.

Fit for a King
By
Chanel K.

(Chicago IL, IL) - February 21, 2011 (
See all reviews by this customer
)
I purchased the robe for my boyfriend. Since I was purchasing online, I was a little nervous about the quality of the robe, but he absolutely loves it. It is so warm, fuzzy, and comfy. It is one size fits all, I was skeptical about that as well, but it actually does. I put it on and it fits me, I'm 5'0, and he is 5'6 and it still fits. The only thing I do not like is the size of the initials. I think it's too big, but he doesn't seem to care. This is a great gift under $50.00 anyone would love it.

Suprisingly good value
By
Jessica H.

(Gastonia, NC) - February 15, 2011 (
See all reviews by this customer
)
I was a little anxious as first as to the quality and hate buying any kind of clothing online, but was pleasantly suprised when received. Fleece is heavy and soft, embroidery nice and size is generous.

Great gift idea
By
Shopper

(Hasbrouck Heights, NJ) - February 15, 2011
I bought this for my husband for Valentine's Day and he loved it. He liked that I put his name on it. It fits well, although he's on the smaller side so it seems to be a little too big but he was fine with it. The robe was fuzzy and warm and he can't wait to wear it. The only thing that I was concerned with was that there were little strings hanging on the inside of the robe, like the sewing wasn't done properly. But I just cut them off.

Loved it but...
By
Shopper

(highland heights, KY) - February 4, 2011
I love the way the robe feels however i was a little bit disappointed in the stitching which is supposed to be the main part because it wasnt as neat as i expected but overall i love it and i bet my boyfriend is gonna love it too

Awesome gift!
By
Shopper

(Southampton, NJ) - January 5, 2011
Bought 3 of these, for my fiance and my two brothers, and they absolutely love them!! They are very soft and seem to fit them all nicely. (varying between 5'11 and 6'3, 140 - 160lbs) Pair it with slippers, and you have the perfect gift!!

Title the review?
By
Fabricio B.

(Hereford, AZ) - June 18, 2010 (
See all reviews by this customer
)
Delivery was fast, product was accurate, website was easy to use. Price was steep but considering that I ordered this from Afghanistan for my father, I don't have much of an option.

Overall, I was satisfied with my purchase. The convenience of ordering online is great for deployed soldiers. Wish they would offer a military discount though.