Luxurious robe!!
By
Shopper

(Beverly Hills, CA) - December 30, 2011
I was very pleasantly surprised with the quality of this robe. It's thick, super soft and luxurious. It looks great on my husband and he absolutely loves it. I highly recommend this if you're looking for a nice personalized gift for someone. It looks like an expensive, high-end robe.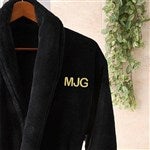 Cuddly soft robe
By
Michelle D.

(San leandro, CA) - December 28, 2011 (
See all reviews by this customer
)
The robe is gorgeous and warm and soft and he loved it! Said it was by far the best gift he got this season!

Great men's robe
By
Shopper

(Jones, OK) - December 26, 2011
I was reluctant to order a fleece robe. So glad I did. This was very soft, very little lint left in dryer after first wash. My brother is super picky, but it got his stamp of approval.
Customer service was great. Fixed a minor issue with very little aggrivation on my part. Replacement robe was sent and still recieved in time for Christmas.

I will definately shop here again when I need a personalized gift.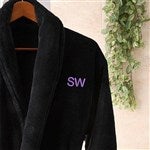 Not bad at all
By
Melissa W.

(Los Angeles, CA) - December 15, 2011 (
See all reviews by this customer
)
The robe itself is beautiful and so soft! Love it, the embroidery on the other hand is not the best. It's fraying a bit, the letters aren't connected as they should be but besides that I have no complaints. Still a great buy.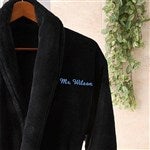 the warmest robe i ever felt
By
Elizabeth C.

(Payson, UT) - December 12, 2011 (
See all reviews by this customer
)
The quality is great, color is beautiful, the material is soft and war to the touch.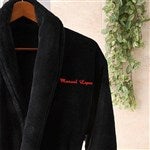 Very Soft , I Love this Robe- Great Gift!!
By
Kari M.

(Scottsdale , AZ) - December 3, 2011 (
See all reviews by this customer
)
I bought this robe last Christmas for my son and it came out beautifully! This robe I ordered for my husband , so he has yet to open it. The ONLY issue I have is the T looks very weird (his name is Tony) it's a cursive T and doesnt look quite like the preview showed,it looks like the number 6 with a line over it so that is a bummer. I know he will love it regardless, but I just wish it looked like a regular T, I would absolutely buy this robe again for future gifts. If you are considering buying it, I say go for it, if the name starts with a T, just dont get cursive.

Wow, so nice
By
Kelly A.

(Pleasant Hill, CA) - June 24, 2011 (
See all reviews by this customer
)
I was looking for a robe for my husband who is fighting terminal kidney cancer (at 47 yrs old!) w/ some heavy duty treatment in ICU. It makes his skin hurt & he gets the chills so I needed something really soft & warm, yet also light weight. This robe fits the bill perfectly. Not only that, it is full-length so that's a plus and an added bonus is that his initials (he goes by them at work) make it so special. Wearing the same old drab gowns in the hospital this helps give him a little bit of his own life back when he's there :-).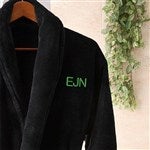 Awesome!
By
Teran S.

(Irvine, CA) - June 6, 2011 (
See all reviews by this customer
)
Amazingly soft!!!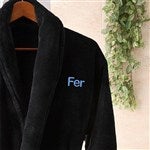 Soft
By
Solomon P.

(Staten Island , NY) - June 4, 2011 (
See all reviews by this customer
)
i really love its big warm and cozy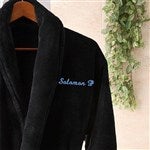 Love IT!
By
Shopper

(Hagerstown, MD) - May 30, 2011
I bought this for my fiance and bought myself the satin one. I'm a bit jealous. This one is so soft.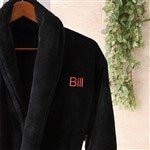 Perfect Anniversary Gift
By
Shopper

(Lawrenceville, GA) - May 27, 2011
I gave this to my husband as our two year anniversary gift. He wears it at every possible opportunity and honestly so do I. It's so soft and warm... I'm going to order one of my own. The engraving is stylish and the quality is exceptional. Very happy with this. Thanks again Personalization Mall, as always you've made me look like a star.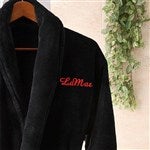 love it
By
DELANEY J.

(NEW ORLANS, LA) - May 6, 2011 (
See all reviews by this customer
)
i bought my mom and stepdad the robes and also my friend for her birthday and they loved them .im getting one for myself ...lol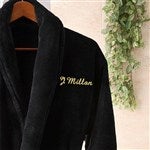 The perfect gift for the guy who has everything
By
LISA S.

(PERU, IN) - April 10, 2011 (
See all reviews by this customer
)
First of all, I must say that our anniversary sneaked up on me this year! Monday came and I realized our anniversary was on Friday! So, I looked online and found this wonderful website full of gift ideas! I found this robe, and he is always commenting on the soft robes in the hotels we stay in. SO, I had it embroidered with his name in Gold (great choice!) and placed my order, hoping that it would get here ontime. Well, unfortunately it did not make it be Friday, but by early Saturday morning, here it was at our doorstep! That's quick! And the quality is A++. Very thick and luxurious, and it seems to wear well. Overall, I believe I got a great deal for the price!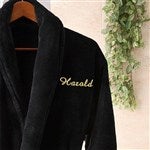 Nice quality
By
Shopper

(Manalapan, NJ) - March 27, 2011
This robe is really nice. It is good quality, big, and comfortable. The color looks great. My boyfriend is 6'5" and the sleeves are a little short on him, but it's really no problem. The robe itself is not short on him. He loves it, and me and my cat love to cuddle on him when he's wearing it.

Perfect
By
Robert S.

(Reno, NV) - March 21, 2011 (
See all reviews by this customer
)
I don't fill these out often, but this bathrobe is great. Soft, and fluffy and just what I was looking for. I got mine, then ordered robes for my grand kids. I am looking for the perfect monogrammed towel, but still looking.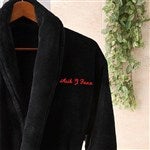 Great gift!
By
Jamie W.

(Clarksville, TN) - July 29, 2014 (
See all reviews by this customer
)
I bought this robe for my 15 year old nephew. It fits him well and allows for him to grow and still fit the robe comfortably. What you can't tell from the product description is that it hits mid to lower calf, which is perfect really---no tripping when walking. The fabric is very soft. And the embroidery is nice. He loved it!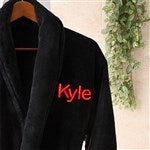 Perfect!!
By
Ahki L.

(West Orange, NJ) - June 22, 2014 (
See all reviews by this customer
)
This was a Father's Day gift for my husband... He LOVES it!!! Fits perfect and was exactly what he needed and wanted!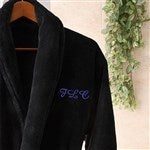 My husband loves it
By
Ana B.

(Bronx, NY) - June 20, 2014 (
See all reviews by this customer
)
I gift my husband this robe for father day shipping was fast and the robe is amazing and soft exactly how it looks in the picture,I'm glad I bought it for him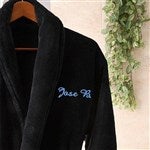 product features
By
Shopper

(solon, OH) - June 14, 2014
Very soft robe. Purchased it for my dad.
Customer service was very helpful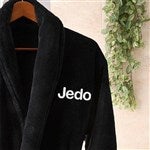 nice robe
By
Charlene W.

(Henderson, NV) - June 4, 2014 (
See all reviews by this customer
)
order the robes for a wedding gift. they arrived early and will be a great gift.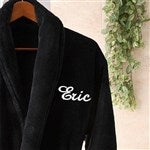 Great Quality!
By
Corine R.

(madison heights, MI) - March 21, 2014 (
See all reviews by this customer
)
I bought this robe for my father for his 58th birthday, it just arrived today (very quick delivery!) And he called immediately to say he loved it. He says the robe is soooo soft and the one size wasnt an issue at all. Now my mom is stating she wants one as well! Thank you!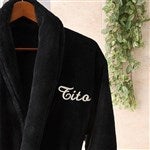 Personalized & perfect
By
Joann G.

(Upper Marlboro , MD) - March 1, 2014 (
See all reviews by this customer
)
I ordered this robe for my fiancée and it gets an A+. He is 5'11 and it fits very nice. He loves it and the embroid is clear and precise just as I hoped it to be. Thanks all.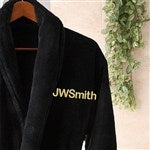 Beautiful robe, wonderful quality
By
Diane B.

(Manchester, NH) - February 20, 2014 (
See all reviews by this customer
)
I bought this robe for my significant other for Valentine's Day. I had his name inscribed on it and it looks absolutely beautiful. The robe is beautiful, great quality material, just as described. He loves it, and wears it all the time. It is softer than any other robe I've ever felt. I have been a customer for some time and ordered many personalized items, and am ALWAYS pleasantly pleased with the items, monograming or engraving and the service. I HIGHLY recommend them to my friends and family.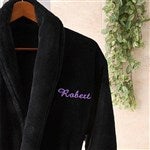 Best customer service!
By
Shopper

(Pittsburgh, PA) - February 9, 2014
Originally I wanted this robe as a Christmas gift for my boyfriend, but I forgot the apartment number. The package was being held hostage at The post office. The post office NEVER had the package in the building, it was always in route according to them whenever my boyfriend tried to retrieve his gift. So a month goes by with no success.,I call the company to see if they can help me track the package. Surprisingly I talked to a human being immediately. She was so pleasant and helpful. Not only did she share my frustration with the missing package, she cancelled the order, remade, and reshipped the robe at no extra charge. He got his gift two days ago, and loved it! I recommend using this company, because they exceeded all expectation with a pleasant attitude. Thank you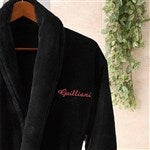 Great Purchase
By
Jessica B.

(Marinette, WI) - February 6, 2014 (
See all reviews by this customer
)
I bought this robe for my fiance and it is amazing! Better than I expected. Great quality and crazy soft! I got it personalized for him and it turned out great!I would HIGHLY recommend to a friend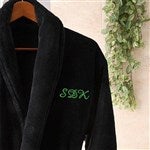 Embroidered fleece robe
By
Cynthia N.

(Shrewsbury, PA) - January 25, 2014 (
See all reviews by this customer
)
Love this robe, one size fits all, the embroidery didn't turn out well with the one script, but Personalization Mall, was quick to make a change in the personalization, and expedited shipping to get the robe to me. Definitely a winner for all sizes and a terrific gift.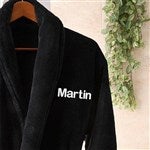 Men's Black Robe
By
Shopper

(Shrewsbury, PA) - January 18, 2014
A very nice and warm black robe, with the name on the left collar side. Would be better if it came in sizes, as the one size fits all, is for a very large man. Had a problem with the lettering, but my note was received and a new robe sent. I would buy the same robe again, and in fact, I had bought two of the robes before this purchase.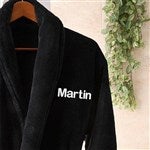 Best Christmas Gift Ever!!
By
Shopper

(New York, NY) - December 30, 2013
My husband loved his gift!!! He doesn't want to take it off, he says it feels great!!!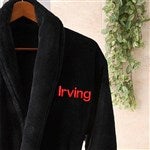 Black monogrammed bathrobe
By
Karen D.

(Tewksbury, MA) - December 29, 2013 (
See all reviews by this customer
)
This is a nice bathrobe. It is soft and comfortable. My only complaint is that you cannot see the initials. The collar hides at least the first two initials. My thought is it is because it's a one-size-fits all. My son is a 44 jacket so it should have been ok, but unfortunately it wasn't. The initals should have been lower on the chest. Thank you.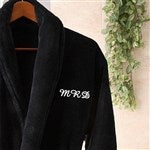 Soft and Cozy
By
Carol K.

(Las Vegas, NV) - December 24, 2013 (
See all reviews by this customer
)
I ordered this robe as a Christmas gift for my son. It was beautiful and the personalization was professional. My only complaint is that the robe started shedding as soon as I opened the package. I washed and dried it as soon as he opened it and it seemed to help quite a bit. He was very happy with the robe.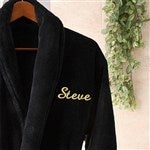 good quality
By
Jean B.

(Chelsea, MA) - December 22, 2013 (
See all reviews by this customer
)
it was what i expected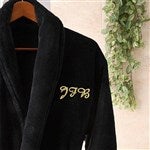 Looks good but makes a mess
By
Jennifer S.

(DESTREHAN, LA) - September 16, 2013 (
See all reviews by this customer
)
The embroidery looks amazing but the robe itself makes a mess. Upon taking it out of the packaging, the fleece shed everywhere. I'm going to run it through the washer but fear there will be nothing left afterwards.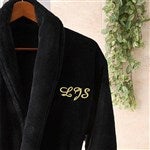 100% Pleased
By
Cherie D.

(Aurora, CO) - July 28, 2013 (
See all reviews by this customer
)
This is exactly what I ordered, exactly what I wanted, and it got here FAST!
You guys ROCK!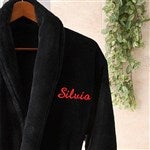 Perfect Gift
By
Fatima G.

(Manassas Park, VA) - July 3, 2013 (
See all reviews by this customer
)
I have not opened the robe just yet; but the letters look great!! I definitely recommend this robe because it looks very soft. The robe came at the time I expected it. The name really adds a special touch to it!! I'm sure my sweetie will like it! :) This purchase has left me 100% satisfied. You won't regret buying it. In my situation, this is a birthday present. I went to Bath & Body Works & bought shower stuff, like men's shampoo, aftershave, men's body spray, shaving cream, men's lotion.. & I added the robe for the finishing touch. So the whole thing will be a men's gift basket. Just a thought for the ladies out there who don't know what to get their man; because I know how frustrated that feels. So the gift idea is not only unique; but personal because of the robe. I love it!!!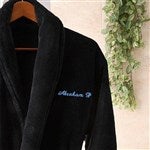 Sabine
By
Sabine B.

(Brooklyn, NY) - June 11, 2013 (
See all reviews by this customer
)
This robe is amazing. It feels really good!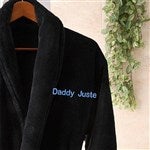 becky skeans
By
Becky S.

(Warsaw , IN) - February 23, 2013 (
See all reviews by this customer
)
very nice robe. soft and warm. boyfriend loves it!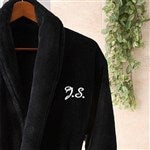 Very Nice, be careful of lettering
By
Shopper

(Sandusky, OH) - February 18, 2013
This robe is softer and more luxurious than I could have imagined when I ordered it. Great gift for a guy that's not into golf, beer, etc. My only issue with the one I ordered, is that the cursive lettering does not connect... On a positive note, it does look exactly like it did in the preview. But when I previewed and compared to other pictures on reviews, it seemed as though the letters were just separated since it is just computer generated... But when it showed up, the cursive lettering (first name, not initials) was letter, by letter, instead of a complete word. It just looks a bit odd to me, but from far away, and to the recipient, it looks just fine. Just a minor detail I wish could have turned out differently. And as always, personalizationmall was very fast to complete the order and ship.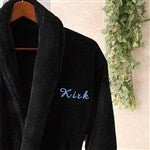 He loved it BUT..
By
Shopper

(sacramento , CA) - February 16, 2013
I got this for him for Valentines day. He absolutely loved he kept saying "wow..wow!" I was like "well do you like it?!" and he said "it's got my name on it!" haha he put it on and wore it the rest of the night! My only complaint was that he pointed out that the tie portion was cut weird and one end is half the size then the other! and it looks funny! I was heartbroken he saw a flaw like that seeing as I paid quiet a bit for this robe and shipping!!! disappointing.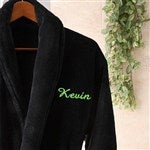 Love it
By
Shopper

(Saint Charles, IL) - January 14, 2013
My husband loved it! But I paid for wrapping and the box top of the box didn't fit the bottom. When I asked for a refund for the bad wrapping job, the customer service rep, in a round about way, accused me of lying and refused to give me a refund. I've ordered from them before, and I have never had any kind of issue, this was a 1st. So I was pretty shocked. The actual robe is great, it sheds alot, but its great.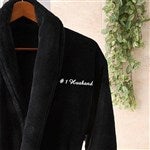 True luxury!!
By
shaun V.

(suffolk, VA) - December 31, 2012 (
See all reviews by this customer
)
Bought robe for my husband and he wears it constantly. Material is soft and wraps around you in a warm and cozy way. Love, love.. Hinted that the female version would be nice for my up coming birthday!!