Sweet Idea!
By
Shopper

(Irving, TX) - September 30, 2011
Excellent Quality and expedited arrival time. All variations of the Hershey bar (dark, regular, cookies/cream and almond) fit perfectly without having to remove the wrapper. Will definitely buy again!

Perfect!
By
Ashleigh L.

(Cannon Falls, MN) - August 1, 2011 (
See all reviews by this customer
)
I received 24 custom candy bar wrappers from Personalization Mall for my October 9th wedding. We will be using them on Hershey candybars and guests will get them as favors when they leave our brunch reception! I am in LOVE with the green color and excited that we were able to personalize it with our Bible verse. Very cool product!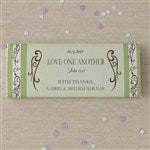 Excellent product
By
Shopper

(Anchorage, AK) - July 31, 2011
Ordered the photo candy bar wrappers for my daughter's wedding shower gift bags, and they are one of my favorite favors! They came out beautifully, and I couldn't be more pleased!

Wedding Rehearsal Dinner favor for the guests
By
Shopper

(Sherrill, IA) - May 5, 2011
The wrappers turned out just awesome! I am using them as a favor at our son's wedding rehearsal dinner. I put the couple's first names, their wedding date, a photo, and "GETTING MARRIED!" and "Sweet!!!" for my text. I used the scrapbooking double stick squares to seal them and that worked great. I was impressed with the silver envelopes - so easy to slide a candy bar into! I am always thrilled with my Personalization Mall purchases and love showing them off and sharing them with others!

quick and beautiful
By
Ioana R.

(Las Vegas, NV) - April 23, 2011 (
See all reviews by this customer
)
Love the product. It was 5 days before my wedding day when I decided to do something personalized as favors for the guest; and i found "Personalization mall.com". I got the items in 2 days. I was very happy. Everything looked good: the picture, the paper, the writing. Me and my husband are very thankful.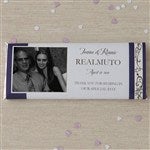 AMAZING!!
By
DeShaye T.

(Riverside, CA) - March 18, 2011 (
See all reviews by this customer
)
I am SO pleased with all of my purchases from this company. If anyone knows me, I am VERY VERY hard to please!!!! These people, are efficient and effective!!

Very happy customer
By
Marisa R.

(Riverside, CA) - March 12, 2011 (
See all reviews by this customer
)
Loved these wrappers! Worked out perfectly!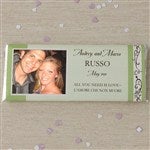 My daughter's champagne party
By
lisa C.

(los angeles, CA) - March 12, 2011 (
See all reviews by this customer
)
She loved it. she wanted something different to giveaway instead of apple cider bottle. It was a hit.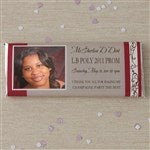 Great wedding shower favor
By
Shopper

(Henderson, NV) - February 10, 2011
The wrapper come out great. The picture and text were perfect. I used the same picture on a personalized 'love' mug. Worked out great.

Just what I wanted!
By
Kay M.

(Sour Lake, TX) - July 27, 2010 (
See all reviews by this customer
)
I used for my daughter's reception. They came in very promptly. They were cute and easy to assemble. The picture turned out fabulous!! I also used Hershey bars. Loved them. I would definitely reorder from this company.

Happy!
By
barbara B.

(Portland, OR) - July 27, 2010 (
See all reviews by this customer
)
These are great! Very happy with purchase. Picture clear and bright, printing is lovely! Fit the Hershey bar wonderfully! Will be a fun addition to our reception!

Personalized candy wrappers
By
Shopper

(Suffolk, VA) - December 1, 2012
Great product except they have no adhesive. It should come with a glue stick or adhesive like on an envelope. I recommend it.

Some assembly required
By
Lauren W.

(Manhattan, IL) - February 22, 2011 (
See all reviews by this customer
)
I bought these cause they were the simple kind of wrappers I was looking for. My fiance and I are getting married at the local courthouse, and doing a little reception for our close friends and family. They arrived looking perfect. The only thing that I wish they would put on is when you are assembling them and need to add glue, that they would be like an envelope with an adhesive strip covered with paper and all you would need to do is pull off the paper. The wrapper says to use a glue stick, but I used double sided tape, figured it would be less messy. Not difficult to assemble. Great product for price.

cute favor ideas
By
ML C.

(Gurnee, IL) - July 14, 2010 (
See all reviews by this customer
)
We were having a casual 25th wedding brunch and wanted to get a little momento for our guests. These came out SO cute and were in the exact color we used for our wedding so long ago!
Everyone got to take a yummy reminder of our special day and my daughter and her friends had fun assembling them.

A suggestion for the future: a self stick label would be quicker than having to glue them shut =-)

Poor Quality Control / Website
By
Shopper

(Shrewsbury, MA) - May 3, 2014
Directions terribly misleading. I uploaded a properly sized (e.g., aspect ratio) photo, and the website cropped it. So about 10% of my bride's head was cropped. Since the instructions explicitly stated "Our Exclusive Previous Feature is a representation of your actual, finished product. We will make no adjustments to your personalization" -- I modified the photo then re-uploaded it. At this point it appeared 100% correct. But the seller misrepresented their claim by sending the final product with the white bar I added at the top of the photo to make it appear correct in their "actual...representation".

Terribly Quality Control for a product that costs more than the candy bars themselves.

Not pleased
By
Shopper

(philadelphia, PA) - March 4, 2013
When I rcv'd my candy bar wrappers I loved the quality and the way they looked.
It wasn't until I tried to wrap them around a candy bar and seal it with dbl sided tape that I was unhappy. Part of my phot & words were on the back side.
It looked bad. I was upset when customer service told me no one ever had this problem, and to take a picture a email it. Days before my wedding :(