Bride Tee
By
Shopper

(Schaumburg, IL) - July 21, 2014
Perfect as an added gift to my daughter's bridal shower. I know she'll get a kick out of it and plenty of use.

The best
By
Valbona K.

(Philadelphia, PA) - June 10, 2014 (
See all reviews by this customer
)
I loved the length of the tank top and tge writing was well done??.

the Bride
By
Gloria A.

(Fort Walton Beach, FL) - March 25, 2014 (
See all reviews by this customer
)
I was so pleased with this shirt and the quality of material and the embroidery is just perfect. The bride just loved it!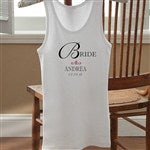 very nice
By
Shopper

(Sylacauga, AL) - February 25, 2013
The cotton is very soft. This is just what we needed to identify ourselves and they even come with cute little bags.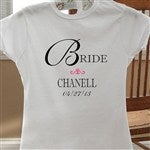 Great Tank for the price
By
Zulay D.

(Homestead, FL) - August 2, 2012 (
See all reviews by this customer
)
Great tank for the price! My bridesmaids love them... true to size... can't wait for all my girls to wear them as we prepare for the wedding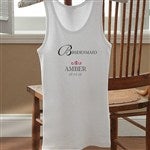 bridal tanks
By
Shopper

(Dixon, IL) - April 30, 2012
These werent the style i thought but the look great. I got 1 for me the nride & 1 for my MOH & BM. Love this site

Happy Bride
By
Rachael W.

(Lafayette, LA) - April 25, 2012 (
See all reviews by this customer
)
I am very happy with my tank. I personalized it to say Bride and Mrs. Roth instead of my first name. It came out perfect and I can not wait to wear it while getting ready for the big day!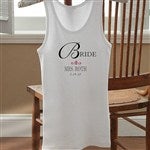 Bridal party
By
Shopper

(Lynn, MA) - March 10, 2012
The shirt was perfect!. Very good quality and not too small for xL. Fits like a size small in men's.

Bridal party
By
Shopper

(Lynn, MA) - March 10, 2012
Very good quality and fast shipping!.

wedding party tops
By
alicia J.

(davie, FL) - March 5, 2012 (
See all reviews by this customer
)
Items received were simple but elegant.
would recommend for any wedding party planning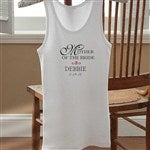 Very nice!
By
Kenia F.

(Stanhope, NJ) - July 25, 2011 (
See all reviews by this customer
)
I really like these tank tops! They do fit a little bit tight, so if you don't want your belly to show, you might have to order a bigger size than what you usually order.

Overall, I would recommend this to a friend!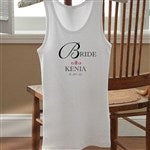 Great T-Shirt
By
Susan M.

(Lockport, NY) - March 29, 2011 (
See all reviews by this customer
)
Quality is great. Service was fast. I am very satisfied with this product! Highly recommended and I will purchase again!

Maid of Honor Shirt
By
Cynthia K.

(Gatesville, TX) - February 14, 2011 (
See all reviews by this customer
)
Nice product but I really wish the XL was a little bigger. It is cut as a fitted Tee and if I would have realized that, I probably would not have bought it. It fit her too snug and she wasn't comfortable wearing it. However, it was a very nice shirt.

special lil sister
By
cindy B.

(henderson, TX) - September 22, 2010 (
See all reviews by this customer
)
got this shirt for the sister of the bride.. she wore it on the wedding day morning to the salon to have hair done and to mac make-up appointment.. and the entire wedding week-end..
she felt like a very special lil sister when she wore it and mom loved it.

Simple yet Cute!
By
Shopper

(Kennesaw, GA) - July 26, 2013
These shirts are simple yet very cute, I thought I read they ran small so I ordered a size up, but that isn't true at all so the shirts ended up kinda big so please order the size you need we worked it out and tied them in cute knots in the back. Wish personalization mall had more choice option in color but overall this was a great buy on the sale price and the bridal party was very pleased!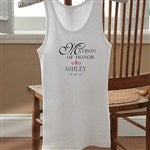 Nice Tee
By
Shopper

(Staten Island, NY) - July 24, 2013
I purchased this t-shirt for myself and I am glad that I listened to the reviews and ordered a size up. I usually wear a medium, but ordered a size large. Glad that I did because the shirt is nice but small and very fitted (which for me is okay). There is an appliqué in the center for your name, etc., which isn't a problem, however, the t-shirt, is not made of t-shirt material. For example, t-shirts bought in the store have ridges in them, this shirt does NOT (so buyer beware); but overall I do like the fit and am glad that I purchased this item.

Nice
By
Amanda B.

(Canada) - June 10, 2013 (
See all reviews by this customer
)
Cute top, thicker cotton type, I thought it would be thinner like a racer back tank but it is nice. It runs a little big I ordered a small and it fits but not too tightly...if you are normally on the smaller side of medium I recommend you just buy the small. It also runs very long, almost to the tops of your thighs. I like longer tops so its no issue with me. Personalization is printed on, its good quality and doesnt feel like it will peel off in one wash or anything. I bought it for my morning after wedding for going on our honeymoon and still plan to wear it!

Hole in Shirt
By
Shopper

(St. Petersburg, FL) - March 12, 2013
There was a sowing error on the Mother of the Brides shirt and the shirt looked cheap on her. However, after speaking with a consultant, she refunded the money for the shirt, saying "this has never happened before". However, my bridesmaids loved the shirt when I gave it to them. None of them had any complaints.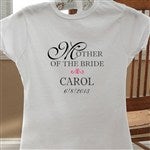 Do not recommend
By
Shopper

(North Aurora, IL) - March 13, 2012
These tanks were just fine with size (I disagree with the other reviews), however, the printed part is awful! It was printed on a white-background sheet, then pressed. It looked so cheap! I thought the picture looked like each individual letter would be pressed, but that is not the case.

Not terribly impressed
By
Ciera C.

(Angels Camp, CA) - August 9, 2011 (
See all reviews by this customer
)
I bought 8 of these for me, my bridesmaids, and my mom. The preview doesn't show it as an iron on. So basically there is a large square that's a darker white in the middle and it looks awkward. Luckily we'll only be wearing them for a little while and it's not important that they be perfect...but the preview is a bit deceiving because it looks printed on the shirt when in reality it's a patch.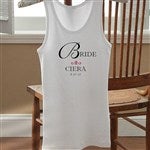 Not impressed
By
Sarah K.

(Morgan Hill, CA) - June 19, 2012 (
See all reviews by this customer
)
The silk screens were peeling off at the edges and what was described by the website as a medium
size fitting 6-8 was actually about 3 sizes too small for a group of very thin girls. I had to go out and buy new tanks from a different store at the last minute.

Not Happy
By
Shopper

(Lombard, IL) - May 14, 2012
The shirt looks really cheap, like they ironed on the personalized wording. I could have made this myself at home. It is really hard and stiff where the wording is and I would not reccommend to anyone. I shop frequently here and this was the first time I was dissapointed. And it's non refundable so....my loss!

Sizes are not true to actual size!
By
Gail-Marie D.

(Batavia, IL) - May 12, 2011 (
See all reviews by this customer
)
I ordered these shirts for my bridal party, one is an 11-year-old Jr. Bridesmaid, ordered all the shirts in size Ladies XL. Not one person could fit in these, not even the child. The XL is more like a XS. I had to return these items, which was very disappointing, because the personalization and style of the shirts were beautiful and was a great gift idea for my bridesmaids and maid of honor. Hopefully they can find another shirt supplier with sizes that are correct to actual size of those who are ordering them.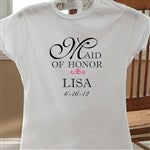 Looks very cheap
By
Jessica H.

(Suffolk, VA) - May 4, 2011 (
See all reviews by this customer
)
You can't tell in the picture, but the shirt has a very noticeable white square patch in the middle from where you can tell the words were ironed on. It looks very cheap and I could have done this myself and saved my money. Be informed when buying this because I learned the hard way there's no refunds on personalized items.

Bad Quality and Size
By
Lauren W.

(Houston, TX) - March 29, 2011 (
See all reviews by this customer
)
The quality of this shirt is very poor. The text area in the center is an iron-on square, so when you wear the shirt, the square area is very obvious because it is darker and does not stretch well with the rest of the shirt.

Also, the sizes are not true. I ordered several different sizes, including a Medium for myself (I am a size 4) and an XL for my mother-in-law. The medium was very tight on me and the extra large was perfect for me, so I know it will not work for my mother-in-law. How exactly does a size 4 qualify as XL? I realize that the shirts are intended to be fitted and stretch, but again the quality is so poor that when they stretch, they are almost see-thru (except for the block in the center that was ironed on).

I would not recommend this to anyone.