Very nice
By
Alejandra C.

(moreno valley , CA) - October 28, 2012 (
See all reviews by this customer
)
The cookie jar was a little smaller than i thought it would be, wich made the pictures smaller as well.. but overall its very nice i got this for my mom's bday and she loved it..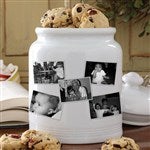 Unique, high quality gift
By
Shopper

(Woodland Hills, CA) - August 31, 2012
After reading other customers reviews of this product, I decided to order one for my good friend. It is beautifully done, the photos are clear, and the jar is heavy and of great quality. Thank you for a wonderful product, I will be ordering more of these!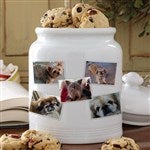 Loved It
By
Cortney W.

(Harvey, ND) - May 14, 2012 (
See all reviews by this customer
)
Great gift and my mom LOVED it! I want one for myself now!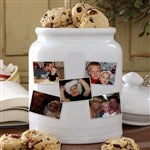 So impressed with Item & Customer Service
By
Elizabeth J.

(Modesto, CA) - May 14, 2012 (
See all reviews by this customer
)
I was soooooooo impressed w/ this cookie jar! It turned out so cute, but then after I got it, when putting it back into the box, i dropped it and broke it. I called customer service and they replaced it w/ out any fuss or muss and shipped it at no charge, that same day! I love this website! I've ordered a lot of items from here over the years, and I'm always continually impressed!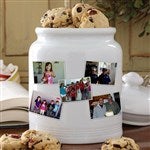 Just excellent!!!
By
Shopper

(Monterey Park, CA) - April 30, 2012
I bought this for my mother on her birthday, She just loved it!!!
It is big enough, the pictures are great quality, and it lokks great in the kitchen.
I highly recommend this product!!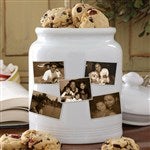 Great Gift
By
Shopper

(Duck Hill, MS) - February 20, 2012
This turned out very cute. Great gift!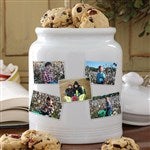 Just perfect!
By
Shopper

(Highland, IN) - January 3, 2012
The shipping was lightning fast...shocked it arrived in 2 days! Very nice quality cookie jar, classic style. Great gift! It was a big hit!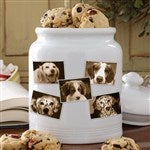 Suggestions
By
Gaylene F.

(Broadus, MT) - December 31, 2011 (
See all reviews by this customer
)
I really like the cookie jar, really wished there was a space to put a name on it, like the person it was created for.
Also, the pictures were a little washed out, some white areas.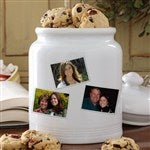 WOW
By
David D.

(Fountain Inn, SC) - October 29, 2010 (
See all reviews by this customer
)
we just got our cookie jar and it is better then we expected. The pictures are perfect and it's just like it looked online. Sometimes things are not the same but this came in fast and really nice. We love it and my mother will really enjoy it. I might get my wife one too. Fast shipping and great quality.

The kids
By
Shopper

(roswell, NM) - January 10, 2011
I loved this cookie jar. I bought 4 of them and the people that i gave them to loved them. But the color pictures look better than black and white.

Christmas Gift
By
Shopper

(Hillrose, CO) - January 8, 2011
My Mom and Dad are not able to see the children alot because we live far apart so when they received this wonderful gift with the childrens' picture on it they fell in love with it. This gift was totally different and something that they never seen before. So with me personalizing it with the childrens' picture it made the gift even more special!

love it
By
Kristin M.

(Philadelphia, PA) - December 23, 2010 (
See all reviews by this customer
)
I ordered two for the grandmoms in my life and they look great.

Very nice product
By
bridget W.

(denham springs, LA) - December 30, 2010 (
See all reviews by this customer
)
Gave my mom this items for Christmas with all of her grandchildren's pictures on it. This is something she can keep and cherish forever! I am extremely satisfied with this item!

So unique... so perfect!
I just want to say how happy I was with my order. I was married back in October and have three sisters who were bridesmaids. I gave this as my bridesmaid gift and personalized each one with family pics from the past... each one containing a wedding pic of our parents... a pic of the four of us when we were younger and one as grown ups... and then a few special ones pertaining to myself and each sister individually. (they had one with nine pics when I ordered them.) I was so happy with how they came out and my sisters loved them. I placed my final order at like 1:00 am on a Tuesday... so you can imaging my surprise when the following afternoon I received confirmation of shipment. I thought it must be a mistake... i didn't do a rush order. They are just THAT fast! And each one was accurate and just the way I ordered. AMAZING!! Thank you so much personalizationmall.com. I am a very happy and repeat customer!

practical keepsake
By
Shopper

( fairfield, TN) - January 22, 2011
My intention was to buy this personalized jar for my first grandson's first birthday. Actually it will be a gift that anyone sees will appreciate. The picture quality is past my expectations, as is the size and quality of the ceramic. The company dispatched the jar swiftly.
The rubber gasket of the lid should be better.


ccokie jar
By
Shopper

(Abilene, TX) - November 8, 2011
The cookie jar is very nice, the only thing I thought was the pictures would be bigger. They are too small for the cookie jar. Other than that it is very nice.

Great gift idea.....
By
Jennifer G.

(Las Vegas, NV) - August 26, 2010 (
See all reviews by this customer
)
I received my cookie jar just yesterday. I LOVE it. The only thing I didnt like was how small the pictures were on it, given how much space there is, the pics could have been a tad larger. The look to be a good size but in reality they are very small on the cookie jar. With that said, I still plan to order these for my girlfriends next as christmas presents.

picture
By
Shopper

(Fort Polk, LA) - February 13, 2012
Picture look way too small could not really see

Done differently
By
Shopper

(Bellevue, KY) - January 10, 2012
First off...My Mom loved the cookie jar with the pictures of her 5 grandchildren on it. I had a very, very difficult time choosing pictures, the layout of each picture, & I very much regret going with the black & white option instead of the colored pictures. Once I received the jar I was surprised at how small the pictures actually do appear on the jar itself & that made the black & white details more faded than I liked. I went with the black & white option because my parents kitchen appliances are stainless steel and black. On the jar preview I thought the black/white looked pretty good. I would have liked to have put some wording on the jar as well...like "Grandma's Sugars".
This will definately NOT keep me from using personalizationmall.com again. The site was wonderful. The abundance of products is amazing. The site was incredibly easy to use & I already have my eye on a few more purchases in the near future.

First Time Customer
By
Carol G.

(Winter Park, FL) - May 17, 2010 (
See all reviews by this customer
)
This is my first time ordering from this company and I didn't know what to expect. I wanted a personal gift for family members.The cookie jar I ordered tells a story using 5 photos. The quality of product and personalization exceeded my expectations. I am so pleased!

great
By
Nick H.

(Alta Loma, CA) - June 20, 2010 (
See all reviews by this customer
)
i bought this as a father's day gift for my dad. (he loves cookies). i put pictures of my sisters and i and some family pictures as well.
the pictures uploaded well.
it came packaged in a way that would make it impossible to break in-transit.
i ordered it on a friday and it arrived the following thursday. great!

Mother's Day Perfection
By
Lisa E.

(Ontario, CA) - May 16, 2010 (
See all reviews by this customer
)
I purchased this cookie jar for my Mom-in-Law. She absolutely loved it. We personalized it with 5 photos and she said it was the best gift she'd ever gotten. I highly recommend purchasing this for someone you love!

neat gift!!!
By
Shopper

(Harlingen, TX) - December 31, 2011
i am happy with my purchase. i like the black and white pictures that i used on it, but felt they looked a little light to me. i kind of wished i had used the color pictures. but overall, this is a great product. my son's grandma, who is typically impossible to buy for, loves it!!! i'm thinking about getting one for me now too :)

Cookie Jar
By
Shopper

(Saginaw, MI) - October 5, 2012
It's absolutely beautiful and my niece should love it. The colors were beautiful (I almost opted for Black/White) I was so glad I chose color. Just wish the pictures would have been a little bigger. Other than that, this product is nice, does not look cheap, has weight to it. Very satisfied.

The perfect gift for Grandma
By
Shopper

(Oak Lawn, IL) - July 31, 2011
My kids got this for Grandma and she loved it. It was so easy to do and it made the perfect special gift from her grand-kids!

Loved this product
By
Shopper

(Pikeville, KY) - April 29, 2012
I gave this to my friend for her 30th birthday with pictures of her children as well as a family photo in the center. She loved it so much she cried right in the middle of her party. It was really the perfect gift!

Excellent gift, just Great
By
Alma R.

(Monterey Park, CA) - May 4, 2012 (
See all reviews by this customer
)
The pictures are high quality
The jar is big enough
Looks great
My mom just loved it
I am really satisfied

great cookie jar
By
Shopper

(Bay Point, CA) - April 24, 2012
Item arrived less than a week from when I ordered it. Very pleased at how pictures turned out on jar. Would recommend to others.

Great Gift
By
Shopper

(Douglasville, GA) - April 8, 2012
Gorgeous and personal. Great quality, very heavy duty. Plan to buy another one soon.

Just as pictured and expected
By
Shopper

(Idalou, TX) - April 13, 2012
The cookie jar was exactly as described and turned out as a nice gift! The colors were reproduced as expected, and the finish on the jar was smooth with no defects. No hesitation to order this product again.

Cookie Jar Collage
By
Shopper

(Mesa, AZ) - May 15, 2012
Really enjoyed the cookie jar. Excellent quality and quick delivery!

Lovely!
By
Shopper

(Fenton, MO) - December 27, 2013
This jar is adorable. I got this for my mother in law with pics of all 3 of my daughters on it. She loved it!!!! The pictures were very clear and crisp on the jar.

Beautiful gift
By
Kim O.

(Citrus Springs, FL) - April 5, 2014 (
See all reviews by this customer
)
The was everything I hoped for. The pictures were clear and nicely put in the jar and the jar was a great size. I have recommended it and will continue to recommend this item for those hard to buy for gift giving.

MIL Pleaser
By
Shopper

(Carlisle, PA) - December 28, 2012
We got this for my mother-in-law with all the grandkids pictured on it. She loved it. If you do it in color, the colors do wash out a little, but it gives it a bit of a vintage feel.

perfect gift
By
Kristina G.

(Naples, FL) - June 25, 2012 (
See all reviews by this customer
)
The cookie jar was a great gift - it came out perfect! thanks!

Photo Collage Cookie Jar
By
Kathleen E.

(Valley Cottage, NY) - October 26, 2012 (
See all reviews by this customer
)
Bought 5 all with different pictures, they all came out beautiful, love them!!

Great Item
By
Stacy B.

(Hamilton, NJ) - December 8, 2011 (
See all reviews by this customer
)
This item came out so cute. Absolutely love it! It was a great gift!

Better than expected
By
Shopper

(Monticello, FL) - December 8, 2011
Looks great and is something that can actually be used, not just a decorative pice.

Very satisfied
By
Shopper

(englewood, CO) - November 22, 2011
Pictures came out great. Wonderful cookie jor. Larger than expected and will go with any decor. Bought it as a gift but may get me one now :)

Great gift
By
Shopper

(Lansdale, PA) - August 19, 2011
I got this as a gift for my moms birthday. It looks amazing and she loved it!