Ethnic Grandma T-shirt
By
Sandra B.

(Rochester, NY) - January 11, 2013 (
See all reviews by this customer
)
My mother loved her t-shirt with her 3 grandchildren It was a great addition to her other xmas presents! However, more african-american option of characters would be helpful.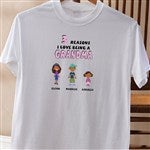 Great shirt
By
Christy G.

(Liberty Hill, TX) - May 14, 2012 (
See all reviews by this customer
)
This shirt turned out better than I thought. Minus the size of the shirt (they run big) I have no issues with the work or quality! :).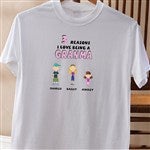 Nice little bag
By
Stephanie P.

(Deale, MD) - December 15, 2011 (
See all reviews by this customer
)
Received the bag very quickly. I am pretty happy with it. Only thing I wish they had different was the amount of people you could choose from. Wish they had more of a variety.

Mothers Day Present
By
Shopper

(Spring, TX) - November 28, 2011
Mom loved it, enough said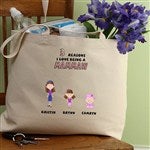 reason why collection
By
julie C.

(Canada) - November 21, 2011 (
See all reviews by this customer
)
i have received the product before as a birthday gift, love it and found it useful. i ordered it to give as a christmas gift to a very close friend who will also appreciate it.

Great shirt, oversized
By
Shopper

(Jericho, VT) - September 3, 2011
I was very pleased with the quality of the sweatshirt. After reading comments that the image was an obvious silkscreen and that embroidery would have been better, I was a bit concerned. However, once I received it, I was thrilled. The edges of the silkscreen are not at all obvious, and the images are exactly as they appeared online. I searched for embroidered family sweatshirts online, but they were all at least twice the price for the same number of characters and names. Therefore, this is a great value for a silkscreened shirt. I really appreciate the reviews that warned about the size running big. I was worried the medium might not fit, since the recipient usually wears L or XL, but is also a very petite woman. These are definitely men's sizes, so the medium was perfect, and while the sleeves were quite long, the cuffs solved that issue. Grammy was thrilled, and so were we!

T-Shirt
By
Shopper

(Water Valley, TX) - May 26, 2011
Bought shirt for mom and she loved it. Shirt runs a size bigger.

grandma t-shirt
By
Sandra B.

(Warren, MI) - March 4, 2011 (
See all reviews by this customer
)
great t-shirt, but they had to replace it with a larager size because it was way small for a med....

Great gift
By
Shopper

(RONKONKOMA, NY) - February 2, 2011
Love the sweatshirt for my nana's bday!!!! It came out really cute!! I will probably order another for my aunt for her bday!! Great gift!!

Great for the man who has everything
We weren't sure what to get grandpa, it seems like he has everything he needs. This is the perfect gift. We ordered a Medium and it looks awfully large for the size, I hope it shrinks in the wash.

great product but one problem...
By
Jessica C.

(La Mesa, CA) - December 3, 2010 (
See all reviews by this customer
)
this was a great product. the colors were great and there are no signs of fading or it eventually ruining..it had one little tear on the stitch but i easily sowed it back myself..overall im very happy with it

Really Cute Shirt!!!
By
Kim S.

(Louise, TX) - May 18, 2010 (
See all reviews by this customer
)
My mom loved this shirt! It is really cute but I'm worried about the quality of the fabric. For the price it could have been made on a better shirt. Otherwise I really am pleased with how it turned out.

cute idea
By
Deanna D.

(Fresno, CA) - May 11, 2010 (
See all reviews by this customer
)
i bought this shirt for my grandma for Mother's Day, she loved it! However, the only thing i didn't quite like was there were only one character per skin color. In my family we have twins which worked out perfectly, but then we had regular brothers who in reality looked nothing alike. On the shirt they looked like twins also. I recommend extending the characters. Maybe giving the buyer choices of different wardrobe of some sort. Then it'll be absolutely perfect :)

Satisfied
By
Kreytesa K.

(Jacksonville, FL) - May 11, 2010 (
See all reviews by this customer
)
I ordered one of these shirts for my best friend and I for Mothers Day. We enjoyed them. It was a cute gesture although the kids continued to comment that the caricatures looked nothing like them. We thought they were cute :-)

Very Nice
By
William K.

(Delaware, AR) - May 3, 2010 (
See all reviews by this customer
)
This seems to be an excellent product and the graphics and personalizations are superb, but the sizing is farther off than the product information says. I should have ordered one whole size smaller, at least.

Reasons Why Tote
By
Reda B.

(Minden, NV) - April 29, 2010 (
See all reviews by this customer
)
I would have given this tote a '5' star rating but didn't since my order was for '1' Reason I Love Being a... and it was printed 1 Reason's'/plural on the tote! It was for only one grandchild. Just thought it would be changed grammatically since not everyone has more than one grandchild/child. Otherwise the tote is of good material and the graphic of the little girl is really cute.

That was disappointing
By
Wendy M.

(Loveland, CO) - June 17, 2011 (
See all reviews by this customer
)
LOVE the shirt. LOVE my children. However, this shirt was obviously made with an iron on as you can totally see the edges around the adorable print on the t-shirt. AND the t-shirt sizing is based off of men's sizing not women's. I order an extra large women's t-shirt (since this is obviously for a woman) and received an extra large man's t-shirt it's HUGE! so disappointed. :(

Sweatshirt
By
Stanita T.

(Newport, AR) - December 31, 2010 (
See all reviews by this customer
)
I liked the shirt just wish it had been embroidered and not an iron on transfer

charcters
By
Aida M C.

(Bronx, NY) - September 16, 2010 (
See all reviews by this customer
)
I love the shirt but it needs more race appropriate charcters I'm latina and I have children that have medium skin color and there's only white or black so it's hard to choose the right charcter to match the person.

Grandma T-shirt
By
Barbara G.

(Springfield, IL) - April 30, 2010 (
See all reviews by this customer
)
This shirt looks very nice but it also runs very large. The last time I ordered a shirt from this Co. it shrunk really bad. I did wash this shirt and of course it doesn't look the same and really didn't shrnk that much. I doubt I will wear it. I feel like I wasted my money.

Disappointed
By
Shopper

(Dallas, TX) - September 23, 2012
I was disappointed in my sweatshirt. My grandcildren are all caucasian but some are a little darker than others. I did not know that the different children , except for the African American children were different races. I was very upset that they weren't labeled.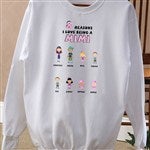 Okay item. Do not like the size
By
Shopper

(Glenfield, NY) - April 23, 2012
I wish the shirts would accomodate both woman and men because this size shirt was bought for my grandmother who is a bigger lady so I got a 2x. It could fit a man

VERY LARGE SIZING
By
Lisa M.

(Springfield, IL) - December 8, 2011 (
See all reviews by this customer
)
I ordered a sweatshirt for my mother for a gift for Christmas with all the grandkids listed. This sweatshirt is DEFINITELY sized for a man. The large is even too big for a 190 lb. man. Definitely go down in size when ordering this sweatshirt.

Size of sweatshirt way too large
By
Dawn S.

(Allegan, MI) - December 20, 2010 (
See all reviews by this customer
)
I ordered this as a Christmas gift for my mom from her grandkids. Imagine my surprise when I received it and it was a man's large instead of a women's large. The website only allows you to pick "adult large" Since I went to the "gifts for her" link I assumed it would be a women's large. The only thing the website states is sizes are generous, yeah they are. Now there is nothing to do but keep it and now have to find a different gift for Christmas. Very disappointing.