Keepsake from the heart!
By
Kathleen K.

(Winthrop, MA) - May 3, 2014 (
See all reviews by this customer
)
This is such a lovely way to show your appreciation to just about anyone. It
is a very personal, thoughtful and so creative gift. I love it and what
it conveys. You can also add your own little notes to further express your true feelings and thoughts of love!!! It is the perfect gift to commemorate fifty years, or reasons for just about anything!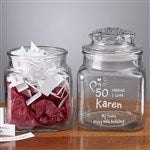 Perfect for 50th b-day occasion!
By
Shopper

(Hunt Valley, MD) - March 3, 2014
I personalized this for my sister's 50th b-day. Five of us wrote 10 reasons (metaphorical hugs) we love my sister and I included them in the jar along with 50 Hershey's kisses. Personalization Mall included 50 slips of paper that each had thoughtful compliments written on them; I removed those papers from the jar and put them in an envelope for my child's teacher.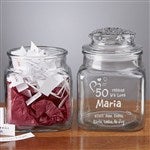 Great gift for a Mother or Grandmother
By
Marta S.

(Irvine, CA) - December 10, 2013 (
See all reviews by this customer
)
I offered this jar to my Mother-in-Law for her birthday. Wrote on behalf of my husband and our kids. She adored it! :)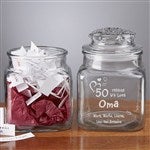 Filled with love
By
Betty G.

(Chicago, IL) - February 24, 2013 (
See all reviews by this customer
)
I gave this to my fiancé for Valentines Day. I filled the bottom with Red Hots and then mixed Hershey Kisses with the 50 things tags. (I made some of my own so I didn't use all that came with it). He LOVED it and has it on his desk at work. He loves grabbing a msg as he gets "a kiss".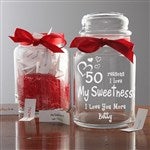 Loved It...
By
Shopper

(Upper Marlboro, MD) - February 20, 2013
I was really excited to share this special gift for my mother for Valentines Day. She is a Diabetic, I really thought this would be cute for Valentines, she was in aw! Thanks...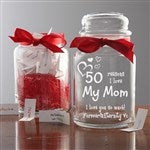 This is perfect for my mom in law
By
Shopper

(Baltimore, MD) - February 8, 2013
Gave this for my mom in law and she loves it but loves me more lol
The quality is nice and the production time is fast enough.
Perfect for your customized gifts n surprise everyone you love

Simple yet thoughtful
By
Juaquina C.

(Atlanta, GA) - November 21, 2012 (
See all reviews by this customer
)
I haven't even given the present to my mom yet, and the people I have showed it to are in love with the idea. It is simple and not too large in size yet very personable. I can't wait 'till December to give this to my mom!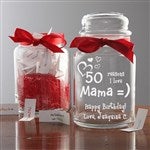 How I used this item
By
Shopper

(Clarks Summit, PA) - January 16, 2012
I got this jar personalized for my sister's 50th Birthday I loved the idea of the whole family getting together and writing 50 special things about our sister that she could keep for a lifetime and read and reread whenever she wanted.
She loved the gift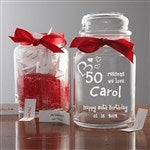 cute but writing is faint
By
Antonia G.

(Plainfield, IL) - December 9, 2012 (
See all reviews by this customer
)
This jar is a gift from my little guys to their grandparents. I'm not using the prewritten reasons. I'm creating more personal ones from my boys. The only complaint I have is that the writing is very faint. I showed it to my husband and had to point out it had writing. I'm considering buying craft paint and painting over the design to make it more noticeable. I'm also disappointed that there were no cyber Monday deals. I waited to buy it until cyber Monday. It was $6 more than what it was the weekend after Thanksgiving and no free shipping.

Disappointed
By
Michael R.

(Parrish, FL) - May 12, 2010 (
See all reviews by this customer
)
Great gift idea. However, I had this sent to my mother for Mother's Day. The 50 reasons were not in the jar. They are on a sheet of paper which needs to be punched out. I didn't know my mother was going to have to do some work with this gift. Plus it ruins the suprise of each reason.

Too expensive for size and quality of jar
By
Debra Q.

(Chester, NY) - April 15, 2013 (
See all reviews by this customer
)
I was very excited to order this item and give it as a gift to my mom for mothers day, however, it looks too cheap to give it to her, and so I will now purchase something else. Not what I envisioned. :(

This was an axceelent idea just what I wanted
By
Anna M.

(France) - February 17, 2012 (
See all reviews by this customer
)
Truly a great gift and can be used not only for Mom, but also to a very special person!

extremely pleased
By
Sheryl C.

(Omaha, NE) - January 22, 2011 (
See all reviews by this customer
)
I was extremely pleased with the 50 reasons we love you jar. It was done so beautifully and I was very impressed that it already came with the "50 reasons" comments.

Very beautiful
By
Evelyn C.

(Humble, TX) - April 22, 2010 (
See all reviews by this customer
)
This is a Mother's Day Gift, and it is very pretty. I wish it was a little bigger, but it is going to be a great gift for my mom. The little tags inside are very nice, and each of us kids will give the notes to my mom. It comes with everything which makes it very convenient.