Great value on a great gift
By
Emily B.

(Sterling, VA) - May 5, 2010 (
See all reviews by this customer
)
I had a hard time finding exactly what I was looking for when searching online for a personalized Mother's Day gift but this tote was perfect! It arrived within a few days of ordering and the quality is great. The tote bag is large and roomy and the photo looks really good. I will definitely order from PersonalizationMall.com again.

Mother's Day
By
Brittanie N.

(San Antonio, TX) - April 28, 2010 (
See all reviews by this customer
)
I chose this tote for my mother, I had my son's picture put on it. It was large enough to carry all her stuff she loved it I would recommend this to everyone.

Great Beach Bag Tote
Last summer I purchase three of these totes (1 for myself and 2 as gifts) for our trip to Maui. I loved being able to select my own photo(s), color and font for printing, etc.
The picture on the tote displays nice and clear, it's not distorted whatsoever and the bags are quite sturdy and a perfect size to store things you don't want to carry
Each of us packed our Tote Bag with our beach towel, cell phone, bottled water & camera...they held up to the challenge quite well. So well in fact I'm buying five more for this summer's trip (4 will be gifts...1 for me of course).
I could use my bag from last year as they also wash quite nicely, but when I saw the sale they're offering $6 off I decided I was getting new ones...our kids are going to love their Tote Bags.
I hightly recommend these totes, you won't be disappointed, and they're just the right size. Enjoy!

Grandparent Bag
By
Heather S.

(Lees Summit, MO) - September 10, 2013 (
See all reviews by this customer
)
Very cute gift for grandparent! They can use it for anything but its bug enough to take to grocery store and fill up there!

Canvas bag
By
Kristy S.

(Essex Junction, VT) - June 16, 2013 (
See all reviews by this customer
)
Very nice product!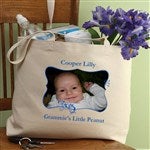 Baby bag!
By
elaine M.

(winter springs, FL) - May 10, 2013 (
See all reviews by this customer
)
Very nice,good size.i bought this for my daughter .she wants to use it for the baby to carry his stuff in. It's great and she loves it! The picture came out a little darker than I liked but its ok. It wasn't a dark picture,so make sure it's a light picture you use.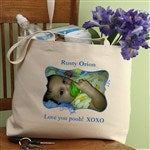 A great gift
By
Shopper

(frenchtown, NJ) - January 2, 2013
The bag turned out great and the picture was clear. Very nice gift that I gave to my daughters grandmother.

High Quaity
By
Janelle B.

(Plantation, FL) - May 10, 2012 (
See all reviews by this customer
)
I ordered 2 of these bags both were different fonts and different pictures. The quality of both pictures were amazing, the bags were good quality nice and thick with strong straps. I would recommend this bag

Nice product
By
Shopper

(Atlanta, GA) - November 20, 2011
The bag is good quality - the photo slightly darker than the original and the preview but overall for the price a nice product.

Love It!!
By
Kristin R.

(Mount Pleasant, PA) - May 17, 2011 (
See all reviews by this customer
)
This is the first time my household used Personalization Mall and we are so pleased! My husband bought me this tote for Mother's Day and I use it all the time. We will be using this site for future gifts.

Photo canvas tote-a great gift!
By
Shopper

(Flemington, NJ) - May 16, 2011
The quality of the tote was nice and the wording came out very well. I was a bit displeased with the color of the photo...it was very dark against the canvas. So if you are thinking of ordering this product use a very light, bright photo! Otherwise, it was a very cute gift...especially for Grandma! :)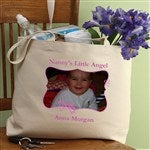 God Mother Gift
By
Stephanie B.

(Columbus, OH) - May 11, 2011 (
See all reviews by this customer
)
We sent this bag to my son's godmother for Mothers day. I really liked it, the only thing that kept it from 5 stars was that a darker canvas thread went through his picture, making it seem like he had a blemish on his beautiful face. The rest of it though was wonderful. Great shipping and a quality product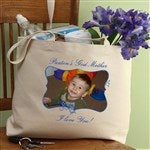 great great gift for EVERYONE
By
gloria V.

(clark, NJ) - July 13, 2010 (
See all reviews by this customer
)
i loved this gift.. the picture was nice and clear, since i have twin boys i was worried that the picture would not come out clear with both boys in it BUT i was wrong.. it was awesome would highly recommend.. i just wish they had other colors and border designs..

tote
By
Michele E.

(Schaumburg, IL) - June 15, 2010 (
See all reviews by this customer
)
The picture was slightly darker on the bag than it appeared on the website, but I am pleased with the product.

Great Teachers gift
By
Joanne C.

(Branchburg, NJ) - June 2, 2010 (
See all reviews by this customer
)
I ordered mine with my preschooler's class photo with the words "You carried us through our 1st year" in script. It turned out beautifully and the teacher loved it.

Nice tote bag
By
Shopper

(riverside, CA) - May 12, 2012
I bought this tote bag as a gift for my mom. I liked the sturdy feel of the bag, it's good quality and is hefty enough to hold a good amount of things. My only negative was that the picture of my son was too dark when in reality it looked lighter. I guess because the bag was dark if affected the picture.

Not bad
By
Marybeth F.

(Glen Oaks, NY) - May 14, 2011 (
See all reviews by this customer
)
Overall it's a nice bag- the only issue that I had is that they should have used a solid color beige for the bag- they used one that had flecks of other colors in it and it ruined the picture on the front because there were all these odd colors sprinkled through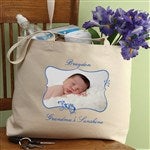 Loved it but would like it more if....
By
Heidi C.

(North Reading, MA) - April 10, 2011 (
See all reviews by this customer
)
I really liked this bag but really did not like the grainy texture of the canvas especially as it ran through the picture. I would not have bought it if I knew it would be like that.

Good and Bad
By
Shopper

(Troy, NY) - January 30, 2011
Photo and printing quality very good; quality of the bag itself not so good.

Cute idea but didn't come out as good as I hoped
By
Shopper

(Redwood City, CA) - January 18, 2011
I purchased this as a gift for my mother in law for her birthday from my son. The bag was larger than I anticipated, probably my own fault for not looking at the dimensions close enough. The picture came out a bit grainer than I would have hoped for but it was a very cute idea and she loved the bag.

Great Bag
By
Miranda C.

(Wellton, AZ) - April 22, 2010 (
See all reviews by this customer
)
I ordered one for my Sister and Mother In Law for Mother's Day. They came out wonderful. The pictures are perfect, the bag is a great size. I'm also very pleased with all the prices and fast shipping. I will probably be doing all my gift shopping from this site, its perfect! Thanks!

Picture was too dark
By
Michelle R.

(Byron, MN) - December 11, 2011 (
See all reviews by this customer
)
The bag arrived and I was very disappointed in the coloring on the picture. I contacted personalization mall and they were not willing to remake the bag. They said it appeared as it was ordered. The picture was much darker on the actual bag than in my preview of personalization. I will not order another one of these bags.