Mom loved it!
By
Rachel F.

(Centennial, CO) - May 9, 2011 (
See all reviews by this customer
)
We ordered this for my mom for Mother's Day. She loved it. The engravings turned out great, the stone had a couple unfinished rough spots, but they didn't seem to look like they would chip off or anything. Great gift!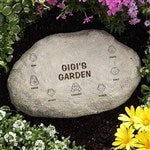 Very Nice! Make A Great Gift
By
Teresa M.

(Elk Mound, WI) - May 8, 2011 (
See all reviews by this customer
)
Overall, I was very pleased with this garden stone. It is the size that that it says, and while the under side of it is hollow, it is still very solid and heavy.The engraving turned out nice for the most part. If I was really picky, I could say that some of it looked a tad smeared. Overall, I would definitely recommend this.

Satisfied as usual
By
Tiffany S.

(Lauderhill, FL) - April 26, 2011 (
See all reviews by this customer
)
The stone is heavy and good quality. The engraving is perfect. My only dislike is that it is not as dark as the picture, hence it is slightly harder to see. Overall very happy, shipped and delivered in under a week.

Really looks like a rock!
By
Christina H.

(Millville, CA) - December 26, 2010 (
See all reviews by this customer
)
great concept - very realistic - only reason I gave this 4 stars is engraving is rather superficial, kind of faded. Would look better if more contrast against stone. But still a wonderful idea.

Unique gift, but maybe a little overpriced
By
Laura N.

(Damon, TX) - May 18, 2010 (
See all reviews by this customer
)
I got this for my mom on Mother's Day. We got icons for her, my dad, their two dogs, and the three grandkids. She really liked it.

I would have loved for there to be more icons to choose from, but we made it work. Also, $30+ was a little much for a fake rock, but I guess it was worth it.

Weak Engravement But Good Product
By
Diane H.

(Reston, VA) - May 10, 2010 (
See all reviews by this customer
)
The engraved faces were very thin and difficult to see in particular, and it looks like they will be easily covered up by dirt if the stone is indeed used as a stepping stone in my mother's rock garden. However, the product was still good and she loved the thoughtful aspect of the gift. Overall 4/5.

Awesome Mother's Day Gift
By
Stephanie C.

(Wooster, OH) - May 6, 2010 (
See all reviews by this customer
)
I bought this engraved garden stone for my mom for mother's day, and I had her 4 grandchildren's name engraved on it. It looks awesome! I wish the names would have been a little bigger, but it still looks very good. I didn't select any faces with the names because I didn't like the look of them.

Loved it!
By
Linda H.

(Wilmington, DE) - May 5, 2010 (
See all reviews by this customer
)
My only change would be that the images of the people were a little larger. I only had 2 small boys and they seem a little lost.

For Mother's Day
By
Sue W.

(Severn, MD) - April 29, 2010 (
See all reviews by this customer
)
This is a great gift for any occasion but we got it for Mother's Day. I wish there were more choices to make as far as characters, but we made due.

Disappointed
By
Kim K.

(Rochester, MN) - May 16, 2011 (
See all reviews by this customer
)
I am a little disappointed with my stone. Where the first child is placed there is a patch of lighter stone color that goes through his face and it looks like his eye and nose are almost connected. Also the spacing between the children could have been placed better. It looked a lot better on the internet then the finished product that I received .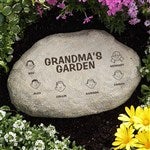 Engraved Garder Stone
By
Jason L.

(Holiday Hills, IL) - May 16, 2011 (
See all reviews by this customer
)
I ordered 3 of the Loving Family engraved garden stones with mixed satisfaction. 1 of them I though was perfect, the second one was satisfactory and the third I am really disatisfied with. All three stones were different colors with the third being really dark and making it hard to see it is personalized. I think if it were in the garden and you walked by it would just look like a decorative stone.

Would love it darker...
By
Shopper

(Pittsburgh, PA) - May 10, 2011
My wife absolutely loved this as a mother's day gift from the kids. However; upon opening the box I noticed that the names and faces were hard to see... Maybe make the engraving a little darker next time?

mom's garden rock
By
Melonie S.

(Fort Polk, LA) - May 5, 2010 (
See all reviews by this customer
)
The garden rock was a good idea for a Mother's Day gift.
It was though a little chintsy and definately geared more towards the younger children. So, in my opinion, it was just ok and some what worth the price. Shipping is where they got me. So when you order... be sure to make it count! ;)

Family Garden Stone
By
Carole U.

(Hanover, PA) - May 4, 2010 (
See all reviews by this customer
)
This product was sent very fast. I am pleased with it, however, would have liked the three individual names and characters of my family to have been engraved deeper on the stone - they are not as firmly imprinted as the larger inscription "Mommy's Garden". Also the entire back of the stone is imprinted with the company name "Personalzation Mall.com" and a telephone number. Too big! A small printing of the company's name would have been in much better taste. Will use your company again for personalized gifts. Thank you for your prompt service.

Not engraved
By
Jennifer W.

(Lebanon, PA) - April 23, 2010 (
See all reviews by this customer
)
The stone itself is a nice size and quality, but the design is not "engraved" into the stone it is more of a rub-on decal look which is a less-desirable look in my opinion. It will be interesting to see how it holds up in weather.

Be Careful with the Shipping...
By
Shopper

(Grafton, MA) - May 16, 2011
When you order anything from this site, be sure to read all the fine print about shipping costs. I ordered several products "NEXT DAY AIR" for my wife for Mothers Day but two of the gifts didn't arrive until almost a week later. The pricing and descriptions of shipping are very tricky if you don't read everything regarding your products and when they will ship. I learned that even though you pay NEXT DAY, there are some gifts that don't ship NEXT DAY even though you pay for NEXT DAY. I would never order anything again from this website after speaking with a customer rep and after paying 40$ for NEXT DAY SHIPPING that didn't arrive until a week later. Mothers Day 2011 was held off this year until the following Tuesday, thank you Personalization Mall...

Not visible
By
Mathew K.

(Houston, TX) - December 27, 2010 (
See all reviews by this customer
)
The product look big and clear in picture but in real the writing are not visible, pictures are not visible. I wont recommend this product