Pleased with product disappointed with delivery...
By
Shopper

(Chesapeake, VA) - July 11, 2014
Very pleased with this product but very disappointed with the delivery. I made a point to purchase the next day delivery however my package arrived as if I purchased 2 day delivery. Very disappointed when I noticed that my delivery tracker status had been pushed back and even more upset when it actually arrived late. I just knew that the status was an error! Overall rating would drop to 3 stars - it is not just about the product.

Great!
By
Shopper

(Elkton, VA) - June 15, 2014
I was very pleased with the quality of this frame. It was beautiful!

Memorial Sent to Relative in Italy
By
Shopper

(Boca Raton, FL) - June 14, 2014
I prepared the memorial engraved frame in Italian for my cousin's family in Italy. They were very moved by the words and presentation and called me immediately to express their gratitude. All the words I wrote were spelled correctly in Italian and properly spaced. I have purchased many memorial frames from you and will continue. I always receive a high-quality piece of art which exceeds my expectations and is treasured by the recipients.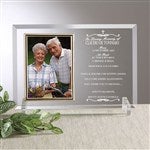 We Shall Meet Again
By
Carla M.

(Vadnais Heights, MN) - June 3, 2014 (
See all reviews by this customer
)
This website has never disappointed me, their products are excellent. This particular frame was chosen for the daughter of my late husband and she just loved it. It was beautiful.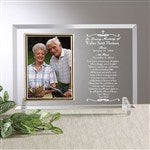 Memorial Frame
By
Shopper

(Fort Wayne, IN) - June 3, 2014
I have ordered several of these for friends and family. They are beautiful and arrive in a very timely fashion within days. I like that I can personalize the gift to fit the occasion.

Fantastic
By
Shopper

(BAY CITY, MI) - May 9, 2014
Was a great buy! Fast delivery! Great price!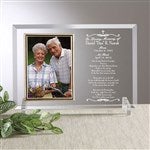 Beautiful Frame
By
Julie H.

(Spring, TX) - April 29, 2014 (
See all reviews by this customer
)
I know my best friend is going to love this memorial frame. It is absolutely beautiful! Everything came out as expected, however, this is a glass frame, so be sure to check the corners. One of the corners on mine had a small sliver so I'm making sure to warn my friend about it. Other than that small flaw, it's perfect!

Very lovely and touching!
By
MONA L.

(NEPTUNE BEACH, FL) - April 6, 2014 (
See all reviews by this customer
)
This frame was created for my ex-sister-in-law, Karen. She lost her brother in January and I wanted to do something for her. The personalization was perfect and I know she will love it! I have never bought anything from this website that was a disappointment! This classy looking frame will hold her dear brother close to her heart every time she looks at it with his picture in it. Thank you for great quality gifts and quick service. You are the best!

Beautiful Gift!
By
Shopper

(Springfield, PA) - March 4, 2014
I have been ordering from here for a while. There products are beautiful and people love them!

Not happy with their customer service
By
Shopper

(Arlington Heights, IL) - March 2, 2014
I bought this frame and another similar to send to friends who recently lossed loved ones. Items from this company always come quickly and in excellent shape. My issue with Personalization Mall is their customer service. This item had been for several weeks $29.95 and the weekend I ordered it the price jumped up to $34.95. Forty eight hours later it went back to the $29.95 price. This is not a sale price as it is not written in red but more the actual price. I have contacted their customer service twice now regarding this issue and have never gotten a response.

Thoughtful
By
Shopper

(Niagara Falls, NY) - February 14, 2014
What a wonderful way to honor a loved one.It is a way to offer your sympathy and lasts longer than flowers!

Love it
By
adriana G.

(spring, TX) - February 11, 2014 (
See all reviews by this customer
)
It is a beautiful picture frame , amazing quality!!

Memorial Engraved Frame
By
fay S.

(gouverneur, NY) - January 30, 2014 (
See all reviews by this customer
)
very nice, pleased with my purchase

Very tastefully done
By
Shopper

(Bloomer, WI) - January 18, 2014
I ordered a memorial frame because of a loss of my pet. The frame was done very tasteful and fast. I have had a lot of compliments on how beautiful it is. I would suggest to anyone who needs something like that to order from here. It turned out beautiful.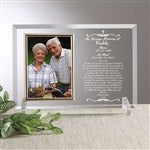 Beautiful Frame
By
Shopper

(South Ozone Park, NY) - December 31, 2013
This frame is really well made, sturdy and the engraving is very clear.

May's memorial
By
Linda M.

(Peoria, AZ) - December 29, 2013 (
See all reviews by this customer
)
Thank you for your great service. I received my order the day before Christmas. Perfect timing. This Engraved Memorial Frame is beautiful by itself; when I added a picture of Mom to it, it just spoke out. The wording on the frame with the picture, they were breathtaking, just perfect. Over time, I have ordered this Memorial Frame several times. I highly recommend this Memorial Engraved Frame. This frame holds a 4" x 6" photo. I ask the family if they have a favorite picture of the person that we are honoring. All of them have let me have a picture; I scan the picture to my computer where I can capture the deceased and copy to photo paper. My picture in this frame is just perfect. Again, Thank you from your beautiful engraving work.

a gift for a grieving friend
By
Shopper

(Faribault, MN) - December 20, 2013
arrived on time, was done beautifully

Fantastic
By
Shopper

(Hot Springs, AR) - December 15, 2013
I bought 5 of these picture frames for my mom, sisters and myslf. I am really happy with the quality of them. They are fantastic.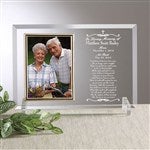 what I like
By
Shopper

(Dover, NH) - December 7, 2013
I have ordered these frames many times and as always just perfect...also was delivered a day earlier than was expected!!!The ease of ordering online is also a plus. Thanks again for your valued company!!!

Memorial of Grandpa for Grandma
By
Tara T.

(Menomonee Falls, WI) - November 27, 2013 (
See all reviews by this customer
)
My grandpa passed away just this October and I decided for Christmas that I wanted to get everyone something special to remember him by. I chose this picture frame for my grandma and I am very pleased with the outcome. I also LOVED that I was able to put my own poem on the frame. I wrote one especially for his passing and so it was very special to me to be able to have that engraved forever into this frame for my Grandma. I am so excited to have her open this on Christmas! Although it will bring some tears I know that it will be a wonderful memorial to my grandpa!

Perfect
By
Brian C.

(Pinckney, MI) - October 15, 2013 (
See all reviews by this customer
)
I ordered this for a friend and she received it in lightening speed time and already treasures it. Thank you Personalization Mall!

Very PLEASED
By
Catherine O.

(Downers Grove, IL) - October 14, 2013 (
See all reviews by this customer
)
I have had to order several of these over the past few years- and the recipient has ALWAYS LOVED it- these really are special- and of GREAT quality- always pleased !!!

Just Beautiful
By
Shopper

(Annapolis, MD) - August 23, 2013
The quality of the frame and the engraving surpassed my expectations. It came nicely packaged in a box and made for a beautiful gift.

Amazing
By
Kayla M.

(Waukesha, WI) - August 5, 2013 (
See all reviews by this customer
)
Beautiful frames. Super quick shipping. Great gift that everyone loved. Will buy again soon

Great commemorative item/
By
Edward H.

(Scottsdale, AZ) - May 24, 2013 (
See all reviews by this customer
)
Ordered the product on Sunday and received it on Wednesday! Quality exceeded expectations.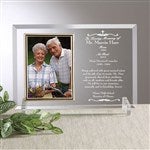 Awesome gift for a difficult time.
By
Kevin P.

(Orlando, FL) - May 15, 2013 (
See all reviews by this customer
)
I bought one for my mom back in 2001 and I recently bought one for my dad who recently past in May of this year. For both times, this gift really helped in my time of grief. I really recommend this gift.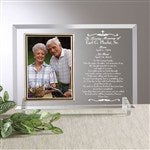 Beautiful memorial
By
Alicia C.

(Eagan, MN) - May 15, 2013 (
See all reviews by this customer
)
I have purchased three of these frames from Personalization Mall. All three have been beautifully etched, the ordering is easy and the shipments were prompt. Each recipient was grateful for this memorial item in honr of their lost loved one. I would highly recommend these products to anyone interested in giving a memorial gift.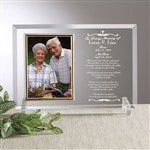 Great Funeral Purchase
By
Shopper

(Louisville, KY) - April 22, 2013
This is a great gift for a family member that has lost a loved one. Great quality very happy with purchase.

Highly Recommend
By
Roger L.

(Radcliff, KY) - April 7, 2013 (
See all reviews by this customer
)
A beautiful tribute to a loved one. I purchased 4 of these when my Mother passed away; one for myself and one for my brother and 2 sisters. When my little sister received hers and read the tribute she called me and said it made her cry. Giving her, my brother and other sister a small tribute of what our Mother meant to all of us and how much she will be missed is beautifully worded on this "We Shall Meet Again" frame. 2 of my nieces wanted one and the ease of changing the wording to reflect "Grandmother" was so easy to do and need I say more they both loved it. I would highly recommend this product to anyone because the quality and workmanship of this product is truly worth the price. Thank you so much!

Perfect gift!!
By
Elizabeth L.

(Laredo, TX) - April 2, 2013 (
See all reviews by this customer
)
Worth every penny. I loved it. It's very beautiful. This was a gift for a friend and she loved it.

Beautiful tribute to Mother
By
Sandra L.

(Grindstone, PA) - March 31, 2013 (
See all reviews by this customer
)
This frame is a beautiful memorial for someone that has lost their Mother. The poem is beautiful as is the engraving! A place for a picture of the loved one just sets off the whole thing!!!!

we shall meet againwe shall meet again
By
Angie C.

(Scott AFB , IL) - March 22, 2013 (
See all reviews by this customer
)
Fast delivery. Well packaged. Loved the item. Was perfect in what I was looking for. Thank u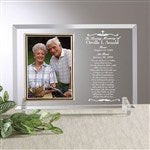 Beautiful Frame
By
Shopper

(Lafayette, IN) - March 22, 2013
This frame was just as shown. We chose our own verse which made it even more personal. It arrived quickly and was just what we expected. Would highly recommend.

Just Beautiful
By
catherine M.

(stony point, NY) - March 16, 2013 (
See all reviews by this customer
)
1 of the children I drive on the school bus, passed away. I wanted to do something special for the family. Words could not express how bad I felt. Especialy to lose a 10 yr. old son. This was a perfect gift for them. The saying on the "Memorial card" that the child wrote, I had engraved on this picture frame. Great gift for anyone.

Inspiring Gift
By
Shopper

(Webster, NY) - February 19, 2013
I have purchased several Memorial gifts to give. This one along with the others was just so beautiful and very elegant. I sent this to my cousin whose Mom's had passed away.She said it was so beautiful and the poem meant so much to her as well. The engraving was done so very nicely.She said that everything about it was great.She said that she now has a place to shop at especially for very special treasured gifts. The gift was well packaged and I had you gift wrap it and my cousin said that it looked very nice when it arrived and it came rather fast and you did send me the tracking number which also is a great thing to have.Shopping at your site is so easy, convenient and great service.
Thank you so very much for making very nice, good quality gifts at great prices as well.
May you have a amazing day! Wishing you Peace!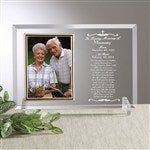 Perfect memorial for my Dad
By
Julie J.

(Waterloo, NE) - February 10, 2013 (
See all reviews by this customer
)
After the recent death of my Dad, I wanted something special to give to my family to memorialize him. I bought one for each of my adult children and for my Mom and both my sisters. I included my own poems on them and included their name in the poem as well as the family name. I couldn't believe how quickly I received them and they were even better than expected. Very good quality, a perfect keepsake and memorial for my Dad, and the price was very reasonable which made it possible for me to purchase 7 of them. Thank you Personalization Mall!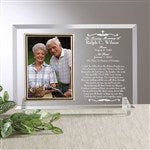 Wonderful Sympathy Gift
By
Shopper

(Sevierville, TN) - January 14, 2013
I personally haven't saw the frame. The friend we sent it to said they loved it! I will be ordering more of this type of frame.We love that the family can keep this for years instead of flowers that are dead within a week.

In memory of Ma
By
Christine L.

(San Antonio, TX) - December 24, 2012 (
See all reviews by this customer
)
When I presented the person with the In memory frame. It actually took her breath away. It was a beautiful piece to give someone during a difficult time. The frame was of good quality and the printing was excellent. Thank you.

Lovely gift!
By
Shopper

(Kelseyville, CA) - December 16, 2012
I sent this item to a grieving mother. She loved it. So special and thoughtful.

love the detail
By
susan R.

(huntington, IN) - November 26, 2012 (
See all reviews by this customer
)
was very pleased with my frame. The detail was very nicely done