Nice Frame "But Tiny lettering & hard to read"
By
Christina C.

(Manteca, CA) - December 15, 2011 (
See all reviews by this customer
)
I thought this frame was beautiful on the website, the weight is nice, frame seems to be good quality but the engraving is so tiny and with nothing behind it you can barely read it I was disappointed. Never the less it is still very nice. It's a Christmas gift so I'm going to try to put something behind the writing, perhaps a felt piece or something to try and bring out the lettering and hopefully everyone will be able to read it. P.S. I ordered the Give Father All Our Love verse. I liked the way you could change the wording to make it more personal to the individual you are giving it to.

Difficult to read
By
Shopper

(Raleigh, NC) - November 20, 2011
I found the words too small and difficult to read. It did not appear that way on the sample.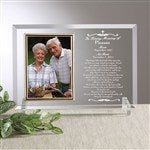 dear grandpa frame
By
robert H.

(Canada) - September 17, 2011 (
See all reviews by this customer
)
i loved it very much but the writing was hard to see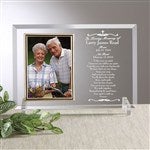 Could be better
By
Shopper

(West Carrollton, OH) - April 25, 2011
It is a beautiful frame. However the inscripture I wrote is not as clear as I had hoped for.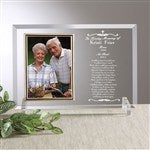 Great idea
By
Shopper

(Asheboro, NC) - April 23, 2011
I bought this to put up at my wedding in memory of my grandmother who recently passed. It is a beautiful frame, durable and I am very pleased with my gift. The only complaint is the white lettering is hard to see on the clear frame so I am going to have to get it put on a dark background to be able to see it. Besides that, its a wonderful buy!

Well pleased
By
Mary B.

(Coralville, IA) - January 24, 2011 (
See all reviews by this customer
)
This exceeded my expectations. It was exactly what I wanted, it only took 2 days from ordering to having it set up in my home--which was amazing, and it is a quality product. The little pieces to make it stand up could have been a bit more sturdy but that would be my only complaint.

Lovely Memorial Item
By
Darlene S.

(Kearny, NJ) - January 16, 2011 (
See all reviews by this customer
)
I purchased this item for a close friend when her mother passed away....I was very pleased with the item and my friend absolutely loved the gift. I would not change anything.....however, it would be great if you could choose from a variety of sizes (picture sizes)....Makes a great heart-felt gift for anyone.

In memory of my mother
By
Gayle G.

(Scappoose, OR) - December 30, 2010 (
See all reviews by this customer
)
Like a previous review stated, the words can at times be hard to read. I was prepared with card stock in my mother's favorite color, purple. Which I taped behind the right side, it helps a lot. The sentimate is so nice, it touches the hearts of all who read it.

Memorial Engraved Frame
By
Elaine R.

(Houston, TX) - October 13, 2010 (
See all reviews by this customer
)
The frame is beautiful and quality. The wording that appears under the date information could have been a little bit "sharper". Otherwise, a very nice gift.

Satisfied.
By
Marce J.

(Zimmerman, MN) - September 29, 2010 (
See all reviews by this customer
)
I purchased this for a gift for someone who just lost her Mother and the funeral was in a few days to my surprise it came in time and I am fully satisfied with everything from the purchase and the quality of the frame.

Thanks
By
Shana B.

(Pendleton, OR) - September 25, 2010 (
See all reviews by this customer
)
My grandfather just died recently and I have been having a hard time dealing with it. I wanted something very nice a special to remember him by. I found this glass engraved frame and I really loved it. It was as described and a wonderful poem that fit my grandfathers life. The only thing I wish is that there was a piece of something across the back that would bring out the etching a little cause it is hard to read unless you put something behind it. But thank you for offering memorial stuff you are one of very few.

A lovely memorium
By
Erica O.

(Statham, GA) - September 23, 2010 (
See all reviews by this customer
)
I recently purchased this etched glass frame for the passing of a dear friend's mother. It arrived quickly, well packaged and was exactly as described. I would highly recommend personalizationmall.com to friends and family. Might I just add, kudos to you for offering gifts and tributes. You are one of very few and your review option made all the difference.

Beautiful and disappointing
By
Clarisse K.

(San Rafael, CA) - March 16, 2014 (
See all reviews by this customer
)
The glass frame is beautiful. The etching is beautiful as well as so memorable. My only disappointment when receiving the frame is the gold that surrounds the photo. It looks cheap and poorly put together which really stands out with such a lovely, etched frame. I would rather pay $5 more & have a quality frame.

business
By
Shopper

(Florence, KY) - March 26, 2012
The item is nice, but the quality of the engraving needs improvement.

Memorial frame
By
Shopper

(Glenolden, PA) - February 26, 2012
The frame is beautiful but you can hardly see the writing. The poem is so small and it does not even show up in bright light or if is near light walls in the background. No matter where I try this in our home you can not see the small print. I purchased four of these for family members and I can not give this frame to them.

Memorial Engraved Frame
By
Shopper

(Englewood, FL) - November 6, 2011
I was very pleased with the memorial picture frame and especially the fact that I was able to create my own verse on it. My only disappointment is that the writing on it is very light and it is very difficult to read.

Pretty BuT !!!!!
By
Sue G.

(La Plata, MD) - February 1, 2011 (
See all reviews by this customer
)
While this is a beautiful picture frame and the idea is great, the etching of the verse on it does not show up to be read easily unless you put something dark behind it. A little disappointed but still very nice gift.

engraving
By
Nancy W.

(Muscoda, WI) - January 10, 2011 (
See all reviews by this customer
)
I was a little suprised that the engraving was rough. I have had other engraved glass producxts and they were smooth, clear and easy to read. It's hard to tell buying on the net what you will get.

Could of Been Better
By
Shopper

(Baltimore, MD) - July 22, 2014
I recently ordered this item from my 2 cousins who lost their father. I read the reviews and they were mostly good. Some did say the writing was so small you could hardly see it, and I STRONGLY agree. It's so small you have to pick it up and squint to see it. Also the gold around the picture looks kind of cheap. The gold is so bright. Needless to say, I received mine in the mail about a week ago and its still sitting in the box because I'm debating whether to give it to them or not.

Not what i expected
By
jessica M.

(glendale, CA) - July 15, 2012 (
See all reviews by this customer
)
I ordered this thinking it was the best memorial. It is very nice,but it is way to small. I had 11 lines and you really need to read it and i have perfect vision. It should tell you what the font is...and at how many lines it becomes unreadable.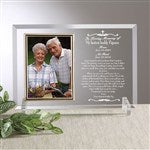 letters are to small
By
Ileana H.

(Rensselaer, NY) - August 8, 2012 (
See all reviews by this customer
)

The lines on the glass can not be seen is a beutiful frame but like I say
the wriding is to smal,I just loss my husbman after 39 years together
and that picture was on his memory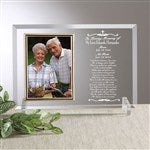 Unable to read
By
Dennis F.

(Kingsville, MD) - March 31, 2012 (
See all reviews by this customer
)
The white engraving on the clear glass makes it impossible to read. It needs a darker background.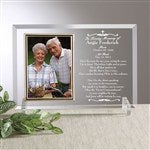 Engraving
By
Shopper

(Lanham, MD) - March 31, 2012
The We Shall Meet Again plaque was beautiful. The engraving was undesirable due to the size of the font; way too small. Although it was previewed, the actual product did not compare with the preview. The preview turned out to be an enlarged version of the actual product giving the appearance that the actual product print would be clearly readable. I contacted customer service and was told that they only have one font size for engraving which is inconsistent with the various font sizes on the plaque. The statement was a clear indication that there was no remedy for the poor quality issue of the engraving. Had I known, I would have purchased with no engraving and had the engraving done by a professional.

Awful
By
ashley D.

(Kingsport, TN) - January 18, 2012 (
See all reviews by this customer
)
I was not satisfied with this product. When I received it, I could barely read the writing on it. I purchased for my 84 year old grandmother and I know she cannot read it. I will not recommend this product to anyone.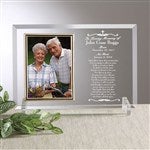 MEMORIAL FRAME
By
Shopper

(SAN ANTONIO, TX) - January 25, 2011
ENGRAVING VERY POOR QUALITY...PRINT TOO small AND LETTERS TO CLOSE.

VERY DIFFICULT TO READ MEMORIAL. ORDERED FOR A FRIEND AFTER THE LOST
OF HER MOTHER...I DON'T THINK I'LL EVEN GIVE HER THE MEMORIAL...