Memorial Frame
By
Kristina K.

(Tonawanda, NY) - December 15, 2011 (
See all reviews by this customer
)
This memorial frame was perfect to remember my Dad. The saying was perfect and looks great on my table. I put in his picture and now my family and I can remember him everyday. Definitely worth the price-built well and very reasonable.

WOW!
By
Shopper

(Pleasant Valley, NY) - November 7, 2011
Beautiful.....just beautiful!!!

Beautiful
By
Lois K.

(Mellen, WI) - November 1, 2011 (
See all reviews by this customer
)

I love the We Shall Meet Again memorial picture frames; they are beautiful
(I ordered 5). The only thing I might suggest, would be to make the print just
a little bigger. Sometimes the letters kind of look like they run together.
I would recommend this frame to anyone; it is just beautiful!!

Beautiful frame
By
Shopper

(Corona, CA) - October 22, 2011
great service and quality product. I will shop here again.

Treasure
By
Phyllis B.

(APO, AE) - October 19, 2011 (
See all reviews by this customer
)
I know this will be a display to last a lifetime. It has so much value and meaning. I am so glad I found it on your site. I am ALWAYS pleased with my purchases from this company. The cost is good and the quality is outstanding.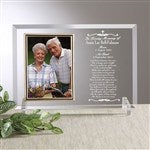 Very Satisfied!
By
Shopper

(Turlock, CA) - September 23, 2011
This gift is very touching and memorable. I purchased it for my aunt, whose husband recently passed away, she really liked it, I'm very happy with my purchase, I would definitely recommend it to anyone.

Wonderful Memorial
By
Nada K.

(Austin, MN) - August 24, 2011 (
See all reviews by this customer
)
We ordered three of these plaques when our dear father died in 2009, and now again when our dear mother joined him this August. They are beautiful memorials that can be displayed without being ostentatious.

Remember Me
By
donna A.

(Jasper, GA) - August 22, 2011 (
See all reviews by this customer
)
My first frame was chipped but they quickly sent another replacement at no charge.
I had this made in memory of my brother,for his widow and our mother. They both loved it and I was allowed to put my own verse on it which was even more special.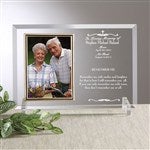 Tribute to Grandmother
By
Shopper

(Bowie, MD) - July 8, 2011
I purchased this item after the passing of my Grandmother. This frame now gives me have an elegant way to display her endless love and her smile.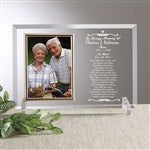 Dad's Memory
By
susan T.

(hazlet, NJ) - June 27, 2011 (
See all reviews by this customer
)
Although I never saw the item, I had it sent directly to my mom, my dad passes 4 years ago and it was the anniversary, so I sent this tribute to mom. She loved it and dad is buried at a cemetary for World War Two Vets and it's hard for her to get there, so she has a memorial always near by. thank you again.

Just Perfect
By
Shopper

(White Pine, TN) - June 26, 2011
This was very beautiful and was perfect. I was impressed with the quality. Just what I wanted and more.

until we meet again douglas williams
By
lisa W.

(kinston, NC) - June 18, 2011 (
See all reviews by this customer
)
i really loved it i placed it ovwer my fireplace thanks for a job well done keep up the great work.

Totally pleased
By
Janet B.

(Johnstown , PA) - March 19, 2011 (
See all reviews by this customer
)
I sent this frame to my nephew and his boys whose mother just passed away at the age of 44. They loved it and even got tear in their eyes when they saw it...beautifully done...thanks for the great product.

For my husband
By
Natasha W.

(Tobyhanna, PA) - March 10, 2011 (
See all reviews by this customer
)
I needed to find something for my husband to have for his dad and if he likes he can change the picture which was a plus it wont bring him back but he can have him near. It was beautiful and he cried recieveing it. I hope it helps him heal in the long run because as his wife it hurts that I can not sooth his pain. It was just beautiful I saw it and knew this was something he could cherish forever. The price was great as well! I would reccommed it to everybody!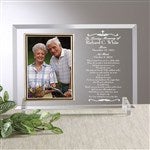 Sympathy Frames
By
Karen S.

(Warsaw, IN) - March 8, 2011 (
See all reviews by this customer
)
Since I always have to be a little different than everyone else, I send these picture frames in lieu of flowers when a loved one dies. Personally, I have never seen these frames; however, all three reciprocates have just raved about them. So I'm assuming they are very nice. Thank you, Karen

Just what I was looking for...
By
Shopper

(Mount Sinai, NY) - March 5, 2011
My best friend just lost her mom. I do not like to send flowers but wanted to send something that would memorialize her mom in a way she could be with her all the time. This fit the bill perfectly. Just right.

Priceless!
By
Nakea K.

(Middletown, DE) - February 27, 2011 (
See all reviews by this customer
)
Bought this for my dad who lost his father. Words cannt describe his reaction when he received the frame. It came in 3 days and was everything I paid for and more. Quality and stylish frame and the engraving was perfect. Made my dads day and I was so pleased! Happy and satisfied customer once again!

Recommeded purchase
By
Shopper

(Estill Springs, TN) - February 21, 2011
Great purchase the receipent loved it.

Amazing and Perfect Memory Piece
By
Tami S.

(Puyallup, WA) - February 11, 2011 (
See all reviews by this customer
)
I purchased the frame for my mother-in-law after the passing of my father-in-law. I loved that I could use scripters and not the poems and words they had - It was truly personalized for my mother-in-law. The shipping was prompt and the frame was breathtaking.

I would receommend this frame for all who are looking for a classic and breathtaking memorial piece for their home or for a loved one after a loss.

Great frame thank you so much
By
Shopper

(lewisburg, KY) - February 10, 2011
great frame and very fast shipping

The Perfect Personalized Memorial Frame
By
Peggy B.

(Southaven, MS) - January 21, 2011 (
See all reviews by this customer
)
I would recommend this frame to anyone who wants a specific and unique way to create a memorial tribute. The frame is beautiful in itself, but the formatting of the personalization area is what sets this item apart from all others. There was enough space to inscribe a couple of verses of the song that our son wrote about his dad (and me) shortly before his dad's death. Thank you so much for providing such a special way to remember our precious loved one. (By the way, the frame was carefully packaged and arrived on time in perfect condition.)

Memorial Engraved Frame
By
Judy N.

(Fort Wayne, IN) - January 3, 2011 (
See all reviews by this customer
)
The Memorial Engraved frame arrived the very next day and was beautiful. Would highly recommend this company!

lovely
By
Kari C.

(Tucson, AZ) - January 1, 2011 (
See all reviews by this customer
)
I got this for my Mother when my Grandpa passed away and gave it as a Christmas gift. She loved it and says it is beautiful. I had it engraved with a poem I said at my Grandpa's funeral. Thank you for such a wonderful, personal, and beautiful gift. Will be back for any personal gifts I may need in the future.

Sad, but great
By
Kim Z.

(Walton, NY) - December 24, 2010 (
See all reviews by this customer
)
My husband bought this for me because my mom passed away and I am having a hard time. This was great and to be able to put my favorite photo in it. It is so worth the memory. Thank you personalization mall for making such a precious gift for my memories.

excellent quality for the price
By
susan L.

(mashpee, MA) - November 22, 2010 (
See all reviews by this customer
)
I was very pleased to receive my order so quickly and delighted to see the quality of the work. I will be looking at this site for other gifts in the future.

Very Special Gift
By
Judy G.

(Bowling Green, KY) - November 10, 2010 (
See all reviews by this customer
)
There is no words to express how special this gift was to a young man who lost his father in a sudden accident. He has thanked us so many times for it and said it was the perfect gift during this tough time. The staff worked especially hard to get it to me in time for visitation for the family. I can not thank them enough for all they did to make that happen. I will use them again and again for that special gift!