Great product
By
Shopper

(Topeak, KS) - December 30, 2011
I gave this as a gift for my father, he said the quality and image looked great, it showed up exactly when it said it would.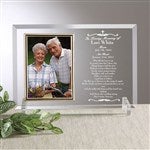 Beautiful Memorial
By
Wendy M.

(Canada) - December 19, 2011 (
See all reviews by this customer
)
I am very happy with this frame. It turned out beautifully.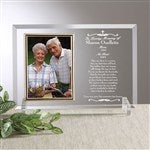 Difficult to read
By
Shopper

(Raleigh, NC) - November 20, 2011
I found the words too small and difficult to read. It did not appear that way on the sample.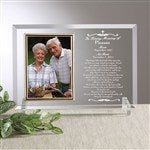 Treasure
By
Phyllis B.

(APO, AE) - October 19, 2011 (
See all reviews by this customer
)
I know this will be a display to last a lifetime. It has so much value and meaning. I am so glad I found it on your site. I am ALWAYS pleased with my purchases from this company. The cost is good and the quality is outstanding.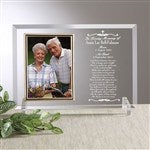 dear grandpa frame
By
robert H.

(Canada) - September 17, 2011 (
See all reviews by this customer
)
i loved it very much but the writing was hard to see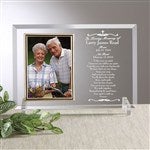 Remember Me
By
donna A.

(Jasper, GA) - August 22, 2011 (
See all reviews by this customer
)
My first frame was chipped but they quickly sent another replacement at no charge.
I had this made in memory of my brother,for his widow and our mother. They both loved it and I was allowed to put my own verse on it which was even more special.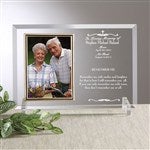 Tribute to Grandmother
By
Shopper

(Bowie, MD) - July 8, 2011
I purchased this item after the passing of my Grandmother. This frame now gives me have an elegant way to display her endless love and her smile.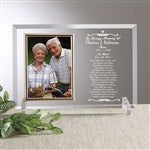 Could be better
By
Shopper

(West Carrollton, OH) - April 25, 2011
It is a beautiful frame. However the inscripture I wrote is not as clear as I had hoped for.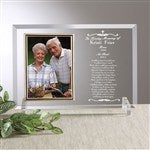 For my husband
By
Natasha W.

(Tobyhanna, PA) - March 10, 2011 (
See all reviews by this customer
)
I needed to find something for my husband to have for his dad and if he likes he can change the picture which was a plus it wont bring him back but he can have him near. It was beautiful and he cried recieveing it. I hope it helps him heal in the long run because as his wife it hurts that I can not sooth his pain. It was just beautiful I saw it and knew this was something he could cherish forever. The price was great as well! I would reccommed it to everybody!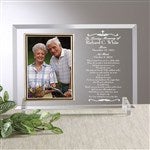 Great commemorative item/
By
Edward H.

(Scottsdale, AZ) - May 24, 2013 (
See all reviews by this customer
)
Ordered the product on Sunday and received it on Wednesday! Quality exceeded expectations.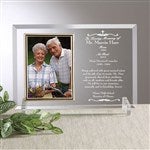 Awesome gift for a difficult time.
By
Kevin P.

(Orlando, FL) - May 15, 2013 (
See all reviews by this customer
)
I bought one for my mom back in 2001 and I recently bought one for my dad who recently past in May of this year. For both times, this gift really helped in my time of grief. I really recommend this gift.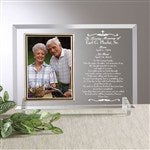 Beautiful memorial
By
Alicia C.

(Eagan, MN) - May 15, 2013 (
See all reviews by this customer
)
I have purchased three of these frames from Personalization Mall. All three have been beautifully etched, the ordering is easy and the shipments were prompt. Each recipient was grateful for this memorial item in honr of their lost loved one. I would highly recommend these products to anyone interested in giving a memorial gift.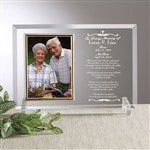 we shall meet againwe shall meet again
By
Angie C.

(Scott AFB , IL) - March 22, 2013 (
See all reviews by this customer
)
Fast delivery. Well packaged. Loved the item. Was perfect in what I was looking for. Thank u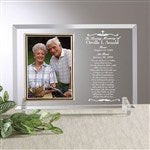 Inspiring Gift
By
Shopper

(Webster, NY) - February 19, 2013
I have purchased several Memorial gifts to give. This one along with the others was just so beautiful and very elegant. I sent this to my cousin whose Mom's had passed away.She said it was so beautiful and the poem meant so much to her as well. The engraving was done so very nicely.She said that everything about it was great.She said that she now has a place to shop at especially for very special treasured gifts. The gift was well packaged and I had you gift wrap it and my cousin said that it looked very nice when it arrived and it came rather fast and you did send me the tracking number which also is a great thing to have.Shopping at your site is so easy, convenient and great service.
Thank you so very much for making very nice, good quality gifts at great prices as well.
May you have a amazing day! Wishing you Peace!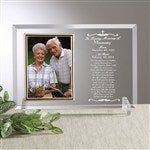 Perfect memorial for my Dad
By
Julie J.

(Waterloo, NE) - February 10, 2013 (
See all reviews by this customer
)
After the recent death of my Dad, I wanted something special to give to my family to memorialize him. I bought one for each of my adult children and for my Mom and both my sisters. I included my own poems on them and included their name in the poem as well as the family name. I couldn't believe how quickly I received them and they were even better than expected. Very good quality, a perfect keepsake and memorial for my Dad, and the price was very reasonable which made it possible for me to purchase 7 of them. Thank you Personalization Mall!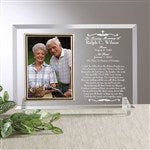 love the detail
By
susan R.

(huntington, IN) - November 26, 2012 (
See all reviews by this customer
)
was very pleased with my frame. The detail was very nicely done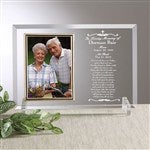 letters are to small
By
Ileana H.

(Rensselaer, NY) - August 8, 2012 (
See all reviews by this customer
)

The lines on the glass can not be seen is a beutiful frame but like I say
the wriding is to smal,I just loss my husbman after 39 years together
and that picture was on his memory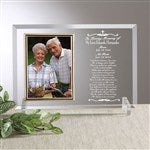 Not what i expected
By
jessica M.

(glendale, CA) - July 15, 2012 (
See all reviews by this customer
)
I ordered this thinking it was the best memorial. It is very nice,but it is way to small. I had 11 lines and you really need to read it and i have perfect vision. It should tell you what the font is...and at how many lines it becomes unreadable.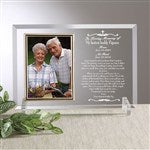 Sympathy Gift
By
Wendell D.

(Gardendale, AL) - April 20, 2012 (
See all reviews by this customer
)
When my best friend's mother past away, I wanted to give him and his family something that was different and something the family could keep for years to come. Instead of flowers I decided to purchase this as a gift and ALL the family members love it, repeatedly shared how much they appreciated the gift and how special it was to remember their loving mother. Very impressed and something the family can cherish in years to come.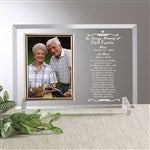 Absolutely Perfect
By
James B.

(Leechburg, PA) - April 7, 2012 (
See all reviews by this customer
)
Beautifully done! I purchased this as a gift for my Mother in memory of my Grandmother. I know how much it will mean to her that I was able to personalize it with memories we all hold dear. I cried when I opened it, and I know it will be a cherished family keepsake. I was so impressed with the quality and speed of shipping! I placed my order at 5am and it went out the same day!! I have already recommended this site to several people, and I will definately be shopping here again!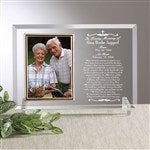 Unable to read
By
Dennis F.

(Kingsville, MD) - March 31, 2012 (
See all reviews by this customer
)
The white engraving on the clear glass makes it impossible to read. It needs a darker background.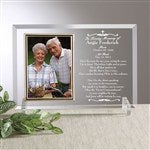 business
By
Shopper

(Florence, KY) - March 26, 2012
The item is nice, but the quality of the engraving needs improvement.

Inspirational and beautiful!
By
Mildred B.

(Irving, TX) - March 23, 2012 (
See all reviews by this customer
)
I have oredered this frame several times as a memorial and it has always brought comfort to the recipients. The incriptions are so touching.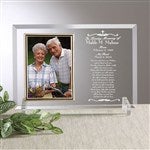 its was the best gesture
By
Sasha C.

(Missouri City, TX) - March 12, 2012 (
See all reviews by this customer
)
They loved it!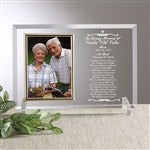 great product
By
Bryan R.

(COLLINSVILLE, VA) - March 10, 2012 (
See all reviews by this customer
)
this was what i was looking for,sence my grandfather pass away last year. it was great keepsake that i have of him to keep close to my heart.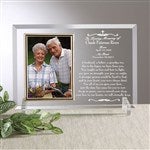 Very satisfied
By
Stephanie B.

(Cheektowaga, NY) - March 5, 2012 (
See all reviews by this customer
)
Were using this for our memorial table for our wedding. And I am very pleased with the product and how it turned out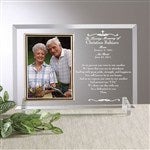 co workers mom
By
ELISHIA L.

(ANTIOCH, TN) - February 11, 2012 (
See all reviews by this customer
)
This was better than sending flowers. Personailaztion mall has excellent quality items. I shop here all the time.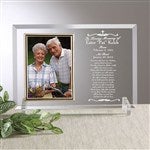 Awful
By
ashley D.

(Kingsport, TN) - January 18, 2012 (
See all reviews by this customer
)
I was not satisfied with this product. When I received it, I could barely read the writing on it. I purchased for my 84 year old grandmother and I know she cannot read it. I will not recommend this product to anyone.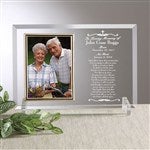 Heartwarming
By
Joy M.

(Queensbury, NY) - January 16, 2012 (
See all reviews by this customer
)
I was looking for something "out of the box" for a really close friend of mine whose mother in law just passed away, this was perfect! Different and caught them by surprise actually made them cry at the thought of her and couldn't wait to find the perfect picture for it. I actually have not seen it myself but from the phone call I know it was worth every penny, thanks personalization mall!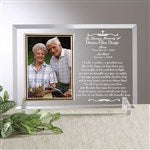 a truly heart warming gift
By
Shopper

(fredericksburg, VA) - August 30, 2013
I ordered this piece of work after a loss in my in law's family. The gift was very well priced and arrived promptly. My only complaint is that the lettering is quite tiny, however the poem I chose was very long. Overall I am pleased with the quality, time, and cost! Thank you!

Overall Nice Product
By
Shopper

(Westland, MI) - January 18, 2013
I have enjoyed your site for several years now...you have some very unique items with the personalization that I like to put into my gift giving...I purchased this picture frame to give to my best friend who just lost her mother to brain cancer...after receiving the item, I inspected it for accuracy and noticed the verse was a little difficult to read even in good lighting...I am not even sure I would know what to suggest to make the verse stand out a little bit more and make it easier to read...maybe a little white paint in the etching? That is the only reason I gave this a 4 instead of a 5...otherwise it was awesome...but my friend absolutely LOVED IT!!!...especially the personalized verse written by her friend instead of the company verse...although the verse the company gave as a possibility was nice it wasn't personal enough...good job Personalization Mall

Memorial Service
By
Shopper

(Richlands, VA 24641, VA) - January 20, 2013
This was a perfect gift for a friend of mine that lost her grandfather. I ended up getting to go to the service, but if I had not I would have paid quite of bit extra for the company to have put the picture in the frame for me. This is a great gift but would be even more perfect if the company would add the picture for you.

The Perfect Personalized Memorial Frame
By
Peggy B.

(Southaven, MS) - January 21, 2011 (
See all reviews by this customer
)
I would recommend this frame to anyone who wants a specific and unique way to create a memorial tribute. The frame is beautiful in itself, but the formatting of the personalization area is what sets this item apart from all others. There was enough space to inscribe a couple of verses of the song that our son wrote about his dad (and me) shortly before his dad's death. Thank you so much for providing such a special way to remember our precious loved one. (By the way, the frame was carefully packaged and arrived on time in perfect condition.)

Memorial Engraved Frame
By
Judy N.

(Fort Wayne, IN) - January 3, 2011 (
See all reviews by this customer
)
The Memorial Engraved frame arrived the very next day and was beautiful. Would highly recommend this company!

lovely
By
Kari C.

(Tucson, AZ) - January 1, 2011 (
See all reviews by this customer
)
I got this for my Mother when my Grandpa passed away and gave it as a Christmas gift. She loved it and says it is beautiful. I had it engraved with a poem I said at my Grandpa's funeral. Thank you for such a wonderful, personal, and beautiful gift. Will be back for any personal gifts I may need in the future.

Recommeded purchase
By
Shopper

(Estill Springs, TN) - February 21, 2011
Great purchase the receipent loved it.

Amazing and Perfect Memory Piece
By
Tami S.

(Puyallup, WA) - February 11, 2011 (
See all reviews by this customer
)
I purchased the frame for my mother-in-law after the passing of my father-in-law. I loved that I could use scripters and not the poems and words they had - It was truly personalized for my mother-in-law. The shipping was prompt and the frame was breathtaking.

I would receommend this frame for all who are looking for a classic and breathtaking memorial piece for their home or for a loved one after a loss.

Great frame thank you so much
By
Shopper

(lewisburg, KY) - February 10, 2011
great frame and very fast shipping

Very Special Gift
By
Judy G.

(Bowling Green, KY) - November 10, 2010 (
See all reviews by this customer
)
There is no words to express how special this gift was to a young man who lost his father in a sudden accident. He has thanked us so many times for it and said it was the perfect gift during this tough time. The staff worked especially hard to get it to me in time for visitation for the family. I can not thank them enough for all they did to make that happen. I will use them again and again for that special gift!

Just what I was looking for...
By
Shopper

(Mount Sinai, NY) - March 5, 2011
My best friend just lost her mom. I do not like to send flowers but wanted to send something that would memorialize her mom in a way she could be with her all the time. This fit the bill perfectly. Just right.