Forever in Our Hearts Personalized Memorial Frame
By
Stella P.

(Sanford, ME) - December 11, 2012 (
See all reviews by this customer
)
Loved the quality and look of this frame!!! Better than expected. I give it a 5 star. Satisfied customer.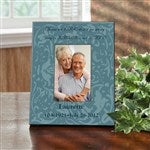 ~Peaceful~
By
Vicki B.

(Cortez, CO) - November 23, 2012 (
See all reviews by this customer
)
Very beautiful website! I know that when I need something and fast, I look no further! Everything that I have ever purchased from PersonalizationMall.com has been a blessing to us.

Awesome!
By
Shopper

(Mcdonough, GA) - October 8, 2012
I was unable to attend the funeral and wanted to do something more permanent than flowers. I searched the internet for ideas when it dawned on me, Personalization Mall! I went here and found so many great things, but thought this was the best idea. The recipients loved it and it will last a lifetime. Thank you for offering sentimental products like this, it is AWESOME!

Beautiful!
By Shopper (Merced, CA) - October 7, 2012
I received this as a gift for my mother-in-law's passing. My husband loved it so much, that I ordered 3 more for his brother and his aunts. It is absolutely beautiful!! Great quality!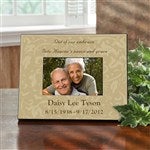 frame
By
Shopper

(Winder, GA) - September 23, 2012
It was correct and of good quality.

Beautiful memory
By
Georgette D.

(Elburn, IL) - September 6, 2012 (
See all reviews by this customer
)
Our daughter recently died and I wanted a frame to give to all her aunts and uncles. This frame came quickly and was beautiful. I have never been disappointed with any item purchsed.

Beyond Nice Frame!
By
Carol C.

(Elgin, IL) - September 5, 2012 (
See all reviews by this customer
)
This is my third personalized frame purchased. One for berievement and two for anniversaries. They are beautifully done and so rich looking. Can peronsonalize any way you wish!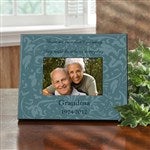 absolutely beautiful fram
By
Pamela B.

(Taunton, MA) - August 5, 2012 (
See all reviews by this customer
)
Bought this frame because my husband passed away recently when i received it, it was absolutely beautiful would recommend it to anyone that losses a loved one.

In Memorium At A Wedding
By
Shopper

(Wanaque, NJ) - July 17, 2012
We used this for display at a wedding reception. Instead of putting a picture in the frame, we typed up the names of the deceased for both families and placed it in the picture opening. I bought a candle that used a battery and placed it beside the frame. It looked wonderful. Very tasteful.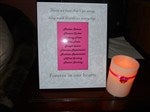 Very Impressed
By
Charles B.

(Raleigh, NC) - May 11, 2012 (
See all reviews by this customer
)
The quality and shipment were both excellent. It arrived within a few short days. We lost my father and my sister lost her father-in-law in less than 2 months. We have bought 4 of these total so we obviously were very satisfied. Now my dad is "forever in my heart"

Rememberance frame
By
Beverly S.

(Winfield , MO) - April 1, 2012 (
See all reviews by this customer
)
So glad I discovered your website. I love the frame, it came so quickly too. I will definitely be ordering more in the future.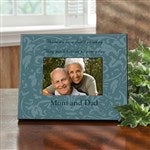 feature I did like
By
Marlaine W.

(Jeffersonville, IN) - March 10, 2012 (
See all reviews by this customer
)
I have always been pleased with any personalized product from your company. I have ordered a picture frame for a new born and I have ordered a memory stone and two memorial picture frames. First class products at a great price.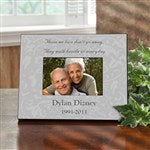 Absolutely loved it.
By
Cheryl O.

(Philadelphia, PA) - March 9, 2012 (
See all reviews by this customer
)
A friend recently passed away and left behind a husband and young son. I put a beautiful photo of her in the frame and gave it to them and they loved it. I purchased the tan one and I am extremely happy with it. I would definitely recommend this product.

The Right Gift
By
Shopper

(Missouri City, TX) - March 5, 2012
We purchased this gift for a co-worker who lost a family member....it was a great gift and appropriate as a group gift.

Forever in our Hearts Frame
By
Shopper

(Hubbard, OH) - February 16, 2012
I had a special friend who lost his grandma, and just wanted something he could help remind her of his love everyday....He has lots of pictures of him and her together, so I thought this was perfect...and IT WAS!!! IT IS MUCH BETTER LOOKING IN PERSON, ALMOST LOOKS LIKE GLASS. I bought the turquoise one, and find out that was her favorite color!! an exceptional gift!!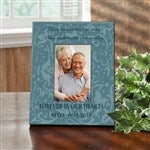 she love it
By
JOY G.

(WILMINGTON, NC) - February 13, 2012 (
See all reviews by this customer
)
I brough this for my daughter friend grandfather who passed away and this is th 2nd time i ordered it.. they love it alot ...thank again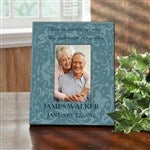 FOR MY FRIEND
By
JOY G.

(WILMINGTON, NC) - February 2, 2012 (
See all reviews by this customer
)
i order this first week of januuary for my friend kathleen husband who passed away ,,, i wasn't too sure if she gonna like,, she love keep her side of bed everynight she will look at him befor she asleep... i think i pick a great hoice for my frind now i'm order another one.. thanks you for doing this ...

Son-in-law mother passed
By
Jacqueline P.

(Ozark, AR) - December 20, 2011 (
See all reviews by this customer
)
I purchased this for my son-in-law after his mother passed away. He loved it so much that he asked me where I purchased it so he could get one for his sister.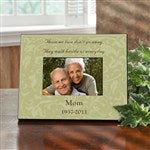 Beautiful
By
Shopper

(Eureka, NV) - December 8, 2011
This frame is so much nicer than I expected for the price. The color is so rich. Very impressed.

Bittersweet!
By
Leah P.

(Aiken, SC) - July 26, 2011 (
See all reviews by this customer
)
Made a bittersweet gift on the one year anniversary of my friends parents losing their son! They loved it though!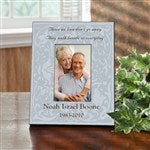 so precious and elegant
By
Marie G.

(Folsom, CA) - June 26, 2011 (
See all reviews by this customer
)
Like other consumers wrote, I guess the lettering against the beige really stood out and was nice and clear. Just beautiful and am very satisfied with the product.

Meaningful sympathy gift
By
Michelle G.

(Raymore, MO) - June 21, 2011 (
See all reviews by this customer
)
Instead of sending flowers, I ordered this gift to send to a friend who just lost his father. This way he can add his favorite photo and place the frame on his desk. Thank you for providing such unique options!

Great Value - Fast Service
By
Della R.

(Toronto, OH) - June 15, 2011 (
See all reviews by this customer
)
I have been buying items about once a month and have been very satisfied with everything we have purchased. The items are a great value. The items usually come within a week.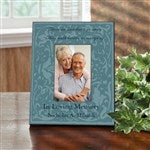 Beautiful memory of my cat
By
Lynn S.

(Elgin, IL) - May 23, 2011 (
See all reviews by this customer
)
My beloved cat Nina passed away unexpectedly and I wanted a pretty frame for a memorial photo. When I received the frame I had tears in my eyes. I have the frame and photo on my dresser and it looks lovely. It is a purrfect reminder of my favorite pet and I will cherish it for many years to come.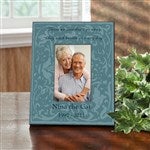 Exactly what I wanted!
By
Debora G.

(Goodyear, AZ) - May 14, 2011 (
See all reviews by this customer
)
I was so pleased with this frame as the quality was excellent and the personalization was exactly as I had ordered. I'm sure I will order more in the future!


Beautiful!
By
Kathy T.

(Pleasant Valley, NY) - May 10, 2011 (
See all reviews by this customer
)
A Beautiful frame to place a picture of your loved one(s) in. The tan frame to me looks more like a soft yellow and soft green combination but still is very nice. The personalization stands out nicely. The first one I received was damaged but contacted CS and they replaced it for me.

Great for any occasion
By
Shopper

(Gambrills, MD) - May 9, 2011
I gave this as both a Mother's Day and Father's Day gift (one landscape, one portrait orientation). The colors are pretty and it was really well received.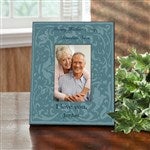 Memorial Frame
By
Shopper

(Avenel, NJ) - February 9, 2013
Although I was very pleased with a similar item purchased before, the recent item received was not together. Back of frame was off, the purchased gift box dented and the tissue paper ripped, not happy that I was charged for the poor condition. Whoever did the packing of this item was not neat. The outside box was dented as well but I would contribute that to the postage carrier. The first item received was excellent. I would, however, purchase again.

nice frames
By
Patrick L.

(San Gabriel, CA) - May 9, 2011 (
See all reviews by this customer
)
I ordered a total of l0 frames with all three colors. I do not recommend the blue one because the engraving does not stand out that well. The tan colored one is the best.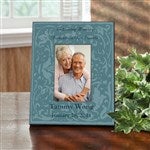 DISAPPOINTED SOMEWHAT
By
Shopper

(Fresno, CA) - November 28, 2013
I bought two of these frames. One came without glass and both were not centered properly. They replaced both frames, centered properly, at no additional charge. However, this took additional time!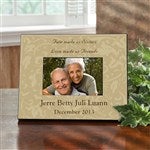 It's okay
By
Shopper

(Forest City, IA) - May 11, 2012
I wasn't as pleased with the overall look of this item. I just wish it was a little fancier. But the recipient loved it, and that's all that matters!

Not as nice in person
By
Shopper

(Racine, WI) - December 22, 2011
I ordered the tan colored frame based on others' reviews, because they said the personalization really stood out against the background. In my opinion the black lettering clashes with the frame color. In the one I received, the graphic on the frame is off center. It just doesn't look very polished or nice. Disappointed :(. I have yet to give it to the recipient, so hopefully she'll like it better than I do.