Great puchase choice
By
Shopper

(La Plata, MD) - January 23, 2011
Was very pleased not only with the promptness of receiving the order but the quality of the order. Definitely a 5 star purchase.

Men's memorial box
By
Gayle G.

(Scappoose, OR) - December 30, 2010 (
See all reviews by this customer
)
I bought five of these memory boxes following the death of my husband. One for his sister, the three grown children and for myself. I enjoyed putting special pictures inside and giving the lovely boxes. They are a wonderful value, worth every penny.

Great Quality for a reasonable price
By
Wendy S.

(Gilroy, CA) - November 18, 2010 (
See all reviews by this customer
)
I bought this box for my boyfriend, who just lost his Dad. It was great that I got to personalize it any way I wanted to. There were no scratches...you can tell the engraving was done with care. Very nice quality box.

The Perfect Keepsake
By
Samantha S.

(Pittsburg, KS) - September 29, 2010 (
See all reviews by this customer
)
I got this to remember my 10 month old Yorkie that was hit by a car. I decided to order this memorial box to put all of her things in to remember her. I am so glad I did! When I am missing her I simply go to the box and get out her things. Just thinking about her makes me feel better. I definitely recommend this to anyone who has lost a loved one (person or animal) that they wish to remember forever.

It was actually larger than I expected it to be. I was able to fit a newborn diaper, her mouse toy, her pony toy, a couple hair clips, and her i.d. tags in there. It is also a very nice piece to display in the family room. I even put mine on the shelf for everyone to see.

They Are a Treasure
By
Mary T.

(Phoenix, AZ) - August 12, 2010 (
See all reviews by this customer
)
I ordered two of these, because a friend's father and father-in-law both died within several weeks of each other. She was very touched by the gifts. The boxes were beautiful.

Just one thing lacking!!
By
Shirley T.

(Ringgold, GA) - September 28, 2013 (
See all reviews by this customer
)
I use your site for many things during the year. However, this was the first time I have ordered a personalized memorial box. It was for a very close friend still morning the death of his Mother 50 years ago. I thought the quality of the wood used was very good, but the one thing that was obviously missing was a lining inside the box. I had to go to my local craft store and purchase self sticking red felt and cut it to size. This made an outstanding difference in the look and quality of the box!! I would recommend you adding this lining to all your boxes for a more finished high quality look!

Memorial treasure
By
Shopper

(Eureka, UT) - April 8, 2013
This was a gift for a couple that lost their baby, and it is truely a cherished gift. It is of such great quality. I am very glad I ordered this for them. They can keep treasured memories in it.

Nice for storing keepsakes
By
Brenda K.

(Lima, OH) - March 11, 2013 (
See all reviews by this customer
)
The box is nice. It has a space in the lid for a photo of the loved one. It offers a personalized message and name/dates to be included. There is enough space inside for personal items, such as a CD of the funeral service, copy of the obituary, copy of the funeral program, etc. I purchased a keepsake box when my brother died on 11/6/11 and liked the box so much that I ordered one when my mother died on 2/21/13.

Memory box
By
michele B.

(South Amboy, NJ) - December 4, 2012 (
See all reviews by this customer
)
Came with a scratch on it lovely box but company doesn't have a quality control dept to check items before they ship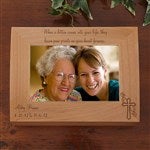 nice memorial box
By
Shopper

(peabody, MA) - June 6, 2011
The boxes I purchased were very nice.

Memorial box
By
S. Erline T.

(Sandusky, OH) - December 22, 2010 (
See all reviews by this customer
)
Unique idea and quality of box is great. I thought this was a perfect gift for photos & items to give to a male friend who just lost his brother at 35. I would have liked option for more characters for saying - choice for wording was very limited.

Memorial box
By
Shopper

(Hope Mills, NC) - December 8, 2012
A little disappointed on this purchase. Not only did UPS lose my order, but the inside bottom of the box was not as sturdy as I would have liked. Personalization Mall was quick in replacing the order very quickly and sent out the replacement order immediately. However, we were very late after the funeral to get this to the family.