Great Way to Remember the Day
By
Theresa H.

(Suffolk, VA) - April 21, 2010 (
See all reviews by this customer
)
I ordered this box for my daughters First Communion. It is beautifully engraved and well constructed. I would order this again as a gift for freinds and family who have children making their sacraments.

Beautiful case!
By
Karen H.

(Highland, MI) - April 19, 2010 (
See all reviews by this customer
)
I bought this rosary case for my son's first communion rosary and truly couldn't be more pleased. I was pleasantly surprised when it arrived~ the workmanship is excellent, the size was bigger than I expected so the rosary will fit with no problem and the personalization just makes it so special for our sons big day.

First Holy Communion Gift
By
Aimee D.

(Weirton, WV) - April 16, 2010 (
See all reviews by this customer
)
I purchased this item for my goddaughter's first holy communion. The case is a good size and has a nice weight to it.

Pleased purchaser!
By
Luci L.

(Salina, KS) - April 15, 2010 (
See all reviews by this customer
)
I ordered two and am extremely happy with the product! They are beautiful and actually larger than anticipated! I ordered for my 2 nieces to store their heirloom rosaries. What a beautiful keepsake. I definitely scored points with them! :) Oh ... and the delivery service was quick... Thank you!

Confirmation gift
By
Darren H.

(Canada) - April 13, 2010 (
See all reviews by this customer
)
We bought this rosary case and rosary for our daughter's confirmation. We were very happy with the product, it is as described and will be a cherished gift.

Very Pleased Customer
By
Rosario V.

(Hacienda Heights, CA) - April 12, 2010 (
See all reviews by this customer
)
Great price, fast delivery and best of all, beautiful keepsake for my step-daughter's confirmation. I know she will love it.

Beautiful but slightly flawed
By
Shopper

(Orefield, PA) - April 21, 2013
This is really a very nice case and the engraving is perfect. I didn't give it a 5 star because the black felt on the inside of the container was slightly pulled away from the side. I pushed it back and held it in place and the glue seems to be holding so far. Not for that, it would be a perfect container.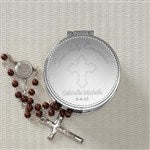 Great keepsake
By
Shopper

(Howell, MI) - April 14, 2013
This box is a great keepsake that my child can pass down to his own child someday. I am very pleased with the quality of the box and the engraving!

Engraving
By
Shopper

(Le Mars, IA) - April 23, 2012
Overall, I am very satisfied with the rosary case. It is of good quality and well made. My only concern was the fact that the engraving "First Holy Communion" was not well centered.

Very Nice Rosary Case
By
Shopper

(Oklahoma City, OK) - April 20, 2012
The case is well-done and looks just like the picture. The engraving is very clear and the box it comes in is also nice.

larger than expected
By
Shopper

(Reading, PA) - April 9, 2012
The engraved rosary case is quite lovely; however, it is much larger than a rosary case of which I'm familiar. I purchased the case and the child's rosary for my Godchild who is receiving her First Holy Communion and I feel the case may be a bit cumbersome to fit into her little purse. It's engraved and therefore can't be returned; however, I'm hoping she can use it to store her more expensive jewelry.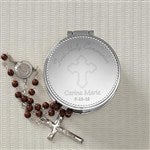 Overall a good experience
By
Shopper

(South Bend , IN) - May 23, 2011
I orderd a rosary holder for my great neice's first communion. I was a little dispointed in the engraving as it seemed not quite as clear or deep as I had imagined. On the plus side I thought there was no way it would arrive before her actual first communion day, but it arrived with time to spare.

Lovely Keepsake
By
Shopper

(Charlotte, NC) - May 17, 2011
I bought this for my niece for her first communion along with the rosaries. Very pretty & delicate. The engraving was great. Shipping was fast.

Engraved Rosary Case
By
Shopper

(Flagstaff, AZ) - February 21, 2011
The case is of good quality and am happy with it, but I was disappointed in the engraving. Very faint. Very hard to see.

First Communion Gift
By
Barbara B C.

(Key West, FL) - May 5, 2010 (
See all reviews by this customer
)
This was a great gift.

very nice
By
Barbara S.

(Huntingtown, MD) - May 3, 2010 (
See all reviews by this customer
)
Purchased for 1st communion gift--very nice to hold a rosary...but I don't recommend the rosary th at was suggested for this item.

Nice keepsake to hold a rosary
By
Donna T.

(Fallston, MD) - April 20, 2010 (
See all reviews by this customer
)
This keepsake is very nice. I was pleasantly surprised...I like this box much better than the previous version. Yes I ended up buying tow - the first one had a lift off lid and was very plain - I went to write the review and the product was gone off the site. So I saw this one and ordered a second one - unfortunatley could not return the first since it was engraved. This box looks much nicer witht he hinged lid and fancy edging. Keep in mind it is small....but very nice.

Worth the Money
By
TONY V.

(SUNNYVALE, CA) - April 20, 2010 (
See all reviews by this customer
)
I ordered this item as a gift to my friend;s son. Was little skeptic when I ordered this as my previous experiences from other places were not that great. Though the picture in the sites looks great, the actual product was no where near to what was shown. But this one met 100% of my expectation and even more. The quality of the product was excellent and even the engraving was good. Worth the money spend...

Nice but....
By
Shopper

(Annandale, MN) - April 30, 2013
Very pretty, but not worth the $$$. Smaller than I thought it would be. Also, thought for $$$ the rosary would be included. Would not purchase again for $!

used for gift for granddaughter
By
Shopper

(Jacksonville, FL) - May 9, 2012
It was very nice and what I expected except the top was scratched and would not polish off whch was disappointing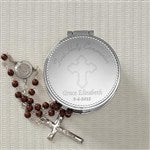 Engravement faint
By
Shopper

(YONKERS, NY) - March 7, 2012
The actual case is a very nice piece, however I am disappointed with the engravement. Overall its pretty faint but the date is even more faint.

Nice item but engraving was off center - twice!
By
Shopper

(Columbus, OH) - May 2, 2011
This is a nice little gift for a first communicant however the engraving was not centered. Customer service was great at facilitating a no hassle replacement (all I had to do was send a picture by email)however the replacement was only slightly better. At this point I have to give the gift, and it's still off center, but I guess this is as good as it gets.

Not Going to Look Nice for Very Long
By
Bonnie R.

(Waldorf, MD) - May 6, 2010 (
See all reviews by this customer
)
I first ordered the sterling silver and swavorski chrystal cross necklace as a gift for my 8-year-old niece's first communion; I was disappointed that it did not come in a nice presentation box. So, I ordered the Holy Day Rosary Case to hold the necklace; that way, the gift could be personalized with the recipient's name and date.

The rosary case is the perfect size for my purpose. I liked the weight and hinge function of this case. And the case comes in a nice presentation box.

However, the engraving is very faint and the surface quickly shows fingerprints when handled. I made the mistake of gently rubbing the case on my fleece jogging suit to remove fingerprints and this resulted in some scratching-- before the gift was even given. Because of these points, I would not order this case again.

Engraving was not centered the best
By
Erin S.

(Westlake, OH) - April 26, 2010 (
See all reviews by this customer
)
This was a nice gift idea but the engraving was kind of sloppy -- a little lopsided and off center. I don't have any more time to order a new one, so I will give it anyway. But I have to say I was a little disappointed. I had a problem once before with personalization with a throw I had done for my Grandmother. I think you have to be careful what you get from this site.

a little disapointed
By
Irene R.

(Torrington, WY) - April 22, 2010 (
See all reviews by this customer
)
I love the box but was disappointed when I got it and there was no cross in it. I went back to the website to see if it said that it was not included. It did say that, I guess I over looked it. Maybe it could be bolder or something.

Engraved Rosary Case
By
Jen K.

(Hoboken, NJ) - May 23, 2011 (
See all reviews by this customer
)
I wanted to like the rosary case more, but there were a few problems. The case looks nice in the picture, but in reality it is light and cheap looking. The website picture showing the open lid appears as though the entire interior is lined, but it's not. The only lining is a thin blue fabric inside on the bottom. The sides are bare metal. My biggest disappointment has to do with the engraving. The engraving is shallow, but more importantly, it was slightly crooked. I chose the cross design and the top of the cross pointed slightly to the left when compared to the hinge at the top of the box. All in all, disappointed.

Disappointed
By
Christine S.

(Succasunna, NJ) - May 3, 2011 (
See all reviews by this customer
)
I was very excited about this product as a gift for my niece, but when I received it the engraving on the top was so faint you could hardly read it. I contacted customer service and all they told me was that was the best it could be done and I could return it for store credit. The display picture is very deceiving.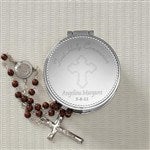 Dissappointed
By
Shopper

(Westwood, MA) - March 31, 2011
I am only rating this 2 stars because of the engraving. It is so light that you can barely read it. I am so disappointed. If the engraving was done properly, I would have rated this 5 stars.