Exactly what I was looking for!
By
Jeanne H.

(Third lake, IL) - January 16, 2012 (
See all reviews by this customer
)
Te stone arrived quicker than I expected and better than expected. It was bigger than the picture shows and a little flatter. Also, a bit heavier than described, making it an even better product. It was a gift and the recipients were delighted. I would highly recommend it, a great value too.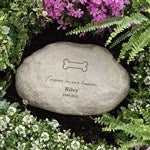 Beautiful Memory
By
Sandy R.

(Clarence, NY) - January 11, 2012 (
See all reviews by this customer
)
The stone was very nice quality, much bigger than I thought it would be. A very nice rememberance to put in the garden come spring.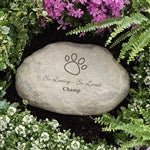 Beautiful
By
Shopper

(Meriden, CT) - April 15, 2013
This is such a loving tribute to our beloved beagle Roxi. I had been looking for something to honor her memory and this is the perfect thing. I really like how it was personalized. The service is fast and the selection is great!
Thank you a very satisfied coustomer:)

Beautiful Memorial
By
Karen H.

(West Hartford, CT) - May 12, 2013 (
See all reviews by this customer
)
I bought this for my sister who lost her dog and it was so appropriate. She now has a memorial in her garden. Well made and good quality!

Mar 10 2013
By
Shopper

(Cumming, GA) - March 18, 2013
Just as pictured. My parents really appreciated it with the loss of their dog.

Perfect
By
Shopper

(Cambridge, MN) - January 11, 2013
This item is as exactly as described. When our beloved dog passed away we buried him and wanted a way to mark his resting place. The price was great and the quality seems very durable.

stamping is faint
By
Shopper

(Grants Pass, OR) - December 18, 2013
beautiful stone, hollow inside but sturdy. only issue is stamping is faint. I went over it with black marker and now its perfect

Great Memorial Stone
By
Meredith H.

(Snellville, GA) - July 15, 2013 (
See all reviews by this customer
)
This is a great personalized memorial stone. It's a good size and a good weight, and the personalization turned out perfectly.

Perfect Memorial Stone
By
Mary E.

(Marrero, LA) - September 7, 2013 (
See all reviews by this customer
)
I ordered this stone shortly after my sweet buddy, Mackie, died. It is exactly as pictured and of good quality. I placed it in my herb garden. It is the perfect memorial to my best buddy.

Perfect pet memorial
By
Shopper

(Rockford, IL) - September 15, 2013
Perfect pet memorial alternative to an expensive bronze marker available at the pet cemetery. Have purchased several for friends who buried their pets in their own yards.

Memorial Pet Stone
By
Shopper

(Deer Park, TX) - August 5, 2013
I was very pleased with the memorial pet stone. It is a touching tribute to my sweet dog and looks lovely in the garden. The engraving detail is beautiful.

A sense of closure
By
kim R.

(danbury, CT) - July 26, 2013 (
See all reviews by this customer
)
Our beloved Fluffy after a long illness had to be put down. I wanted to get something to put in the area she loved to lay outside. This certainly fit the bill, very nice workmanship, nice size, not too big. Fits nice in "her" spot.
Very pleased! Thank you so much.

Great for the money
By
Shopper

(Gasconade, MO) - July 29, 2013
This is not a real stone but is replicated very well. I have not put it outside yet, so I can't rate the durability but it seems durable enough. Very quick production and shipping and great price.

Pet memorial stone
By
Jessica D.

(Knoxville, TN) - October 12, 2010 (
See all reviews by this customer
)
Great product, fast shipping!

beautiful memorial
By
Louise M.

(Preston, MN) - September 22, 2010 (
See all reviews by this customer
)
We were very pleased with the quality of the memorial pet stone that we ordered. It arrived just a couple of days after placing the order. The perfect marker to remember your devoted pet with.

Purrfect
By
Linda C.

(Berkeley Springs, WV) - October 12, 2010 (
See all reviews by this customer
)
The Memorial Pet Stones are just what we needed.
Loved we could personalize the name, date, and say a bit more about our beloved animal companions.

Great size, liked the paw print and cat symbol, good price, and delivered quickly.

We are very pleased with the stones and the service.
Thank you for making this difficult task easy!
Linda

Lucy's Memorial
By
Phyllis S.

(Treasure Island, FL) - November 11, 2010 (
See all reviews by this customer
)
I put the stone in our garden next to a plant in Lucy's memory. Her family was so pleased at the gesture. It was a perfect tribute to a wonderful pet that we all miss.

Great product!
By
Joy G.

(Rosemount, MN) - October 14, 2010 (
See all reviews by this customer
)
We are very happy with our purchase of the Memorial Pet Stone. It was delivered very quickly, it is the perfect size and all for a good price. It is a great way to remember our beloved cat.

Beautiful memorial stone
By
Susan F.

(Plano, TX) - October 15, 2012 (
See all reviews by this customer
)
I ordered the personalized memorial stone, for my beloved horse. The stone arrived very quickly and exactly how it was pictured on the web site. It was perfect. Very well done and great weight. Loved the fact that the back is flat, so it lies nicely on the ground. Very tasteful.

WOW! Such a nice product!
By
Shopper

(Byron, MN) - January 8, 2013
We got this to put on our pet's grave. I didn't know what to expect about getting a stone in the mail. It looks like it is a stone cut in half but is actually formed like a half of a stone and is made out of cement or something similar. It wasn't terribly heavy but heavy enough for it to last outside. I think it will last even with the elements in MN. The engraving was very nice and it just looks so nice. The communication from this company was great-I knew when it was done, when it was on its way, and it came quickly and packaged safely. I will definitely be back!

Stone
By
Shopper

(Tucson, AZ) - March 4, 2014
NIce

Loving reminders ...
By
Ami W.

(West Jordan, UT) - April 25, 2014 (
See all reviews by this customer
)
I have ordered two of these stones in the past year for our beloved pets and used them as the foundation of a loving memorial for them under a tree in our backyard. The printing is clear and easy to read and looks exactly like the preview provided online. The most recent one is a bit lighter than the first one, but the quality seems quite high. We did treat them with polyurethane to make sure they were water resistant as they will be placed on the ground, outside in a garden and will get wet often.

Simple and fast!
By
Shopper

(Nashville, TN) - October 28, 2012
So easy to use the website for design, and then it was delivered in two days! Incredible service for a really good price!

a gift for a dear friend
By
Bobbi G.

(New York, NY) - December 12, 2012 (
See all reviews by this customer
)
I did not see this product in person myself but rather sent it as a gift to my best friend (who has very good/high priced taste) after one of her beloved cats passed away suddenly. her entire family loved the gift, each one personally thanking me (her, her husband, 2 kids). they said it was so perfect and they put it in the backyard with some flowers. such a simple gift could be so powerful.

Sweet Memorial
By
Rene P.

(Yuma, AZ) - April 19, 2014 (
See all reviews by this customer
)
It was a wonderful gift for a friend who just lost their cat. They loved it and many of their friends have commented that it was a sweet memorial for a loved one.

Fur Children Head Stones
By
Rebecca H.

(Pittsburgh, PA) - December 18, 2013 (
See all reviews by this customer
)
My mother lost all 3 of her fur children within 8 months. Since she was having a hard time with the losses I ordered these for her and are absolutely perfect. I would recommend them to anyone who is looking for a marker for their yard/garden to remember their beloved fur-children.

A worthy memorial
By
Shopper

(shawnee, KS) - October 9, 2011
We are very happy with the look of the product and the personalization. The only thing we did not realize is that the stone is flat so it lays on the ground and does not stand up.

Not as readable as the photo
By
John T.

(Granite Bay, CA) - December 31, 2010 (
See all reviews by this customer
)
Our stone arrived and overall looks like the photo, however the legible text and graphic shown in the photo must be enhanced as ours is not nearly as dark as shown in the photo so unless you hold it up to your nose you will not be able to read what it says. We will try to rub shoe polish or fill in with a Sharpie to make it more readable when standing above it.

In memory of Kaylee.
By
Bevan R.

(Spokane, WA) - June 24, 2014 (
See all reviews by this customer
)
Thank you for quickly creating and shipping the stone for Kaylee. It is a nice way to remember her in our garden.

Just as description and picture
By
Shopper

(great falls, VA) - March 29, 2014
We are very pleased with our pet stone.

Lovely
By
Shopper

(Yulee, FL) - February 9, 2014
Great way to commemorate our family dog. The kids really liked it.

Perfect
By
Vicki T.

(Roland, AR) - March 14, 2014 (
See all reviews by this customer
)
I wanted a memorial that would be tasteful as well as durable . This was the perfect product . It arrived in a timely fashion and was just as described.

Finally found what we were looking for
By
Shopper

(Columbia, PA) - July 18, 2011
It's been a year since we lost our pet rabbit. It was especially hard for my daughter. She loved her rabbit. We had a nice burial for our rabbit, the only thing missing was a memorial marker at the burial site. We searched, shopped around, looking for something appropriate for a "rabbit". Nothing, everything was for dogs, cats. We even checked here, Personalization Mall. So a year went by and I thought about relooking again. Started here and couldn't believe I found a memorial stone specifically for a rabbit. Plus other animals. I was so thrilled. I ordered it immediately and didn't tell my daughter. When it came I had her open the box and she was speechless.....and satisfied we finally had something to place at the burial site. We are very happy that our rabbit's resting place is complete. Thanks so much for making these memorial stones for many types of "cherished" pets. We appreciate it.

Perfect!
By
Dee Dee S.

(Kilgore, TX) - December 19, 2013 (
See all reviews by this customer
)
This is a perfect marker for your pets, customized engraving and very beautiful. It's larger size makes it easy to find & it's flat so that you wont have to worry about tripping on it or mowing over it. I bought it for my mother to mark the spot we buried her 15 year old Chihuahua, "Peanut". Perfect and befitting closure to a missed member of the family.

Very pleased with my purchase!
By
Alessandra E.

(Delray Beach, FL) - March 28, 2014 (
See all reviews by this customer
)
Losing a pet is always hard and when I lost my pup after 16 years a good friend gave me a pet stone to remember him by. I thought it was such a thoughtful and beautiful gift...and when someone I knew went through the same thing I decided to give them one as well. The process of making it was simple, easy and the final product was beautiful. When I received the pet stone I was really pleased with the quality & how well it was made. I highly recommend this site and will shop here again!

PET MEMORIAL STONE
By
CAROLYN S.

(ATHENS, AL) - October 6, 2013 (
See all reviews by this customer
)
My niece lost her bull dog and I wanted to give her something she could look at as a reminder of the dog. This is a perfect way and great quality.

For my best Buddy
By
Daniel Z.

(Humble, TX) - October 21, 2013 (
See all reviews by this customer
)
In my humble opinion, I was blessed to have as my friend, the best dog that has ever existed. I was devastated when he passed even though it was obvious that his health was declining. the best dog deserved the best memorial ans i feel like that is what i got. thank you very much!

100% Pleased
By
Steven S.

(Christiana, PA) - August 31, 2014 (
See all reviews by this customer
)
Came exactly as ordered and expected. Prompt shipping.

Shelley's Memorial
By
Carole E.

(Hermitage, TN) - September 20, 2013 (
See all reviews by this customer
)
Thanks for the beautiful stone for Shelley. It is exactly like shown in the pictures. We appreciate your skill and professional way this was made.

Disappointed
By
Andra S.

(Santa Rosa, CA) - November 8, 2010 (
See all reviews by this customer
)
In my sad state after the loss of my dog, I did not realize that this memorial stone would be a hollow shell fake stone. I am now worried that if someone accidentally walks on the resin shell that it will break. Had I known it was not a real stone, but just a shell, I would not have purchased it. It was very disappointing to say the least.