Bring life into my memory
By
Veronica G.

(New Iberia, LA) - August 1, 2011 (
See all reviews by this customer
)
I could not bring myself to open the box because my heart was still hurting this three pound poodle left my heart heavy finally I opened it so that I should fixed hunter's resting place. I am very happy with his memory stone. Thanks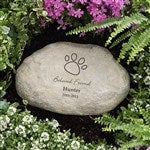 Beautiful memorial at a reasonable price
By
Kelly G.

(West Chester, PA) - July 31, 2011 (
See all reviews by this customer
)
The garden stones to commemorate the two pets we lost this year are beautiful. The website was easy to use, the price was great, and the stones are perfect.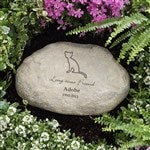 Simple, Sweet and Personalized
By
Gail C.

(Washington, PA) - July 30, 2011 (
See all reviews by this customer
)
A good friend of mine lost a "part of her family" when she lost her dog. I wanted to do something for her so I searched on line for "pet memorials" . Personalized gifts came up and this stone was PERFECT! Simple and Sweet and personalized! I had it in under a week and I Love it ( my friend does too)! This is the 3rd item I've ordered from this company and I have been VERY pleased with all of them. Will definetly be ordering again!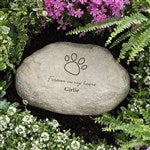 Pleasantly surprised!
By
Tami C.

(Enola, PA) - July 28, 2011 (
See all reviews by this customer
)
Received very quickly! I was surprised at the quality and how much it looks like a real rock. Very happy with the purchase. Couldn't wait to place on our beloved pets gravesite.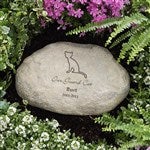 Booger
By
Gail B.

(Dade City, FL) - July 23, 2011 (
See all reviews by this customer
)
I purchased this gift for my sister who had just lost her fur baby after 10 years, she was so pleased with the gift as now she can do her garden for him and place it in there she was very touched by it. This is the second one of these that I've purchased as we purchased one for when we lost one of our own dogs last year, thanks for placing such items in your selections, because pets are a part of your family and need to be remembered with such beautiful memories and things like this helps. I again will purchase more as I need them, I will be purchasing another memorial item for another sister who lost her dog the same week after 15 years, needless to say this was a sad week for my siblings, and these items helps them through their ordeal.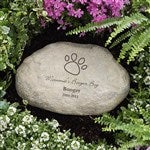 Beauitful
By
Shopper

(Williston, VT) - July 18, 2011
I bought this for my neighbor. She recently lost her beloved dog named Rose. The Memorial Pet Stone is just beautiful. I recommend this to anyone who has lost a pet.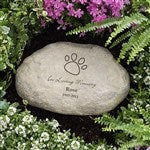 Memorial Pet Stone
By
Shopper

(Davidsonville, MD) - July 17, 2011
Overall pleased, but didnt realize the stone is hollow and the back side is open. We had planned on sitting it upright in our memorial garden, but could not because the open back would have been exposed. You will either need to lay it flat on the ground or do as we did and prop it up against a pile of other natural rocks to block the open back from view. Otherwise pleased with how it looks.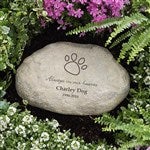 In Memory of Abbey
By
Eileen W.

(Columbia, MD) - July 6, 2011 (
See all reviews by this customer
)
I purchased this stone for my brother's 15 year old Black Lab, Abbeyfeale, and we placed it under the tree in his yard where Abbey's ashes were scattered. My brother was very pleased with the stone. It looked and felt very much like real stone.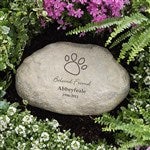 memorial garden
By
Sandy S.

(Myrtle Beach, SC) - June 23, 2011 (
See all reviews by this customer
)
I was very pleased with your product and the speed in which I received it. I placed in a memorial garden I made for my beloved pet. Thank You.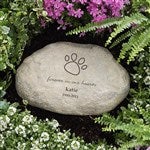 Wonderful memorial for garden setting
By
Diane B.

(Mokena , IL) - June 13, 2011 (
See all reviews by this customer
)
We ordered this item the day my daughter-in-law's dog died, and three days later we were giving it to her. We couldn't believe how quickly it arrived. It looked exactly as we expected it to, and she loved it. Thanks for your great service and a lovely product!