We love our memorial pet stone
By
Shanna B.

(Clinton, ME) - November 22, 2011 (
See all reviews by this customer
)
Unfortunately we lost our beloved dog just a short time ago and we fell in love with this memorial stone when we saw it. When we received the product we were overwhelmed with how well it turned out and the quality of the product, something we can keep and cherish forever.

WE REMEMBER THEM...
By
Shopper

(Greenbelt, MD) - November 22, 2011
I bought four of these after our last dog died to memorialize all of our beautiful wonderful Bernese Mountain Dogs. I like the quality and hope that they hold up outside in the flower garden.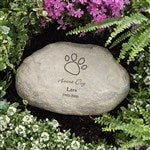 Very Nice Memorial
By
Stephanie L.

(Decatur, IN) - November 16, 2011 (
See all reviews by this customer
)
I recently lost my kitty after 11 years and wanted something to remember her by. Being able to write your own message was perfect. This stone was much heavier than anticipated, but that was not a problem. It looks and feels like it will withstand being outside very well.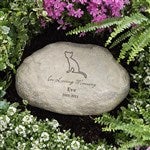 A lasting memory
By
James S.

(Bristol, CT) - November 8, 2011 (
See all reviews by this customer
)
We bought this item as a gift for a friend who lost her beloved dog a few weeks ago and the item is wonderful. Looks durable enough to withstand being outdoors. Has a nice size (not too small and flimsy or to big and bulky to move).

Again Personalization Mall has come through!
I have ordered here many times and not once have I been dissapointed. Thank you for great products and awesome customer service! Keep up the great work!

Absolutely beautiful
By
Michelle V.

(Lynn, MA) - October 31, 2011 (
See all reviews by this customer
)
After 20 years in our family we lost our cat Mama Mia. This is the perfect memorial. It is made beautifully and of high quality. I highly recommend this item if you have a pet you would like to memorialize.

pet memorial stone
By
Shopper

(Mundelein, IL) - October 16, 2011
Great. Arrived promptly. Thank you!

meaningful treasure
By
Jennifer B.

(Brick, NJ) - October 16, 2011 (
See all reviews by this customer
)
When my daughter lost her treasured hamster she was heartbroken. I wanted t do a little something for her to let her know her hamster dandelion was important to the family and would be remembered. She loves it so much. I would highly recommend this item!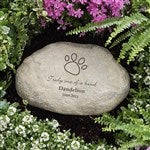 Perfect Memorial
By
Laura C.

(Hudson, FL) - October 14, 2011 (
See all reviews by this customer
)
Thanks for such excellent service. I received my order promptly and it looks amazing ! Naturally this is a very special memorial stone and I started crying as soon as I saw it. Thank you again !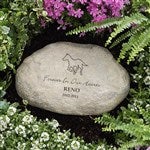 Much Larger Than Expected!
By
Deanna A.

(Saugerties, NY) - October 2, 2011 (
See all reviews by this customer
)
I was blown away by the actual size and realness to the stone! It is beautiful!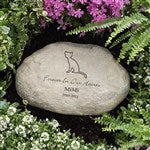 Perfect on our farm
By
Michelle W.

(Farmington, MN) - September 24, 2011 (
See all reviews by this customer
)
The pet stone is a nice marker for our little guinea's resting place on our farm. Our son wanted a grave stone for the burial site and the personalization is very nice.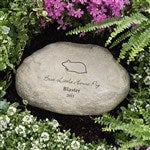 Highly recommend!
By
Kathryn S.

(Eagle Pass, TX) - September 21, 2011 (
See all reviews by this customer
)
The Memorial pet stone is a very good quality product. The engraving is very nice. It arrived quickly, and was packaged with great care. It is a nice size stone. It is not a solid stone but it seems heavy enough for a garden setting.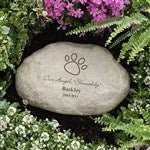 Great Product
By
Elaine T.

(Claymont, DE) - September 17, 2011 (
See all reviews by this customer
)
I ordered this for my pet that had recently passed. I, like other reviewers, was a little skeptical because it is made out of resin. I was afraid it would be too plastic or cheap looking and wouldn't honor my pet in a way he deserved. But based on other reviews, I decided to take a chance. I'm glad I did. It looks very natural and was heavier than I expected;not at all cheesy. Plus I was able to have it engraved to say exactly what I wanted. The engraving is neatly and professionally done. Thank you for a great product and I look forward to shopping with you again.

A perfect rememberance
By
Shopper

(Winter Park, FL) - September 12, 2011
Arrived very quickly...item as pictured in catalog...a very thoughtful idea for those who have lost a beloved pet...thanks

super-sonic service
By
Joseph L.

(St. Louis, MO) - September 12, 2011 (
See all reviews by this customer
)
I sat crying at my computer the night before I was scheduled to have my dog put to sleep, and I happened upon the Personalizationmall.com site. I pulled out my credit card and ordered a memorial pet stone. The next day, we put him down. The following afternoon, my product arrived and looked exactly as specified. My wife and I were stunned at the speed of service. It brought quick closure to a very sad time for us.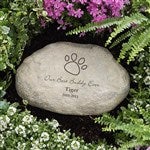 samantha
By
Peter O.

(Jeannette, PA) - September 6, 2011 (
See all reviews by this customer
)
A friend had mentioned about this product to me, know that i am glad that he did.Great job!!!!!! A FIVE STAR.

Very Nice
By
Shopper

(Lantry, SD) - September 2, 2011
It was very nicely made and it was heavy. I thought it was gonna be light and plastic feeling, but it was the exact opposite. I really liked it!

pet memorial
By
Shopper

(Gilbert, AZ) - August 29, 2011
I was very pleased when I received this Pet Stone to see the size of it and the quality. The recipients were also impressed with such a great product. Thank you.

Couldn't have been more pleased!!!!
By
Mark G.

(Cooperstown, PA) - August 22, 2011 (
See all reviews by this customer
)
This Memorial stone was perfect. Although fabricated from resin the stone looks absolutely real. Was surprised by how heavy and durable it appears to be. The personalized engraving looks very professional. I have already mentioned your online store to a vet and vet technician I know so that they may pass the info on to pet owners who may be in need of a pet memorial.

Good Quality
By
Shopper

(Leavenworth, KS) - August 22, 2011
Very pleased with the quality of this product! It was exactly what I was looking for to put in my garden.

Memorial Stone
By
Patti P.

(Virginia Beach, VA) - August 15, 2011 (
See all reviews by this customer
)
This was a beautiful Memorial Stone that I had done for my beautiful Malamute, Caine..I'm so glad I discovered your website and received it very quickly too!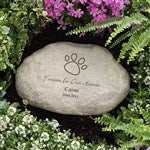 A Gift For A Friend In Mourning
By
Janae D.

(Gaston, SC) - August 13, 2011 (
See all reviews by this customer
)
I along with a group of friend decided to buy this gift for another friend whose dog passed away after a long time sickness. Our friend was so heartbroken. Last night we surprised her with this pet stone. She was so touched, she cried. She loved it so much that she cradled it in her arms for long time. We felt so grateful to have something like this to give to her as a memorial to her beloved companion. Not only did it comfort her but it also strengthened our bonds as friends.

In Our Hearts Forever
By
Shopper

(Krugerville, TX) - August 8, 2011
This was the perfect grave marker for our beloved dog. The size and color were perfect.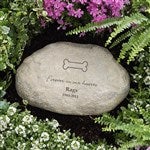 Made the loss less traumatic
By
Shopper

(Huntersville, NC) - August 6, 2011
My daughters guinea pig passed away after 5 years and she was devastated. When this stone arrived, my daughter was happy to put it over her spot in the yard. The hamster looked enough like the guinea pig that my daughter never questioned it. The stone was excellent quality and very heavy. My husband was impressed with the quality too.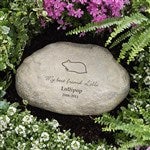 Bring life into my memory
By
Veronica G.

(New Iberia, LA) - August 1, 2011 (
See all reviews by this customer
)
I could not bring myself to open the box because my heart was still hurting this three pound poodle left my heart heavy finally I opened it so that I should fixed hunter's resting place. I am very happy with his memory stone. Thanks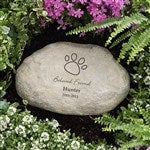 Beautiful memorial at a reasonable price
By
Kelly G.

(West Chester, PA) - July 31, 2011 (
See all reviews by this customer
)
The garden stones to commemorate the two pets we lost this year are beautiful. The website was easy to use, the price was great, and the stones are perfect.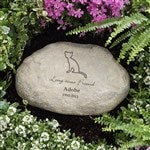 Simple, Sweet and Personalized
By
Gail C.

(Washington, PA) - July 30, 2011 (
See all reviews by this customer
)
A good friend of mine lost a "part of her family" when she lost her dog. I wanted to do something for her so I searched on line for "pet memorials" . Personalized gifts came up and this stone was PERFECT! Simple and Sweet and personalized! I had it in under a week and I Love it ( my friend does too)! This is the 3rd item I've ordered from this company and I have been VERY pleased with all of them. Will definetly be ordering again!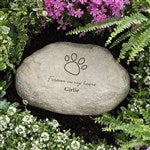 Pleasantly surprised!
By
Tami C.

(Enola, PA) - July 28, 2011 (
See all reviews by this customer
)
Received very quickly! I was surprised at the quality and how much it looks like a real rock. Very happy with the purchase. Couldn't wait to place on our beloved pets gravesite.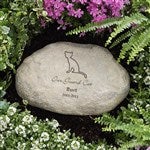 PET STONE
By
Shopper

(HAMDEN, CT) - July 25, 2011
WE WERE VERY HAPPY WITH THE QUICK SERVICE AND THE WAY THIS STONE WAS DONE AS TO OUR SPECS. WE ORDERED IT AS A GIFT AND THEY LOVED IT AS A MEMORIAL TO THEIR PET. THANKS FOR YOUR QUICK SERVICE. WE WOULD DEFINITELY ORDER FROM YOU AGAIN!

Booger
By
Gail B.

(Dade City, FL) - July 23, 2011 (
See all reviews by this customer
)
I purchased this gift for my sister who had just lost her fur baby after 10 years, she was so pleased with the gift as now she can do her garden for him and place it in there she was very touched by it. This is the second one of these that I've purchased as we purchased one for when we lost one of our own dogs last year, thanks for placing such items in your selections, because pets are a part of your family and need to be remembered with such beautiful memories and things like this helps. I again will purchase more as I need them, I will be purchasing another memorial item for another sister who lost her dog the same week after 15 years, needless to say this was a sad week for my siblings, and these items helps them through their ordeal.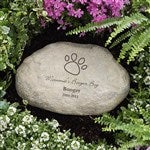 Beauitful
By
Shopper

(Williston, VT) - July 18, 2011
I bought this for my neighbor. She recently lost her beloved dog named Rose. The Memorial Pet Stone is just beautiful. I recommend this to anyone who has lost a pet.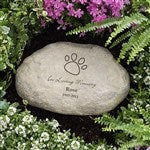 In Memory of Abbey
By
Eileen W.

(Columbia, MD) - July 6, 2011 (
See all reviews by this customer
)
I purchased this stone for my brother's 15 year old Black Lab, Abbeyfeale, and we placed it under the tree in his yard where Abbey's ashes were scattered. My brother was very pleased with the stone. It looked and felt very much like real stone.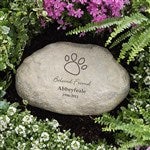 Perfect memorial
By
Jodi W.

(Ijamsville, MD) - July 1, 2011 (
See all reviews by this customer
)
This stone looks great in our garden in honor of our beloved 4 legged friend.

memorial garden
By
Sandy S.

(Myrtle Beach, SC) - June 23, 2011 (
See all reviews by this customer
)
I was very pleased with your product and the speed in which I received it. I placed in a memorial garden I made for my beloved pet. Thank You.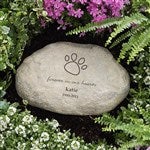 Perfect Reminder
By
Jessica T.

(Arlington, TX) - June 22, 2011 (
See all reviews by this customer
)
I love the Memorial Pet Stone. It looks like a real stone and the script with the paw print is perfect. I love passing by it in the flowerbed and remembering my old buddy. This is the third purchase I've made from personalizationmall.com and have been more than pleased with the products and speedy delivery.

Wonderful memorial for garden setting
By
Diane B.

(Mokena , IL) - June 13, 2011 (
See all reviews by this customer
)
We ordered this item the day my daughter-in-law's dog died, and three days later we were giving it to her. We couldn't believe how quickly it arrived. It looked exactly as we expected it to, and she loved it. Thanks for your great service and a lovely product!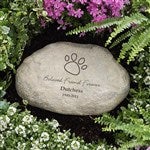 Nice surprise...
By
Shopper

(Chicago, IL) - June 13, 2011
I was hesitant about buying this "resin" product because I thought it might be a lightweight piece of plastic that would be blown away by wind. Not so, it actually has some weight to it, it looks and feels just like a rock. It's like they took a real rock and made it hollow. The engraving was good, but it may need to be touched up eventually with paint. It was rather light. Overall, great product and fast service like always.

Perfect memorial for a beloved pet
By
Helane G.

(Yonkers, NY) - June 12, 2011 (
See all reviews by this customer
)
This pet stone is so well made and makes a beautiful memorial gift to one who has lost a pet.... my sister had just lost her Viszla of 9 years... and she was so touch by the pet stone... she could not stop thanking us for it... she felt it was so beautiful and a very touching... she truly cherishes it......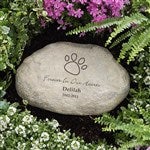 Very Pleased
By
Sandy S.

(Olean, NY) - June 12, 2011 (
See all reviews by this customer
)
I was very pleased with the Memory Pet Stone I ordered from this vendor. The quality was terrific and the item was shipped promptly and recieved in excellent condition. I would definitely order from them again.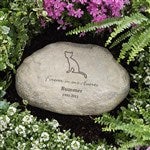 healing
By
Shopper

(Dartmouth, MA) - June 11, 2011
the stone came within a week and looks nice in our memory garden

Looks Great
By
Shopper

(Santa Maria, CA) - June 7, 2011
I was very pleased with the quality of the pet memorial that I ordered. It looks just like a real rock, but is much easier to carry!