A Gift For A Friend In Mourning
By
Janae D.

(Gaston, SC) - August 13, 2011 (
See all reviews by this customer
)
I along with a group of friend decided to buy this gift for another friend whose dog passed away after a long time sickness. Our friend was so heartbroken. Last night we surprised her with this pet stone. She was so touched, she cried. She loved it so much that she cradled it in her arms for long time. We felt so grateful to have something like this to give to her as a memorial to her beloved companion. Not only did it comfort her but it also strengthened our bonds as friends.

In Our Hearts Forever
By
Shopper

(Krugerville, TX) - August 8, 2011
This was the perfect grave marker for our beloved dog. The size and color were perfect.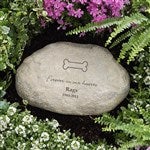 Made the loss less traumatic
By
Shopper

(Huntersville, NC) - August 6, 2011
My daughters guinea pig passed away after 5 years and she was devastated. When this stone arrived, my daughter was happy to put it over her spot in the yard. The hamster looked enough like the guinea pig that my daughter never questioned it. The stone was excellent quality and very heavy. My husband was impressed with the quality too.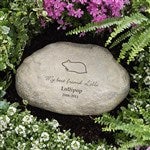 Bring life into my memory
By
Veronica G.

(New Iberia, LA) - August 1, 2011 (
See all reviews by this customer
)
I could not bring myself to open the box because my heart was still hurting this three pound poodle left my heart heavy finally I opened it so that I should fixed hunter's resting place. I am very happy with his memory stone. Thanks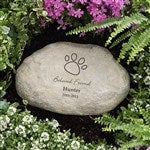 Beautiful memorial at a reasonable price
By
Kelly G.

(West Chester, PA) - July 31, 2011 (
See all reviews by this customer
)
The garden stones to commemorate the two pets we lost this year are beautiful. The website was easy to use, the price was great, and the stones are perfect.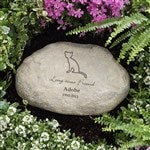 Simple, Sweet and Personalized
By
Gail C.

(Washington, PA) - July 30, 2011 (
See all reviews by this customer
)
A good friend of mine lost a "part of her family" when she lost her dog. I wanted to do something for her so I searched on line for "pet memorials" . Personalized gifts came up and this stone was PERFECT! Simple and Sweet and personalized! I had it in under a week and I Love it ( my friend does too)! This is the 3rd item I've ordered from this company and I have been VERY pleased with all of them. Will definetly be ordering again!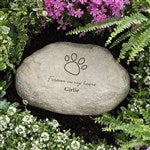 Pleasantly surprised!
By
Tami C.

(Enola, PA) - July 28, 2011 (
See all reviews by this customer
)
Received very quickly! I was surprised at the quality and how much it looks like a real rock. Very happy with the purchase. Couldn't wait to place on our beloved pets gravesite.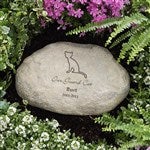 PET STONE
By
Shopper

(HAMDEN, CT) - July 25, 2011
WE WERE VERY HAPPY WITH THE QUICK SERVICE AND THE WAY THIS STONE WAS DONE AS TO OUR SPECS. WE ORDERED IT AS A GIFT AND THEY LOVED IT AS A MEMORIAL TO THEIR PET. THANKS FOR YOUR QUICK SERVICE. WE WOULD DEFINITELY ORDER FROM YOU AGAIN!

Booger
By
Gail B.

(Dade City, FL) - July 23, 2011 (
See all reviews by this customer
)
I purchased this gift for my sister who had just lost her fur baby after 10 years, she was so pleased with the gift as now she can do her garden for him and place it in there she was very touched by it. This is the second one of these that I've purchased as we purchased one for when we lost one of our own dogs last year, thanks for placing such items in your selections, because pets are a part of your family and need to be remembered with such beautiful memories and things like this helps. I again will purchase more as I need them, I will be purchasing another memorial item for another sister who lost her dog the same week after 15 years, needless to say this was a sad week for my siblings, and these items helps them through their ordeal.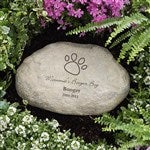 Beauitful
By
Shopper

(Williston, VT) - July 18, 2011
I bought this for my neighbor. She recently lost her beloved dog named Rose. The Memorial Pet Stone is just beautiful. I recommend this to anyone who has lost a pet.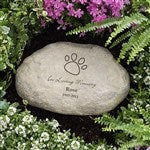 In Memory of Abbey
By
Eileen W.

(Columbia, MD) - July 6, 2011 (
See all reviews by this customer
)
I purchased this stone for my brother's 15 year old Black Lab, Abbeyfeale, and we placed it under the tree in his yard where Abbey's ashes were scattered. My brother was very pleased with the stone. It looked and felt very much like real stone.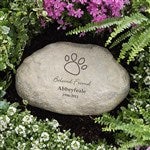 Perfect memorial
By
Jodi W.

(Ijamsville, MD) - July 1, 2011 (
See all reviews by this customer
)
This stone looks great in our garden in honor of our beloved 4 legged friend.

memorial garden
By
Sandy S.

(Myrtle Beach, SC) - June 23, 2011 (
See all reviews by this customer
)
I was very pleased with your product and the speed in which I received it. I placed in a memorial garden I made for my beloved pet. Thank You.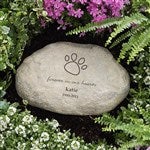 Perfect Reminder
By
Jessica T.

(Arlington, TX) - June 22, 2011 (
See all reviews by this customer
)
I love the Memorial Pet Stone. It looks like a real stone and the script with the paw print is perfect. I love passing by it in the flowerbed and remembering my old buddy. This is the third purchase I've made from personalizationmall.com and have been more than pleased with the products and speedy delivery.

Wonderful memorial for garden setting
By
Diane B.

(Mokena , IL) - June 13, 2011 (
See all reviews by this customer
)
We ordered this item the day my daughter-in-law's dog died, and three days later we were giving it to her. We couldn't believe how quickly it arrived. It looked exactly as we expected it to, and she loved it. Thanks for your great service and a lovely product!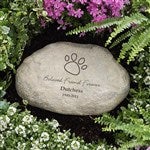 Nice surprise...
By
Shopper

(Chicago, IL) - June 13, 2011
I was hesitant about buying this "resin" product because I thought it might be a lightweight piece of plastic that would be blown away by wind. Not so, it actually has some weight to it, it looks and feels just like a rock. It's like they took a real rock and made it hollow. The engraving was good, but it may need to be touched up eventually with paint. It was rather light. Overall, great product and fast service like always.

Perfect memorial for a beloved pet
By
Helane G.

(Yonkers, NY) - June 12, 2011 (
See all reviews by this customer
)
This pet stone is so well made and makes a beautiful memorial gift to one who has lost a pet.... my sister had just lost her Viszla of 9 years... and she was so touch by the pet stone... she could not stop thanking us for it... she felt it was so beautiful and a very touching... she truly cherishes it......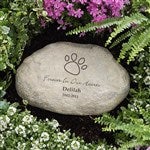 Very Pleased
By
Sandy S.

(Olean, NY) - June 12, 2011 (
See all reviews by this customer
)
I was very pleased with the Memory Pet Stone I ordered from this vendor. The quality was terrific and the item was shipped promptly and recieved in excellent condition. I would definitely order from them again.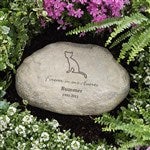 healing
By
Shopper

(Dartmouth, MA) - June 11, 2011
the stone came within a week and looks nice in our memory garden

Looks Great
By
Shopper

(Santa Maria, CA) - June 7, 2011
I was very pleased with the quality of the pet memorial that I ordered. It looks just like a real rock, but is much easier to carry!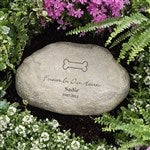 great
By
Shopper

(Oxford, NC) - June 7, 2011
FAST GREAT JOB!!!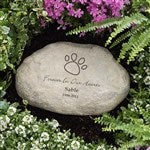 Great Pet Memorial
By
Trish D.

(Bakersfield, CA) - June 4, 2011 (
See all reviews by this customer
)
This memorial stone looks real and is very easy to read. It makes the perfect lasting tribute to a loyal member of the family.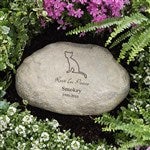 Pet Memorial Stone
By
Susan C.

(Lake Saint Louis, MO) - June 3, 2011 (
See all reviews by this customer
)
I was a bit hesitant about ordering from a company I was unfamiliar with, however, we had just lost our beloved dog and wanted a memorial stone to plant next to the tree we had planted in her memory. The stone arrived within 3 days of ordering and the quality is superb...perfect for what we were looking for. I would highly recommend this item and will be odering other personalized gifts from personalizationmall.com in the future.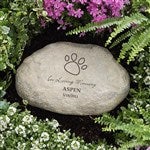 Exactly what we were looking for
By
Meri V.

(Vail, AZ) - May 31, 2011 (
See all reviews by this customer
)
The personalized memorial stone I purchased for our beloved pet was exactly what we were looking for.

keywestss
By
Scott S.

(Euclid, OH) - May 23, 2011 (
See all reviews by this customer
)
I'm very pleased with my memorial pet stone. The stone looks very authentic and the inscription looks fantastic!

Just what I was looking for
By
Shopper

(Harrison Township, MI) - May 22, 2011
Very pleased with purchase. Arrived quickly and exactly as ordered. Sturdy, with cutout underneath for ease in placing in garden or for accommodating small container with ashes. Looks like an authentic rock - not out of place at all. Engraving is nice. Very nice way to memorialize my beloved kitty.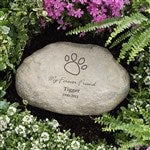 Beloved Pets
By
Shopper

(Strongsville, OH) - May 17, 2011
Love this "ROCK"!! Even though it is not a true rock it sure looks like it and feels like it. We lost two pets in two months so I had this rock made for both of them and it is very special. It looks great in my garden. I would give it two thumbs up!!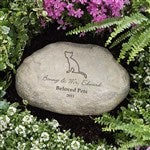 A Fitting Memorial
By
Sharon W.

(Norwalk, CT) - May 12, 2011 (
See all reviews by this customer
)
This item is just beautiful, I would say if you want a wonderful memorial for your pet you won't be disappointed.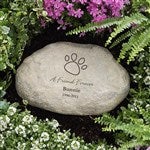 Excellent
By
Shopper

(Indio, CA) - March 28, 2011
Better than expected and very fast service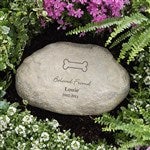 Exactly what I ordered and wanted
By
Phyllis B.

(Hillsborough, NJ) - March 26, 2011 (
See all reviews by this customer
)
The product was easy to order and was received well packaged in a reasonable amount of time for a personalized item. It appeared exactly as shown when ordered. I look forward to placing it outside when the weather warms a bit.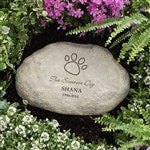 Wonderful
By
Shopper

(Nokesville, VA) - March 21, 2011
My dog of just over 12 years, had to be put down. I wasn't able to bring her home and bury her cause I would still leave her one day and was to expensive to have her cremated and get her ashes and take them home. So I had her cremated and left her there so I had nothing of her for me to hold onto. So, I bought this Memorial Stone so I could look at it and think of her. It wasn't what I expected but was way more than I could have asked for. It's flat so it doesn't take up much space. I keep mine in my room and I recommend it to anyone who needs it for something to help with the grieving.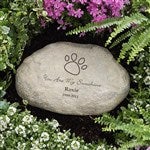 Memorial was perfect
By
Kathryn P.

(Bradenton, FL) - March 15, 2011 (
See all reviews by this customer
)
We recently had to have our beautiful border collie, Sadie, put to sleep due to cancer. This is a perfect stone for our garden where we placed her ashes. It blends in with the surroundings, and is a perfect tribute to our sweet dog.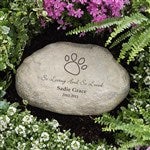 Something special for my little girl.
By
wendy B.

(stony brook, NY) - March 8, 2011 (
See all reviews by this customer
)
I was so upset when I lost my little girl, and really wanted something special to mark her little corner of the world. When I saw this stone and saw I could personalize it for her it was so perfect. I'm so greatful I could do that for her. It's just the right size and the lettering is beautiful. Thank you!

Memorial stone for pet
By
Kim H.

(Winston Salem, NC) - February 21, 2011 (
See all reviews by this customer
)
This stone is beautiful. It is the perfect way to memorialize your pets that you lose.

Precious Memories
By
Shopper

(Knoxville, TN) - February 20, 2011
We loved the beautiful Memorial Pet Stone. We lost a pet of 18yrs and wanted something to show how special she was to our family. The stone made that possible. It shows how precious she was and how much she will be missed. Would recommend the item to anyone.

Excellent Value for money
By
Shopper

(Navarre, FL) - February 17, 2011
I researched online for a memorial stone for our pet cat. I could not believe how much some companies were asking. We found and decided upon using Personalization Mall.com when we found their Memorial Pet Stone. The price was very reasonable and when it arrived, we were both extremley happy with the finised product. It is a good size and was everything we hoped it to be.

Excellent quality and value
By
Robert W.

(Phoenix, AZ) - February 15, 2011 (
See all reviews by this customer
)
Just like the title says. Could not be happier with finished product. What a fitting tribute to my loyal companion and best friend.

Best Bet on the Internet
By
Frank A.

(Swansboro, NC) - January 28, 2011 (
See all reviews by this customer
)
This was the most reasonably priced item I found on-line. Plenty of space for lettering. Works well in our quiet area of the garden. Will probably buy another one for my cat when she goes.

Memorial Pet Stone
By
Lynne L.

(Cranston, RI) - January 25, 2011 (
See all reviews by this customer
)
This is so beautiful. I cannot even describe how much I love this stone. My little girl Gia passed away suddenly, collapsing in front of me. It was horrific. on 1/10/11. I am not sure how I stumbled onto this site but I am so glad that I did. I was worried the stone would be too small but it is the perfect size. She is my little Shih Tzu and I am still grieving so much. This gorgeous stone helped me realize that she will have a beautiful stone on her resting place forever.
This stone is perfect!

Shomer
By
Carole F.

(Redwood City, CA) - January 21, 2011 (
See all reviews by this customer
)
Rock was nicer then I thought it would be. Looks great under the peach tree we planted in memory of Shomer on what would have been her 14th birthday.