Cat Memorial Garden Stone
By
Shopper

(polo, IL) - April 15, 2013
The cat memorial garden stone was exactly as expected. Good quality and the engraving was perfect. Shipping was timely as well. I was happy to find one for a cat, most seem to be more appropriate for dogs. Thank you.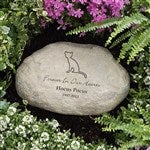 Beautiful
By
Shopper

(Meriden, CT) - April 15, 2013
This is such a loving tribute to our beloved beagle Roxi. I had been looking for something to honor her memory and this is the perfect thing. I really like how it was personalized. The service is fast and the selection is great!
Thank you a very satisfied coustomer:)

Cooper Memorial
By
Myron D.

(Lake Forest, CA) - April 14, 2013 (
See all reviews by this customer
)
The 'rock' memorial to our daughter's dog Cooper was well received. I would be happy to recommend this item to anyone who has lost a pet and would like a memorial in rembrance of the animal.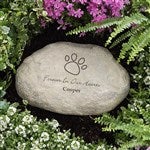 Outstanding!
By
Selina P.

(Lake Villa, IL) - April 10, 2013 (
See all reviews by this customer
)
We ordered the In Loving Memory Personlized Memorial Pet Stone on Monday night after Murray, our 10 year old cat passed. It is Wednesday and I just received the memorial stone. 1. Amazing fast service and 2. It is simply perfect. It is a beautiful memorial. Thank you!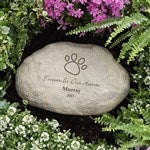 very quick delivery.. very nicely done
By
Cathy G.

(Carmel, IN) - April 7, 2013 (
See all reviews by this customer
)
The stone is in memorial of my dog. I was excited about the quality, price and quickness of the shipping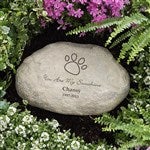 Lovely Memorial to my Pet
By
Deborah T.

(Cary, NC) - April 2, 2013 (
See all reviews by this customer
)
I ordered this personalized pet stone for my cat who passed. I was not sure of the quality because the price was so reasonable but it was everything I hoped it would be. It was heavy and the etching was done very well. I am so pleased to have this item marking my pet's grave.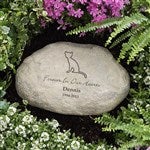 Patches Memory Stone
By
Carolyn W.

(New port richey, FL) - March 26, 2013 (
See all reviews by this customer
)
I just love the memory stone for my Patches! It is a beautiful gravesite memorial to her, and I will recommend to my friends who also have recently lost beloved pets.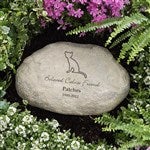 GreatP Product!
By
colleen C.

(Jacksonville, FL) - March 26, 2013 (
See all reviews by this customer
)
As always, product meets expectations! Very impressed. Fast shipping.Thanks!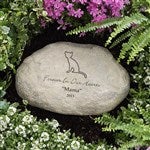 Forever in My Heart
By
Brenda M.

(Greenville, NC) - March 22, 2013 (
See all reviews by this customer
)
I am extremely pleased with my memory stone I purchased for my beloved poodle. As the stone says, he will be forever in my heart.

Mar 10 2013
By
Shopper

(Cumming, GA) - March 18, 2013
Just as pictured. My parents really appreciated it with the loss of their dog.

memorial sone
By
Shopper

(Mc Clure, OH) - March 11, 2013
very nice product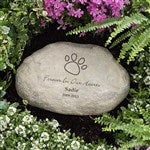 Our baby's memorial
By
Sally G.

(Kennewick, WA) - March 9, 2013 (
See all reviews by this customer
)
I am so happy with everything, from the fast shipping to the quality of the product. Thank you so much!!!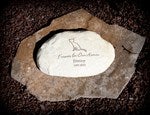 Great memorial piece
By
Shopper

(Westland, MI) - March 5, 2013
This is the third time I have purchased this item for people that have lost their pets. Per usual, I was not disappointed with the quality of the product sold on this site. A wonderful way to remember our furry family members.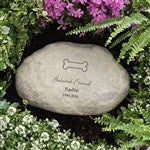 Lovely
By
Joan V.

(Lafayette, IN) - February 25, 2013 (
See all reviews by this customer
)
This is a very nice rememberance for my kitty. She was very special to us and it's nice to have something pretty to mark her grave. I'm hoping that it will last many years. Thank you.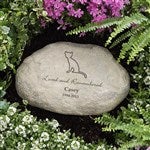 Wonderful for kids rememberance
By
Tammy N.

(Poughkeepsie , NY) - February 18, 2013 (
See all reviews by this customer
)
Very nice! Good quality. Great for having a spot designated to remember your loved furry one!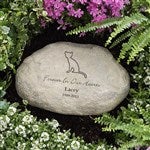 Wonderful Memorial Stone with an addition
By
Jann H S.

(Peoria, AZ) - February 16, 2013 (
See all reviews by this customer
)
I looked for an inexpensive memorial stone for our dog, Lily, an 11 year old mini-schnauzer who passed away January 29, 2013. We will be placing it in the southwest corner of our property.

I printed out a couple pictures of Lily and mod-podged them to the stone. I used printer paper, but I suggest using regular printer paper because it will mold to the stone easier. I used a matte mod-podge and sponge brush. I will be spraying an acrylic clear coat on it to seal it all. I really miss our dog and this will fit perfectly in our yard.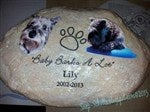 Nice garden stone memorial
By
Kathleen A.

(Port Orchard, WA) - February 9, 2013 (
See all reviews by this customer
)
I was very impressed with how quickly I received my Memorial Pet Stone. It is just perfect for my yard to remember our sweet pet.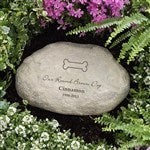 Perfect
By
Shopper

(Cambridge, MN) - January 11, 2013
This item is as exactly as described. When our beloved dog passed away we buried him and wanted a way to mark his resting place. The price was great and the quality seems very durable.

WOW! Such a nice product!
By
Shopper

(Byron, MN) - January 8, 2013
We got this to put on our pet's grave. I didn't know what to expect about getting a stone in the mail. It looks like it is a stone cut in half but is actually formed like a half of a stone and is made out of cement or something similar. It wasn't terribly heavy but heavy enough for it to last outside. I think it will last even with the elements in MN. The engraving was very nice and it just looks so nice. The communication from this company was great-I knew when it was done, when it was on its way, and it came quickly and packaged safely. I will definitely be back!

The perfect way to remember.
By
Eric C.

(Simi Valley, CA) - January 7, 2013 (
See all reviews by this customer
)
This is the greatest way to remember our cherished loved one. It is beautiful. The order process was simple, accurate and delivered as promised. The whole family loves this for our passing pet.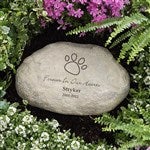 Thoughtful Gift to Give to
By
Patricia O.

(Atlanta, GA) - December 29, 2012 (
See all reviews by this customer
)
Beautiful gift to give someone who has lost a pet
Something to always remember your 4 legged family member.
My gift was placed in the yard where the cat loved to lay and sun.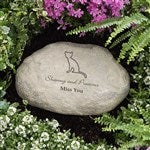 In memory of my cat
By
Sheree H.

(Mechanicsburg, PA) - December 24, 2012 (
See all reviews by this customer
)
Very nice product for a very nice price!! Shipping was super fast! Thanks for keeping the prices reasonable so I could have a nice memorial for my princess.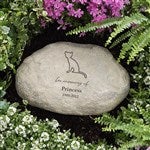 Just what I expected
By
Beth K.

(Gill, MA) - December 24, 2012 (
See all reviews by this customer
)
I love that this site has the "preview" feature. It looks exactly the way I hoped it would.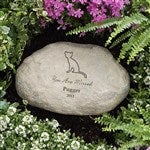 pet memorial stone
By
Dan P.

(Pensacola, FL) - December 21, 2012 (
See all reviews by this customer
)
THe product is extremely well done. The quality and accuracy more than met expectations . It arrived quickly. I would definitely reccomend this.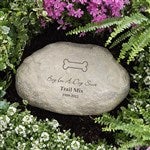 A great product and heartfelt gift
By
Shopper

(Hiwassee, VA) - December 13, 2012
This product shipped quickly and was accurately projected as to how it would look. Shipping was fast and had a tracking number. The material seems to be high quality and the level of personalization is good. This was a gift to a family member and was meaningful and an excellent way to show love and appreciation of lost ones. Thank you for making this product available.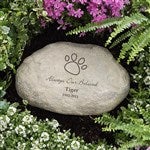 a gift for a dear friend
By
Bobbi G.

(New York, NY) - December 12, 2012 (
See all reviews by this customer
)
I did not see this product in person myself but rather sent it as a gift to my best friend (who has very good/high priced taste) after one of her beloved cats passed away suddenly. her entire family loved the gift, each one personally thanking me (her, her husband, 2 kids). they said it was so perfect and they put it in the backyard with some flowers. such a simple gift could be so powerful.

Fantastic!
By
Meredith O.

(Penfield, NY) - December 9, 2012 (
See all reviews by this customer
)
I had gotten two of these stones for my parents after losing a dog...one for their first dog, and one for the most recent. They love it! It fits in very well with their garden and is a beautiful, tasteful reminder of a beloved pet. We had previous experience with these stones for our own past cats, and 3 years later they look exactly the same as the day we bought them. There is no wear at all! I highly recommend this purchase.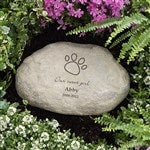 Simple and fast!
By
Shopper

(Nashville, TN) - October 28, 2012
So easy to use the website for design, and then it was delivered in two days! Incredible service for a really good price!

Beautiful addition to the lawn
By
Shopper

(Huntington, NY) - October 23, 2012
Beautiful, well-crafted, heavy-duty stone that looks great in the lawn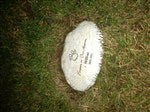 Comforting
By
SUSAN A.

(CLEVELAND, OH) - October 21, 2012 (
See all reviews by this customer
)
Our pets are family. Recently the.first cat my husband and I had passed away after 13 wonderful years . Heartbroken, I needed more for him than just a place in the yard. I wanted him to have a marker. I turned immediately to this site because it is a favorite of mine and I knew I would find what would help us cope. This marker was perfect . It arrived so fast like three days. It was a great weight and looks fantastic! It brought my family comfort to know we can look at it and remember what joy our cat "Madison" brought into our lives. Thank you. I recomment this to anyone looking.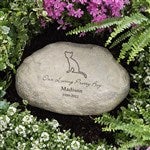 Beautiful memorial stone
By
Susan F.

(Plano, TX) - October 15, 2012 (
See all reviews by this customer
)
I ordered the personalized memorial stone, for my beloved horse. The stone arrived very quickly and exactly how it was pictured on the web site. It was perfect. Very well done and great weight. Loved the fact that the back is flat, so it lies nicely on the ground. Very tasteful.

Very pleased
By
Shopper

(Port Chester, NY) - October 13, 2012
This stone is very nice and bigger than I thought. I got it for my dog that passed away and this stone is very reasonably priced compared to others I've seen.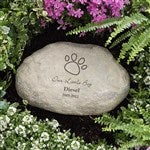 Looks beautiful!
By
Melissa G.

(San Jacinto, CA) - October 8, 2012 (
See all reviews by this customer
)
I worried ordering online, that it may end up looking cheap, but it turned out beautiful. It's very sturdy and heavy in your hands, and the finish is very realistic. It's larger then I realized as well, which was a pleasant surprise. Its a beautiful way to remember my long time friend.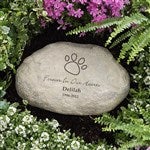 memorial pet stone
By
Beverly L.

(Brentwood, TN) - October 2, 2012 (
See all reviews by this customer
)
I was beyond pleased with the memorial stone I ordered for my two schnauzers I lost within 5 months of each other this year. I have made a beautiful garden with the stone and a schnauzer statue in the center surrounded by pansies and mums. It will be a constant reminder of the many years of love and companionship I shared with my girls!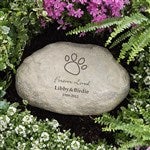 Great memorial gift
By
Diane M.

(Ellicott City, MD) - September 23, 2012 (
See all reviews by this customer
)
Gave the memorial stone to a neighbor in memory of her dog. She was extremely touched. Her daughter cried when she saw it. This is the third memorial stone I have purchased and it is the perfect gift to honor a deceased loved one. Quality is very good. The others I bought are nearly two years old and still look great. They have been outside and look new. I know I will purchase additional stones in the future.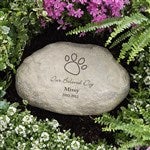 Very nice & unique
By
Traci T.

(Philadelphia, PA) - September 21, 2012 (
See all reviews by this customer
)
Lovely stone, heavy so it will stay put! Very thoughtful and tastefully made. I am glad I found this site, it helped me cope.

Exactly as pictured and promised!
By
Joseph P.

(Holtsville, NY) - September 16, 2012 (
See all reviews by this customer
)
My purchase was quick and easy. Shipment was fast as I received product before expected date. My rock was also perfectly engraved and it meant a lot to me especially bc it was for my dog. Def ordering more items soon.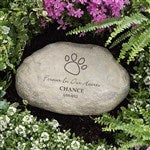 Just what we were looking for
By
Christina R.

(Lindenhurst, IL) - September 15, 2012 (
See all reviews by this customer
)
After losing our dog of 12 1/2 yrs we were so full of grief & wanted to memorialize her in a tasteful way. A personalized stone for our yard, one of her favorite places to be, seemed like the perfect idea. I did plenty of research & found this stone to be what we were looking for. It had great reviews & wasn't overpriced like many other stones I found on other sites. When it arrived, I was surprised just how perfect it was. Heavy like a real stone & the engraving looked great. Now our yard is complete with this wonderful tribute to our beloved & greatly missed dog.

Wonderful Gift to Give
By
Heather G.

(Land O Lakes, FL) - September 10, 2012 (
See all reviews by this customer
)
I bought this for grieving friend who just lost her cat. The size of it was perfect, the engraving was easy to read, and it had a nice weight to it as well. She loved it and has placed it in her garden where he was buried. Very unique and touching gift. Highly reccomend this one.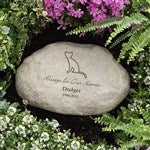 Great Marker
By
Shopper

(Burkeville, TX) - September 8, 2012
I wish it were under different circumstances that I rate this marker, but I think it is perfect. I recommend this product.