Great Everything
By
scott K.

(cedar bluffs, NE) - December 29, 2011 (
See all reviews by this customer
)
Great products always Faster shipping then anyone on line
The best there is on line shopping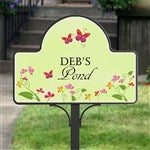 Fantastic
By
Shopper

(Saugus, MA) - December 27, 2011
Came out perfectly, shipped quickly. Nothing but positive feedback from me. Thanks for helping me give my mother a wonderful Christmas.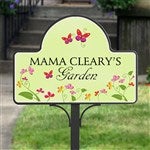 Awesome
By
Kyle G.

(Beech Grove, IN) - December 18, 2011 (
See all reviews by this customer
)
My sister will love it. I like that I can buy her additional signs/magnets for future birthdays etc.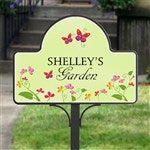 Awesome Gift
By
Misty R.

(Calverton, NY) - November 4, 2011 (
See all reviews by this customer
)
I'm a Community Manager for a Senior Community in New York. We started a "Yard of the Month" award this year and my residents love it! They LOVE this garden sign and when I give it to the winner for the month, I always let them know that the sign is magnetic and they can purchase new one's for different Holidays or just to pretty up their yard at personalizationmall.com. They LOVE this idea. Most of the winners have already purchased their new signs for the Holidays. This was just an amazing idea! Thanks!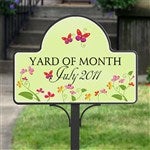 Use for a Memorial Garden
By
Shopper

(Alma, GA) - September 30, 2011
When a parent loses a child, they are always looking for special ways to remember them. We planted a special memory garden inside of our fenced-in pool area, and this has been commented on by everyone who has ever seen it. I cannot even describe how beautiful and touching it is. I'd recommend as a gift for anyone you know who is hurting from the loss of a loved one. Thanks again, personalizationmall.com for the gifts available for every conceivable occasion!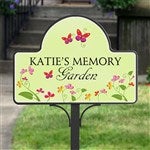 Awesome Sign!
By
Colleen S.

(Mattoon , IL) - September 19, 2011 (
See all reviews by this customer
)
This sign is great and for the price, you just can't beat the quality! Makes our garden shine!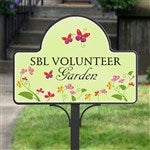 Mom's garden
By
Shopper

(Lansing, MI) - August 15, 2011
I love the precious garden sign that is now in my mom's memory garden. Everyone loves it. It's the first thing you see as you look out the window. I'm very happy with this product. Delivery was quick, and am so pleased with the workmanship. Flowers and butterflies are even prettier than pictured.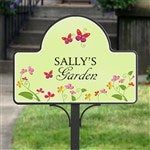 Eye-catching garden addition
By
Donna D.

(Cardington, OH) - August 15, 2011 (
See all reviews by this customer
)
This garden stake is beautiful! The stake is quite heavy so the wind doesn't knock it over constantly. The magnet stays put on the stake. And it's a beautiful addition to a garden to show how proud you are of your garden. I highly recommend this product.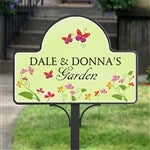 Magnet Power
By
Lora P.

(Villa Park, IL) - July 30, 2011 (
See all reviews by this customer
)
My daughter was thrilled with her garden sign gift. I surprised her by sticking it in her garden. However, we had trouble getting the left side of the magnet to stay stuck. I ended up using a piece of magnet tape to get it to stay in place.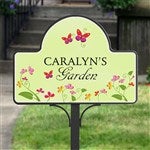 Love my garden sign
By
Valerie T.

(Pittsburgh, PA) - July 25, 2011 (
See all reviews by this customer
)
My garden sign came just 3 days after ordering it and I just love it. It just adds that personal touch that I wanted! I will be ordering more things from your company in the near future. Great products and a great price.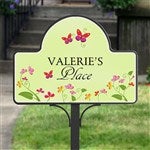 Excellent product
By
Jennie F.

(Waterbury, CT) - June 21, 2011 (
See all reviews by this customer
)
I was so happy to find this. I've been looking for about two years for a sign to put into our daughter's memorial garden. Nothing we saw ever quite fit what we wanted until I came upon this last week. The sign is beautiful and the stake is very sturdy. I love the butterflies and flowers -- so colorful. The sign came just a few days after we ordered it. It's even nicer than the picture. I just know our Susie is smiling down on us.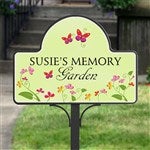 Garden stake
By
Shopper

(Sand Springs, OK) - May 23, 2011
Beautiful and just as pictured! Ordered as a gift and she will be well-pleased. Shipped fast! Thanks for such quality products.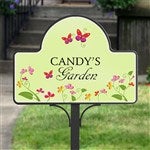 how beautiful!
By
Shopper

(East Hartford, CT) - May 20, 2011
my first experience with Personalizationmall.com has been fantastic and I'm completely excited to continue my shopping with them!

The Garden stake is gorgeous and was a fantastic gift from my daughter to her grandma!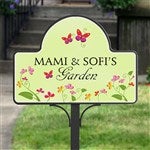 Larger and nicer than expected
By
Shopper

(Metairie, LA) - May 16, 2011
love it. It is a nice weight made of iron not wood. Lettering is good. Only thing is I put
GiGi on it and it was not centered in the middle of the sign but it still looked good.
My mother loved it and will put it in her garden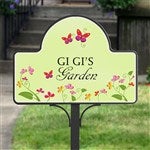 Garden Stake With Magnet
By
Shopper

(Ellicott City, MD) - May 15, 2011
The magnet (sign) doesn't stick very well. It has a tendency to roll up on the sides. If there's a way to remedy this, it isn't included in the package.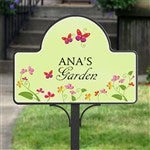 Great Gift for those who have everything!
By
Linda R.

(Jonesboro, GA) - May 13, 2011 (
See all reviews by this customer
)
My Mother has Blueberries so I created "Estelle's Vineyard" (instead of Garden). She was VERY thrilled with her unique Mother's Day gift and remarked about the high quality of the product. There is nothing more rewarding than to hear comments like that when you order online "sight unseen". VERY IMPORTANT TO REMEMBER is that this product does NOT come with the stand - which is required as it is a MAGNET sign...limp vinyl product unable to stand or even prop up. When the metal frame/stand arrived Mother emailed me with a WOW! So don't try to skimp as it is the finishing touch and well worth every cent!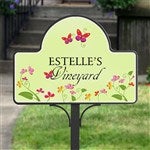 Beautiful garden stake
By
Shopper

(Westbury, NY) - May 12, 2011
Very colorful garden stake-well made -adds color to the flower beds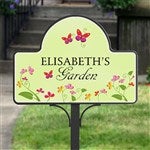 Love it!
By
Shopper

(Geneva, AL) - May 11, 2011
Great gift for Nana on Mother's Day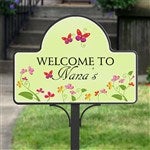 Mother In Law Loved it!
By
Diana W.

(Bailey, CO) - May 9, 2011 (
See all reviews by this customer
)
Ordered as a Mother's Day gift and my Mother In Law thought it was beautiful! She normally receives flowers and this year we did something different. She said it made her day and loved it because it was something personal she could keep and all of her friends have admired it's special place in the garden.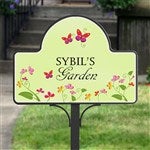 Nan's Garden
By
Steve D.

(Simpsonville, KY) - April 23, 2011 (
See all reviews by this customer
)
I bought this garden stake as a gift for my mother. She really loved it and put it in the middle of her flower garden the moment it arrived.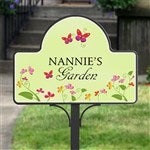 Too cute!
By
Monica G.

(Youngsville, LA) - April 1, 2011 (
See all reviews by this customer
)
I ordered this for our front yard. We live on the corner so we often have runners, bikers, and neighbors stop and look at our lawn. They all ask about the sign. Our sign says The Guillory Garden and it's perfect for spring and summer! This is a must buy!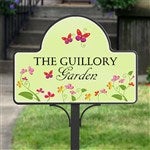 garden stake
By
Sheila L.

(Dracut, MA) - August 5, 2014 (
See all reviews by this customer
)
It exceeded my expectations and looks wonderful in the garden I dedicated to them.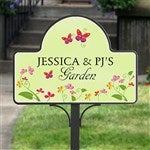 Great for Gardner
By
Shopper

(Redford Twp, MI) - July 26, 2014
I purchased it for a co-worker for her birthday. She would come in in the mornings and talk about the progress of her garden so I thought this would be a great gift and she loved it!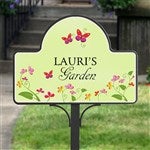 No Soliciting Please ... with a smile
By
E W.

(Santa Rosa, CA) - July 22, 2014 (
See all reviews by this customer
)
At last! I found a creative and easy way to put my own message of "NO SOLICITING PLEASE" on a pleasant and cheerful yard sign post. The post is metal and sturdy with supports on each side of the stake - it's not just a straight stick- so it stays in place. Nice detail. I pushed it into hard dirt without bending or breaking. The sprinkler hits it every day and so far no damage to sign. The sign plate is fully magnetic (not just around the edges like some) and it's easy to remove to clean. The sign is exactly as it appears. Colors are true. Quality materials and construction. It does not look cheap or flimsy or tacky. It's worth the price to me because it says exactly what I want to say - it's the first thing folks see when they come up the walk, and it does make a nice impression...even if it's asking solicitors to stay away....in a nice way!!!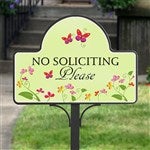 It looks great
By
Shopper

(Parker, CO) - July 22, 2014
I really like the magnet. Nice quality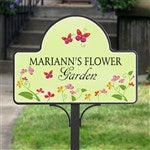 Well done
By
Edward K.

(Gettysburg, PA) - July 14, 2014 (
See all reviews by this customer
)
Pleasant surprise for the wife, she loved this Garden stake with magnet, I followed up with one of your outstanding holiday magnets, and it is also wonderful. Great art work,graphics and colors on both!! Highly recommend both pieces.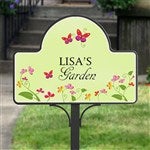 Excellent!
By
Roger S.

(Decatur, MI) - June 10, 2014 (
See all reviews by this customer
)
Very well made. Wife loved the sign. Very fast shipping.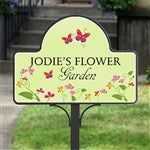 Beautiful
By
Shopper

(Murrieta, CA) - June 8, 2014
Makes a lovely addition to my yard. Engraved, packaged, and shipped well.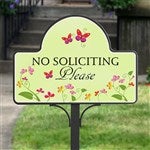 Beautiful!
By
Shopper

(Greensboro, NC) - May 26, 2014
Just what expected, it's looks great. Wish I could have added more text.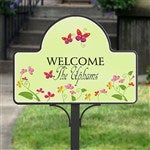 Garden yard stake
By
Shopper

(Broad brook, CT) - May 19, 2014
Great product. My mom loved it for Mother's Day! Thank you:)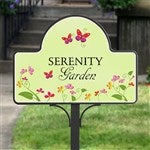 Loved it
By
Miracle B.

(Cleveland , OH) - May 16, 2014 (
See all reviews by this customer
)
My sister loved it.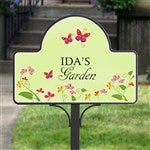 Great Garden Stake
By
Shopper

(Greensboro, NC) - May 11, 2014
I bought this for friends who have a plot in the community garden at our church. They love it. I couldn't believe how fast it came. I would love to see a garden sign with vegetables for the décor as many people have vegetable gardens. The Garden stake is very sturdy and looks very weather resistant.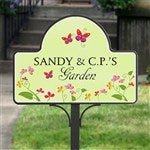 Perfect
By
Shopper

(Westbury , NY) - May 9, 2014
It was the perfect gift for my mother-in-law for Mother's Day and I like it so much, I ended up buying one for myself.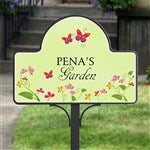 She loved it!
By
Susan L.

(Anaheim, CA) - April 29, 2014 (
See all reviews by this customer
)
I have not seen this myself; I ordered it for a friend, but she called crying. She really loved it. Personalizing a gift always makes it better!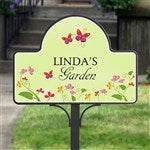 Great Product
By
Shopper

(Nevada, IA) - April 27, 2014
This item is very useful especially with the steps leading down a pathway to our home. The signs mark the stairs to assist in safety for all our guests, etc.. This product held up for over two years plus before sun fading dimished the sign. A wind storm blew it off on one of them, but it was found very quickly due to the shape and it held to the ground and mulch it landed in.
THE DESIGN IS NICE BUT A FEW MORE SCENIC OPTIONS WOULD BE NICE.

Bigger than I thought
By
GINA I.

(WOODBRIDGE, NJ) - April 7, 2014 (
See all reviews by this customer
)
This is a GREAT gift. Was a lot bigger than I thought it would be! Great gift for Grandma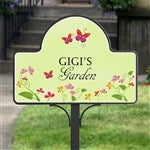 Garden stake
By
Shopper

(brentwood, TN) - January 25, 2014
Purchased the garden stake as a gift for a friend and it arrived in the time stated. The stake seems very sturdy and the magnetic sign beautiful. Everything I have purchased thus far from personalization mall has been wonderful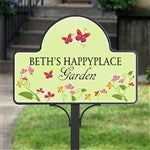 Personalized perfection.
By
Cindy C.

(Canada) - December 12, 2013 (
See all reviews by this customer
)
My mother in law loves to garden especially with the assistance of her granddaughter, Jacey. This personalized floral garden stake will be a wonderful addition to her already beautiful garden. The sign turned out lovely, better then I thought it would. Can't wait until she opens it.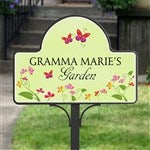 A Real Treat
By
Barry A.

(Tampa, FL) - November 3, 2013 (
See all reviews by this customer
)
beautiful and well-made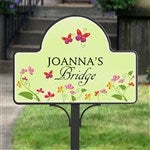 Better than expected
By
Shopper

(Kearny, NJ) - October 7, 2013
This was a gift very happy with item just as described the recipient loved it now I can just keep buying different season magnets and always have perfect gift