Great Everything
By
scott K.

(cedar bluffs, NE) - December 29, 2011 (
See all reviews by this customer
)
Great products always Faster shipping then anyone on line
The best there is on line shopping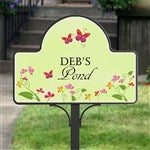 Fantastic
By
Shopper

(Saugus, MA) - December 27, 2011
Came out perfectly, shipped quickly. Nothing but positive feedback from me. Thanks for helping me give my mother a wonderful Christmas.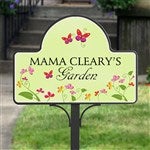 Awesome
By
Kyle G.

(Beech Grove, IN) - December 18, 2011 (
See all reviews by this customer
)
My sister will love it. I like that I can buy her additional signs/magnets for future birthdays etc.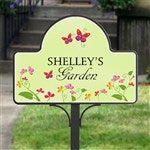 Awesome Gift
By
Misty R.

(Calverton, NY) - November 4, 2011 (
See all reviews by this customer
)
I'm a Community Manager for a Senior Community in New York. We started a "Yard of the Month" award this year and my residents love it! They LOVE this garden sign and when I give it to the winner for the month, I always let them know that the sign is magnetic and they can purchase new one's for different Holidays or just to pretty up their yard at personalizationmall.com. They LOVE this idea. Most of the winners have already purchased their new signs for the Holidays. This was just an amazing idea! Thanks!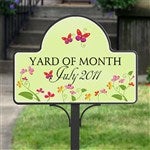 Use for a Memorial Garden
By
Shopper

(Alma, GA) - September 30, 2011
When a parent loses a child, they are always looking for special ways to remember them. We planted a special memory garden inside of our fenced-in pool area, and this has been commented on by everyone who has ever seen it. I cannot even describe how beautiful and touching it is. I'd recommend as a gift for anyone you know who is hurting from the loss of a loved one. Thanks again, personalizationmall.com for the gifts available for every conceivable occasion!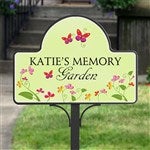 Awesome Sign!
By
Colleen S.

(Mattoon , IL) - September 19, 2011 (
See all reviews by this customer
)
This sign is great and for the price, you just can't beat the quality! Makes our garden shine!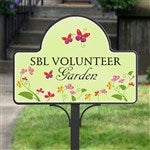 Mom's garden
By
Shopper

(Lansing, MI) - August 15, 2011
I love the precious garden sign that is now in my mom's memory garden. Everyone loves it. It's the first thing you see as you look out the window. I'm very happy with this product. Delivery was quick, and am so pleased with the workmanship. Flowers and butterflies are even prettier than pictured.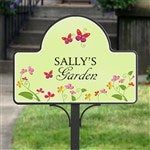 Eye-catching garden addition
By
Donna D.

(Cardington, OH) - August 15, 2011 (
See all reviews by this customer
)
This garden stake is beautiful! The stake is quite heavy so the wind doesn't knock it over constantly. The magnet stays put on the stake. And it's a beautiful addition to a garden to show how proud you are of your garden. I highly recommend this product.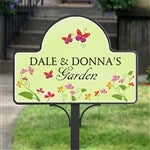 Magnet Power
By
Lora P.

(Villa Park, IL) - July 30, 2011 (
See all reviews by this customer
)
My daughter was thrilled with her garden sign gift. I surprised her by sticking it in her garden. However, we had trouble getting the left side of the magnet to stay stuck. I ended up using a piece of magnet tape to get it to stay in place.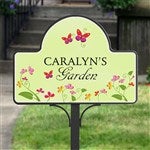 Love my garden sign
By
Valerie T.

(Pittsburgh, PA) - July 25, 2011 (
See all reviews by this customer
)
My garden sign came just 3 days after ordering it and I just love it. It just adds that personal touch that I wanted! I will be ordering more things from your company in the near future. Great products and a great price.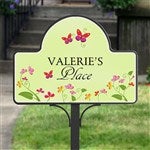 Excellent product
By
Jennie F.

(Waterbury, CT) - June 21, 2011 (
See all reviews by this customer
)
I was so happy to find this. I've been looking for about two years for a sign to put into our daughter's memorial garden. Nothing we saw ever quite fit what we wanted until I came upon this last week. The sign is beautiful and the stake is very sturdy. I love the butterflies and flowers -- so colorful. The sign came just a few days after we ordered it. It's even nicer than the picture. I just know our Susie is smiling down on us.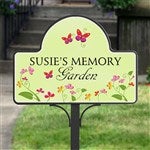 Garden stake
By
Shopper

(Sand Springs, OK) - May 23, 2011
Beautiful and just as pictured! Ordered as a gift and she will be well-pleased. Shipped fast! Thanks for such quality products.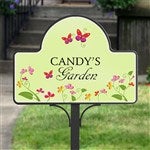 how beautiful!
By
Shopper

(East Hartford, CT) - May 20, 2011
my first experience with Personalizationmall.com has been fantastic and I'm completely excited to continue my shopping with them!

The Garden stake is gorgeous and was a fantastic gift from my daughter to her grandma!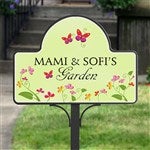 Larger and nicer than expected
By
Shopper

(Metairie, LA) - May 16, 2011
love it. It is a nice weight made of iron not wood. Lettering is good. Only thing is I put
GiGi on it and it was not centered in the middle of the sign but it still looked good.
My mother loved it and will put it in her garden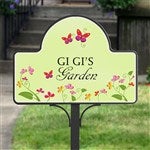 Garden Stake With Magnet
By
Shopper

(Ellicott City, MD) - May 15, 2011
The magnet (sign) doesn't stick very well. It has a tendency to roll up on the sides. If there's a way to remedy this, it isn't included in the package.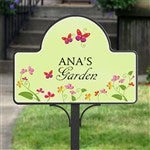 Great Gift for those who have everything!
By
Linda R.

(Jonesboro, GA) - May 13, 2011 (
See all reviews by this customer
)
My Mother has Blueberries so I created "Estelle's Vineyard" (instead of Garden). She was VERY thrilled with her unique Mother's Day gift and remarked about the high quality of the product. There is nothing more rewarding than to hear comments like that when you order online "sight unseen". VERY IMPORTANT TO REMEMBER is that this product does NOT come with the stand - which is required as it is a MAGNET sign...limp vinyl product unable to stand or even prop up. When the metal frame/stand arrived Mother emailed me with a WOW! So don't try to skimp as it is the finishing touch and well worth every cent!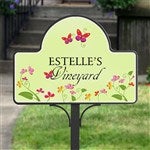 Beautiful garden stake
By
Shopper

(Westbury, NY) - May 12, 2011
Very colorful garden stake-well made -adds color to the flower beds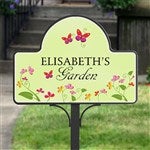 Love it!
By
Shopper

(Geneva, AL) - May 11, 2011
Great gift for Nana on Mother's Day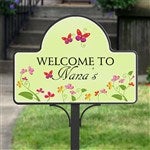 Mother In Law Loved it!
By
Diana W.

(Bailey, CO) - May 9, 2011 (
See all reviews by this customer
)
Ordered as a Mother's Day gift and my Mother In Law thought it was beautiful! She normally receives flowers and this year we did something different. She said it made her day and loved it because it was something personal she could keep and all of her friends have admired it's special place in the garden.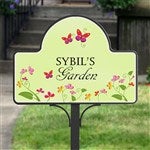 Nan's Garden
By
Steve D.

(Simpsonville, KY) - April 23, 2011 (
See all reviews by this customer
)
I bought this garden stake as a gift for my mother. She really loved it and put it in the middle of her flower garden the moment it arrived.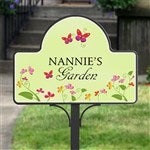 Too cute!
By
Monica G.

(Youngsville, LA) - April 1, 2011 (
See all reviews by this customer
)
I ordered this for our front yard. We live on the corner so we often have runners, bikers, and neighbors stop and look at our lawn. They all ask about the sign. Our sign says The Guillory Garden and it's perfect for spring and summer! This is a must buy!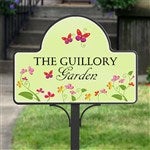 A Real Treat
By
Barry A.

(Tampa, FL) - November 3, 2013 (
See all reviews by this customer
)
beautiful and well-made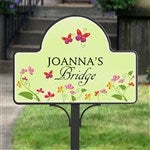 Better than expected
By
Shopper

(Kearny, NJ) - October 7, 2013
This was a gift very happy with item just as described the recipient loved it now I can just keep buying different season magnets and always have perfect gift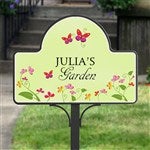 Quality Sign
By
Shopper

(North Tustin, CA) - September 20, 2013
This sign to personalize my granddaughter's flower garden is quite charming and meets my every expectation.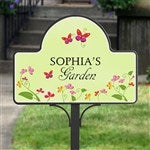 Wonderful product
By
Susan G.

(Beaumont, CA) - September 20, 2013 (
See all reviews by this customer
)
We love this sign. It is beautiful in the garden. It is made durable and more heavy duty than we expected. The leg on the sign is already angled making it easy to put into the ground. The colors are vibrant and we love the butterflies. Makes a wonderful tribute to a loved one who has passed.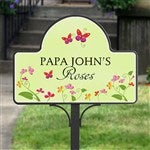 Great Quality
By
Shopper

(Huntsville, AL) - September 11, 2013
This item was much sturdier and way surpassed my expectations. It is such a unique gift and I can' wait to give it to my sister for Christmas. I absolutely love it!!!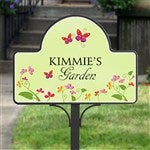 Picture Mislead Me
By
Shopper

(Austell, GA) - August 16, 2013
I ordered this item and was surprised how small it was.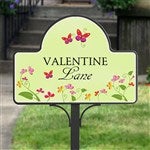 Great Gift
By
Richard P.

(Albany, OR) - July 20, 2013 (
See all reviews by this customer
)
Very well made, beautiful work, was a big hit!!!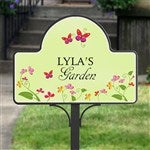 This Personalized Garden Sign is a Perfect Gift!!
By
Beth K.

(Russell, KS) - July 2, 2013 (
See all reviews by this customer
)
I could not have imagined this personalized garden stake to have been better than it is~I wanted a very special gift for a very special friend, and I am so glad I found Personalization MALL.COM to provide this lovely surprise for a most deserving lady. The quality is superb, the coloring is eye catching, and I hope you consider this when you want an addition to a flower garden as a gift for yourself, or for a lucky recipient!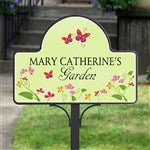 McKinley's Garden
By
Shopper

(Cadillac, MI) - June 23, 2013
5 stars all the way ! Excellent craftsmanship, packaging and amount of time from when I placed the order to when it arrived at my door!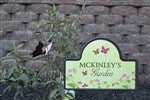 Best non traditional gift ever
By
Shopper

(Joliet, IL) - May 18, 2013
I purchased this yard stake for Mother's Day as a gift to my mom. She loves her flower garden and works hard to keep it in good order. She actually cried when she saw the stake. Best gift ever! She is now able to put her stamp on her hardwork.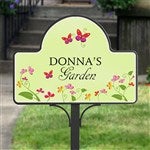 Grandma loved it!
By
Shopper

(Madison, WI) - May 15, 2013
This was a Mother's Day gift for Grandma and she loved it. We were impressed with how fast our order was received.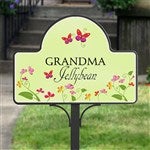 Floral garden stake
By
Denise H.

(Windsor Mill, MD) - May 12, 2013 (
See all reviews by this customer
)
Great quality! Love that you can personalize it. My daughter gave it to my mother for Mother's Day, "Grandmom's Garden." It looks great and she loved it! I would give it as a gift again! Another great product.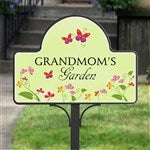 Great garden stake
By
Shopper

(Wexford, PA) - April 27, 2013
The stake is bigger than I had expected and looks great! Will buy again!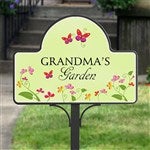 Review of garden sign
By
Carol A.

(Edina, MN) - April 22, 2013 (
See all reviews by this customer
)
The garden sign is just beautiful. It will be a wonderful addition to our garden (if we can ever get rid of this Minnesota snow). It arrived so promptly too. I highly receommend it.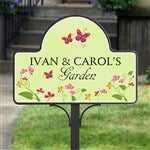 Perfect
By
Gene M.

(Bartlett, IL) - April 8, 2013 (
See all reviews by this customer
)
Matched The Flag that I Ordered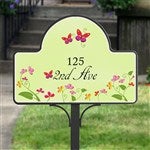 Disappointed
By
Shopper

(St. Cloud, FL) - January 9, 2013
Not as sturdy as I had hoped. My friend had no way to display it.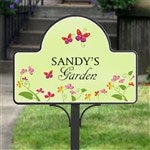 Garden stake
By
Pamela S.

(Riverside, CA) - October 24, 2012 (
See all reviews by this customer
)
It is perfect! We love it!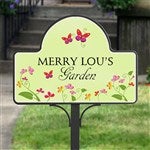 Garden Stakle
By
Karen S.

(Bluffton, SC) - August 26, 2012 (
See all reviews by this customer
)
It's really cute and nicely made. Great value!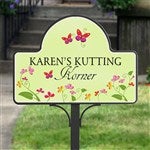 Nice Garden Stake - great customer service
By
Shopper

(Colchester, CT) - August 25, 2012
Very nice quality garden stake. First one arrived damaged in shipping. Customer service promptly sent replacement which arrived in good condition. Very happy with my purchase. Great customer service!