Great add on to any gift
By
Shopper

(Nevada, MO) - November 30, 2011
I purchased one of these as an add on for a housewarming gift for a friends first home. I used pictures of her new home on the front. She loved it.

Great card, slow delivery
By
Shopper

(The Dalles, OR) - November 23, 2011
I loved the card...so beautiful. The card turned out so great, loved it and I'm sure the bride & groom receiving it will love it too!!! :)

However I don't recommend you ship FedEx SmartPost....it took forever I thought my card wouldn't make it here before the wedding date....just made it...thank goodness. I ordered it well in advance but it took 9 business days to get here (NOT including the "weekends"). Usually it should only take 3-5 or at most 7. I've ordered an individual card before and recieved it in 4-5 days...so don't suggest this means of shipping if you want your card in good time!!!

Don't want to be late for a very important date :)

Mother's Day for my daughter
By
Madelaine D. H.

(Hope Mills, NC) - October 9, 2011 (
See all reviews by this customer
)
How can one go wrong with pictures of your baby? My daughter loved it.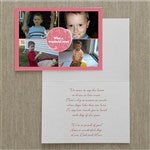 awesome
By
Daniela S.

(Bronx, NY) - August 22, 2011 (
See all reviews by this customer
)
this is by far the best gift card I have ever given...

Added a personal touch!
By
Shopper

(Pittsford, NY) - July 17, 2011
This card allowed me to further personalized the gift I was ordering. It was easy to use and looked great!

Better than expected
By
Shopper

(Downey, CA) - June 17, 2011
Vibrant colors! Excellent quality card -- not stiff and thick and cheap like the one I made at the drugstore! Superfast shipping. Thanks!!!

Outstanding
By
Wendy J.

(Napa, CA) - May 16, 2011 (
See all reviews by this customer
)
My mother loved her card. She is placing it in her China cabnit with her forever keepsakes. I had a lot of fun creating the card. Putting pic in where I wanted them, changeing them if I wanted. The site was real easy to use and great fun to put together. The inside message selection was perfect. You can also write your own thougts as well. If you liked their message but needed to change it a bit, you could do that as well. This makes making the card very personal. It is also about the same cost as a card in the store.

Her favorite gift ever!
By
Nancy L.

(Westfield, NJ) - May 12, 2011 (
See all reviews by this customer
)
I got this as a Mother's day card for my Mom and put the whole family on the front with the personalization "We love ___". She cried and said that it was the best present she ever got. She is carrying it around until she shows everyone that she knows. After that, she plans to frame it and keep it out to see forever.
Definitely more than worth the money!!!!!

Beautiful card!
By
Shopper

(Dallas, TX) - May 11, 2011
I can't explain how cute this came out and how well it was received. It was better than i expected. The coloring is perfect and it was for my mom she is wanting to buy a frame for it. Thats how good of a card it is. Just a warning though re-read what you wrote inside i messed up for using chrome translate & forgot to re-read. I had to edit but other than that its perfect!

GReAT
By
Shopper

(Houston, TX) - May 10, 2011
I love it picture came out good and and my mother love it...i would get another and i think u should get it too

beautiful
By
Shopper

(Bronx, NY) - May 9, 2011
the card was beautiful the colors of the pictures were beautiful.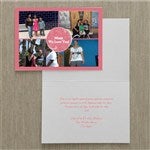 beautifu;
By
Gabriela C.

(Miami, FL) - May 9, 2011 (
See all reviews by this customer
)
I love the products, its quality. mom liked it a lot....something to remember....luving ur stuff.... <3 :)

Something so small meant so much!
By
Selena M.

(Tampa, FL) - May 9, 2011 (
See all reviews by this customer
)
The card I sent with the gifts I purchased from Personalized Mall was as big a hit as the gift itself. It only took me a moment to create something special that I am sure will end up on the wall in a frame. Thanks for making Mother's Day special for my Mom.

LOVE IT
By
Branda F.

(Las Vegas , NV) - December 28, 2010 (
See all reviews by this customer
)
Now this is a great purchase! I think it was something like 3 or 4 bucks and it exceeded my expectations! It was perfect I loved it was well as my mom. Anyone who is purchasing a gift definitely include the card it's the perfect finishing touch!

Best Greeting Card
By
Dia V.

(Fresno, CA) - December 24, 2010 (
See all reviews by this customer
)
I love the greeting card. It is cute and perfect for any occasions. I personalized one for my sister and she totally loves it. Plus, you get to say everything that you want. But the only downside is that you can't say too much. Yet, it makes a wonderful gift card for anything.

ABSOLUTELY BEAUTIFUL!
By
MAY X.

(GRAND PRAIRIE, TX) - December 23, 2010 (
See all reviews by this customer
)
Myself and my whole family were amazed at the subper quality of the card. It was glossy and shiny. The pictures had rich color. I was completely surprised. For the price it was, there is no need to ever go to Hallmark again when you can get better quality and get that unique personal touch!

"The Best Card You Could Create"
By
Sephora W.

(detroit, MI) - May 25, 2010 (
See all reviews by this customer
)
This is a beautiful card & such a wonderful idea. I will continue to use these cards because its a good way to write exactly what you wanna say from the heart & also give the person updated pictures right there on the card. Great Idea PersonalizationMall.com!!!!!

Great product!!!
By
Lisa B.

(Greensboro, NC) - May 11, 2010 (
See all reviews by this customer
)
I included this with the personalized coffee mug,
brought both for my "wonderful mother-n-law".
And she loves it. Will definately be back!! Thanks!!!!


niceee
By
Ivette C.

(Plainview, TX) - May 4, 2010 (
See all reviews by this customer
)
loved it, very professional and really nice

Awesome
By
Shopper

(orlando, FL) - May 2, 2013
These are soooo cute! Both grandparents are able to get personalized cards! Super fast shipping!

Mothers Day Card
By
Tifani E.

(Long Beach, CA) - May 3, 2010 (
See all reviews by this customer
)
The card looked wonderful, overall. There was a slight blemish on the flawless photos, leaving a pink mark on the face of one of the photos. But the overall look and quality made up for the blemish.