Gift for a Friend
By
Shopper

(Tuscaloosa, AL) - August 16, 2013
This product was delivered as promised, Monogramming looked nice (would have liked to have more options on monogramming style & bag color). It was a gift for a friend. Friend was delighted. Will be looking forward to hearing how it works (rolling, zipper function, etc.).

Outstanding!
By
Shopper

(Memphis, TN) - June 17, 2013
This is a great gift idea! It is just the right size with a side pocket that will fit a bottle of wine and a great storage compartment on top for utensils. And of course it is personalized!
We love it!
b

Great usable gift!!
By
Stacey M.

(Lumberton, NJ) - April 15, 2013 (
See all reviews by this customer
)
I purchased this as a gift for our daughter's Godfather. It is the coolest thing ever! I had The Godfather, Uncle Joey personalized on the front and it is PERFECT! I can't wait to give it to him.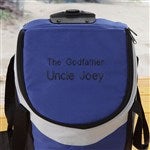 Exceptional!
By
Shopper

(Seabrook, TX) - February 24, 2013
Personalization Mall continues to exceed expectations! Always arrives early and exactly as ordered. I love this company!!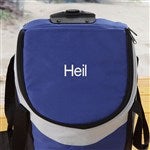 Cooler
By
Stacey R.

(Mechanicsburg, PA) - December 29, 2012 (
See all reviews by this customer
)
Love it. Perfect

Rolling Cooler
By
Shopper

(Omaha, NE) - December 19, 2012
Hello, I absolutely love this item I purchased for a freind for Christmas. She will love it. it's very well made and the Personalization is great.
thanks!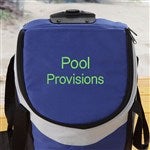 es EXCELENTE!!!
By
ZORAIDA D.

(Clermont, FL) - September 29, 2012 (
See all reviews by this customer
)
GRACIAS X LA DEDICACION EN SUS PRODUCTOS !
ES UN COOLER ESPACIOSO , BONITO Y FACIL DE CARGAR!
DIOS LES SIGA BENDICIENDO !!!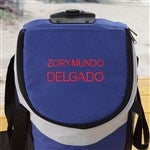 Great Christmas gifts
By
Nancy B.

(Angleton, TX) - August 2, 2012 (
See all reviews by this customer
)
This personalized rolling cooler bag is great. I bought 5 of them to give my adult children for Christmas. They are very well made and the lettering is beautiful. I would definitely recommend them!

Great Gift
By
Shopper

(Pennsville, NJ) - June 27, 2012
I ordered these rolling coolers as a groomsmen gift. They were a hit! Everyone loved them and they are very well made.
They arrived within days of my purchase.

Awesome as always!
By
Shopper

(North Tonawanda, NY) - February 15, 2012
I bought this as a Valentine's Day gift for my husband. It was a huge hit! It is A LOT bigger than I imagined and the embroidered lettering was perfect. I keep coming back to this store because I can honestly say I have never been disappointed in a purchase. Fast delivery, awesome products, fair prices, what more can you ask for? Love it!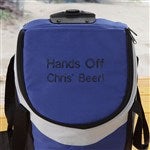 LOVE THIS BAG
By
Talbott G.

(South Salem, NY) - July 27, 2010 (
See all reviews by this customer
)
I am going to order several for Christmas gifts! The quality is excellent, especially the strap design and the hard bottom insert.


Awesome Cooler!
By
Tanya O.

(Jamestown, ND) - July 19, 2010 (
See all reviews by this customer
)
The size and quality of the bag are great. I want to purchase another one for myself!

Very Pleased in Wood Dale, IL!
By
Chris G.

(Wood Dale, IL) - June 24, 2010 (
See all reviews by this customer
)
Bought 3 of these bags for my family for Father's Day. I was surprised that the bags were so roomy and it's so nice that you can roll the bag. My family loved the personalizations as well.

excellent quality and size
By
Rhonda H.

(Carson, CA) - June 22, 2010 (
See all reviews by this customer
)
I love that I was able to personalize this cooler bag with my husband's favorite drinks: Dr. Pepper and water! :) He takes drinks with him everywhere he goes, so this will come in handy!

nice appearance
By
Shopper

(Glen Dale, WV) - September 6, 2011
really like the appearance of this cooler, but am concerned as to whether the handle and hardware will hold up once it is filled with ice, beverages and such

Great Father's Day gift
By
Corinne B.

(Coal City, IL) - June 14, 2011 (
See all reviews by this customer
)
My dad does not have a cooler on wheels, so to give him a cooler on wheels personalized especially for him was fun. He thought it was great! I just gave it to hom over the weekend so I am unable to comment on specifics like how long it keeps items cool, etc.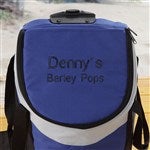 cheap
By
Karyn C.

(Louisburg, NC) - June 8, 2013 (
See all reviews by this customer
)
The cooler itself appears cheap and looks as though it is for children. I am 5'6, with the handle fully extended I have to lean over to pull it along. There are handles so you can carry the cooler but I purchased it because it is a rolling cooler. There is barely any insulation to keep beverages cool.

The personalized name on the cooler is well done.

Item leaks water
By
Shopper

(Grand Rapids, MN) - July 10, 2013
The look of the bag is nice and as expected. Quality seemed ok, however when we put regular ice in it, the water leaked all over our vehicle. It says it is "water resistant" which I was told by customer service is correct because they don't say it is "leak proof." Unfortunately I assumed that a cooler would not leak water but I assumed wrong- so buyer beware! I suggest that they put "For Use With Fake Ice" in the description.

A Bit Disappointed
By
Shopper

(Simi Valley, CA) - June 18, 2011
I was excited to read the positive reviews online and thought this would be the perfect cooler for my husband, but was disappointed when I actually received the cooler. It does not sit completely upright and leans forward making it a little unstable; however, the quality of the fabric is good and I do love the personalization.