Perfect
By
Shopper

(Baldwinsville, NY) - August 22, 2014
Perfect bag to take to and from work, fits lunch, files, laptop, iPad etc... Love it!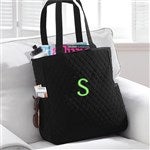 LOVE THIS BAG
By
Jackiee C.

(Saint Louis, MO) - July 21, 2014 (
See all reviews by this customer
)
This bag is perfect--it is huge so it fits everything I need and really comfortable to carry. I'm already using it all the time and get compliments on it daily. Great for the gym/library to carry books and other things in.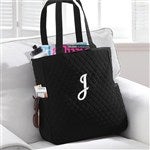 5 Bags, 5 Girls, 5 Stars
By
Laurie H.

(Fountain Hills, AZ) - May 2, 2014 (
See all reviews by this customer
)
I purchased this bag for myself over a year ago and was a little disappointed in the size being a little small but the quality and the embroidery was perfect so I use it for traveling and it's perfect. I liked it so much I just ordered 4 more for my 4 daughters and stuffed them with Easter grass some cosmetics and jelly beans! This product is made very nicely and stitched perfectly. Very pleased as are my girls!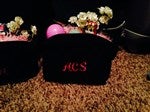 Well-made
By
Jessica C.

(North Bethesda, MD) - January 24, 2014 (
See all reviews by this customer
)
This little makeup bag will be a perfect bridesmaid gift. The bag is compact, but large enough to fit all of the essentials. The material was nicely quilted and of high quality.

For My Best Friend of 60 Years
By
Martha L.

(Marietta, GA) - July 21, 2013 (
See all reviews by this customer
)
I bought this tote bag for my friend for our high schools 55th reunion. I had it monogrammed in gold,
Our colors are black and gold. I presented it to her with initials SHS Sylvan High School. I found a bear, which is our mascot that was gold, and found in an antique store, we're antiques ourselves.

It came out, as usual, beautiful, it's big the fabric is quilted, just the right thing. She loved it, so did I.
I buy on this sight for a lot of things, never to be dissapointed. They have everything for any occasion.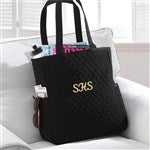 Product features that you liked
By
Shopper

(Bronx, NY) - June 2, 2013
Purchased as a birthday gift for someone else. I did not see the product in actuality, but was told by the recipient that it was a very beautiful product and she was extremely pleased.
Due to her satifaction, she will be contacting Personalization.com to open an account for herself.


Very good quality
By
Shopper

(Cincinnati, OH) - May 8, 2013
I ordered the bag as a gift. The quality of the bag and monogram was excellent. It is roomy and perfect for a new teacher.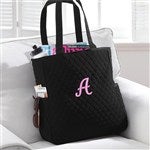 Great bag
By
Marion E.

(Chapel Hill, NC) - February 13, 2013 (
See all reviews by this customer
)
This bag is very strong. I use this bag for work. There is lots of room for all of my items. I love it and I would suggest that anyone looking for a great, stylish bag make this purchase.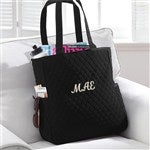 Love the Bag
By
Shopper

(Columbia, SC) - January 29, 2013
Perfect for all my mom on the go stuff. Great quality and I love my initial.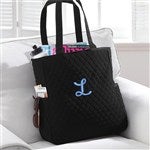 LOVE IT
By
Kim T.

(Canada) - January 15, 2013 (
See all reviews by this customer
)
This is an amazing bag! Very good quality and very durable! I LOVE IT!!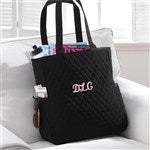 Embroidered Quilted Toe and Makeup Bag Set
By
Charles R T.

(APO, AE) - January 5, 2013 (
See all reviews by this customer
)
I gave this as a Birthday gift to a friend and she has received so many compliments on the bag and she loves the make up case. Thank you.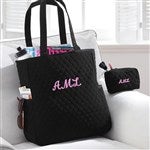 Beautiful!
By
Shopper

(Oxford, MI) - December 29, 2012
This quilted tote bag is very high quality & looks so beautiful with the embroidery! I was so impressed with how sturdy it is! I bought this for my Mom to use for work and she was so pleased with its quality that she even puts her laptop in it and feels safe. Thank you personalization mall! Christmas was wonderful this year.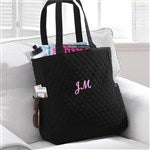 VERY PLEASED
By
Joy S.

(Hollis, NY) - December 26, 2012 (
See all reviews by this customer
)
I purchased the tote and matching makeup bag as a gift for my sister for the Holiday. While browsing the site I found and purchased one of the lovely bracelets as well. My sister was very happy with all so I therefore am too. I have only positive to say for the site and my purchases.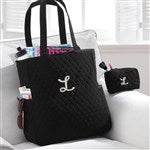 Great gift!
By
Shopper

(Plano, TX) - December 18, 2012
I bought this for my sis-in-law. It is great quality, and I think I will buy one for myself.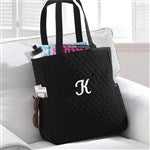 Great Bag!
By
Sharon V.

(Kapolei, HI) - December 16, 2012 (
See all reviews by this customer
)
I bought this as a gift for my mom. I love the quilted bag and it's huge! It has tons of space inside! Lots of storage. But I wish that instead of having a button as the closure at the top of the bag...I rather have it a zipper so it'll secure the things that inside the bag better. But everything else is just wonderful.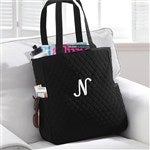 Awesome teacher gift
By
Jennifer P.

(Plainview, NY) - December 9, 2012 (
See all reviews by this customer
)
Got this as a teacher gift and it was a fabulous hit!!!
High quality and stylish!!! Perfect for any teacher, mom, or friend!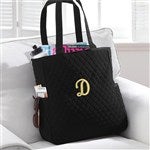 Positive
By
Shopper

(Universal City, TX) - December 3, 2012
The tote is good quality and larger than it looks. Has a bottom that will allow it to sit up. I use it any place I need to go to that requires me waiting. I can take my cross stitch.I can also use it on trips. Only one thing I would change is that the embroidery would be placed closer to the top. That is only a personal preference. The embroidery is beautiful.


Great Bridesmaid Gift
By
Andrea L.

(St. Paul , MN) - August 2, 2012 (
See all reviews by this customer
)
I was looking for something nice that my girls would be able to use after the wedding. Many of us travel often and I thought that this would be a good bag. I read all the review and was convinced to try them. I got them on sale and with a coupon code so I was also able to purchase a few other gifts for my girls as well. I got them embroidered with their first letter of their name and in their favorite color. The bag is actually bigger inside than it looks. Can definitely be used as a carry on. The top does not have a zipper but a magnetic button that you can use to hold the sides together if you want. Great quality. Seems very durable. Excited to see the girls get the gifts.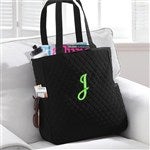 Bridesmaid gift
By
Kathleen C.

(Jamison, PA) - July 29, 2012 (
See all reviews by this customer
)
These bags are more perfect for a bridesmaid gifts.We ordered the Quilted tote &makeup set & we are going to put a special surprise in each compartment.The quality is amazing ! We were pleasantly surprised how well made they are. I have no doubt they will last for many years & be used for many things.I would recommend them to anyone who wants a well made gift for any occasion & at a great price. I will be ordering again!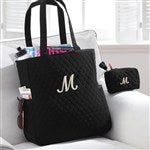 Great Mother's Day gift
By
Ellen M.

(Macon, GA) - May 15, 2012 (
See all reviews by this customer
)
I purchased this item for my mother in honor of Mother's Day. It was a hit. The bag is very durable and has many compartments. A great travel bag for car and airplane trips!

I bought this for my mother for Mother's Day and she Loved it!!
By
Shopper

(Hampton, NH) - May 13, 2012
Beautiful and the quality is superb!!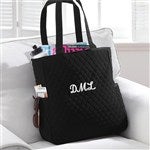 Lovely
By
Shopper

(Meridian, MS) - March 5, 2012
Lovely! Makes a great gift. The sky blue thread really stands out against the black.

Love these totes!
By
Shopper

(Waterville, NY) - March 4, 2012
I purchased these totes for my bridesmaids. I wanted something practical that they would actually use!..I asked each one what their favorite color was and decided on putting their first single initial on them. I can't wait to stuff it with goodies! The tote is a lot bigger than i expected, which is great!! The fabric is amazing and i'm sure they will love it and use it a lot. :)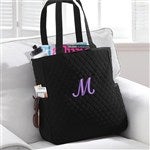 Quilted Tote Bay
By
Mary V.

(Hugo, MN) - February 21, 2012 (
See all reviews by this customer
)
High quality, beautiful lining, classy, terrific size. Monogram is very well done. I will purchase more totes for gifts!

The makeup bag could be a little bigger--and has the same wonderful quality as the tote.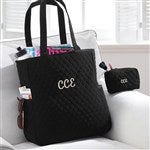 Great Bag
By
Jackie M.

(West Allis, WI) - December 28, 2011 (
See all reviews by this customer
)
I love tote bags...and never found one that I really loved...until now. I loved it when I found it but didn't purchase for a little while because of the price...I decided to order it after awhile and love it. The quality is really great and larger than that I thought. I have a lot of people jealous of my new bag.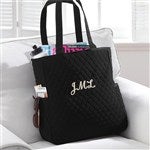 Perfect Product
By
Shopper

(LYNNWOOD, WA) - December 27, 2011
Perfect just as advertised, She loved It

Even Better than the Picture
By
Christa D.

(Malvern, OH) - November 28, 2011 (
See all reviews by this customer
)
This bag is very large and is of great quality. The picture doesn't do it justice and it is so worth the money.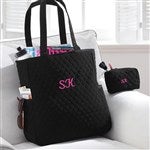 beautiful strong handy bag
By
catherine S.

(revere, MA) - November 1, 2011 (
See all reviews by this customer
)
i ordered bag for myself and for my sister. she meets me at casino. i can fit my water and phone side pockets, bag holds lots of stuff, strong straps can't break, comfortable on shoulder doesn't slip off, beautiful bag. i got many compliments. ty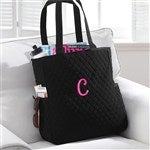 gift
By
Shopper

(white plains, NY) - October 30, 2011
This is the second time i bought this gift for a bridal shower. The girls seem to love this. They can take it anywhere.

How I used this product & quality
By
Shopper

(Boothwyn, PA) - October 14, 2011
I have been looking for a nice bag for my bridesmaids and this was perfect! Not too big, not too small. It is high quality for a great price!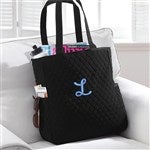 Very Pleased
By
linda L.

(Powell, OH) - September 5, 2011 (
See all reviews by this customer
)
Very nice! Larger than I expected and good quality. I will be happy to give this to my daughter-in-law for her birthday.

Huge & Versatile
By
Shopper

(Carbondale, IL) - August 26, 2011
I ordered this for my best friend's bridal shower. I had her future monogram initials engraved on the bag in sky blue. The color popped off the black bag and the quality of the bag seemed excellent and durable. It was much larger than I anticipated but she can use this for just about anything. Very casual, yet chic! She absolutley loved it! It was unique and personal and I know it will get much use!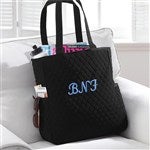 Pretty and handy tote
By
Shopper

(Redmond, WA) - July 19, 2011
Just received my order: one of these totes for me and one for a gift. Ivory initial looks elegant against the black quilted fabric. Very nice bag, and especially good for the sale price I paid (plus application of coupon code). It's a good size, without being too large. I plan to use it for running errands at the mall, but it'd also be good if you have dry cleaning to drop off, or any number of other uses.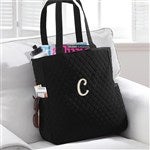 Awesome Bag!
By
Cheryl K.

(Pineland, TX) - July 12, 2011 (
See all reviews by this customer
)
This is the nicest bag.. perfect for Gym or Work! Love it and it's Great Quality!

Soft and useful
By
Shopper

(Canada) - July 10, 2011
Hi purcahsed this tote for my mom and it very beautiful. The fabric is soft and smooth. It's just a bigger version of the make up bags, of which I purcahsed 2 as well. The only this is that the bag is a lot bigger than I expected, which I guess is good, because you can put more stuff in it.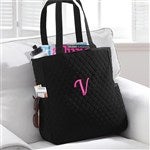 Awesome Bag
By
Shopper

(new castle, DE) - July 4, 2011
I just bought this bag for my bridesmaids. It's a lot bigger than I had imagined. The fabric is wonderful- smooth and clean. The personalized initials came out great, too. I love the pocket in the bag! It was perfect! I would definitely recommend this bag for any brides that are looking for great gifts for their bridesmaids. It was worth the money I spent.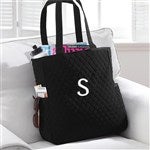 Perfect Gift for Moms
By
Shopper

(United Kingdom) - July 1, 2011
I sent this bag to my mom for her birthday and after carefully tracking it every step of the way, she received it a day before her special day. She called and emailed raving about the bag. She loved it and pointed out she was impressed with the quality of the product. It was a great buy!

excellent for travel!
By
Shopper

(canyon lake, TX) - May 29, 2011
classy, well made, roomy...zippered section inside, two outside pockets...just what I was wanted!


Excellent!
By
Valerie C.

(Owensboro, KY) - May 13, 2011 (
See all reviews by this customer
)
I purchased the bag for a trip and I love it! The bag is great quality and the inside is so easy to clean out. I have gotten so many complements on the bag!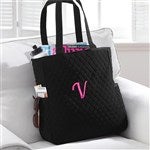 very cute
By
Cheryl H.

(Canada) - March 11, 2011 (
See all reviews by this customer
)
This is a very nice and cute make up bag. it's very smooth..with the quilted fabric. The stitching is very well done. The colour is sharp.