Simple Thin Magnets!
By
Shopper

(Playa Del Rey, CA) - February 16, 2014
The magnets came perfectly detailed and pictured, absolutely beautiful. They are thinner than I had expected but definitely work nevertheless and a great price for the personalization touch!

Gift for my mother
By
SHERI L.

(HOUSTON, TX) - February 2, 2014 (
See all reviews by this customer
)
better than the regular everyday gifts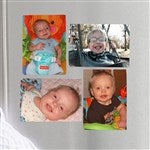 cute
By
Shopper

(warrenville, SC) - May 13, 2013
I got these as a mothers day present to go with my moms other photo magnets. They are very nice quality so far. I do not know how well they will hold up to time but we shall see.

Great great product
By
Milos A.

(Lake Leelanau, MI) - May 20, 2012 (
See all reviews by this customer
)
The only thing I mind is the quality of the pictures is what wish I looked at more closely. Anyway, it's a really good product


Really nice for gift or yourself.
By
Annie Z.

(Norwood, MA) - May 13, 2012 (
See all reviews by this customer
)
I bought several sets when on sale from our wedding pictures to give out to the wedding party. We have a set and they all have a set and loved them. 3 magets did come back cropped wrong but customer service was quick to remedy that. I've been buying from them for years, love their products and their customer relations. Since they are so quick to remedy situations, they still get 5 stars :-).

Doris' refrigerator magnets
By
Pamela Winkler C.

(Trenton, OH) - May 13, 2012 (
See all reviews by this customer
)
These were my FAVORITE!!!!!!! Pictures turned out amazing on the magnets - LOVED THEM. I've shared your information with tons of people already, because I was so pleased and impressed with my order. Thank you!

Great
By
Shopper

(Tucson, AZ) - May 6, 2011
The magnets are great. Great customer service. One of my magnets was printed wrong and I contacted customer service. The response time was good and the problem was fixed and now I have my new magnet in time to give to my mom. Thanks!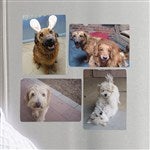 LOVE!!!
By
Shopper

(Beaufort, SC) - February 15, 2011
What a great gift! I am in love with these magnets! Ordered some for my mother in law, & for myself!

Very nice magnet set
By
jennifer N.

(brentwood, NY) - July 26, 2010 (
See all reviews by this customer
)
I love how these turned out. The pictures came out clear and they look nice on our refrigerator. But you can use them anywhere. I would order these again and recommend them to anyone.

Great quality pics as magnets
By
Michael K.

(Mission Viejo, CA) - December 30, 2012 (
See all reviews by this customer
)
This was a perfect gift for all of my little son's grandparents. A little pricey (the only reason I dropped to 4 stars), but picture quality is great, and they are a huge hit. I like these better than the little magnet frames where you put the picture in. Highly recommended.

Very Nice
By
NICOLE W.

(FRONT ROYAL, VA) - September 18, 2012 (
See all reviews by this customer
)
The magnets came out beautiful. The pictures looked great..no peeling on the sides and quite flexible so they don't break. The only reason for the 4 stars is they are very small...a slightly larger size would be perfect!

Fewer options for large families
By
Jennifer M.

(Kalamazoo, MI) - August 7, 2012 (
See all reviews by this customer
)
I bought this as a gift to my sister who needed to be reminded of some good things that happened during a difficult year. Much like PM's personalized Christmas ornaments, it was difficult to fit everyone in the family in. My sister has 7 children and a grandson. I had to use one format for all 4 magnets so I could fit everyone onto one magnet. I wish this site had a larger family section. The quality was great and my sister LOVED the gift!

Nice stocking stuffer
By
Shopper

(La Canada, CA) - November 20, 2011
I love these magnets. It's much easier than using a magnet to hold your photo. Then are a bit thin, I thought they'd be thicker and heavier, but they are worth it none the less.

Magnet set
By
Shopper

(Granite Falls , MN) - May 16, 2011
Very nice set. I did receive a set that was blurring, however, Personalization Mall was very efficient in replacing the set in time for Mother's Day. Thank you! These magnets are a very nice way to display photos on your refridgerator. I will definately be purchasing more magnet sets in the future.

Valentines Day Gift for Daddy from his girls
By
Shopper

(Lakewood, CO) - February 14, 2011
Bought these magnets for my husband from his 2 baby girls. He is a mechanic and thought he would love these on his tool box. He LOVED them!
They are on the thinner side, but overall they turned out really cute!

Great Gift.
By
Denise B.

(Elmont, NY) - June 10, 2010 (
See all reviews by this customer
)
The magnets came out great! The only reason why I did not give this prodicut 5 stars is because the magnets are paper thin. They could have been made a little thicker like regular refridgerator magnets.

wrong pics!
By
Kelly L.

(Myrtle Beach, SC) - May 12, 2010 (
See all reviews by this customer
)
The magnets are very nice, but my Mom received 2 pictures out of 4 that were NOT ordered! We do not even KNOW the one person in the picture! Obviously, my order got mixed up with someone else's. That was disappointing for 20 dollars!

Decent but not great
By
Shopper

(Suwanee, GA) - December 1, 2013
I thought the overall quality was acceptable, however two of the four pictures were cropped so that the top of the picture (someone's head) was cut off. Two of the four were perfect, but the other two were a bit disappointing.

Cute but small..
By
Shopper

(Downey, CA) - February 5, 2013
I bought this set, thinking it would be similar to the shutterfly magnets. I was wrong, these are flimsy and small. They don't hold too much up, but still look cute. I would spend the extra few bucks and buy them from shutterfly.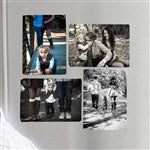 ..
By
Kyle C.

(Canandaigua, NY) - November 30, 2011 (
See all reviews by this customer
)
i thought they would be bigger, came out clear and beautiful, just thought they would be bigger. kinda bummed about the size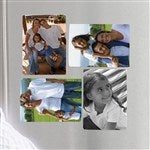 Picture quality good, but magnets are FLIMSY and cheap
By
Lindsey F.

(Shorewood, IL) - October 16, 2012 (
See all reviews by this customer
)
I have purchased many items from this website and have not been disappointed with the quality of any of them. However, when I received this magnet set, I wasn't thrilled with the quality of the magnets. The pictures turned out great and the quality there is just fine. However, if you are expecting the magnets to be of standard thickness, think again. They are thin and flimsy, and in my opinion, cheap. I ordered these as a gift expecting them to be great, but now I'm feeling like I should get my recipient something else, too! Also- if you have photos professionally taken, file size may be too large for the website to accept. This limited the photo selections I could make.

Disappointing
By
Donna B.

(San Angelo, TX) - April 30, 2012 (
See all reviews by this customer
)
I was very disappointed in the final product for the money that it costs. The picture quality was fine but the product itself is too small and looks cheap and $20 for 4 pictures is not cheap.

Disappointed
By
Kelly F.

(Long Lake, MN) - May 24, 2010 (
See all reviews by this customer
)
I did not realize that these were a flexible, soft material verses an actual magnet. These will really only work as decoration verses the intended purpose.

Very Disappointed - cheap quality, not what I expected
By
Vance M.

(Dallas, TX) - January 2, 2013 (
See all reviews by this customer
)
I just received these magnets and am quite disappointed. They are not what I expected at all. They are cheap quality, at least one of the pictures is not cropped as it was when the order was placed. I was expecting a magnet that would be a great gift and long lasting and this is just not the case, they feel like they were printed on a flimsy magnetic paper and then cut with scissors.
Even the magnet my realtor sends to me with a calendar on it is a better quality than this.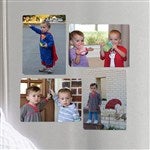 Pictures were not as uploaded
By
Karen R.

(EL PASO, TX) - May 26, 2011 (
See all reviews by this customer
)
I uploaded pictures and it showed the review but it cropped them and half the head was gone off one person. Make sure there is a little space so it wont happen to you. Also, one of the pictures were printed a little crooked.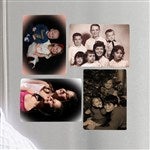 Not Happy
By
Carolyn K.

(Omaha, NE) - May 9, 2011 (
See all reviews by this customer
)
I was very disappointed in the Personalized Magnet Set. They were very thin and I doubt they would hold any thing up. For the price not, a good deal.

disappointed
By
Shopper

(Ashland, MA) - January 30, 2011
Magnets were very small, thin, and very fragile. Thought they would be a little more sturdy.

cheap
By
Shopper

(Williamsburg, PA) - January 9, 2011
These magnets were sooooo cheaply made. I've received better ones free in the mail. They were paper thin!

Over cropped thin and dull
By
ondina V.

(odessa, FL) - August 10, 2010 (
See all reviews by this customer
)
Not of quality show in samples by any means.

unhappy
By
cori A.

(cambridge , MA) - May 6, 2010 (
See all reviews by this customer
)
them dont hold reg. pieces of paper up only small pieces