Nice
By
Brian K.

(Milwaukee, WI) - May 20, 2012 (
See all reviews by this customer
)
I liked customizing the card>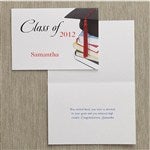 FANTASTIC!!!!
By
Susan V.

(Wilmington, DE) - May 15, 2012 (
See all reviews by this customer
)
Love the ease of getting the card at the same time! JUST FANTASTIC!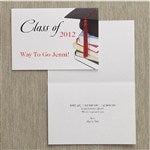 Very Nice!
By
Shopper

(Hardin, MO) - May 1, 2012
It was very nice to shop for a gift and then have the ability to order a personalized card to go with it. It is very nice!

Graduation Card
By
Shopper

(Bonita Springs, FL) - April 1, 2012
This was perfect for my daughter's MBA graduation. The card and imprinting quality was very good.

Love the cards
By
Sonya M.

(Westmont, NJ) - August 13, 2011 (
See all reviews by this customer
)
i love getting cards from PM.com - adds the special touch to the card that really makes it stand out. Awesome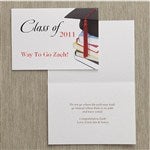 Golf bag
By
Geraine A.

(Falls Church, VA) - June 18, 2011 (
See all reviews by this customer
)
The quality of the bag is outstanding and the excellent and prompt service is commendable. My husband loves the bag. Great gift!!!!~

Very professional
By
Shopper

(Marlow, OK) - June 12, 2011
Nicely done.

personal touch...
By
Shopper

(old town, FL) - June 8, 2011
It can't get any better. The personal touch makes a huge difference. The envelope and the card are made of top quality materials.

classic graduation card
By
Shopper

(Olympic Valley, CA) - June 6, 2011
beautiful paper & printing on this personalized card. could not compare to a store bought card.

Very classy
By
Shopper

(fall river, MA) - May 21, 2011
Its not the fanciest graduation card in the world, but it has lots of class. Personalization was done perfectly, & I love the fact that my own words to my graduating son is inside the card so that he knows how I feel about him on his special day. I also wasn't expecting the pearly white envelope. I thought a plain white envelope would be included, so this was a nicely added touch.

LOVED IT!!
By
Shopper

(Deltona, FL) - May 4, 2011
Wow, no card shopping! I ordered this online with my own personal greeting and it looks soooo nice/professional and it's a good quality card stock too! Made me so happy to see the results. I would order this again next time I need one.

Pleasant Suprise
By
Shopper

(Osceola Mills, PA) - April 30, 2011
This card looks even better than it did on the website. I am very pleased.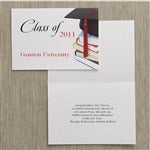 Hi YiFan Congratulations
Hi YiFan, May Your graduation be the first step on your path to success.

your anutie and Chris

great
cool

Classy and heartfelt
By
Shopper

(Washington, DC) - May 1, 2012
This was a great way for me to give a personalized card to my fraternity brother for his graduation. The card is better quality paper than you find in CVS or Hallmark usually. The personalization is perfect if you know exactly what you want to say.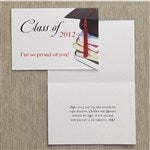 nice
nice platform

Excellent

The product is ok. Nice and elegant.