perfect baby gift
By
Misty P.

(Ocean, NJ) - September 20, 2011 (
See all reviews by this customer
)
I ordered this picture frame for a friend's new baby girl. I love the option this site has to actually see what the personalization on the frame will look like before placing the order!!! It was so cool! The actual product was great & I can't wait to see my friend's reaction.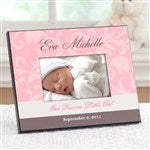 A beautiful baby gift
By
Melissa F.

(Otsego, MN) - August 29, 2011 (
See all reviews by this customer
)
As usual, I created another great personalized gift on personalizationmall.com. The parents of this special girl loved this gift and it is great to know that her picture will be treasured in this frame for years to come. Great quality and beautiful.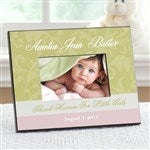 Beautiful Frame
By
Shopper

(Baytown, TX) - August 9, 2011
The frame is beautiful and will continue to order from Personalization Mall top quality!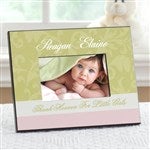 Love The New Frame Designs
By
Lynn R.

(Montgomery, TX) - August 7, 2011 (
See all reviews by this customer
)
I just love the new frame designs. My friend's daughter loved her new baby girl's personalized frame. I like everything about purchasing from Personalization Mall quality products and prompt service.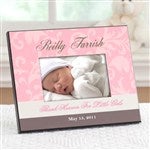 Personalized Photo Frame
By
Debbie G.

(Chesterfield, MO) - July 29, 2011 (
See all reviews by this customer
)
WOnderful product-easy process to order product and review.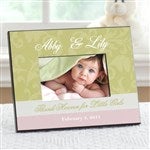 Great Gift for the New Arrival
By
Shopper

(Fremont, CA) - July 20, 2011
This was a great gift for new parents. I ordered the pink with brown trim frame and was very impressed with the quality and colors. The receiver of the gift was tickled pink :-) The shipment of this order only took a week from the order date. I loved this product.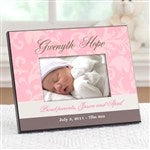 hard to read
By
Velvet L.

(Oregon City, OR) - July 16, 2011 (
See all reviews by this customer
)
I have purchased the pink/brown and the green/pink. The green/ pink is hard to read. I would of liked the writing to pop out more. Especially the name at the top, it seems to get lost in the background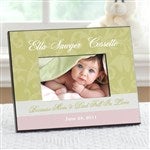 Beautiful Frame - Awesome Service
By
Vicki D.

(Crystal Lake, IL) - July 12, 2011 (
See all reviews by this customer
)
The frame was even more beautiful in person than depicted on the website. From ordering to delivery was 3 days!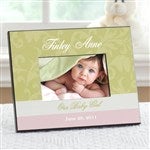 Coloring
By
Shopper

(Marrero, LA) - July 1, 2011
I was very pleased with the persoanlized frames-they are really adorable. However, the backround colors as opposed to the lettering on the top makes it VERY DIFFICULT if not impossible to clearly read unless you are right on top of it. This was epecially true of the "white" lettering of the date of birth on the "pink" backround of the frame. Even the "white" letering of the name, Emmalyne Grace is difficult to read on the "paisley sage" backround of the frame. I am not sure how this could be imporved, but I was disappointed that you cannot clearly read the lettering while viewing it on the table without picking it up & reading it from your hand. Thanks.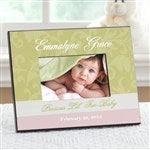 This is a very pretty frame & excellent quality
By
Shopper

(Petersburg, VA) - June 3, 2011
Pretty,just the right size and weight loved it when I took it out of the box,Would recommend this frame to anyone who wants to purchase it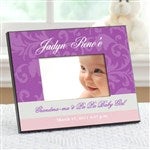 Simply Perfect
By
April F.

(Denver, CO) - May 6, 2011 (
See all reviews by this customer
)
I gave two of these frames as gifts. Both turned out absolutely beautiful. The frames are very classy and high quality. I am quite addicted to Personalization Mall.com This website makes me look good in the gift giving area.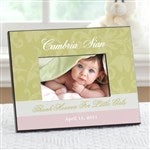 do not like it
By
Shopper

(WHITESTONE, NY) - April 9, 2011
I did not like the white lettering against the frame. Not happy with it.

Very Pink...
By
Shopper

(Bridport, VT) - March 30, 2011
I bought the frame as a gift and thought I'd buy one for myself after I saw it in person. It was cute and the personalization looked good, but the pink is a lot brighter than it looks in the picture. The preview shows it as a soft pink which if it came that way I would've loved it. I was kind of embarassed to give it to my friend becuase I wasn't sure if she'd like it and would just hide it in the closet till I came to visit. I won't buy it for myself now.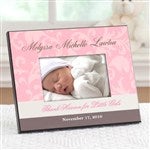 Thank you
By
Shopper

(Gilroy, CA) - March 29, 2011
Love it! So cute and very fast shippment.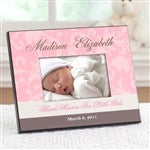 It's ok
By
Amy N.

(Huntington Beach, CA) - March 28, 2011 (
See all reviews by this customer
)
i love all the other items I bought but this frames quality is a little weak. The colors fade into each other a bit. It still looks pretty but not totally satisfied.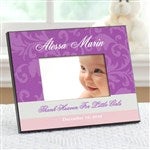 So cute!
By
Kayce H.

(Black Hawk, CO) - March 25, 2011 (
See all reviews by this customer
)
I ordered this frame in the purple and pink for myself. I am simply hooked on these frames! I love to take pictures of our new daughter and what a better way to frame them then in an adorable frame like this one. They are always perfect and so cute!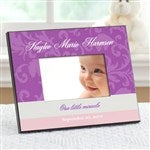 very pleased - Theresa
By
Shopper

(Kilgore, TX) - March 25, 2011
the frame looks just like it did on the site and the monograming was perfect. I can't wait to give it to the happy parents. This was a great way to preserve the birth of their first child with a newborn picture.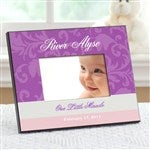 Personalized Baby Frame
By
Kristin S.

(Lakewood, CA) - March 22, 2011 (
See all reviews by this customer
)
I received the frame in a timely manner and it was the cutest thing ever. I bought it for a friend as a gift for her new grandbaby girl. I have ordered several items from this website and have not been disappointed yet. Good job!!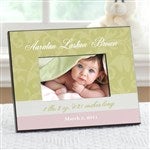 Sweet Frame
By
Shopper

(Pasco, WA) - March 13, 2011
I was surprised how large the frame was...I guess I missed that point... but I was pleasantly surprised non the less. The frame is good quality and pleasing to the eye. Purchace-- a success!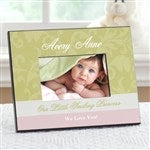 Absolutely Adorable!
By
Shopper

(LOS ANGELES, CA) - August 18, 2014
Quality is outstanding! Not flimsy one bit, but a nice heavy, well-crafted frame. You cannot go wrong with a picture frame for a baby, & to have one that's personalized is a keepsake forever.....THANK YOU SO MUCH PM.....I am a hooked customer! ;-D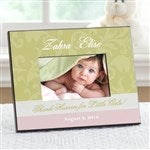 Sugar and spice . . .
By
Roseann D.

(Scottsdale, AZ) - May 31, 2014 (
See all reviews by this customer
)
. . . and oh so nice to welcome a sweet baby girl. Looks so cute with her pink polka dot walls. Lovely quality and a special keepsake,

Best new baby frame
By
Shopper

(Lake Winnebago, MO) - May 16, 2014
I have ordered many of these frames for several couples with a new baby. They all love them. I only use first and middle names only. It looks beautiful.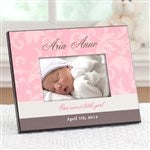 NEVER disappointed
By
Shopper

(Dearborn, MI) - May 15, 2014
Perfect frame! I'm never disappointed from PM. Excellent quality.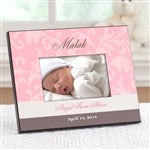 Baby Picyure Frame "Floral Damask"
By
Tamara H.

(Roanoke, VA) - March 22, 2014 (
See all reviews by this customer
)
The picture does not even do justice to this product! It is so beautiful. Even though it is a baby gift . . . it is not so "baby" that you couldn't use it with your daughters photo in it for years to come. I am pleased beyond words! I am ordering another one as a 1st Birthday gift for another friend.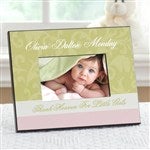 Fabulous Newborn Baby Gift
By
Carol E.

(Baltimore, MD) - February 21, 2014 (
See all reviews by this customer
)
Just received the Floral Damask Personalized Baby Frame for our son and daughter-in-law's 2nd baby girl. This is just like the one purchased for the big sister when she was born. The original one was in pink, and this recent one is in purple. It is absolutely gorgeous, as was the first! A fabulous baby gift of the highest quality!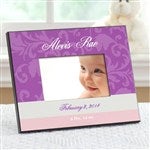 perfect gift
By
Shopper

(floral park, NY) - January 25, 2014
This frame was given to me as a new grandma a few years ago. I was so pleased with this product that I now purchase them for gifts for new parents as well as grandparents. On my most recent purchase I bought one for myself and one for my daughter to celebrate the birth of my new grandchild, Emma Grace. It is a quality product.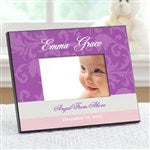 Baby Frame
By
Shopper

(Stockton, CA) - November 18, 2013
I loved the way my baby frame came out. The colors really go well together and the writing was perfect. This is my place to go whenever I am looking for something special.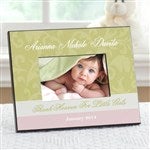 Better Than I Thought
By
Karen F.

(Richmond, VA) - June 3, 2013 (
See all reviews by this customer
)
This frame exceeded my expectations. It's a nice solid frame and the colors are exactly what I wanted. Great quality and fast shipping.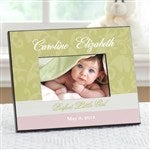 adorablable
By
Shopper

(Brown SUMMIT, NC) - May 18, 2013
This frame is so pretty. I have already put a picture of my new granddaughter in it. It is adorable. I am always pleased with your products.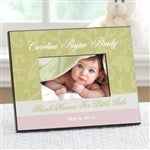 EXCEEDED MY EXPECTATIONS!
By
Dianne M.

(Elgin, SC) - April 24, 2013 (
See all reviews by this customer
)
Without a doubt-- this picture frame exceeded my expectations! The quality is excellent and it arrived much faster then I thought it would. I have already bought another picture frame (in a simular design) for a wedding gift and will buy more in the future when the occasion arrises.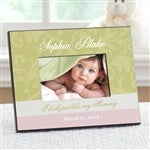 Baby Frame
By
Ashley L.

(El Campo, TX) - April 7, 2013 (
See all reviews by this customer
)
Words cannot express how beautiful this frame is. We love it so much and cannot wait to a picture in it!! It is a perfect size and the personalization is perfect!!!!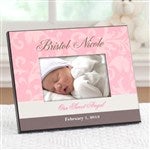 Beautiful
By
Jimmie M.

(Mobridge, SD) - April 2, 2013 (
See all reviews by this customer
)
I bought this frame for my little goddaughter and it turned out awesome. My brother and his wife absolutely loved it. I have ordered a few items from you and I don't have one complaint, thank you for an excellent product!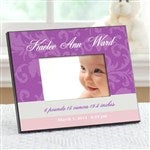 Beautiful design
By
Lisa S.

(Derby, CT) - February 24, 2013 (
See all reviews by this customer
)
I've ordered this frame for three different people and their babies, one in each color. One woman mentioned to me again a year later how much she still loved it. All of them were beautiful. The only thing that's hard to tell from the picture is that it's a glossy frame, not matte. I mixed it up too, using a couple for a phrase like "thank heaven for little girls" and another to share the birthday and birth information. Enjoy!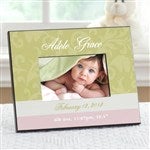 Perfect for baby's room!
By
Jessica K.

(El Campo, TX) - January 31, 2013 (
See all reviews by this customer
)
The parents of the baby loved it!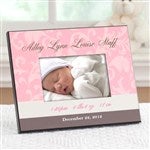 Cute and just what I wanted
By
Shopper

(Eden Prairie, MN) - December 24, 2012
It is a high quality frame. The personalization was correct. Delivered on time. Good value for the money when I compare it to other retail sources.

Nice but not as nice as expected
By
Nicole T.

(Albany, WI) - December 18, 2012 (
See all reviews by this customer
)
I was expecting it to be painted not a printed sticker. It is still nice and I am satisfied just not what I expected.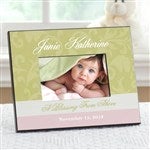 Very well made and very cute
By
Gloria M.

(St Louis Park, MN) - November 21, 2012 (
See all reviews by this customer
)
This item met my expectations for personalizationmall.com. Very nicely made, quickly created, shipped and received. Would buy it and other items here again.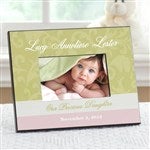 A Great Gift for New Granparents
By
Shopper

(Martinsville, IN) - October 26, 2012
This is the second time I have ordered this frame for friends who are first-time grandparents. On both occasions, my friends were delighted. It is a
nice personalized gift that is a step above what you might buy at a store.
The frame arrived within 5 days. I will continue to order from this company.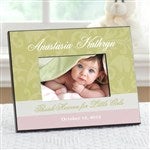 Precious baby girl frame!
By
Patti S.

(Pasadena, TX) - October 12, 2012 (
See all reviews by this customer
)
This frame is so pretty and very special for a new mommy and her baby girl! I ordered this for my daughter, my daughter-in-law and a friend. It turned out so beautiful! I love the floral damask and the font. Very attractive frame!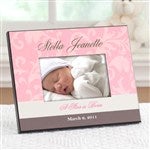 What you see is what you get :)
By
Shannon M.

(Morgan City, LA) - August 25, 2012 (
See all reviews by this customer
)
No room for disappointment. It looks just like it did when I ordered it. Good quality. I would recommend it! It was a baby shower gift, expecting mom loved it:)