What a great gift!!
By
Shopper

(Aurora, CO) - March 16, 2014
I ordered this from our daughter to give her Grandpa as a Birthday gift. He was so shocked and surprised at how cute it was. He will cherish it forever. The quality was great and the picture turned out fantastic. I will have all ready ordered other items from here as gifts.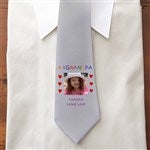 PHOTO TIE
By
zachary D.

(vicco, KY) - October 20, 2013 (
See all reviews by this customer
)
I ordered this for my dad with his 2 grandsons picture. I loved it so much that I couldn't wait for Christmas to give it to him, I had to give it to him now. He loved it!!!! He even had tears in his eyes. :)

Great item
By
Jessica C.

(ROLLA, MO) - June 24, 2013 (
See all reviews by this customer
)
I was really surprised on the material of the tie. Its very nice and of course my hubby loved it.

Personalize Tie
By
Connie H.

(Sonora, KY) - January 14, 2013 (
See all reviews by this customer
)
This process was so easy and the quality of the tie and picture was great!!!!
This was my first order I will definetly be ordering more items.

Thanks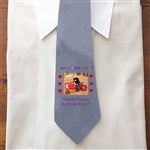 Excellent
By
Shopper

(Georgetown, SC) - December 23, 2012
My husband and I purchased a tie for his brother with the picture of his 6 month old baby girl on it. We were very pleased with the quality and workmanship of the tie. The picture turned out wonderful. Shipping was quick and we would recommend this website to everyone. We will be using it again..

Fit to be tied
By
Shopper

(Ponca City, OK) - October 8, 2012
My daughter got to help make Daddy's Christmas with the help of Personalization mall. She really spent alot of time on the typing and when she clicked on see your personalized item she was so excited when she got to see what she had made! She could hardly wait for the tie to arrive, however, she only had to wait two days. Shipping is so fast! Thanks for a great mother daughter moment Personalization Mall!!!!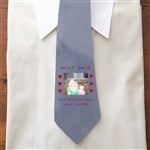 Love it! Love it! Love it!
By
Shopper

(Bristol, VA) - September 8, 2012
I was very pleased with the tie, the time and the quality.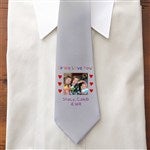 Great TIe!
By
Ashley F.

(Bloomsburg, PA) - June 23, 2012 (
See all reviews by this customer
)
My kids were very excited to "make" a tie for Daddy and when it arrived we were very pleased. Everyone loves it! The "creating" process was simple and easy to do and it arrived in a very timely manner. Very pleased!!

Great Job!
By
LaShunda C.

(Eagan, MN) - June 12, 2012 (
See all reviews by this customer
)
I absolutely love the product that I purchased! It was with our first family photo and it is amazing. My husband will get it for Father's Day and I am sure he will be pleased as well.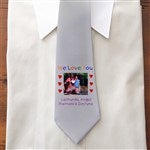 Cute Birthday Gift
By
Shopper

(San Jose, CA) - January 31, 2012
My husband loved it and had it on all day at work! I put a picture of him and our 5 month old. The tie is a good quality, great color and the picture is clear. Very happy with my choice.

Great product
By
Shopper

(Lisle, IL) - November 28, 2011
The shipping was fast, the picture wonderful, the quality great. I would recommend to anyone!

Great Memobilia
By
Shopper

(Springfield Gardens, NY) - June 24, 2011
I bought this for both grandfathers and the Godfather and they were tickled. It was the cutest little thing. The tie isn't the best quality, they should make it one color instead of the back part being white. But the idea of it makes one get passed those minor things.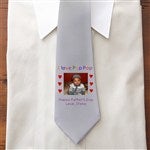 Greatest gifts ever
By
Charletta H.

(Olive Branch, MS) - June 20, 2011 (
See all reviews by this customer
)
These ties were the biggest hit for Father's Day! The two ties that I purchased far exceeded my expectations! The quality of the ties as well as the clarity of the pictures were excellent!!!

PERFECT!!!
By
Laura S.

(Ripon, CA) - June 7, 2011 (
See all reviews by this customer
)
Love love love this! My dad is going to be so excited to get this tie with his 2 youngest granddaughters on it. Unlike a LOT of dads my dad LOVES ties and wears them everyday so this is perfect! It looks great and came VERY fast too! Thank you!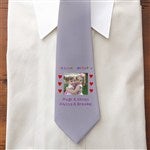 happy customer
By
Cassandra R.

(Irvington, NJ) - May 25, 2011 (
See all reviews by this customer
)
I am very happy with the quality of the tie. the color of the picture and writing looked great and the packaging was great!!

Great gift!
By
Carol H.

(Jacksonville, FL) - March 14, 2011 (
See all reviews by this customer
)
My son is thrilled to have a tie with all his kid's pictures on it. He may just wear it every day.

Picture tie came out amazing!
By
Tiffany P.

(Clifton, NJ) - February 19, 2014 (
See all reviews by this customer
)
My husband loves the tie. He wore it to work and received a lot of compliments on it. I just wish it was available in more colors.

Adorable personalized gift
By
Shopper

(Davenport, IA) - January 28, 2013
Got this for my father from my daughter for his birthday. I got it on the gray tie and it is nice material and picture is clear. Great quality. It is not completely practal for everyday wear as it is personalized with writing as well but the gray matches everything!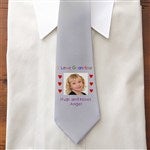 Great Quality Printing, Average Quality Tie
By
Shopper

(Bothell, WA) - June 21, 2011
Overall, GREAT gift for Father's Day and very well-received by the recipient. As other's have mentioned, the printing quality and imagining on the tie is outstanding. However, the ONLY flaw is the underside of the tie, which is white (we purchased the blue tie). When tied appropriately, it provides a bit of a white border and looks a little off. Of course, for the price, it is a terrific keepsake for years to come. You won't be disappointed.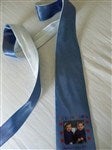 Good Father's Day Gift
By
Shopper

(West Valley City, UT) - June 3, 2011
Great Father's Day Gift! But I do agree with another reviewers comment...the tie would be better to be all in the same color, instead of the backside being white!

Cute Gift
By
Athena M.

(Plymouth, MA) - January 6, 2011 (
See all reviews by this customer
)
I would have liked the picture to print brighter than it did. Not a great quality tie, but it was a very cute gift for my dad from his new grandson for father's day. He loved it, and that's all that matters.

Good looking item!
By
Sara K.

(Platteville, WI) - December 30, 2010 (
See all reviews by this customer
)
Not as high quality as I would have liked, but still a wonderful present for grandpa!

Cute idea for the not so creative tie gift idea!
By
catherine F.

(beaumont, CA) - June 25, 2010 (
See all reviews by this customer
)
Ordered it as a Father's day present and it was adorable..My only complaint is the back of the tie was made with white fabric instead of it being uniform with the rest of the material (I ordered the blue). Would definitely order again but this would be a good change

Nice idea
By
Shopper

(Avondale, AZ) - November 6, 2012
The tie was cute. I liked and my Hubby thought it was a cute idea!

Not the best quality material
By
Murray S.

(Philadelphia, PA) - August 13, 2012 (
See all reviews by this customer
)
I am relatively satisfied with this tie. I bought it for my friend's birthday. He wore it to the party, but I was disappointed with the quality of the material. It is flimsy and creases easily especially after it is 'tied' too many times.

Very cute but not high quality
By
Shopper

(Lancaster, OH) - June 26, 2011
This tie was nice and it made a great Father's Day gift. However it wasn't the highest of quality. The tie itself wasnt high quality but overall it was a really cute gift. I am glad I bought it.

cute gift
By
Shopper

(Brick, NJ) - June 17, 2011
The pic and artwork turned out great, the only thing I wish I knew ahead of time was the tie color. It is not a completely blue or gray tie, it is a white tie that one side is colored, the other side is stark white, so when tied, if windy or it just flips over not sure how will look? I am sure my husband will love the pic and idea of it and will wear anyway!