Great gift idea
By
carol S.

(York, PA) - July 28, 2010 (
See all reviews by this customer
)
I purchased this kids beach toy set as a birthday gift. The personalization on the bag made it extra special.

Great birthday present!
By
Kellye M.

(Houston, TX) - July 26, 2010 (
See all reviews by this customer
)
I bought this for our friends daughter and it was perfect! Just having her name on it made it stand out from all the other toys!!

Perfect thoughtful gift!
By
Linda V.

(Holland, MI) - July 23, 2010 (
See all reviews by this customer
)
I ordered 2 of these Beach Toy Sets and both arrived together within just a few days of my order. They are exactly as pictured and each came in a clear gift bag tied with curling ribbon, all ready to give. I KNOW they are going to be a huge hit!

Nicely packaged, great quality!
By
Diane S.

(Newtown, PA) - June 11, 2010 (
See all reviews by this customer
)
Thank you again for my personalized order. Not only are your products personalized with a name, but they are also personalized with care. I was once again very pleased with the quality and care that is put into each order. I can order from this site with confidence of quality in purchasing a unique gift for every ocassion. Thanks again!

Sweet gesture
By
Dina H.

(Calabasas, CA) - April 21, 2014 (
See all reviews by this customer
)
I bought this item as a baby gift, knowing it may not be used until next summer. The varied beach toys seem to be made out of standard plastic, nothing special (and quite small). However, the personalized bag made the whole gift different and fun. I would suggest they offer the personalization on the tools/toys themselves as opposed to just the bad to help parents determine which shovel is there's to take home!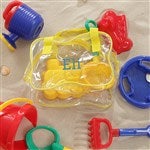 Beach toy set
By
Marsha M.

(Sherman, IL) - February 4, 2013 (
See all reviews by this customer
)
Very nice..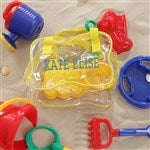 Cute, baby loved it
By
Shopper

(San Antonio, TX) - April 17, 2012
The product was great for a 2-year-old who loves going to the beach. The personalized bag is very cute and roomy.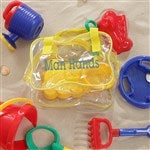 cute gift
By
Dee G.

(Sarasota, FL) - February 13, 2012 (
See all reviews by this customer
)
I was very happy with the embroidered bag of beach toys I purchased for my grandson. He will have many fun days playing with the sturdy, colorful toys.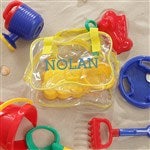 Beach fun!
By
Shopper

(Flemington, NJ) - May 17, 2011
This was a great gift to give a toddler who loves the beach! It came with plenty of toys and the personalization was very sweet! It was shipped in a timely manner and packaged well.

Great grab-n-go beach toy kit for kids
By
brian T.

(alexandria, VA) - July 9, 2010 (
See all reviews by this customer
)
This little bag makes it very convenient to carry all your beach/sandbox toys (there's a little more room in the bag to add your own). And the name makes it harder to mix up or loose. If I could give MORE than 5 stars for the idea, I would. But the quality of the toys gets only 4. But maybe my standards are high. The bag is a little flimsy, I think if it gets too hot it can "heatshrink". However, PM did EXCELLENT job with the name application. I have 2 little boys and their names are short, so they were able to fit them both on one bag, as opposed to buying whole another bag.

Stickers used for Personalization!
By
Shopper

(Watertown, CT) - December 19, 2011
Not pleased that stickers were used for the personalization. This is a sand toy that will be used at the beach. I can't imagaine the stickers are going to last too long coming in contact with sand and water! This product had such good reviews, I was surprised when I saw the stickers (and they are a navy blue, not the blue green others described and pictured on the item).