So cute!
By
Shopper

(Boston, MA) - March 5, 2013
I purchased these personalized candy bar wrappers for a baby shower for my cousin. They were very cute, people loved them...especially the mom to be! I've purchased similar products before on other websites in the past. What I liked about these wrappers were the silver foil envelopes that came with them. No folding, just slide the candy bars and and wrap. Very easy, and very adorable.

Great! You wont regret it.
By
lynette H.

(lake stevens, WA) - February 16, 2013 (
See all reviews by this customer
)
I have ordered these several times and am never disappointed.
They look great, fun and unique, and give an extra special oomph to your event.

Great customer service and as described products
By
Shopper

(Pearland, TX) - December 8, 2012
I used this site to order items prior to my wedding last year and now for the baby on the way. The customer service is great! I have to reorder things I simply made an error in personalization and they offered me a discount even though it was my error. The shipping is quickly done as well. I just do not have any complaints. I look forward to giving my personalized candy wrappers to my hospital guests.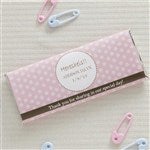 Great shower favor!
By
Shopper

(Adamstown, PA) - June 9, 2012
I orderd these personalized candy bar wrappers for my daughters baby shower. We haven't had the shower yet, but I did start to put them together. I really like the foil pouch that you slide the candy bars in. Every thing is very simple to assemble. They look so nice and I'm sure everyone will enjoy having a little something to take home with them from the shower. Great shower favor, I would highly recommend them!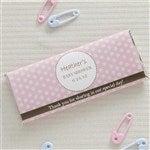 Perfect
By
Shopper

(Folsom, CA) - April 17, 2012
loved the printing quality and the size fit. I got it in less then 5 days. Although I miss read the product and when I opened the box I was expecting choclates to come with the wrappers not just wrappers. But other then that it was perfect. I may come back for more shopping. Thanks

Candy Bar Wrappers...a sweet deal.
By
Shopper

(Dorr, MI) - March 6, 2012
The speed in delivering products from this company is fantastic. I'm haveing a surprise birthday party for a friend and these wrappers make a nice touch to enjoy & remember her party. I chose the pstel green and am very happy with the product.

Absolutely Perfect
By
Shopper

(Mooresville, NC) - January 21, 2012
The Candy wrappers and stickers came out just PERFECT. I will definitely order from this company again.

Perfect party favors!
By
Cecilia T.

(Ontario, CA) - November 4, 2011 (
See all reviews by this customer
)
This is my second time buying them as party favors!...
Love them! ..

Excellent quality
By
susan B.

(sarasota, FL) - September 30, 2011 (
See all reviews by this customer
)
I am giving a luncheon to celebrate the new arrival, and these candy bar wrappers tucked around a favorite candy bar will make fabulous party favors for each of the guests to take along...A sweet treat, and a great deal! The quality of the product surpassed my expectation! Love this and will definately order again! Thank you for always providing a wide array of items at reasonable prices!!!

Great Product!
By
Nancy A.

(Royal Oak, MI) - September 13, 2011 (
See all reviews by this customer
)
Ordered these wrappers for my daughter's baby shower. I was thrilled when they came early and the quality was better than I expected. The paper is of good quality and the foil pouches were equally good. Had no problem putting the candy bar with it's original wrapper in the foil pouch. Everything about the product is exceptional and I would reccommend them highly!

candy wrappers
By
sandra J.

(lakewood, WA) - August 12, 2011 (
See all reviews by this customer
)
PERFECT! they were a hit!!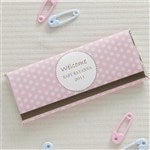 Best Candy Bar Wrappers Ever
By
Cindy F.

(Chino , CA) - August 2, 2011 (
See all reviews by this customer
)
I have ordered the candy bar wrappers in the past from a different company. I have to say that the wrappers from this site are FAR superior. The foil sleeves make them look like they were packaged professionally. Another site wanted $10 more with no foil. Love the quality will always buy from here.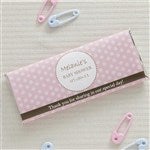 Very nice shower favor!!!
By
Catherine M.

(Madisonville, LA) - July 25, 2011 (
See all reviews by this customer
)
These candy bars were a hit at our baby shower! They are tasteful and a nice memento of the day! Love the printing and fonts used...as always, you do a great job!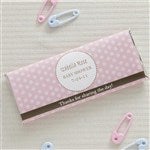 Great shower favor
By
Sally A.

(Saint Peters, MO) - June 13, 2011 (
See all reviews by this customer
)
These candy bar wrappers were a great shower favor, everyone loved them and were easy to assemble.

ADORABLE!
By
diane R.

(mahopac, NY) - June 5, 2011 (
See all reviews by this customer
)
WHAT SOLD ME ON BUYING THIS WRAPPER WAS THAT YOU CAN SEE WHAT IT LOOKS LIKE BEFORE YOU PURCHASE IT. THE QUALITY IS 5 STAR AND IT IS JUST WHAT I EXPECTED! GREAT JOB!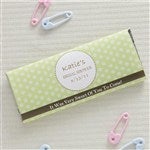 VERY CUTE
By
Jane S.

(Allentown, PA) - September 28, 2010 (
See all reviews by this customer
)
I have bought these in the past for other celebrations and was very pleased. They are well done and very easy to put together. Also very pleased with delivery. I had my items in 3 days. I have recommended this site to many people. Thanks

Perfect purchase!
By
SueAnne K.

(Mesa, AZ) - August 18, 2010 (
See all reviews by this customer
)
I purchased the green and white polka dot wrappers for my Daughter's birthday party. They turned out perfect and the personalization adds such a special touch.

I am a very happy customer :)

Baby Shower Favors
By
Shopper

(Batavia, OH) - August 10, 2012
Very Nice! I believe these will be a big hit for those attending the baby shower. Just add your favorite candy bar and use some double sided tape to hold together and your good to go. I would have like to see some seals come with this. But we're good with the DSTape.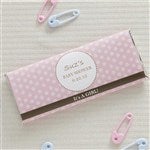 Cool wrappers with the baby's name on it.
By
Tamika A.

(Suitland, MD) - April 6, 2014 (
See all reviews by this customer
)
The order was delivered pretty quick. I like the product but I was totally unaware that the candy did not come with the wrappers. Overall I brought candys bars to put in the wrappers and everyone loved it.