Nice!
By
Shopper

(Crescent City, IL) - May 2, 2011
I recently purchased this cross box for a secret pal Easter gift. Very nice! It came just a few days after I ordered it! The service is great if you need a last minute personalized gift!

Great purchase!
By
Shopper

(Perkins, OK) - April 19, 2011
I purchased this cross box for my niece's dedication and was very pleased with it when it arrived in just a few days after I ordered it in perfect condition with her name and the year on the lid just as I expected. The price was right and I will be proud to give her the cross box.

Beautiful ceramic cross box
By
Shopper

(Rosedale, MD) - April 15, 2011
Purchased this as a baptism gift for a 9 month old. Her parents loved it. Her mom especially loved the fact that it was personalized with her daughter's name. It is actually large enough to hold several small peices of jewelry. Very pleased with this purchase.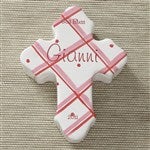 First Communion
By
Shopper

(Danube, MN) - April 10, 2011
My niece makes her first communion soon and I wanted to get her a necklace of some sort so when I seen this I thought this would be the perfect place for her to keep it.

Bigger than I thought, high quality
By
Shopper

(Houston, TX) - March 22, 2011
I bought four of these crosses as gifts for the kids for Easter and they turned out fabulous! The color is bold, the size is bigger than I imagined & they will be able to hold quite a few small jewelry items. The lettering was centered perfectly & came out bold as well. Great addition to an Easter basket, would definitely recommend!!

Beautiful gift
By
Susan B. H.

(York, SC) - November 22, 2010 (
See all reviews by this customer
)
I ordered this as a baptism gift along with the rosary bracelet for my first great-nephew. My niece sent me a picture and everything was perfect and just as advertised! The service was exceptional!

LOVED IT
By
Jill J.

(Muskegon, MI) - October 1, 2010 (
See all reviews by this customer
)
I loved this. It was so cute and exactly what i was looking for. The packaging was even impressive so no risk of damage during shipping. Would buy again.

Cross Boxes-100% plus statisfied
By
Barbara C.

(Manteca, CA) - August 17, 2010 (
See all reviews by this customer
)
This was my first time ordering from your company and I was so very statisfied I had to give you a review. The ceramic Cross Boxes I ordered were better in person. The size of the boxes and the quality of the personalization was so beautiful. Thank you and I will be ordering again.

Beautiful Keepsake Box
By
Mayra L.

(Miami Springs, FL) - August 17, 2010 (
See all reviews by this customer
)
Ceramic cross-shaped box personalized to give as a Baptism gift. I also purchased a Baptism bracelet to complement this gift. Both items were delicate and made a unique and perfect gift. Will certainly be making additional purchased from PersonalizationMall.com in the future.

I'm very pleased with the Cross box.
By
cindy C.

(SeaTac, WA) - July 28, 2010 (
See all reviews by this customer
)
My order arrived the same day the baby girl I purchased it for was born...but she was almost 3 months premature and weighs only 1 lb 8 oz, so she will need all the prayers and blessings she can get. I'm now even more thankful I chose the Cross Box over a picture frame I was considering.

High quality
By
Corinne W.

(Canada) - June 28, 2010 (
See all reviews by this customer
)
This little keepsake box is gorgeous. Very high quality and it arrived within a week when it was shipped to Northern Ontario.

Thank you. I will definitively be buying from you again.

Great Baptism Gift
By
Ashley D.

(Parma, OH) - June 16, 2010 (
See all reviews by this customer
)
This Cross Box was such a cute idea for a Baptism Gift~especially for a little boy to store his cross since he probably doesnt own a jewlery box. Shipping was a little high~which made the overall total a little high..It did ship in the estimated time which was only a few days!!

cross box
By
Erin S.

(Mankato, MN) - May 30, 2010 (
See all reviews by this customer
)
This was my first experience with this company. I ordered two of these (one in blue and one in pink) for my niece's and nephew's first communions. They were sent exactly as I ordered them and in a very timely manner. The gifts were very well received! I will defintely be a returning customer!

prayerful blessings
By
Regena W.

(Huntington, WV) - May 11, 2010 (
See all reviews by this customer
)
I purchased the cross boxes for a set of twins who are now 2 years old. They were born weighing a little over a pound each. They are truly blessings to their families, so I was very pleased that the prayerful blessings cross boxes that I puchased for them were not a disappointment. I was very pleased with them and I will certainly use this company again.

A little smaller than expected
By
Shopper

(Ashburn, VA) - May 7, 2012
This box is cute, but just a little smaller than what I expected. Other than that I am very pleased. This was perfect for a first communion gift and the price was just right. I chose to gift wrap myself but paid for the materials and I thought that was a wonderful option! It was also sent out very quickly after I ordered and that made me very happy.

Pretty, but smaller than expected.
By
Shopper

(Uvalde, TX) - February 12, 2012
I was very impressed with the look and quality of this cross box. The personalization is very professional looking and not cheap and cheesy like some I have seen. However, I imagined it being bigger! That said, it will make a lovely rosary or jewelry holder for the recipient. She was having her first communion and seemed pleased with the box.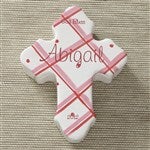 A lovely gift
By
Cynthia M.

(Bethel Park, PA) - May 3, 2010 (
See all reviews by this customer
)
This was a gift for my nieces' 1st communion and it was a wonderful choice. The measurements described about the item are correct, it is petite - but a cute size for a little girl. The personalization was very nicely done. The only negative thing I can say is that it would be nice if the top fit alittle more snug to the bottom. Otherwise this really is a great present. I am extremely happy with it!

Easter Blessing
By
Shopper

(Wingdale, NY) - April 26, 2011
So happy that our granddaughter received her little gift in plenty of time for Easter! We missed spending Easter with her. She loves the little personalized box and has it by her bed.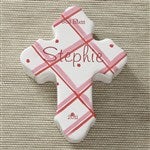 Too big
By
Linda K.

(Pittsburgh, PA) - October 15, 2010 (
See all reviews by this customer
)
The engraving and coloring were very nice, but I was disappointed in it's size. It would have been much better if it were smaller since it was intended for a baby baptism and it should have had some type of liner. The interior seemed so cold and impersonal. Also the lid did not fit properly.

cross
By
Jennifer O.

(Louisville, KY) - May 4, 2010 (
See all reviews by this customer
)
The colors did not turn out as expected. I have ordered this item before and the pink was softer and prettier. Also I chose to eliminate the "God Bless" and it and was done anyway. Beacause it was a gift I had to give it as is. Too many diappointments on this one.