Paradise Island Heart in Sand Review
By
Shopper

(Branford, CT) - May 24, 2013
I loved it! Very pleased with quality, It was the best gift at the shower.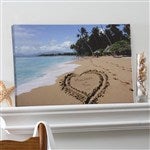 Very Pleased and Beachy Feel
By
Cheryl L.

(Quakertown, PA) - May 4, 2013 (
See all reviews by this customer
)
Arrived quickly and packaged nicely. Was very pleased with it....only thing is the clarity of the larger print but that is what happens when you increase the size. The writing in the sand looks so great....looks like your own picture you could have taken.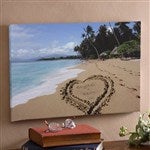 Purchased as a gift for a bridal shower
By
Shopper

(valparaiso, IN) - April 30, 2013
This is so nice! Very good quality and much nicer than I expected! Super fast shipping and very good packaging.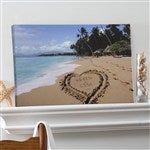 BEAUTIFUL
By
SUZANNE S.

(sunnyvale, CA) - April 27, 2013 (
See all reviews by this customer
)
I was a little hesitant to order this online but after reading the reviews I went ahead and I AM SO HAPPY!!! It is stunning...thankyou so much...my daughter and her husband will love this for years to come...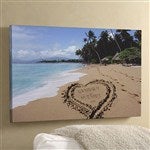 Name Spacing
By
Jackie M.

(Orlando, FL) - April 8, 2013 (
See all reviews by this customer
)
If you had not given me this chance to "sound off" about the product I purchased, I would probably not send this review. But since the information was right here for me, I do indeed want to express my unhappiness. The spacing of the names in the heart are not good. The first name, Bernadette, the "B" is actually so close to the line in the heart, you can hardly see it. There was more than enough room on the end of the name to space it more evenly and thus the entire picture would have been perfect. The idea and the picture is amazingly beautiful, I just think the spacing was off and the gift is not as attractive as it should have been.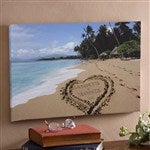 Delighted
By
Robert H.

(Canada) - April 8, 2013 (
See all reviews by this customer
)
My brother just married the love of his life.
He proposed to her on a beach in Texas.
Wrote a heart in the sand, just likethe picture.
It was a perfect momento of thier experience.
They were so happy to receive this.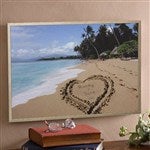 Memories
By
Holly L.

(WORTHINGTON, KY) - February 19, 2013 (
See all reviews by this customer
)
This item was awesome...reminds me of a vacation every time I look at it. We are even going to re-create the picture on vacation this year and hang them next to each other.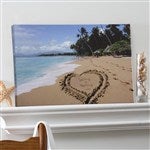 I love this print.
By
Theresa P.

(Trinity, FL) - February 19, 2013 (
See all reviews by this customer
)
I get compliments on it anytime someone sees my room. I have had several people ask where we took the photo - lol!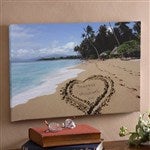 very nice
By
THERESA P.

(seminole, OK) - February 13, 2013 (
See all reviews by this customer
)
got this for my husband reminds me of our honeymoon at the beach. and the other times we were there with our kids, been married 24 yrs together almost 30 yrs, he loved it................ theresa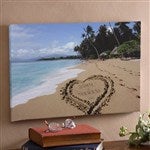 The Masterpiece
By
Shopper

(Tampa, FL) - February 9, 2013
It was exactly what I expected. Beautiful! I purchased it without a frame
and it looks great hanging above our HD TV.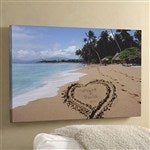 impressed
By
Carol G.

(SAN ANTONIO, TX) - January 11, 2013 (
See all reviews by this customer
)
very nice product...my husband loved it!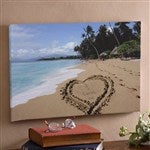 Paradise Island Canvas- terribly dissatisfied
By
Shopper

(Charlotte, NC) - December 28, 2012
When I received the product I was very unhappy that I spent so much money on an item that was poor quality. The pictures on the website looked great, however when I received my order it was awful. The picture was very "pixel-y" and the personalized wording was poor. I ordered this to give as a gift but once I saw how bad it looked, I would never want to give this to anyone.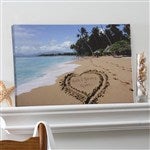 It's Ok, but not awesome
By
Shopper

(Ooltewah, TN) - December 18, 2012
I won't reiterate what other's have said. Simply stated, BUY THE SMALL ONE. The larger prints are blurry looking and unfocused. The names in the sand look out of place and "computer generated" as others have noted. Smaller is key. I purchased the 16x24. Go smaller. Its a neat idea, but I was disappointed with how out of focus the picture looks. Its ok at an "across the room" viewing distance, but anything closer it is quite noticeable that the resolution on the picture isn't very high.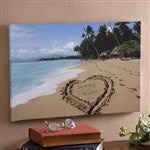 not what it looks like
By
Shopper

(Layton, UT) - December 10, 2012
I ordered this for my newly married brother and the picture looks fake and the words that you personalize look like a poorly printed computer font. It is also hard to see because it's the same color as the sand. I was really hoping the names in the sand would look realistic but it's aweful, even the picture looks unrealistic. Very disappointed and wish I could return it. I'm to embarrassed to give it to my brother, not even suitable for décor in the garage. Waste of money! Want my $30 back.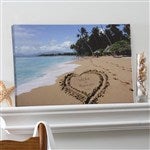 Canvas Memory
By
LARRY B.

(PURDON, TX) - December 6, 2012 (
See all reviews by this customer
)
This canvas piece was the perfect item for our wedding day service. It was a surprise to my fiancee' and she loved it!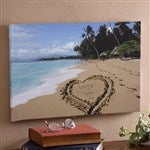 Paradise Island is pixelated!!!
By
Shopper

(Tualatin, OR) - December 5, 2012
I am not satisfied with this product because the only thing that is not pixelated are the letters in the sand - otherwise everything else is extremely blurry. I could have taken a better high resolution picture on the beach and had it blown up and it would have been much better quality.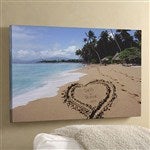 cool
By
brenda W.

(Cottage Grove, MN) - October 22, 2012 (
See all reviews by this customer
)
I love the way this looks.....my husband thought it was a picture I had taken on vacation I totally fooled him. love it.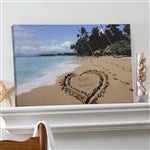 16x24 Picture with Black Frame
By
Patty B.

(Hugo, MN) - October 22, 2012 (
See all reviews by this customer
)
I purchased the 16"x24" picture with the black frame. It's very nice but as others have said, the larger the picture the less clear the picture. The background is definitely not crisp but more of a blurred background of trees but I think once it's hung on the wall and you stand back to look at it then it will be fine. I bought it for my son and daughter-in-law as a Wedding gift.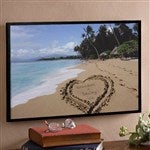 50th Anniversary Gift
By
Kathleen B.

(Ingleside, IL) - September 13, 2012 (
See all reviews by this customer
)
I just love this picture. I am sure my friends will treasure this keepsake for many years to come. Quality is excellent.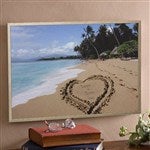 A Going Away Gift!
By
Kathleen T.

(Rochester, NY) - August 13, 2012 (
See all reviews by this customer
)
I bought this as a going away gift for a family member. They love the ocean and will be moving near there soon. They absolutely adored this picture, as it looks like they wrote in the sand themselves and took a picture of it. They have the perfect place for it in their new home when they move there this week. Everyone at the party, absolutely loved it and thought it was so unique and it is! Thank you so much for thinking of such a fantastic idea, that truly looks like a person could have done this themselves! I will ordering many more as gifts when the perfect occasion arises. LOVE IT!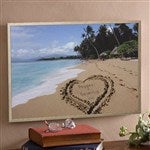 Great Gift!
By
Samantha G.

(Maryville, TN) - August 7, 2012 (
See all reviews by this customer
)
I bought this for my sister's birthday & it was perfect! Her & her husband honeymooned in the Dominican Rebublic & she collects sand from all their beach trips. This canvas went perfectly with her decor. The only reason I did not give 5 stars was the font of the letters. Both of their names end in "F" and the f's on the canvas looked a little wierd. At 1st glance it is kinda hard to make out but if you know their names it isnt a problem. Overall a nice gift & the delivery time from Personalization Mall can't be beat!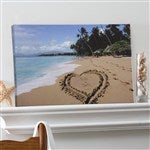 Very nice picture
By
Linda H.

(Hillsborough, NJ) - August 1, 2012 (
See all reviews by this customer
)
I just purchased this as an engagement gift for our daughter who got engaged down the shore. She and her fiance loved it. Very happy with the way the personalization came out.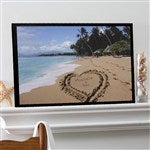 Paradise Island Canvas
By
Sherry D.

(Fairmont, WV) - June 22, 2012 (
See all reviews by this customer
)
It was absolutely beautiful it was shipped out promptly! I would use this site more often was very happy with quality and service would rate as excellent!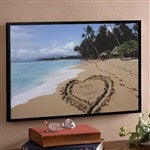 Paradise Island Canvas
By
Judith T.

(Hyde Park, NY) - June 16, 2012 (
See all reviews by this customer
)
I was amazed at how fast this item arrived after I ordered it. The picture and frame are beautiful; perfect for an anniversary gift. Colors are more vibrant than in the photo.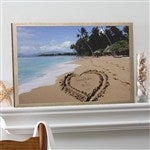 Even Better in Person
By
Shopper

(North Plainfield, NJ) - June 12, 2012
What a WOW gift. Gave this to my sister and brother-in-law as a wedding gift. They got married in Aruba and this was perfect. No one could imagine how I got this done. They swore I flew to Aruba, drew the names in the sand and took the picture myself. The colors are vibrant and the two sets of footprints in the sand are a perfect touch. They hung it on the wall immediately and it will be a special item in their home for years. I was a little nervous ordering from this company, I'd never heard of them before. Well I could not be more thrilled! I was updated on the status every step of the way, the item arrived so well wrapped and quickly. Love this company and I will be back to shop again and again. The item in large but light so hanging on the wall is easy. It looks great over their couch. Overall a great gift!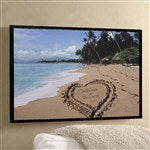 Beautiful
By
Angie J.

(Marysville, OH) - May 21, 2012 (
See all reviews by this customer
)
This picture is Absolutely Beautiful. I love the detail in the print and the quality of this print is fantastic. I can't wait to show it off to everyone! This was a 10yr anniversary gift for my husband. I have loved EVERYTHING that I've bought through PersonalizationMall.com. 100% Satisfied again!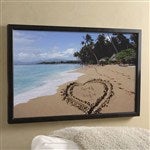 Wedding Gift
By
Jacqueline T.

(Pearland, TX) - May 14, 2012 (
See all reviews by this customer
)
I bought this awesome canvas gift w/ frame for one of my best friends that is getting married in Cabo. The couple loved and it was a favorite gift of everyone that saw it at the shower. Not only was the gift great but the customer service from Personalization Mall was fabulous too. The frame had a small chip when it arrived so I emailed them and they ask no questions and immediately shipped out a new one. Great gift & superior customer service has definately earned Personalization Mall a repeat customer.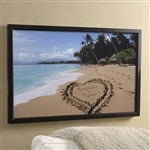 Great anniversary gift
By
BRENDA M.

(LINDENHURST , NY) - March 26, 2012 (
See all reviews by this customer
)
Love it!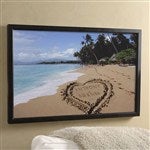 Wedding Gift
By
Shopper

(Verona, PA) - March 19, 2012
I bought this for each of my two nieces and their soon to be husbands. The canvas picture is beautiful and I'm sure they will love this keepsake. I highly recommend this product.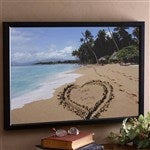 Couldn't be happier with the Canvas
By
Rosalie B.

(Chula Vista, CA) - March 16, 2012 (
See all reviews by this customer
)
The canvas is a perfect wedding gift, or for other occasion's too! My Grandson and his bride are going to Cancoon for they're honeymoon so I'm sure it will help them remember their beautiful place later in years. It's made well, and has such an air of thoughtfulness because of the personalization! I highly recommend anyone purchasing it, you won't be sorry.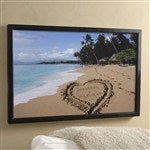 Product fantastic
By
Michelle B.

(Reading, PA) - March 11, 2012 (
See all reviews by this customer
)
The paradise island canvas is a personal, very cool gift. I have purchased a few products so far from this sight and I am over pleased. The shipping was super fast for a custom order. And the products are great size and quality and a great gift price! I will use this website over and over.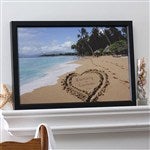 love it
By
Shopper

(Exton, PA) - March 10, 2012
this pictures is well framed and I love that you can personalize the heart. my husband and i have been married for 19 years and i had to get this...great wedding gift that is truly unique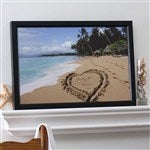 Completely satisfied
By
Shopper

(Pasadena, TX) - February 29, 2012
The picture Titled "Our Paradise Island" exceeded my expectations. It was just lovely and will be given as a wedding present. I have ordered several times from personalization.com and have been very happy with the products delivered.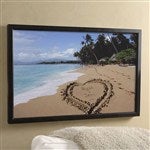 Husband loved it
By
Selena B.

(Kissimmee, FL) - February 21, 2012 (
See all reviews by this customer
)
Very nice and beautiful. Looks real and amazing how they can put your names on it. I would recommend this to anyone.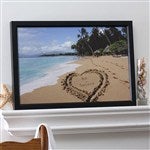 Original
By
Susan H.

(Tacoma, WA) - February 17, 2012 (
See all reviews by this customer
)
I never know what to get my husband. I spotted this and decided to get it for him for Valentine's Day. We travel a lot and warm beaches are our favorite places to go. He really liked it!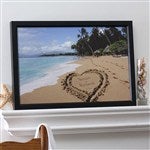 happy anniversary!
By
Shopper

(Lakeland, FL) - February 15, 2012
my husband and i was very pleased with our paradise island canvas! i purchased this for our 40TH anniversary and my husband loved it!! we usually don't buy for our own anniversary but i had to order this. we live in florida so the palm tree's are real and the beach's are beautiful. anyway thankyou very much and it looks beautiful over our sofa in the living room.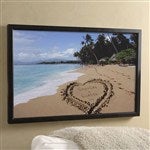 Great canvas
By
Andrea F.

(Johns Island, SC) - February 14, 2012 (
See all reviews by this customer
)
Looks just like the picture! I am very satisfied with my purchase. I also got it 3 days after I placed my order. Love it.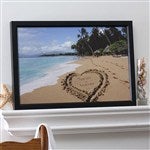 Better than Picture
By
Karen V.

(Riverside, CA) - February 11, 2012 (
See all reviews by this customer
)
When I ordered this for a good friend I knew it was perfect because they got married in Hawaii. But when I received it, it was truly the perfect wedding present. Love it!!!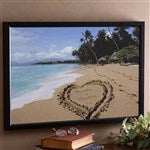 Great Service and Product!
By
TONYA S.

(GRAHAM, TX) - January 2, 2012 (
See all reviews by this customer
)
I loved the framed canvas print. The quality is amazing. I thought it was the perfect gift for my son's girlfriend. They are planning to be married this June.

great for couples who love the beach.
By
LaLa M.

(Trussville, AL) - November 10, 2009 (
See all reviews by this customer
)
We are planning to marry on the beach, so this will always remind us of our special day.