Beautiful
By
Shopper

(South Mills, NC) - May 30, 2011
I am so pleased with this banner....the quality is great and the picture came out beautiful and the turn around time was amazing....I will order more banners from you and recommend you to my friends.

Great Graduation Decoration
By
Shopper

(Bowling Green, KY) - May 23, 2011
I could not be more pleased with my purchase! I bought this as the centerpiece for my daughter's graduation and it was a big hit! She was so surprised to see her picture on the banner and the process to design the banner on-line was very easy. I was amazed at the price for the quality of the the item. I would gladly recommend this product to anyone.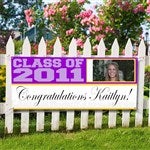 photo banner
By
Deborah R.

(Louisville, KY) - May 23, 2011 (
See all reviews by this customer
)
It was awesome! Top quality product. Pic was perfect. Fast delivery. Will definitely order from here again.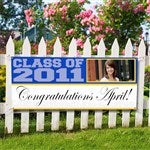 A Very Happy Customer
By
Shopper

(Eldersburg, MD) - May 21, 2011
I was very pleased with the quickness and the quality of my banner!!!

I have already recommended your site to a friend!!!

I will be back soon!

Love my banner
By
Marijane K.

(Reynoldsburg, OH) - May 12, 2011 (
See all reviews by this customer
)
Looked at so many sites for a graduation banner. Love the quality and the price.

Perfect!
By
Shopper

(Boca Raton, FL) - May 2, 2011
This banner was the perfect accent to the decorations for our graduation celebration!

ourstanding!
By
Shopper

(Mason, TN) - March 19, 2011
I was absolutely delighted with this banner! The photo quality was great. The banner is beautiful! I highly recommend this banner!!!

Yes! I Bought Another!
By
Jill G.

(Lemont, IL) - March 8, 2011 (
See all reviews by this customer
)
I just purchased my 6th banner!!
I have bought them for graduations, anniversary, birth announcement, birthday and Halloween. The clarity of the photo reproduction is amazing and the colors did not fade out. I have my Godson's wedding shower upcoming and I plan to purchase another one. Just tkeep the designs coming!

PERFECT GIFT FOR Grad!
By
Christy M.

(Louisville, KY) - December 28, 2010 (
See all reviews by this customer
)
I ordered this for my sister who is graduating college in the spring. I was so impressed with the picture quality! The banner itself is heavy duty. GREAT DEAL!

LOVE, LOVE, LOVE IT !!
By
Michelle B.

(Dorset, OH) - June 14, 2010 (
See all reviews by this customer
)
Quality is excellent, personalized picture came out perfect! Feel like I got this for a steal, could not be happier!

Outstanding!!
By
Jill G.

(Lemont, IL) - June 1, 2010 (
See all reviews by this customer
)
The color and clarity of the banner far exceeded my expectations! The girls were thrilled and can't wait for the party to display it! You hit a home run with this new product!!

Excellent Quality - Loved It!
By
Shopper

(Cary, NC) - May 31, 2013
We ordered this banner for our son's high school graduation. The quality of the material, the colors, and his picture were EXCELLENT! It hung above our garage for the entire neighborhood to see. We highly recommend it. The only drawback was the "fee" we had to pay in addition to the shipping cost.

Great photo banner
By
Shopper

(Cat Spring, TX) - May 15, 2012
This banner will be extremely visible on my yard fence. The quailty appears great, however I have not yet used it. I am very anxious to post this banner for my daughter's graduation. The turn around time was extremely fast.

Awesome!!!
By
Zee N.

(Lawrenceville, GA) - May 16, 2011 (
See all reviews by this customer
)
I received my banner so quickly!!!!! I had to hide it from my daughter. The colors were awesome , and the banner was better quality than I expected. I have not used it yet but I think it will work perfect. I am taking it to graduation and holding it up high so my daughter will see it, then hanging it up outside.
I also had quick online customer service. The only issue I had was the cropping options when setting up my pic. I tried , and tried and could not get it exactly right ,my daughter's head is cut off a lil on the top, but it's still came out great. I will use & recommend this site again, and again. :)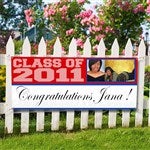 Good Quality, BUT...
By
Kim G.

(Pekin, IL) - May 21, 2013 (
See all reviews by this customer
)
The banner is of good quality and easy to hang with bungee cords. But, I was not impressed with the printing on the red upper left corner. The "Class of 2013" is barely distinguishable from the background because the printing is a dark pink. I would have liked it much better if it had been a crisper white. As it is right now, you can only read it from about 5 feet away. I wanted this to be visible from the road or 15-20 feet. I would not recommend this particular banner to others.