For the golfer who has everything!
By
maria A.

(yonkers, NY) - June 14, 2011 (
See all reviews by this customer
)
These golf balls make a great, personalized gift for the golfer who has everything. The ordering process was easy and the product was shipped out within a day or two. The golf balls themselves are a decent quality. The only downside to this gift is that the writing is a bit small but overall, it made a very nice gift.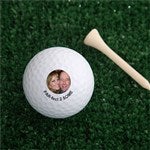 Photo is not great but still a fun item
By
Shopper

(Bartlett, TN) - April 20, 2011
The photo on the balls I received does not look quite as good as the photo that was displayed in the preview. Still, they are really a nice novelty item that I think everyone will get a kick out of!

OK
By
Rachel P.

(Naples, FL) - December 26, 2010 (
See all reviews by this customer
)
Nice product. Wish the picture was a little bigger.

Custom
By
Amber D.

(Houston, TX) - April 14, 2014 (
See all reviews by this customer
)
The picture came out a lot darker than what the preview showed when I checked out but still a good quality ball

Picture too small
By
Gena D.

(Palm Harbor, FL) - December 28, 2013 (
See all reviews by this customer
)
Balls were great quality, but the picture was much smaller than I expected

awesome
By
Shopper

(Carey, OH) - May 17, 2012
I have been doing this golf ball for my husband every year since our son was born 4 yrs ago this year we added our daughter (born in feb) and its still really nice I do wish the picture was bigger but its still cool.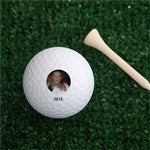 Too small
By
Shopper

(ANDOVER, MA) - December 11, 2011
The pictures and wording are much too small for my taste. The web site does not indicate on how small it will be, based on the golf ball as the product.

Not worth the money
By
Sandra W.

(Rochester Hills, MI) - June 24, 2011 (
See all reviews by this customer
)
I got these for my father-in-law from my daughter for Father's Day. He loved them as he loves anything his granddaughter gives him, but I thought the picture was too small on them.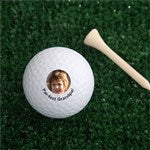 Golf ball image is too small to be seen.
By
Robert G.

(Edmond, OK) - May 28, 2014 (
See all reviews by this customer
)
The image you see online is not representative of what you will receive. I don't care what the review image looks like it will be super small and you will not be happy with the image and you will not be able to tell what the image is even of. I cant give these to people! The examples look great which is not what you will be getting. I am trying to return the balls, which read the fine print, are not returnable since it is a personalized item. Do not order unless it is a tiny/unclear image you are wanting. Bad product-bad customer service. Although i did pay to expedite the bad product they did ship it when they said they would. Whoopdido.

Photos too small
By
Shopper

(Hooksett, NH) - October 5, 2013
I recently ordered a dozen golf balls with a photo on them. These were a gift for our recent golf outing. I had to tell each of the three guys what the photo was before they could identify it. It would be nice to have a larger photo on the balls.

Other than that, the order came in very quickly.

Thank you
David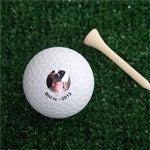 Photo on Nike mojo
By
Shopper

(Kelso, WA) - July 6, 2013
I was so excited, the sample pic online looked great, photo wasn't too dark. When the balls came the text was crisp & clear but the photo was so tiny (half of a dime at best) and incredibly dark that you can't hardly tell what it is. We had to tell people at the birthday party what was on them. My nephew was happy w the gift but I was really let down & made worse having to explain the photo. The personalized tees were perfect at least.

Could be better....
By
Shopper

(Delran, NJ) - May 9, 2012
I think that the idea is extremely cute, however the picture is the size of a pea while there is so much more room on the ball to expand it.

These are a gift for an employee that is retiring and I am sure he is going to laugh at them, but for the price they are a bit much for a gag gift to look this cheap.

Disappointed
By
Paige A.

(Hoover, AL) - December 3, 2010 (
See all reviews by this customer
)
The picture wasn't very clear and too small.

Don't waste your money
By
Gayle Y.

(San Antonio, TX) - May 9, 2014 (
See all reviews by this customer
)
Picture is just a "speck" on the ball. Words so tiny you need a microscope to see them. Not worth the money. Not at all like in appears online

Waste of hard earned money :(
By
Andrea W.

(Artesia, NM) - September 9, 2013 (
See all reviews by this customer
)
I purchased these golf balls using three different photos for a retirement party. The picture used for reference as to what you are ordering is VERY misleading. The picture on the golfball shown for sale looks like the size would be somewhere between a nickel and a quarter. The golfballs I received, however, the photo is MUCH smaller. I chose simple and close up photos to use and you can't tell who the picture is or what the words printed say. What you receive is tiny, unreadable, and a waste of money. I'm very disappointed. I could've used this money in a better way for the party had I known. FYI...I'm not even using them at the party.

Disappointed
By
Shopper

(Yorba Linda, CA) - June 18, 2013
Very cute idea. Very disappointed. The picture and writing is so small you can't make it out.. This was a Father's Day gift and i was not happy with it at all

Not Recommended - Very Disappointing
By
Shopper

(Forestdale, MA) - December 23, 2012
Beware! Picture and writing are microscopic, smaller than a dime - you can barely make out the picture if at all and you need a magnifying glass to read the print. Total Rip-off!

Poor Graphics
By
Shopper

(Albuquerque, NM) - November 4, 2012
This product was not at all as it seems. The graphic, even though indicated as 'Good' when used, is barely recognizable and is so small, it's hard to tell what it even is.

I would seek alternatives if you are interested in this type of gift.

Personalized Golf Ball
By
Shopper

(Swampscott, MA) - June 27, 2011
This is the first time I am disappointed with a personalization purchase. The idea for putting a picture on a golf ball is great, but the picture is too small.

Picture Perfect Personalized Golf Ball -Image Too Small
By
john P.

(east meadow, NY) - April 4, 2011 (
See all reviews by this customer
)
I am sorry to inform you of my Picture Perfect Personalized Golf Ball review. The images are too small! I am not at all happy with my purchase. The images on the screen are deceiving- they look bigger. But when I got the balls in the mail I could not believe how small the images really were. I brought 36 imaged balls that can't be seen without a magnifying glass.