Cute Keepsake
By
Shopper

(Canyon Lake, TX) - November 18, 2011
Quality of door mat is good however, be aware that is designed to be a thinner mat not a thick one. It does clear underneath the door for an inside mat. Only would use for outdoor if I had year round good weather.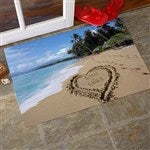 Great Gift from Travel Agent
By
Dianne H.

(Hilton, NY) - September 25, 2011 (
See all reviews by this customer
)
I own a travel agency and have been giving these doormats as a Thank You gift for their business when the client has taken a cruise or all-inclusive honeymoon. It's a great memory of the occassion! I wish they were a little 'thicker', but anywayaround it's a great and much appreciated gift.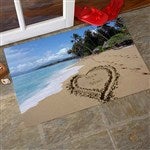 Recommend for decoration only
By
Beth T.

(Pflugerville, TX) - May 17, 2011 (
See all reviews by this customer
)
It's a cute doormat, but it shows dirt too easily. Granted, it is a doormat, but we've only had it for a month and it's the dirtiest looking doormat of all six of our doormats. I recommend it for decoration purposes only.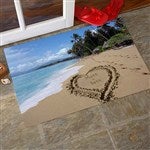 Nice Doormat
By
Beth T.

(Pflugerville, TX) - May 7, 2011 (
See all reviews by this customer
)
The doormat is cute but is thin and gets dirty easily. We keep it on the inside of our patio door as it would blow away if kept on the outside.

Wedding Shower present
By
Erica M.

(Nesquehoning, PA) - April 20, 2011 (
See all reviews by this customer
)
This came out cute but the shore and trees seem a little faded. Overall it's a nice present. The heart with the names came out perfect. The backing and quality of material are great! I'm sure the couple will love it.

Looks like a painting...
By
Julianne N.

(Boyertown, PA) - February 5, 2011 (
See all reviews by this customer
)
The doormat is very pretty. It actually makes me want to hang it up instead of putting it on the floor. I think another reviewer mentioned that it isn't a typical thick doormat and I'm not sure how well the picture would hold up under repeated stomping by muddy feet. I'm thinking instead of using it as a bathmat in a bathroom with a ocean type decor (though not sure how absorbant it might be, it would look great in front of the sink).

I would recommend this product although I probably wouldn't use it as a doormat outside for fear the picture would be ruined.

Cute!
By
Jennifer P.

(Augusta, GA) - August 2, 2010 (
See all reviews by this customer
)
Great gift for beachlovers. Keep in mind that this is a mat & not a rug, so it's not going to be put in a high traffic area at my house. Great price for a personalized item.

Paradise Island Doormat is great!
By
Gloria M.

(St Louis Park, MN) - July 26, 2010 (
See all reviews by this customer
)
Bought this for my daughter and her husband for their 2nd anniversary. They went on a Caribbean Cruise for their honeymoon and also went to Hawaii earlier and I thought this would be perfect for them and it is.

Rug too thin
By
Shopper

(Cedar Park, TX) - April 8, 2013
I love the design of the rug but it's really too think to use as a rug. It might make a pretty wall hanging :-(

Realistic picture
By
Shopper

(Sleepy Eye, MN) - November 28, 2012
The picture is realistic and a cute idea for a beach wedding gift. The mat itself if thin and not a high quality item.

Not what I expected
By
Joyce B.

(Tampa, FL) - March 1, 2011 (
See all reviews by this customer
)
I ordered this for my daughter and her husband they just got married, I thought it looked like I had wrote Kim and Dan myself :( But my daughter loved it so that it all that matters.

Personalized Sand Heart Doormat
By
Shopper

(Defiance, MO) - October 5, 2013
Expected this to be an outdoor doormat....even though it was cute, it was not protected with a top that could be stood on. It would be dirty immediately and can not be washed without ruining the picture on it. Not practical to stand on.

gets dirty to easy
By
Laura L.

(Plant City, FL) - March 2, 2013 (
See all reviews by this customer
)
hard to keep clean, but i love the rug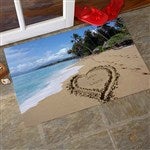 Not Their Best Product
By
Shopper

(Phoenix, AZ) - August 24, 2012
We order from Personalization Mall a lot. This product is not one of their finer items. Picture was blurry, heart smaller than it appears on the picture, wrinkly and poorly constructed. First disappointment ever....will order again, just not this item.

Love it but it fades fast
By
William B.

(Laguna Niguel, CA) - January 1, 2012 (
See all reviews by this customer
)
Love the look of the mat, but I wish they would fix the fading problem. We have purchased quite a few. It says fade and mildew resistant, but it is not :-(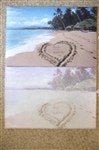 CUTE but.......
By
Shopper

(Rochester, IN) - May 6, 2011
totally cute, but..... for $28.00 I thought it was small and VERY thin and I don't think it will last very long or go thru the wash very well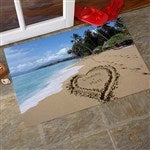 Not what I thought
By
Shopper

(Bluefield, VA) - January 18, 2012
I didn't take the time to take out a ruler and see how big this doormat actually was going to be, I went by the photo that they show here so I was very disappointed when I received the actual doormat which is MY FAULT not the company's. it's too small to go where I wanted it to go so its in my bathroom right now being used as bath mat.it looks lot larger in the photo so make sure you measure before you order don't go by the photo here.